Best Win10 Clock Widget to Use in 2023

This article discusses some of the best free Win10 clock widgets that are also compatible with Windows 10. Continue reading for more information! 
Even though Windows can show the time on the taskbar, some users still find it more convenient to have a clock widget on their desktop. The clock widget has the ability to remain visible on top of other programs, which makes it much simpler to monitor your schedule. The inclusion of this program also improves the overall visual aspect of your Windows desktop. In this post, we will show seven different digital clock widgets that are available for usage on the desktop of computers running Windows 10 or 11.
You may change the amount of transparency that a clock widget has using some of these tools, and they come with a variety of clock designs or themes to choose from. Aside from that, several programs also provide you the ability to run numerous instances at once. Therefore, you are able to have more than one desktop clock widget, each of which has its own distinct appearance.
7 Best Win10 Clock Widget to Try in 2023
The following is a list of the top free desktop Win10 clock widgets and these widgets are also compatible with Windows 11. Now, without further ado, let's get started!
1. Digital Clock 4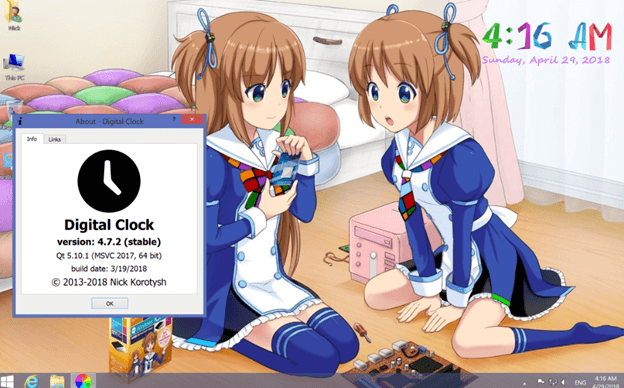 The Digital Clock 4 widget is one of the best clock widgets that you can use on your Windows 10, 11 PC. It only presents the time in a digital format by default. When you have successfully downloaded and activated the widget for the very first time, it will appear in the upper-left-hand corner of the display. If you aren't paying attention, it might sneak up behind the icons on your desktop.
By right-clicking on the solid lines of the time, you may quit the widget, update it, adjust its location, and change any other settings. If you click on any of the blank areas in the center of the widget, you won't bring up this menu. You may configure the widget as well as move it about the screen using the Position options, which are located in the options menu.
Also Read: Best Free Alarm Clock Apps for Mac
---
2. Elegant Clock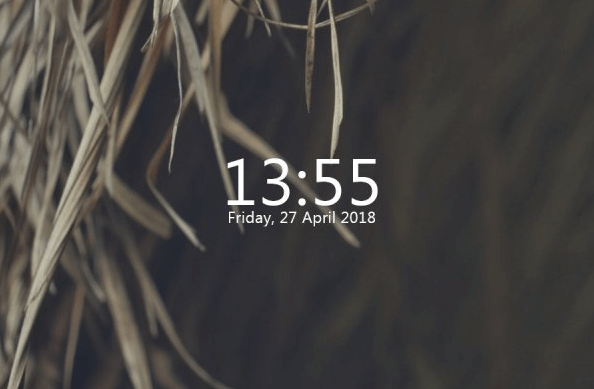 Another Win10 clock widget on this list is the Elegant Clock. The current time and date are shown in an uncomplicated manner via this widget. There are two different versions of the widget: one that is dark and one that is bright. You may change the location of the widget as well as its transparency and a few other parameters using the widget's settings.
The installation process for Elegant Clock is rather more involved than that of many other widgets. Before you can apply the Elegant Clock skin to the Rainmeter widget, you will need to first install Rainmeter. As a result of this, you will need to download and configure not just one but two applications.
---
3. .Clocks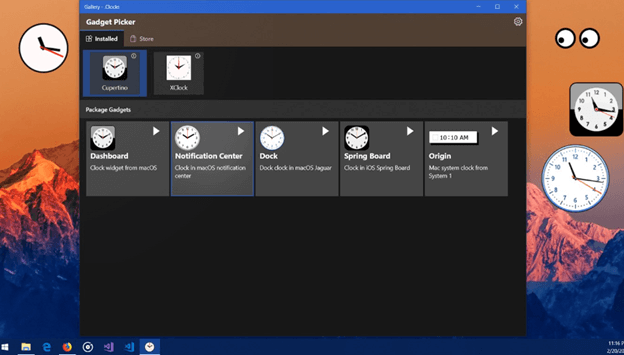 The .Clocks widget is yet another excellent desktop clock widget that can be found in the Microsoft Store. This app provides five distinct clock widgets that can be used to show the time on your desktop, in addition to some more widgets that can be purchased from inside the app itself. The interface of standard clock widgets is really straightforward, however, the appearance of premium clock widgets is more aesthetically pleasing.
You may begin utilizing any of the clock widgets in the app by tapping the play button that is located just next to them. In the menu, you have the option to adjust the widget's transparency level and size, as well as rapidly reposition it wherever on your screen. Therefore, it will not be difficult for you to monitor your agenda with the help of this app's analog and digital widgets. It is also free to use, thus it is something that you should look into using.
The disadvantage is that you don't have a lot of room for modification, which means you can't make use of the extra capabilities given by the other digital clock widgets on the list.
---
4. Desktop Clock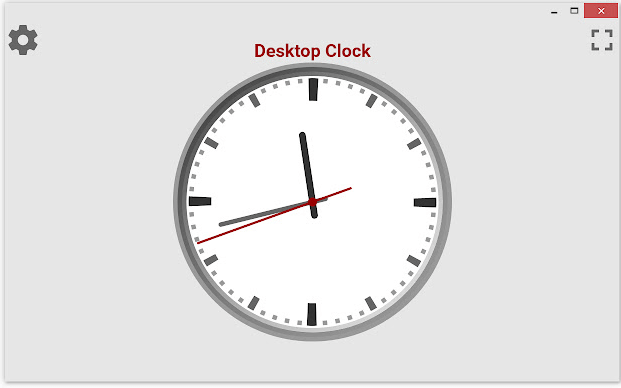 DesktopClock is an open-source and portable digital clock widget that can be used on both Windows 10 & Windows 11. As soon as you run the application, a digital clock that displays the time and date in the default format will appear on your desktop screen. You are free to relocate this clock to any location you wish. However, this instrument is capable of much more than that. It contains a right-click context menu that gives you access to a number of really intriguing features that the program offers.
If you wish to make the modifications, you may also open the file containing the configuration settings for it in Notepad. Alternatively, you may simply utilize its context menu to make the necessary adjustments. The fact that you can run many instances of this application simultaneously is perhaps its greatest strength. As a result, you will have many clock widgets, each of which will have its own set of customizable features.
Also Read: Best Free Live Wallpapers For Windows 10,11 PC
---
5. CloX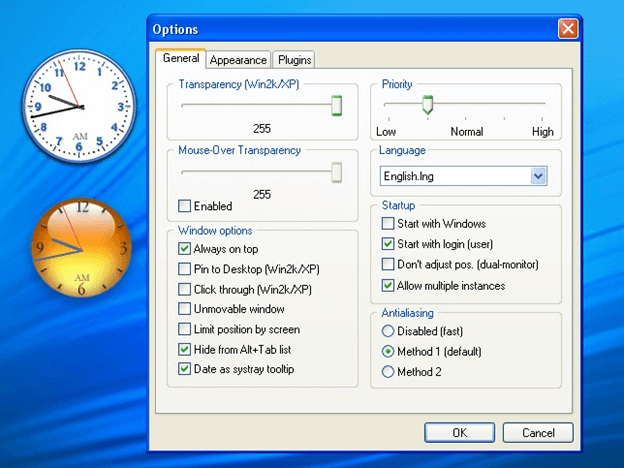 Next on our list of best Win10 clock widgets is CloX. This tool gives you access to hundreds of different themes, or styles, for your clock, and it also allows you to sample a clock style before adding it to the desktop clock widget. This widget program comes with a greater variety of pre-installed themes and styles than any of the other tools on our list. Additionally, the program enables the operation of numerous instances, which means you may have many clocks, each with their own unique look.
You will have the option to keep each clock widget on top, allow click-through, and make the Windows clock widget immovable. These options are available for each clock widget individually. You may access any of these features by simply doing a right-click on a clock widget. You will need to download the program from clocx.net and then install it on your computer before you can use it on Windows 11 or Windows 10. When its instance is run, you will see an analog clock shown with the parameters that are defaulted. After that, you may access the settings and configure the clock widget by using the context menu.
---
6. Sense Desktop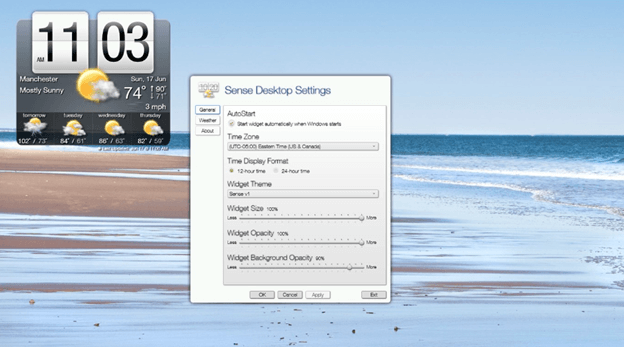 On this list of best Windows clock widgets, Sense Desktop stands out as the most useful clock widget. You may move it about on the screen by dragging and dropping it thanks to the intuitive interface that it has. Within the widget's settings, you have the ability to alter the format of the clock, change the time zone depending on where you are, and personalize the appearance of the clock by selecting from among more than 20 themes on a daily basis. In general, when it comes to clock widgets for Windows, this is among the very finest that you can obtain.
In addition, you have control over the transparency level as well as the size of the widget. This widget not only tells the time but also shows current weather conditions, which might assist you in planning things to undertake outside. It shows the temperature as well as the wind speed, among other things. Furthermore, it offers a prediction for the next week in addition to a charming animation that depicts the weather. In addition to this, you may customize it to fit your needs exactly. You may also read further details on the website that is officially associated with it.
---
7. MetroClock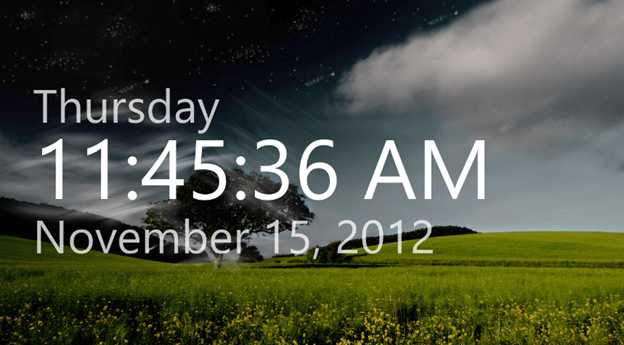 Last but not least, MetroClock is yet another best clock widget that you can consider. This straightforward tool shows the current time as well as the day and the date. You have ten various options to choose from when it comes to the app's backdrop. If you need to set an alarm, that function is available to you as well. The program is also available without cost, and it is compatible with older versions of Windows, such as Windows 8 and 11. The MetroClock app comes with a number of backdrops to choose from, but if you want something more sophisticated, you may spend additional money to upgrade it.
Also Read: Best Calendar Apps for Mac
---
Wrapping Up!
In this post, we have explained the 7 best Win10 clock widgets to use in 2023. When using widgets for the first time, it is important to be aware that they may behave erratically at times. Don't be alarmed if, at some point in the future, they cease functioning on your computer. In order to get them back on track, you will need to restart their processes and refresh the graphics card you are using.
We hope you found the information helpful. Please let us know in the comments below if you have any questions or further tips. For more tech-related information, you can subscribe to our Newsletter and follow us on social media.
Harshita Sharma is a technical writer with quite a distinct understanding of the tech realm. She is a tech enthusiast who believes that tech knowledge should reach one and all and tries to convert the sketchy knowledge into the simplest possible form for making people understand the tech world better. When not playing with words, she loves to travel and explore new places. And, is a coffee & cricket connoisseur.
Subscribe to Our
Newsletter

and stay informed

Keep yourself updated with the latest technology and trends with TechPout.
Related Posts