7 Best Depression Apps to Improve Mental Health

Depression treats everyone differently. While an individual's falling into isolation, the one may be too numb to even see things with clarity. Since the awareness of mental illness is rising and widening among people, there are several people that are finally mustering up courage to speak up about these tangles in words and somewhere, it is the technology due to which once can find many apps that help cope up with depression and anxiety using different techniques. This article brings you the 7 best depression apps for Android and iOS  in 2020. So, let's get started.
Best Depression Apps for Android and iPhone in 2020
Now that you have accepted that you are slipping off the edge, here are the best apps to improve your mental health. Find out what goes out for you the best. 
1. TalkLife: Depression & Anxiety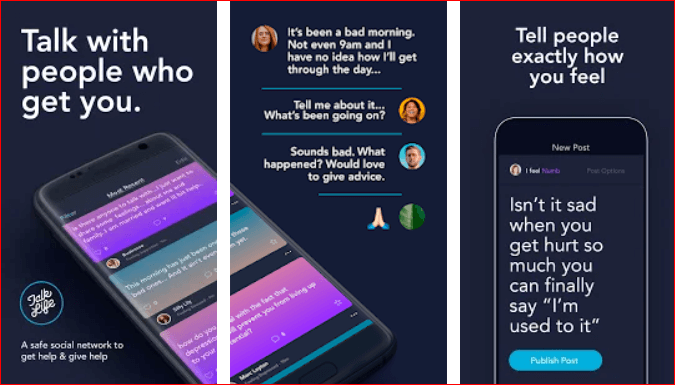 Cost: Free; In-app purchases
Read Also: Top 10 Apps To Stay Healthy and Fit
Even though mental health is getting increasingly acknowledged and accepted by individuals, the way it is treated varies from person to person. In most cases, the web of isolation still remains within. In concern to that, TalkLife is probably one of the best depression apps for those who seek a safe place to let it out. If you or anyone around you is struggling to voice the mental roller coaster ride inside then TalkLife is one of those apps that welcomes you to talk about depression and anxiety, freely. This app brings you the room to freely connect and indulge in a community support where different people talk, listen and back you whenever your head makes it gloomy for you. With the privilege of group therapy and yes, an option for being an anonymous participant, TalkLife can be your friend.
Download App: Android and iPhone
---
2. Daylio Journal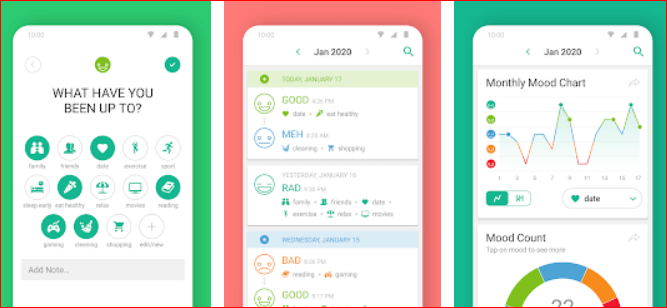 Cost: Free; In-app purchases
When mental health starts propelling one in the trap, it is often natural for moods to jump in and out of the place. Once you accept that your moods are rampaging through tons of known and unknown thoughts, the primary step to treat them is to monitor their tendency. Daylio is one of best depression apps to point out those triggers as soon as you find them attacking you and thus, you become able to consciously make your next move. You can take help from graphics that are provided in this app to note your moods and activities daily. Then, this app unfolds the stats based on those details to help you get clear insights and see if it's any better than before. On the top, it has pin-protection feature and it reminds you to continue to track your activities to keep you feel safe and encouraged.
Download App: Android and iPhone
---
3. Headspace: Meditation & Sleep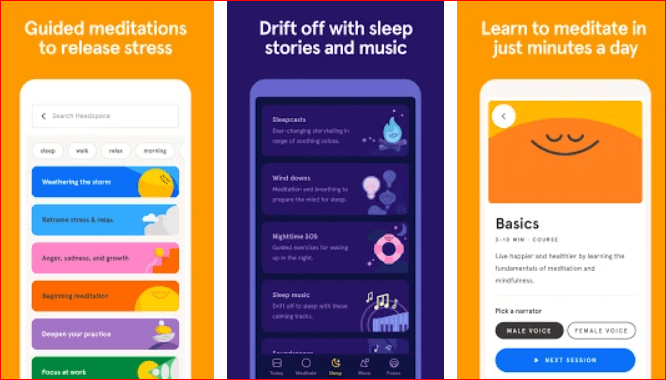 Cost: Free; In-app purchases
Read More: Best Free Zumba Apps to Get a Toned Body
Headspace has got your back in the management of depression and anxiety with a multitude of guided sessions on happiness, resilience, physical strength and overall stress management. It is one of the best depression apps that helps you take from its multiple features to deal with catastrophic demons. Headspace features different techniques like sleepcasts, mediations and relaxing music to help relieve the stress. Apart from the sets of different courses, Headspace has different modes like move mode, mediation, sleep and focus to help you expand your discovery of mental peace. The best part about this app is you can easily bring your focus back to life by simply tapping on a guided meditation session. Headspace is one of the best apps for mental health where you can breathe yourself back into the present.
Download App: Android and iPhone
---
4. Happify: for Stress & Worry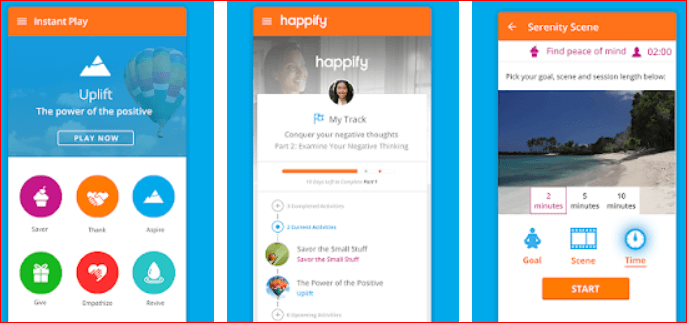 Cost: Free; In-app purchases
While some people take charge against this complex ride by letting the thoughts come out, others may prefer dropping in a fun factor to help revive an optimistic outlook on life and their surroundings. Talk about the fun way out and we say that you can try Happify to manage your depression in more of an interesting way. Standing among the best depression apps to help you manage your mental health, this one aims at helping out using games. These games and activities hone your mental well-being with resilience and gradually improve your mood. With an element of mindfulness, this app clears away the clouds and lets you break free from frustration and complex moods that are pushed by depression. If you want to rediscover a beautiful and giddy vision towards life using thoughtful activities, Happify is a must-try for you.
Download App: Android and iPhone
---
5. Sanvello: Anxiety & Depression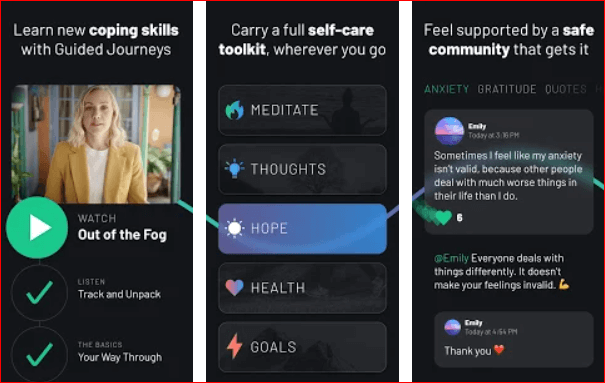 Cost: Free; In-app purchases
Whenever you find yourself scuffing with your moods that are too complex to decode, Sanvello not only gives you a hand in discovering and understanding them but also gives you a space to talk it out with a therapist. This one, standing in the list of best mental health apps, brings you different techniques based on Cognitive Behavioral Therapy. You can use a mental health assessment that tries to figure out your mental and emotional condition and lets you decide clearly whether you want to seek professional treatment. Apart from that, there are tons of such tools and mechanisms that offer you help in fighting back depression and anxiety. Savallio also offers you a community feature, where you can, without any fear of judgement, participate in discussions and chats. If you want, you can do that anonymously.
Download App: Android and iPhone
---
6. What's Up? – A Mental Health App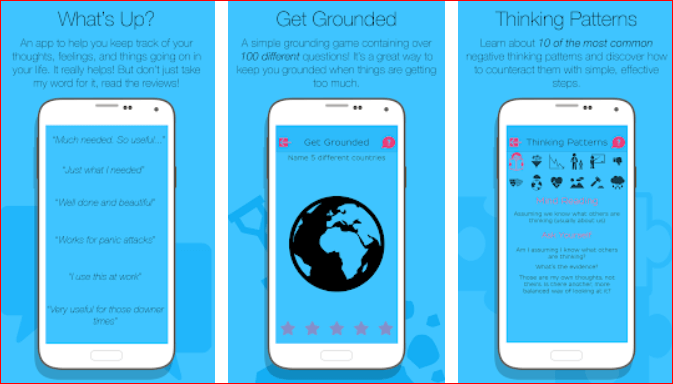 Cost: Free; In-app purchases
Read More: Best Workout Apps For Android To Get A Fit Body
What's Up?, as the name suggests, brings you a digital diary that allows you to vent out whenever you want and tracks your activities and habits. Inspired from cognitive behavioural therapy, this app brings you different techniques to cope up with your thoughts. You get to use a selection of grounding as well as breathing exercises that encourage you to live in the moment. Apart from that, this app also takes inspiration from acceptance and commitment therapy and makes you spot the distortions such as catastrophic and splitting thought patterns. On the top, it features a forum where you can connect to gain support to reduce the sense of loneliness.
Download App: Android and iPhone
---
7. CBT Tools for Healthy Living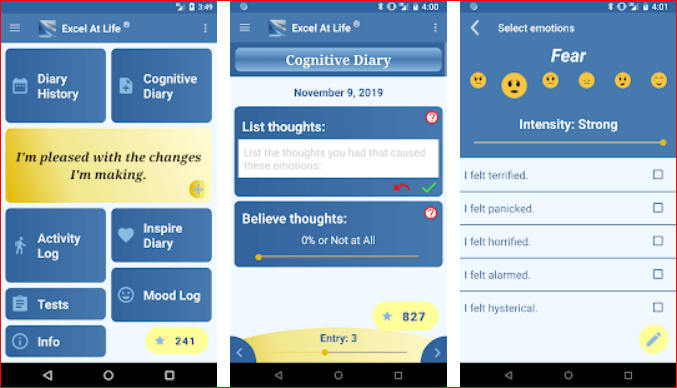 Price: Free
Nothing is better than actively monitoring your thought and behavioural patterns and being able to manage them. CBT is one of the best free anxiety and depression apps out there that helps you track your moods and daily activities along with goals in a diary. This exercise enables and encourages you to spot the unhealthy thoughts and habits that dull your mental well-being so that you can get yourself on track. Beside recording and tracking your activities and goals, you can freely write in how good (or not good) you are feeling. This app cheers you up by giving you points whenever you make it to healthy habits and achieve your goals every day.
Download App: Android
---
Final Thought
We hope that this set of recommendations on best depression apps to manage your mental health has helped you in some way or the other. While acceptance is the foremost action for you to commence, these apps have made the journey to recovery as rejuvenating as possible. Nobody said that it is going to be easy, but as long as you're bracing yourself for better mental and emotional well-being, it will be worth it. Have a word or more to add? Feel free to drop it in the comment section.
Jyotsana is a technical writer with a non-technical background. An eye of detail and a knack for writing helps her to write technology related content.Apart from writing, she is a coffee connoisseur and an aesthete who rejoices in poetry and music during leisure.
Subscribe to Our
Newsletter

and stay informed

Keep yourself updated with the latest technology and trends with TechPout.
Related Posts