18 Best Audio Recording Software For Windows 10, 11 In 2023

Have you ever considered the option of using audio recording software for recording music or for sound mixing? Passionate about singing but don't know how to reach millions with your wonderful voice? Well, it must have been a challenging task once upon a time but not anymore. Do you know why? This is because now we have the marvelous audio recording software available at our fingertips.
In this digital era, digital solutions are available for major chunks of our problems. So is true in the case of handling complications related to voice recording, sound mixing, and the creation of awesome sound effects.
Sound recording tools are used not only by amateurs but even by professional sound engineers these days. The reason being ease of availability of such applications along with advanced features, which help to produce magnificent sound effects.
What is Sound Recording?
Sound recording can be described as the electrical, mechanical, electronic, or digital etching and recreation of sound waves from sources such as spoken voice, singing, and musical instrument. Even sound amplification with the inclusion of certain audio effects comes under this process.
Analog and digital recording are the two primary types of sound recording technology.
Did you know that sound recording is not an activity of modern times? The earliest attempt of automatic sound reproduction dates back to the 9th century when the first mechanical musical instrument – a hydro-powered organ was invented by Banū Mūsā brothers.
With the advent of digital audio recording, significant improvements were achieved in the process of sound recording. 
The most revolutionary change in digital recording was brought in effect with the development of advanced audio recording software.
---
What is Audio Recording Software?
These kinds of digital audio recording and processing programs aid in recording audio using a unique technology. They allow users to capture various kinds of sound and reproduce them in a high-quality output format. They also enable users to amplify, normalize, equalize a recorded audio clip and a lot more easily.
---
What to Look For In a Sound Recording Software?
Before you actually opt to acquire suitable software for audio recording and mixing, you need to ensure that it also has the following features:
Must have basic features of recording sound from various sources.
It should be easy to use on your system or smart device.
It should have a wide variety of audio filters and special effects options.
It should have numerous editing features and functions.
It should provide technical assistance.
Without any further ado, let's check out our curated list of top audio recording software for PC to create and produce your own high-quality music tracks.
---
What Are the Best Audio Recording Software For Windows in 2023?
Now transform and reproduce any type of sound using the comprehensive list of audio recording apps mentioned below. 
1. Audacity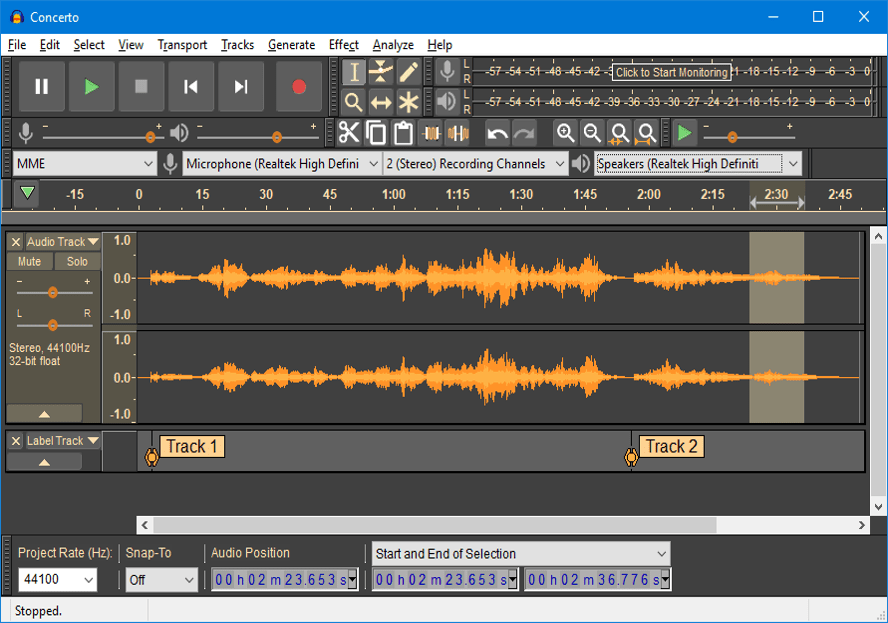 Platforms: Windows | MacOS | Linux
A freeware developed by a group of volunteers, this sound recording software offers an excellent platform for audio recording, sound mixing, and multi-track editing. It is an ad-free app with an in-built panel. The Plot Spectrum window provides a detailed frequency analysis.
Notable Features:
Record live audio with a microphone or mixer.
Digitize recordings from other media.
Import sound files and edit them.
Export your recordings into various formats.
Batch processing of import and export files.
Output sound quality – 16-bit, 24-bit, and 32-bit.
Supports innumerable plugins – LADSPA, Nyquist, VST, etc.
Reproduce the recorded audio with multiple effects using various plugins.
Multiple editing options and features are available.
Accessible with keyboard shortcuts.
It provides a spectrogram view for frequency adjustments.
---
2. WavePad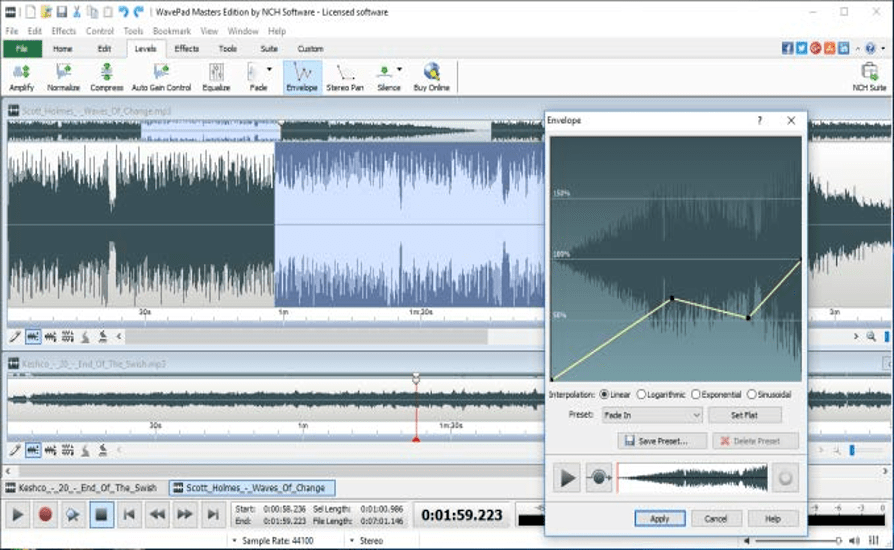 Platforms: Windows | MacOS | Android | iOS
Are you in need of a full-featured professional audio recording software and music editor for Windows 10? Then, download the highly recommended WavePad audio editing software on your system or smartphone and let it open new doors for you with its easy-to-use professional-quality features.
Read Also: Best Free DVD Ripper Software for Windows 10
Notable Features:
Record sound with professional quality sound output.
Supports popular output formats in 8, 16, 24, or 32 bits.
It also supports sample rates from 6 to 192 kHz in stereo or mono format.
It offers amazing sound editing tools. 
Use DLL (VST) plugins to create highly impacting sound effects.
Audio restoration features facilitate noise reduction and click-pop removal.
It offers advanced tools like spectral analysis, FFT, and TFFT.
---
3. RecordPad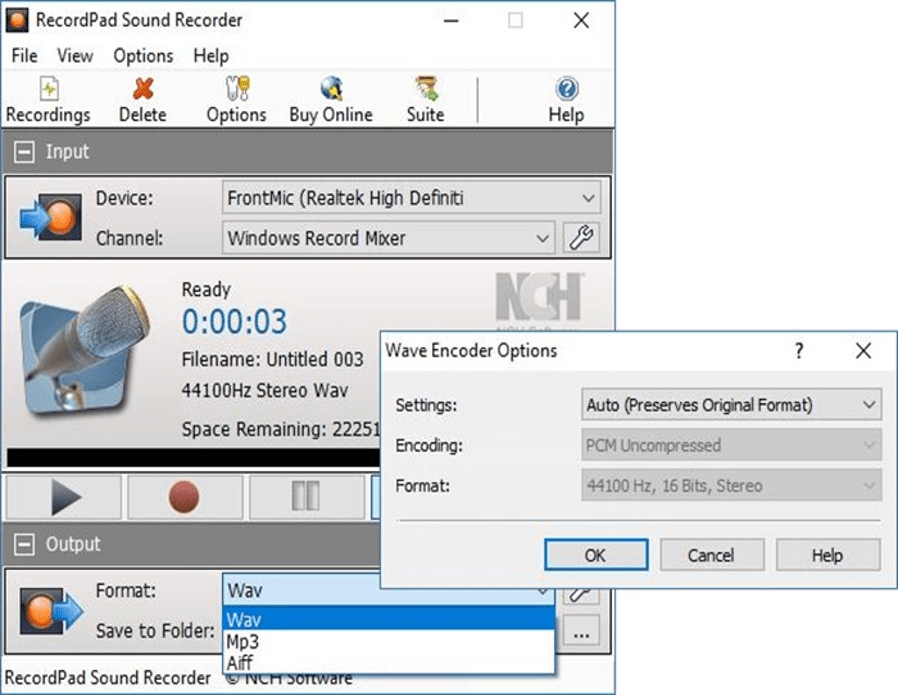 Platforms: Windows | MacOS | Android | iOS
This is another brilliant voice recording software product from NCH Software like WavePad. It lets you easily schedule a recording session in three simple steps to let you record sound at a convenient time. It's an excellent, quick, and intuitive tool.
Notable Features:
It lets you record voice, sound, music, or any other form of audio easily.
It lets you convert audio into a suitable digital presentation like an audiobook.
You can integrate it with other programs too.
MPEG Layer-3 encoding offers audio content in variable bit rates ranging from 8 to 320kbps.
---
4. MixPad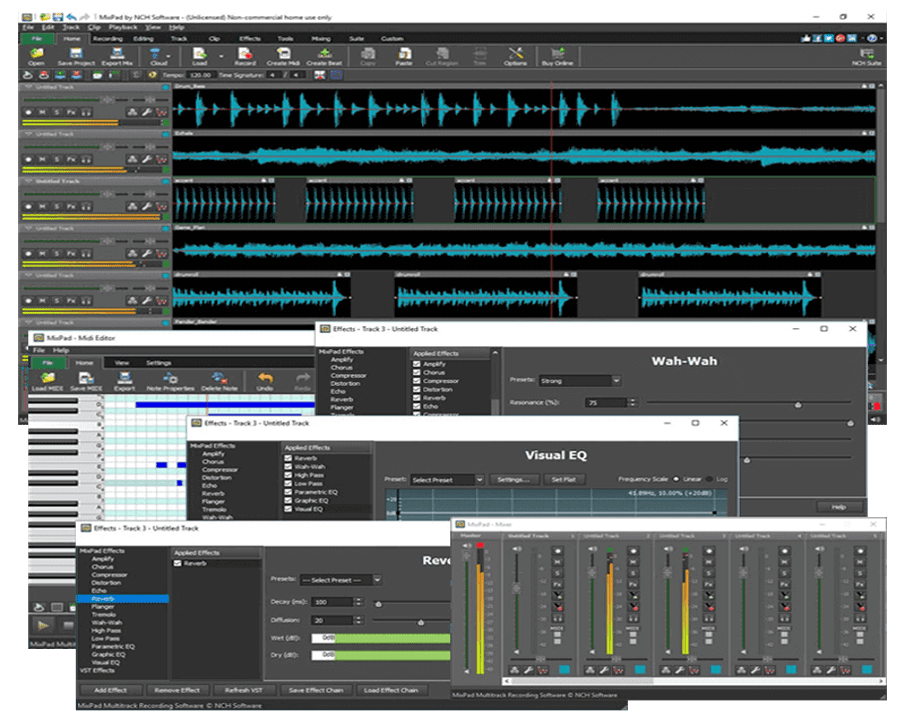 Platforms: Windows | MacOS | Android | iOS | Kindle Fire
This Windows application for sound recording and mixing is another unbeatable offering from NCH Software. It has some remarkable features which are described below.
Read Also: Best Beat Making Software for Windows PC
Notable Features:
A powerful multitrack sound recording tool for commercial-scale music production.
It helps to create music mashups.
Supports recording and editing podcasts.
Assists in mixing a number of audio, music, and voice tracks.
Users can upload the created files to SoundCloud, Dropbox, or Google Drive.
---
5. Adobe Audition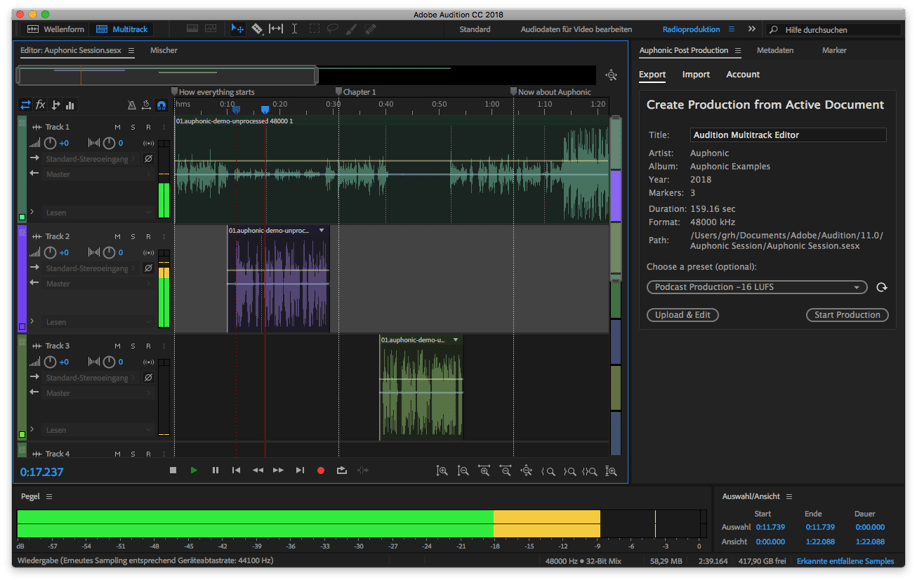 Platforms: Windows | MacOS
Adobe offers some really commendable products but did you know that it even includes a sound recording and designing tool for Windows 10 among its offerings? Yes, it offers a professional audio workstation with extensive features and takes the user a step forward with it. Although not a free tool, it's worth the price due to some attention-grabbing advanced features.
Notable Features:
With this tool, you can easily create audio podcasts.
Record and edit easily with the robust audio toolkit.
Integrate music clips conveniently into the audio recording.
Add oomph to a basic recording with the essential sound panel to get a professional-quality output.
It offers audio restoration tools.
---
6. PreSonus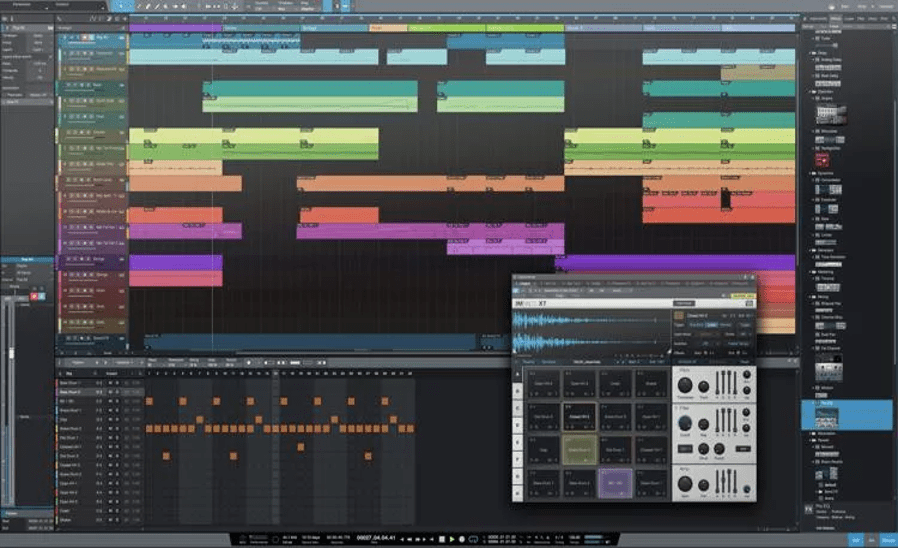 Platforms: Windows | MacOS | iOS
This tool can certainly be regarded as the best audio recording software ideally suited for beginners as well as professionals. Studio One 4 is a highly competent tool supporting a loop-oriented production process.
Notable Features:
Efficient single-screen interface.
It offers editing tools.
Enabled with advanced virtual instruments.
Lets you share music directly on SoundCloud.
Able to minimize latency.
It also provides technical assistance and third-party training resources.
---
7. Wavosaur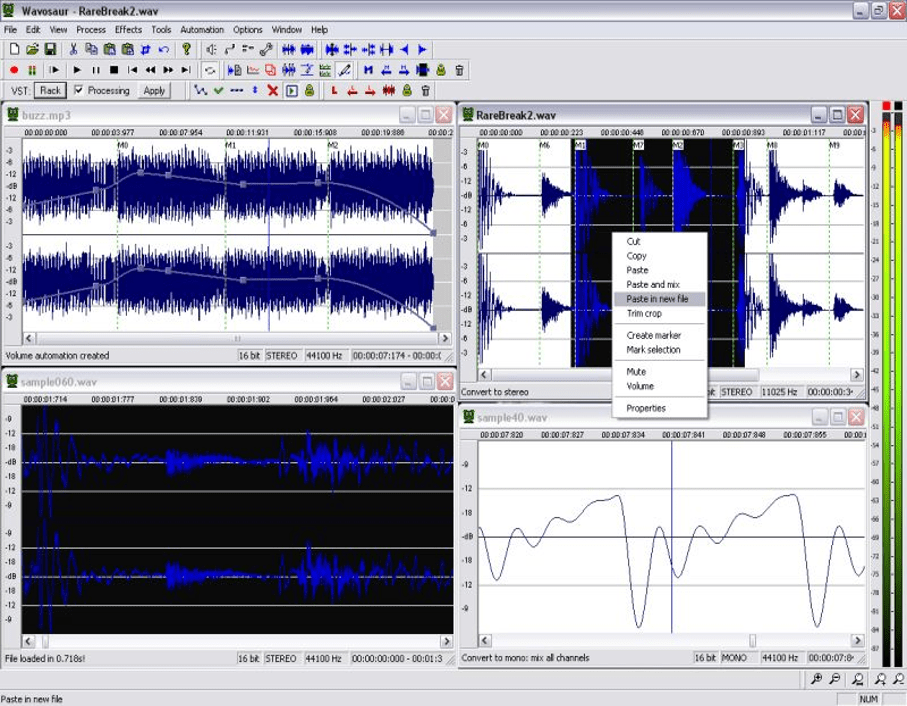 Platforms: Windows
Wondering how to find free audio recording software with enhanced features and functions? We can recommend this product as it is better even in comparison to some of the paid ones. 
Notable Features:
Processes files with WAV and MP3 file filters.
Has multiple document interfaces for dealing with multiple files.
Offers VST plugin support.
Audio routing, multichannel support, audio output sample rate up to 192 kHz, and 24 bits are some of its audio capabilities.
---
8. i-Sound Recorder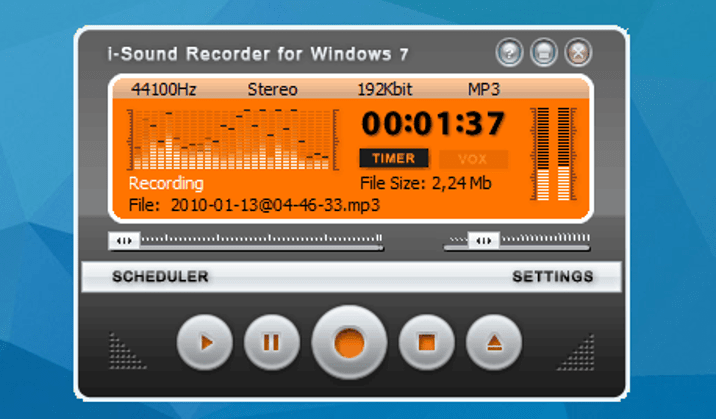 Platforms: Windows
This audio recording program is available at a low cost and users may also avail of its free trial version first. Although it is quite a basic tool but has some extremely beneficial features. Waiting to find out more about it, then read ahead.
Read More: Best Free Video Sharing Sites Like YouTube
Notable Features:
It offers good-quality audio input and audio ripping features.
It supports many formats both in the form of input and output.
The advanced recording scheduler and voice-activated recording features set the tool apart from its competitors.
---
9. Streaming Audio Recorder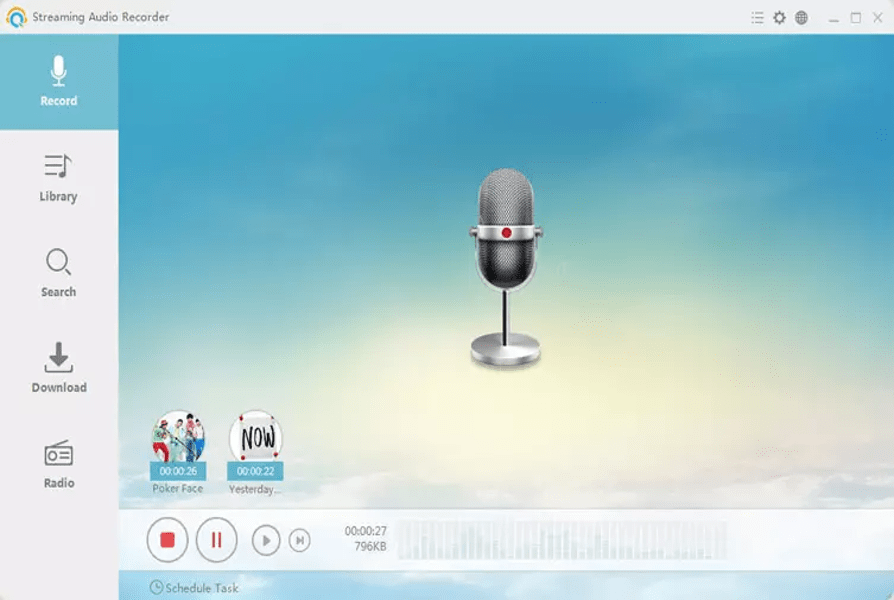 Platforms: Windows | iOS | Android
Did you know which is the best audio recording software in terms of supporting variable input formats? The Streaming Audio Recorder is a powerful tool capable of recording streaming audio from music websites, playlists, audiobooks, radio shows, and even online conferences. Let us look at some of its other incredible features in detail.
Notable Features:
It helps to record any kind of audio and yields a high output quality.
Clean and simple user interface.
Lets you add ID3 tags for music files as it can recognize the title, album, genre, year, cover, and even the artist.
The audio converter embedded in the program can help convert audio to the desired output format that's compatible with your device.
---
10. Free Sound Recorder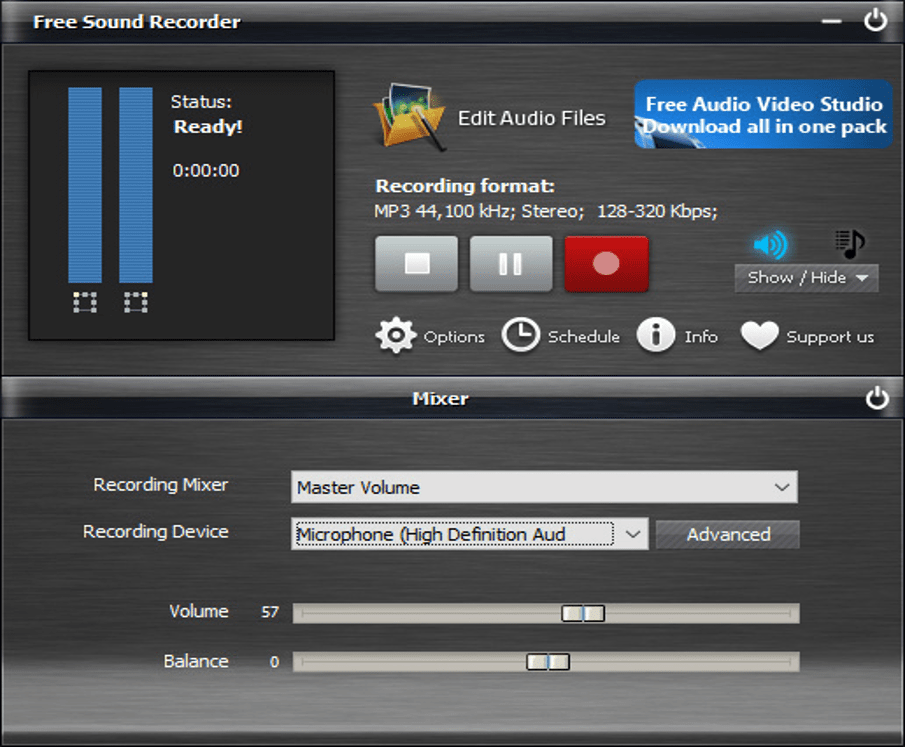 Platforms: Windows | MacOS
Undoubtedly among the best audio recording software, this app is specifically designed to record any kind of audible sound. It's a one-stop solution with superb functionalities packed in a single application and is absolutely free for Windows. Isn't that great? Well, let us look into some more tech specs below:
Notable Features:
Record podcasts easily with this tool.
Supports advanced production tasks with robust audio editing tools.
Supports digitizing from musical instruments.
---
11. Traverso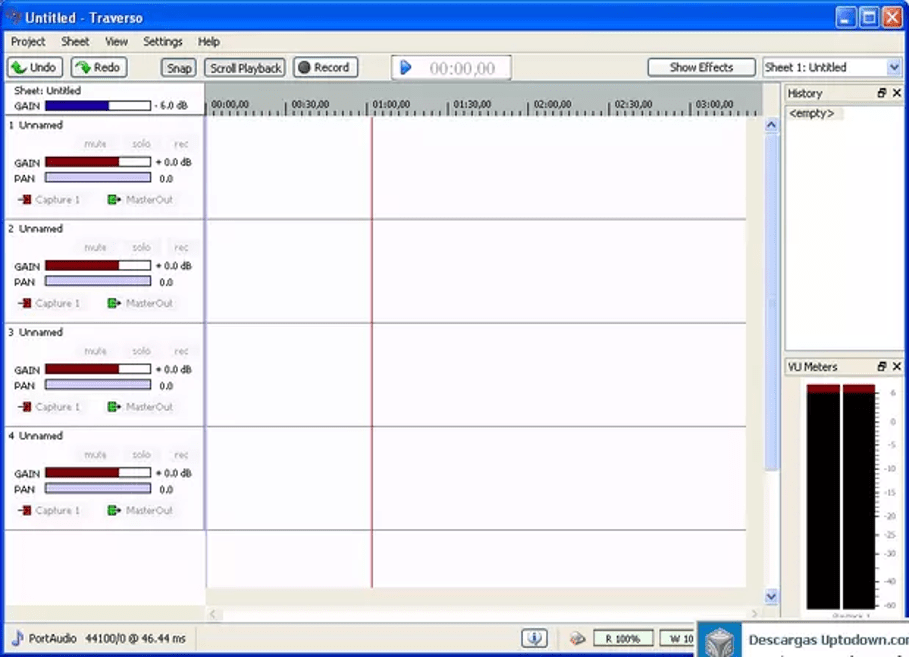 Platforms: Windows
Another free software for sound recording, it's the ultimate open-source program for meeting your recording needs. It has several other attractive features and functions as mentioned below:
Notable Features:
One-page user interface and lightweight app.
Supports several types of file conversions.
The audio track editor is constantly upgraded.
---
12. Spek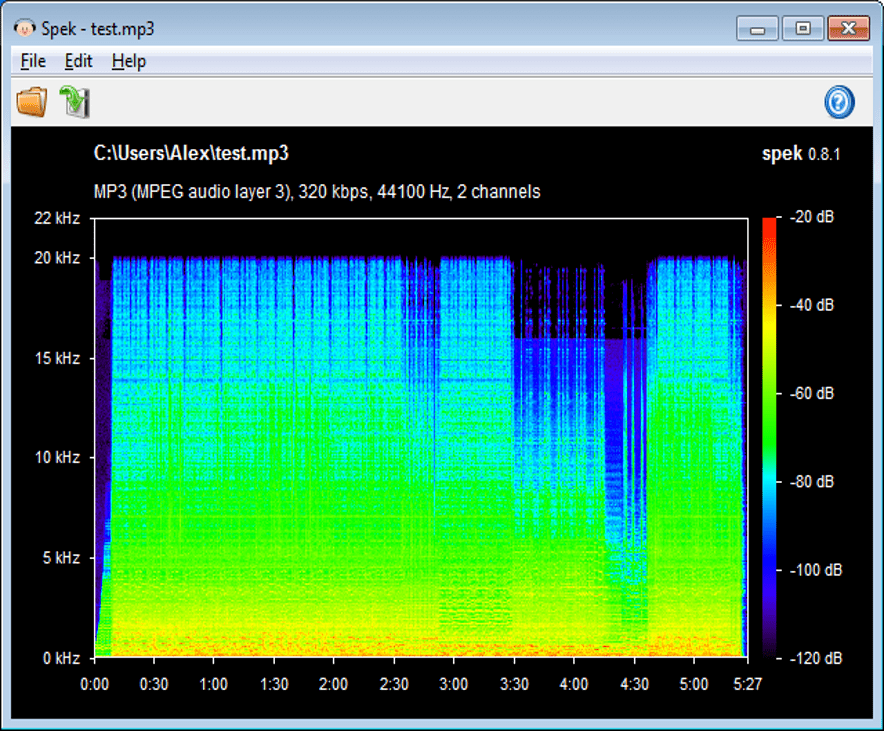 Platforms: Windows | MacOS | Linux
This is completely free software for sound recording. The interface of this tool is easy-to-use. Adorned with several notable features, let us find out more about Spek.
Read Also: Best Free Sound Equalizer for Windows 10
Notable Features:
The various popular audio formats are supported very well.
The software supports 19 different languages at one shot.
---
13. Sound Forge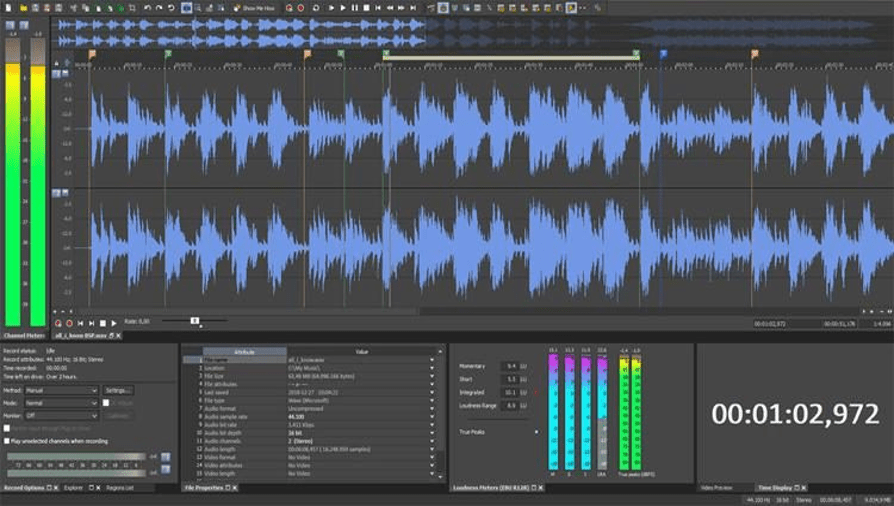 Platforms: Windows | MacOS
Gain complete control over sound editing activity with this sound mixing software. You can do a lot more with this application. 
Notable Features:
This app offers multichannel WAV recording.
Supports VST plugin to create multiple sound effects.
Offers a one-click solution to process audio tracks conveniently.
---
14. Mixcraft 9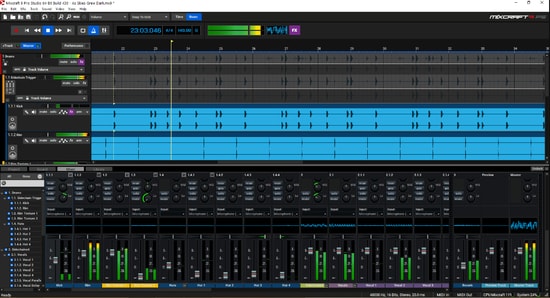 Platforms: Windows 
When it comes to the best audio recorder software for Windows, Mixcraft is at the top of the charts. The tool comes with an unlimited number of recording features and instruments, making it the best digital audio workstation (DAW) available in the marketplace currently. 
Notable Features: 
Allows you to record countless audio and instrument tracks.
More than 7500 high-quality music loops and percussion samples.
Comes with an excellent notation and piano roll editor, MIDI controller, etc.
---
15. Avid Pro Tools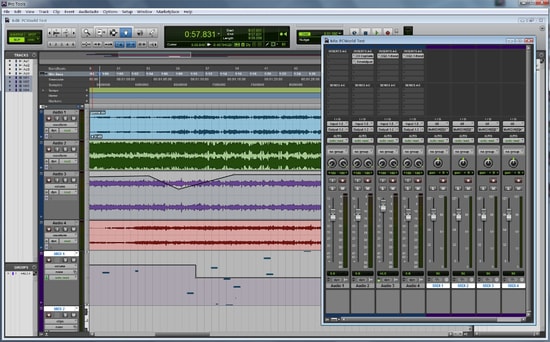 Platforms: Windows | macOS
The next sound recorder software for Windows on our list is called Pro Tools. Anyone musician who wants to create and produce high-quality sound should definitely try out this excellent audio recording application from Avid Technology. 
Notable Features: 
An industry-acclaimed Windows voice recorder with an incredibly intuitive interface.
Easy-to-use drag-and-drop feature to help you organize your tracks and music library effortlessly. 
Allows you to stream and release your own music on the world's most popular streaming platforms like Spotify, Apple Music, Pandora, etc.
---
16. FL Studio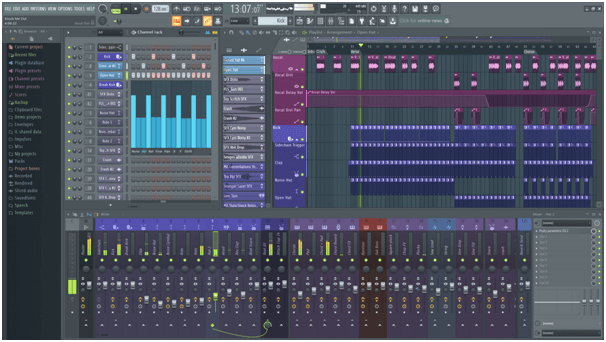 Platforms: Windows | macOS
Yet another best audio recording software for Windows 10 is – FL Studio. One of the finest windows applications for sound recording and mixing. FL Studio offers the world's best music. It helps you to compose, arrange, edit, and mix music quite easily. Moreover, you can utilize this application to add harmonies and melodies to your creation. And, what's better than receiving free updates lifetime? Probably nothing, FL Studio users receive free updates frequently. With FL Studio you can add extra blow to your production to make it far better.
Notable Features:
Lightweight and consistent tool.

Comes with an in-built Sidebar that boosts up the speed of your work.

Incorporates more than 80 plugins.

You can render videos by up to 4K resolutions.

Lets you capture live moments and easily make changes to them. 

The user interface is extremely easy to use. 

Fast music creation.
---
17. Riverside.fm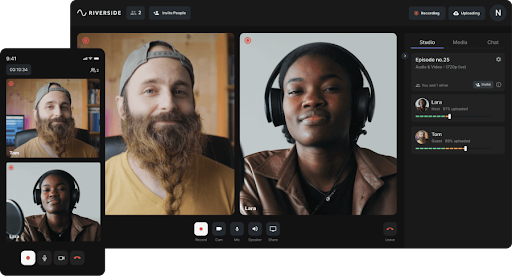 Platforms: Windows | MacOS
Next, we have Riverside.fm on our list of the best software to record audio on Windows. It is a browser-based software that you do not need to download. Moreover, it offers professional-quality audio and 4K local video recording. Furthermore, the following are some other noteworthy features of Riverside.fm.
Notable Features:
It supports local recording to ensure top-notch quality even when there are internet connection problems
With this software, you get the best quality sound with an audio resolution of over 48kHz 16-bit
There is a producer mode for real-time adjustment of audio levels
It saves video as 4K and audio as WAV
You may upload your recordings to the cloud to keep them safe
It lets you live stream to platforms like YouTube, Facebook, Twitter, etc
You may promote your podcasts on social networks with quick shareable clips
Riverside.fm offers automatic transcription of audio after recording
Podcast recording supports live video call-ins from guests
Supports 8 guests and co-hosts
---
18. Win Capture Audio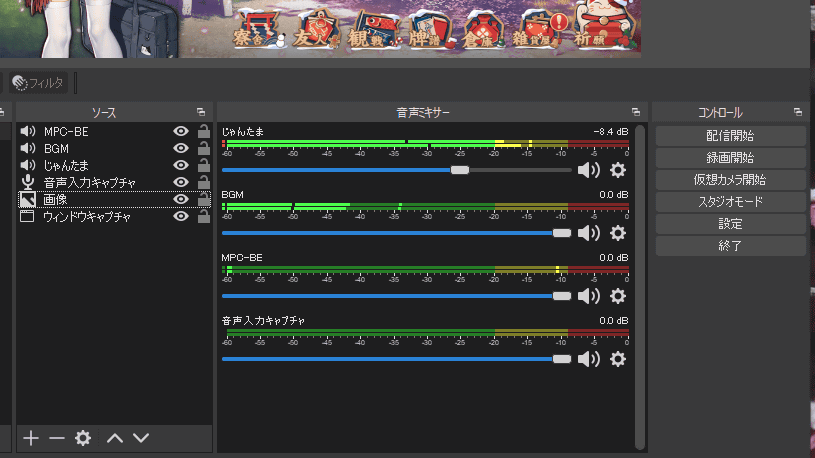 Platforms: Windows
At last, we present to you the Win Capture Audio tool as the next name on this list of the best audio recording software. The tool is quite helpful for all and allows every Windows user to record any type of recording. All you need is a stable and working microphone and you can record anything with Win Capture Audio by your side.
Notable Features:
The interface of the software is quite straightforward and hence, very easy to use for all.
The tool is beginner friendly and hence even if you don't have expertise in working with Windows, you can use the tool perfectly.
With a single click of the software, you can start, resume, or stop the recording.
The tool is multilingual and offers the ease to use the tool in any language as required.
You can use the software and capture or record the audio from any particular app.
The tool is available for Windows 10 and Windows 11 devices.
The three-step installation and usage procedure of the software are worth trying.
Win Capture Audio is an open-source tool.
You can edit the structural base of the software and modify it according to your requirements.
Also Read: Best Music & Audio sound Visualization Software for Windows
---
Final Words: Best Audio Recording Software For Windows PC 2023
Did you know that audio recording software is highly in-demand among music aspirants? This is because they can easily create professional-quality music with the help of various features and functions of these apps. 
Publicizing a soundtrack is easy these days with the help of several online platforms like YouTube but what's important is to have a good quality recording, and that's where free as well as paid tools come into the picture.
Some sound recording software programs can also help in screen recording and multi-track recording. Most of these apps also facilitate various audio editing features, along with the inclusion of highly advanced sound effects.
Thus, you can use any of the recommended tools from this article to create amazing audio recordings, whether for a professional purpose or for creating a personal collection.
Snigdha is a technical content writer with expertise in the field of science & technology. Though she has a very diverse academic and professional profile yet she finds writing to be a creative form that she was unable to explore so far. When not writing, she can be found indulging in other forms of creativity like painting or travelling.
Subscribe to Our
Newsletter

and stay informed

Keep yourself updated with the latest technology and trends with TechPout.
Related Posts