How to Fix XDefiant Stuck On Initializing (Solved)

Undoubtedly, XDefiant, developed and published by Ubisoft, is one of the best free-to-play first-person shooting video games currently available. Irrespective of being the popular game, numerous Windows PC users reported that it stocks on the loading screen. Experiencing this inconvenience is quite annoying, but the good news is it can be solved. Are you also running into, the 'XDefiant stuck on initializing' issue? If yes, then you have come to the right place. In this blog post, we will explain a few workable solutions to fix the issue, without any hassles. Continue reading!
What Causes XDefiant Stuck on Initializing?
It's common knowledge that the open beta release of the game drew in millions of players from all around the world. This inflow has caused the game's servers to become congested and overloaded, which has an effect on how the game communicates with computers and other gaming devices. Other than issues that are related to the server, the following are some other probable causes of getting stuck on the initializing step in XDefiant:
Problems with low-end computer networks.
Game files that are corrupted.
Missing admin privileges.
Solutions to Fix XDefiant Stuck On Initializing on Windows PC
Listed below are a few tried and tested workarounds that you can consider in order to fix XDefiant stuck on initializing. You don't need to use them all, just work your way through each and find the best fit for you. Now, without further ado, let's get started!
Solution 1: Initial Workarounds
Checking system requirements: Verify that your computer fulfills both the required and the recommended system requirements in order to play XDefiant without any glitches.
Launch the game as an administrator: To ensure that the game starts up without any problems, give XDefiant permission to run with administrative rights.
Check the status of the server: You should check the status of the XDefiant server to ensure that it is not experiencing any congestion, overload, downtime, outages, or scheduled maintenance.
Verifying the integrity of game files: It is necessary to check and fix the integrity of the XDefiant game files in order to get rid of any temporary defects or glitches that may cause problems when the game is launched.
Verify that you have an active internet connection: Make sure that your internet connection is stable and active.
If in case, the above-shared basic solutions didn't help you fix the XDefiant stuck on loading screen problem, then proceed with the other solutions mentioned below.
Also Read: How to Fix Windows 10 Computer Stuck on Restarting
---
Solution 2: Update Your Graphics Drivers
If you're using an older version of the drivers for your graphics card, you can run into problems when you try to launch XDefiant. Make sure that you have the most recent version of your graphics driver installed in order to have easy access to the game and to play it efficiently. You can update your graphics drivers either manually or automatically.
To update drivers manually, you need to visit the official website of your graphics card manufacturer and then find, download, and install the compatible driver file according to your Windows OS version. In order to make use of this method, one must have proper technical knowledge and a lot of time. And, if you don't have the patience, time, or required computer skills to manually install the pending graphics drivers, then you can do it automatically with Bit Driver Updater.
Bit Driver Updater is a globally recognized driver updating software that automatically scans your device for outdated or problematic drivers and then finds new ones for it. Moreover, the software only installs WHQL-tested and certified drivers. In addition to this, the driver updater utility also enhances the overall performance of your system by automatically fixing other Windows-related issues.
Bit Driver Updater is available in both a free version and a pro version. However, it is worth noting that the pro version gives you the ability to update all outdated drivers in one go. Additionally, with the pro version, you will get 24/7 technical support and a full money-back guarantee. Comparatively, the free version lets you update one driver at a time, plus, it is partly manual.
Now, follow the steps below to update the outdated drivers with Bit Driver Updater:
Step 1: From the button below, download and install Bit Driver Updater for Free.

Step 2: Next, launch Bit Driver Updater on your PC, and click the Scan option from the left menu pane.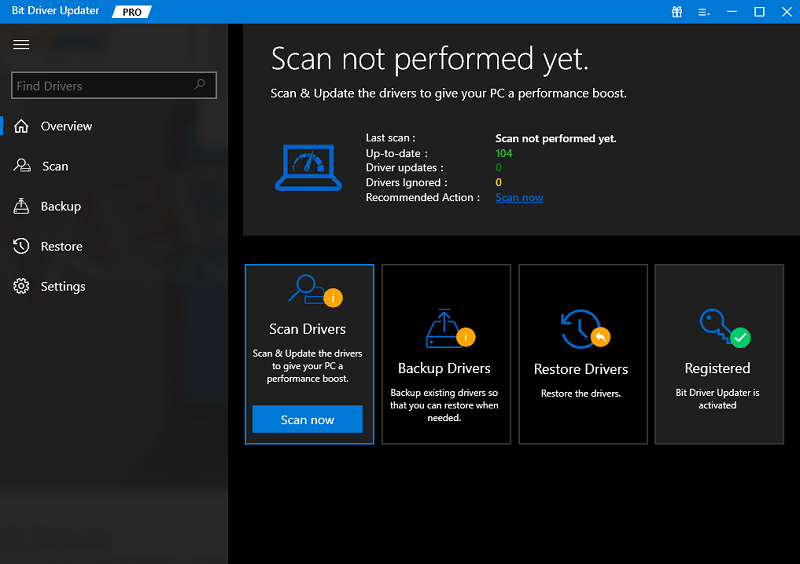 Step 3: Wait for the scanning to be completed. Then, locate and click on the Update Now button available next to the driver you wish to update.
Step 4: And, if you are using the pro version, then you can install all PC drivers in one click. To do so, simply click on the Update All button.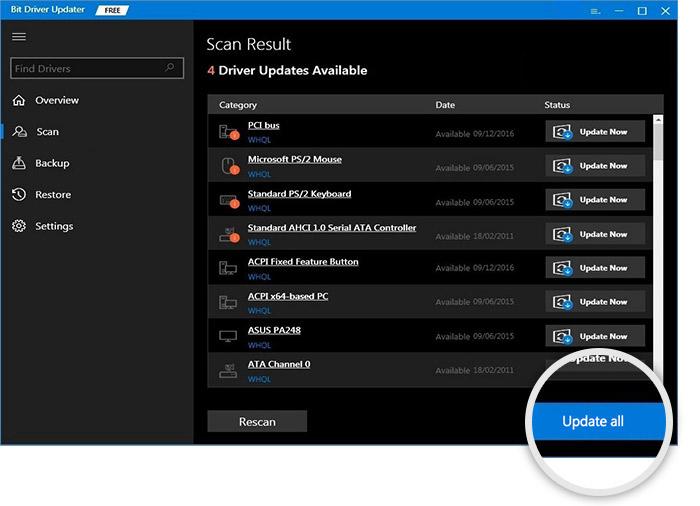 Once everything is done, restart your device to apply new drivers. That's all! See how simple & quick it is to install the latest driver updates on a Windows PC via Bit Driver Updater. After installing the latest drivers, check to see if the XDefiant Stuck on initializing is fixed. If not, move on to another solution.
Also Read: Thread Stuck in Device Driver Windows 10,11
---
Solution 3: Make Use of VPN
According to some users, using a virtual private network (VPN) to log in from a different region can fix the XDefiant stuck on initializing problem. This enables Ubisoft to connect to the game's servers, which in turn makes it possible for you to play the game.
The delay that occurs between a server's reaction and a gamer's activity is caused by a server that is congested with an excessive amount of traffic. This slowness prevents players from successfully connecting to the servers, which results in an error message being displayed. A virtual private network (VPN) can assist in alleviating this issue by establishing an encrypted connection between your computer and the internet. Your Internet service provider cannot slow down your connection because they do not know what you are doing with it.
Follow these steps on your computer to use and connect to a VPN:
Step 1: Get a setup file of the virtual private network application.
Step 2: Install the Virtual Private Network (VPN) service by following the on-screen instructions provided by the VPN for Windows 10.
Step 3: Connect to a server that offers a VPN service, and check to see if the problem still exists after doing so.
If still, the XDefiant stuck on loading screen, then try the last resort mentioned below.
---
Solution 4: Try Another Connection
For optimal performance, XDefiant calls for an internet connection that is both more reliable and more rapid. You can acquire faster Internet by switching to a different connection, such as a wired connection, which will help you overcome the problem of being stuck on the initializing screen. After you have ensured that your PC and router are both equipped with an Ethernet port, restart the game to determine whether or not the problem has been resolved. Make sure your Wi-Fi connection is turned off.
Also Read: How to Fix Printer Stuck on Spooling Issue on Windows 10, 11
---
XDefiant Stuck on Initializing: Fixed
That was all about how to fix XDefiant stuck on initializing Windows 10, 11 PC. We hope you found the troubleshooting tutorial helpful. Please leave a comment below with any other suggestions, as well as any extra questions or feedback you may have.
Do subscribe to our Newsletter and follow us on Social Media – Facebook, Instagram, Twitter, or Pinterest so you never miss any tech updates.
Harshita Sharma is a technical writer with quite a distinct understanding of the tech realm. She is a tech enthusiast who believes that tech knowledge should reach one and all and tries to convert the sketchy knowledge into the simplest possible form for making people understand the tech world better. When not playing with words, she loves to travel and explore new places. And, is a coffee & cricket connoisseur.
Subscribe to Our
Newsletter

and stay informed

Keep yourself updated with the latest technology and trends with TechPout.
Related Posts