Windows 10X: Everything You Need to Know About Microsoft's New Dual-Screen OS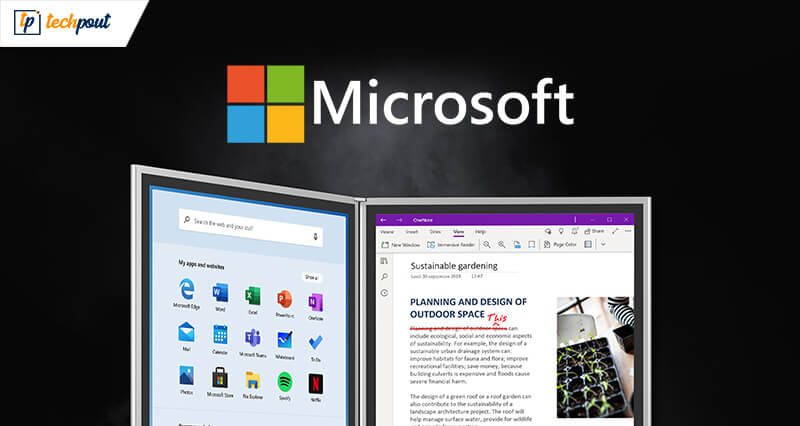 Last year in October, Microsoft announced some news regarding the dual-screen Surface Neo and a very special OS. This special OS, known as Windows 10X will be running on upcoming dual-screen devices like Surface Neo, ThinkPad X1 Fold, and other similar products announced at the CES 2020.
Windows 10X is a bit different than Windows 10 and is definitely not an update. It is heavily re-engineered, has modern looks and has been designed specifically for devices with dual screens.
Price & Launch Date:
Windows 10X is a new expression of Windows 10 catering to some special dual-screen devices. This is not your regular OTA update or something that you can get from the store.
This new expression of Windows will come pre-installed on dual-screen devices including ThinkPad X1 Fold and Surface Neo.
Microsoft has not announced anything about the release date and price of these dual-screen devices. But we can expect a launch event somewhere in the fourth quarter. The company may also launch 10x along with these two devices.
What's Windows 10X Tagging Along?
There are tons of new features that this Windows will tag along. Out of the blue, there will be two screens, tons of display settings, better battery for optimal support, faster response times, quick access to multiple tools and other useful shortcuts.
In addition to this, there are two new unique elements that define the factor of superiority. These devices will have two screens.
When the keyboard on a Windows 10X is flipped to rest on the bottom part of another device, the rest of the screen becomes the 'wonder screen' of the device.
The new start menu is redesigned to offer the ease of productivity to artists, graphic designers, image developers and many more. There is a search bar at the top of the menu and this has eliminated all the live tiles.
Unlike Windows 10, the live tiles are replaced by a list of static icons, frequently used applications and recommendations. These recommendations are updated dynamically.
In addition to this, the taskbar and Action Center are another new feature in Windows 10X. OS is built keeping in mind the dynamic response from the user.
This special Taskbar can adapt to changes from the user. In short, the taskbar will have more features to display the apps and programs.
Zac Bowden, the senior editor at Windows Central reported that whenever Windows 10X detects a mouse being plugged and the Windows 10X OS will behave more like Windows 10.
The Action Center will be more simplified in Windows 10X. It will include a number of sliders and rockers to adjust brightness and sound. It will come with rounded corners and edges making it look more premium and glass-like.
Other areas where Microsoft improved a lot on the features including the Welcome screen. Here the user will find more dynamic wallpapers unique file explorer that will plug directly to OneDrive.
WIndows 10X will handle updates in a dynamic way. Update downloads and installation will take less than 90 seconds and the entire OS will run in read-only mode.
Programs that change the system data, will not be supported in the Windows 10X environment.
Read More: Everything You Need To Know About New Microsoft's Chromium Edge Browser
Microsoft has also said that Windows 10X the most important feature will be how applications use the dual screens of Surface Neo. It also says that developers will not have to work on optimizing the application as the apps will adapt to use the dual screens.
It will be pretty nice to see the apps adapting to use single and double screen modes to give the users a better taste of productivity and efficiency.
Having said that, we know how adaptive and dynamic the screen is. This is going to open a whole new bunch of opportunities for graphic designers, image curators and people who multitask.
Windows Core is the system that works on the unique design of Windows 10X. Core OS has also been implemented for other expressions of Windows like Xbox, Surface Hub 2, HoloLens 2 and many more.
There had been a commotion regarding the success rate if Microsoft installed Windows 10 on them. Therefore there was a need to implement Core OS.
With Microsoft's first foldable, dynamic and adaptive dual-screen device, Windows 10X was designed to use the potential of dual-screen devices at maximum level.
It is also a fact that Windows 10X will not be an update to the current version of Windows 10. In addition to this, users who want to experience Windows 10X will have to get their hands on dual-screen devices like Surface Neo and ThinkPad X1 Fold.
It is still unknown whether there will be any device that rivals Windows 10 powered solutions like Surface Pro and others. Provided that the market of Windows 10 is booming nicely and set to hit the mark of 1 billion devices, it is highly unlikely that the OS will be dead any sooner.
Jay is an incredible writer who loves to give life to words. He is always carrying out some research and likes to keep himself updated with the happenings around him. Writing runs in his blood makes him happy. When not working, you can find him singing, composing poetry, writing horror stories, playing action games on the laptop and munching on food.
Subscribe to Our
Newsletter

and stay informed

Keep yourself updated with the latest technology and trends with TechPout.
Related Posts