Top 5 AirDroid Alternatives to Try in 2021
Published Date :
Oct 18, 2021

This article will help you in finding the best alternative to AirDroid to try in 2021. We have shared every detail about the apps below, you can read and then choose which one suits you best. 
AirDroid is one of the best applications that you can use for using Android devices through your desktop or laptop. If you are new to the technology world and exploring the greatest apps that can help you in working efficiently, then AirDroid is one of them. Using the app you can simply reply to messages, manage files, check notifications, and can do everything which you wish to do from your mobile phone.
There is no doubt that AirDroid is the best app to use but recently users have complained about the app featuring bloatware off late. Considering the issue many users have started looking for alternatives to AirDroid. Now if you are one of the users who is looking for an app similar to AirDroid, then worry not as we have shared the 5 best free AirDroid like apps that you can use. So now without any further delay, let's jump onto the list of apps and check their details.
Best 5 Airdroid Free Alternatives in 2021
Below we have shared apps similar to AirDroid that you can try for using your mobile phone on your laptop easily.
1. Pushbullet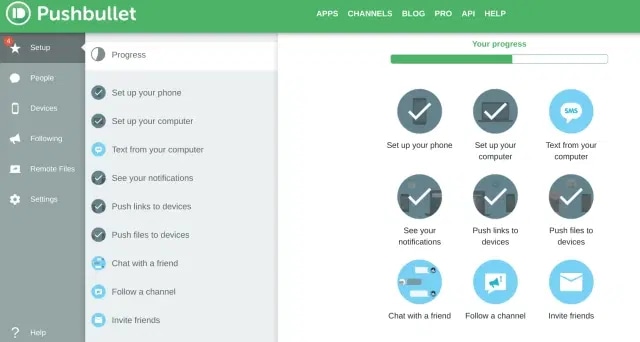 Pushbullent is one of the best alternatives to AirDroid. It offers all the features which you get in AirDroid like apps. Using the application you can simply send messages, check notifications, share links, files, and other documents easily. Overall you can perform every action of your mobile phone from your laptop easily.
In order to lead the market, the app comes with end-to-end encryption to offer the best security for all your data. Though the application lacks WiFi file transfer which is present in the AirDroid application. But to help you with all the local file transfers and WiFi file transfer, the company has introduced a new application named Portal. This application will offer you all the features for sharing files easily.
Overall the combination of Pushbullet and the Portal application is the best AirDroid alternative to use. With closed eyes, you can trust the software and work effectively.
Also Read: 10 Best PushBullet Alternatives in 2021
---
2. Snapdrop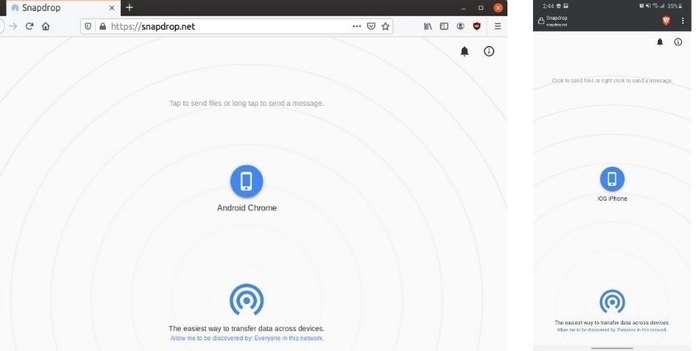 Next up on our list of best free alternatives to AirDroid is Snapdrop. This application is one of the fastest and easiest for sharing files. Using the application one can share files to various platforms without even downloading any app. This is an open-source web-based application that does not require any installation or space on your PC.
To use your mobile phone with this application you just have to have a common WiFi access point and that's it. You can simply visit the website of Snapdrop that is Snapdrop.net and can start sharing files effectively.
The reason why Snapdrop is one of the top AirDroid alternatives is because of its fast transfer speed and uninterrupted user experience. There are no ads to disturb your transfer process, you can simply click the button to initiate, and within a few minutes, it will be completed. Other than this all the data and transfers are encrypted with TLS protocol. So you don't have to worry about anything when using this app like AirDroid.
---
3. Your Phone Companion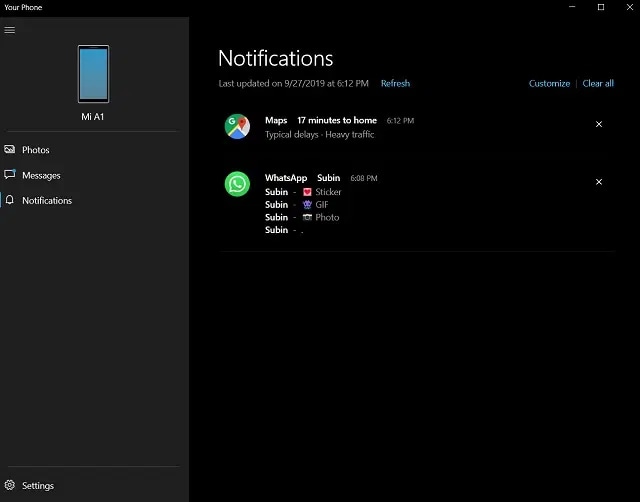 As the name suggests this is a one-stop solution for using your mobile phone on PC or laptop. This alternative to AirDroid is developed by Microsoft to reduce the gap between smartphones and Windows PCs. Just like every other app similar to AirDroid, using this application you can receive notifications, access photos, send messages and receive calls.
The company is working hard to make it the best free AirDroid alternative. The app is still getting regular updates and features add-ons to make the user experience better. This AirDroid similar app offers some of the great features to the Samsung flagship phones. So if you have a Samsung phone then this is the go-to application.
The application till now hasn't been released for iOS devices, but it is soon expected to be released so that any users can enjoy this amazing AirDroid alternative.
Also Read: 8 Best Xender Alternatives for File Sharing & Transfer

---
4. ShareMe (MiDrop)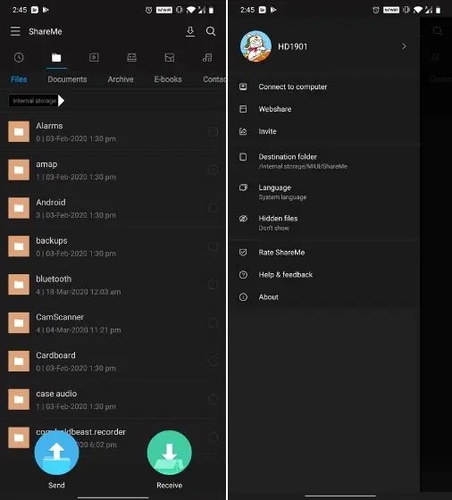 ShareMe is another great alternative to AirDroid that you can try. Though this application is not as feature-packed as the AirDroid, it offers an ad-free experience which makes it a worthy alternative. Apart from this if we compare Shareme to any other file sharing application then the result is way better than expected as it offers some of the best speed transfers without any interruption.
Using the application you can simply create a local FTP URL on your mobile phones that can be used to share files on a web browser. The best part about this application is that it does not have any in-app purchases or charges. It is totally free to use, so you can download it and use it to share files easily.
---
5. AirMore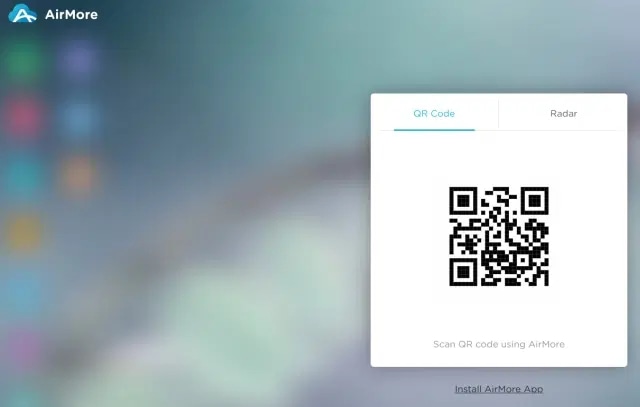 Last software on our list is very similar to the AirDroid application. This alternative to AirDroid is ideal for both Android and iOS devices. Unlike most of the AirDroid alternatives, it offers all the features that you will find in AirDroid.
Using the application you can transfer files, play media, sync apps and do all the functions of the mobile from your PC or laptop. Other than this it also has a 'Reflector' feature which can mirror the device interface to the computer's screen easily. The best thing about this AirDroid similar app is that it is available for free. Overall it is one of the best apps to use in place of AirDroid as it is free and compatible with Android and iOS.
Also Read: 10 Best Shareit Alternative for PC in 2021 – Instant Transfer Files

---
Final Words on the List of AirDroid Free Alternatives
Using a mobile phone through your PC or laptop is easy now as the market is getting bigger and so are the competitive apps. If you want to switch to any other application you can do that as there are thousands of apps that fall under the same category or genre. Similar to any other category, AirDroid like apps are also there in huge numbers. We have shared the best 5 options that you can use.
After reading this article you can easily select the software which can perform according to your requirements. We hope that we have helped you in finding the best alternative to AirDroid. If you have any questions or queries related to this article, then you can drop them in the comments section below. We will try to help you with every query of yours. For more technical articles, you can subscribe to our newsletter and never miss any updates.
Tanmay is a technical writer from the field of mass communication. He aims to communicate the best of the technology to the readers through his write ups. If not writing you can find him with his camera capturing nature and exploring the unexplored world.
Subscribe to Our
Newsletter

and stay informed

Keep yourself updated with the latest technology and trends with TechPout.
Related Posts