Web browser forms an integral part of any desktop or smartphone, and the same can be said for a Flash player software too. 
Flash players for Android browsers are essential for streaming audio, playing PC games, and also for watching online TV shows, movies. Most websites and animations require an efficient flash player for seamless working. 
Using an Android browser with an in-build flash is always recommended by experts and is best suited for gaming freaks and movie lovers. 
In this post, we will discuss some of the Best Web Browser For Android Mobile. Since the market is filled with multiple options, finding the right pick can be an overwhelming task. To ease your job, we have prepared a well-researched rundown of useful web browsers that supports flash player for Android.
Let's have a look at them one by one. 
What Are the Best Android Browsers with Flash Player in 2021?
Let's take a look at our curated list below to know about the best flash supported browsers for Android to use in 2021.
1. Dolphin Browser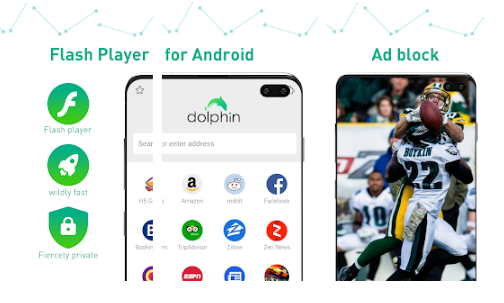 Dolphin Browser is one of the most popular and successful Android browsers that the market has seen until now. It is known for its high-speed surfing and an array of useful features that it offers. Some of the most noticeable offerings include ad-block, theming, incognito mode, flash support, personalized search, multiple taskbars, and gesture controls. 
You can enjoy high-speed and uninterrupted browsing experience with it and opt for various extensions and add-ons whenever needed.
It works incredibly well on smartphones and is available on Google play store for free. 
---
2. Google Chrome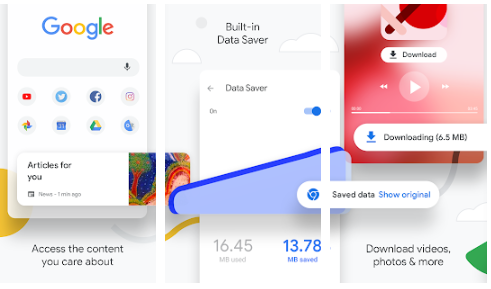 Of course, this is one of the most lauded about the Browser and is widely used by masses of all ages and groups. It is probably the first name that strikes our mind when we think of downloading a browser and is exceptionally easy to use.
Read More: Best Free Android Dialer Apps
It comes with an extensive list of useful features for both power and primary users.
Some of the main features are: 
It offers incognito browsing.
It supports fast downloading and offline videos.
It can easily sync across devices.
Unlimited browsing tabs. 
Most beneficial point: Google Chrome is always the first to get updated with all new Android features. 
---
3. Firefox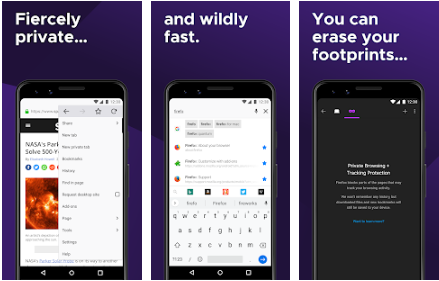 If you are looking for a browser that supports flash, is fast, and also keeps your online activities private, then Firefox is an excellent option to consider. You get access to a vast list of incredible features that promises easy functionality and user-friendly experience. 
Its intelligent search engine supports fast browsing and relevant results. Moreover, its advanced tracking protection mechanism is ideal for enjoying next-level privacy. 
Download Firefox today to enjoy multiple benefits.
Seamless browsing.
Safe, private, and fast browsing experience.
It can be easily synced across devices.
It offers intuitive tabs and also provides multiple add-ons. 
---
4. Opera Browser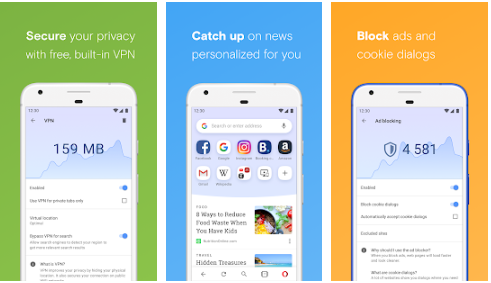 Next on our list of Best Android Browser with an in-built Flash Player is Opera Browser. It is best suited for an Android OS and supports a highly private browsing user experience. On performance ground, it is on par with Google Chrome.
There are several notable features and benefits attached to it, some of the most prominent ones are: 
It blocks unwanted ads that support uninterrupted browsing and speeds up the loading process.
Its incognito mode keeps your surfing private and ensures that you do not leave any traces behind.
Night mode and text size setting promise a comfortable reading experience.
It has an in-built VPN connection that keeps all your online activity hidden from unwanted eyes.
---
5. Puffin Browser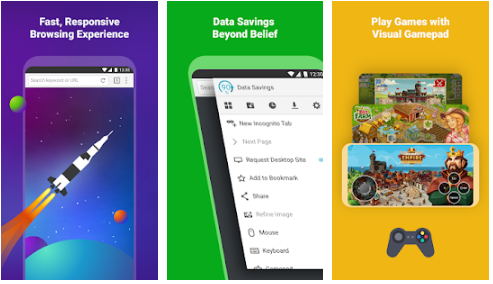 If you love breathtaking speed, then Puffin Browser is specially designed for you. It is listed as one of the fastest mobile Browser which offers wicked and unmatchable speed. With its customizable features, you can easily enjoy a desktop-like experience on your smartphone screen. 
It's intelligent working shifts your device resources optimally to support fast browsing and is powered with the latest version of Flash player. 
Major Highlights:
It offers an incognito tab.
It comes with a virtual gamepad and trackpad.
Unmatchable web experience for desktop and smartphones.
Incredible rendering and loading speed.
Cloud protection.
---
6. Photon Browser – Flash Player and Browser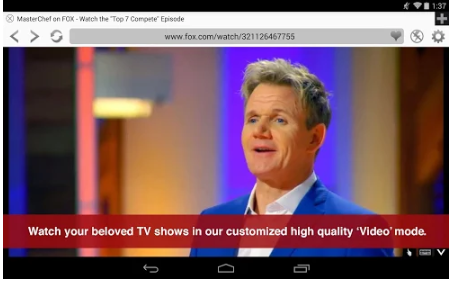 Download this capable Android browser with flash directly from Google Play Store. It comes with a built-in flash player and supports significant features for faster speed and easy browsing.
From high-definition games to online video streaming, it effortlessly leverages your web-experience. It is more-or-less free from annoying ads, but you can also opt for its premium subscription to enjoy a completely ad-free experience. 
To activate the flash player, click on the bolt button available on its main screen. 
Key Features: 
Incognito and private browsing support.
Supports various versions of Flash Players.
It comes with an ad-blocker tool. 
VPN connection. 
---
7. Flash Fox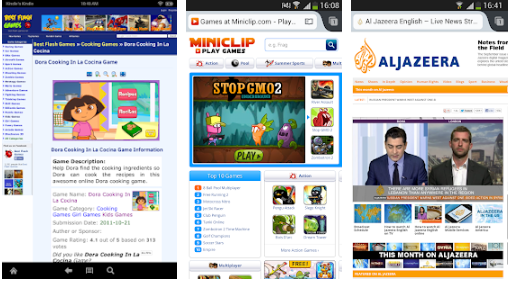 Another best browsers that support flash player is FlashFox. It can support fast page loading and rapid speed. You may also upgrade your basic version to its pro version to experience added benefits and premium features. 
With its pro version, you can enjoy playing animated games, audio and video files, and stream online movies.
Key Features:
It is an all-in-one browser.
No extra plugins and ad-ons are required.
Safe and secure flash player for Android Browser. 
---
8. Maxthon Browser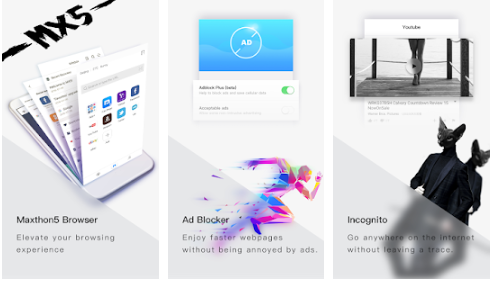 Next on our list of best Android Browser with Flash player is Maxthon. It is listed as one of the fastest and secure cloud-based browsers and is fully compatible with Android devices, Windows, and iOS platforms. 
Read More: Best Apps To Remotely Control Your Android Device
With Maxthon, you get a bag full of stunning features which include: 
Data Saving
Fetch Mode
Password manager tool.
Incognito Mode and Night Mode.
Tab Management, easy synchronization, multi-language support, and night mode.
---
9. Microsoft Edge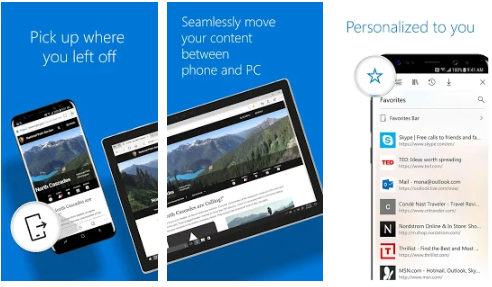 Experience a continuous and uninterrupted browsing experience with this fast, safe, and secure Android Browser. It is known for providing legal services and offers light but useful functionalities. 
In addition to Android devices, it also works incredibly well on Microsoft and Windows 10 Systems. It is your perfect web partner.
Key Features:
Blocks Ads
It supports private browsing.
It provides a lot of customizable features.
---
10. Kiwi Browser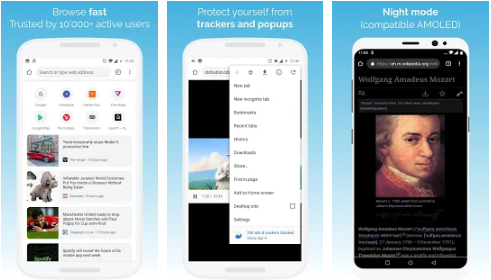 Kiwi is one of the newest browsers which uses Chromium, this means you get access to several setting options and visuals. Browse in peace with its fast page load speed and block all unwanted ads. Unlike other web browsers, you will find its address bar at the bottom of the screen.
It's the only downside is, you don't get a desktop sync option with it but still offers multiple functionalities to keep its users satisfied.
Key Features:
Ad Blocking
Night Mode
Cryptojacking Protection.
East language translations.
---
11. Firefox Focus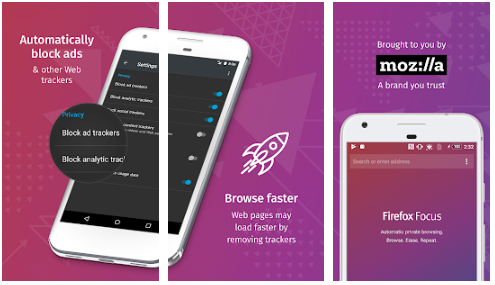 Another new entrant in the market of web browsers that supports flash player for Android is FireFox Focus. It is built to ensure complete and all-round security. 
It can delete your entire browsing history in a single tap, so not recommended for people who avoid multiple sign-ins. 
Top Features: 
Decent ad-blocking tool
One-tap history deletion system.
Automatic privacy and fast browsing. 
---
12. Naked Browse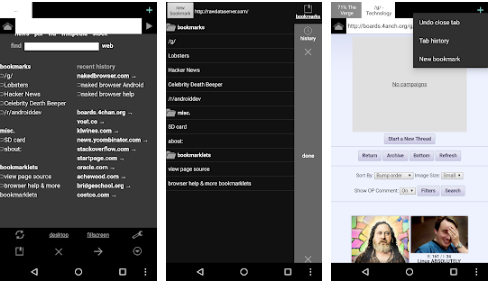 Don't get carried away with its simple look. Naked Browser is a light platform but does not compromise on its functionalities. 
It can perform all necessary functions, which include rapid speed, infinite tabs, free of cost, and no spy at all. However, if you are looking for an insanely flashy browser, then this is not the correct pick for you. 
---
13. Lynket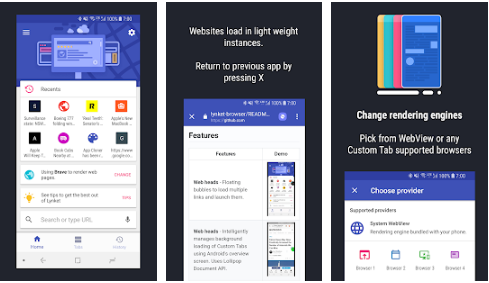 Initially known as Chromer, Lynket manages to secure a place on our list of best Web Browser For Android Mobile.
Although it was renamed in 2018, its core functions remain the same. It works on a Custom Tabs protocol mechanism. 
With its multitasking ability, it is best suited for frequent browsers. 
---
14. Lightning Browse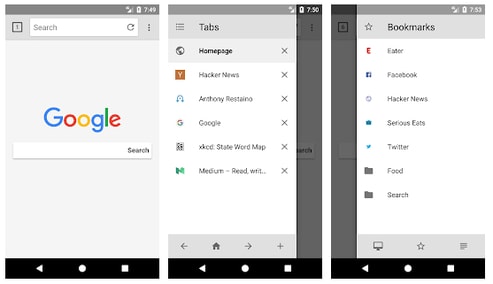 The Lightning Browser is developed by the Mozilla Foundation. The software has both free as well as paid versions available. The user can stream flash videos and games easily with this browser. With its simple and user-friendly interface, it keeps the privacy of the user as well. The free version can open up to 10 tabs, for increasing the limits the user needs to upgrade. The app is lightweight and will not increase the load on the device. The Android users having the 4.4 or later version can install this application from the Google Play Store. 
Key features:
The software blocks ads which can increase the speed of the browser

Incognito mode can help in maintaining the privacy

Free to use the app
---
15. Webgenie SWF and Flash Player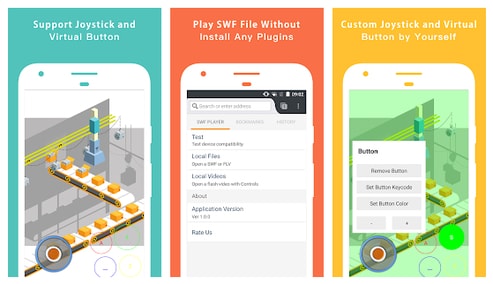 When thinking of having a browser that can help you with the flash files without any plugin, then Webgenie SWF & Flash Player is the best Android browser with a flash player, which can complete your search. Whether it's flash videos or games the user can enjoy both with this browser. It supports a gamepad and video controller as well. Compatible with all the devices having Android 4.1 and later versions. Download the browser from the Google play store with the link below. 
Key features:
From Android 4.1 to 8.0 Oreo the browser is compatible 

No plugin required 

Gamepad supported 

Easy and fast with flash files 
---
Final Words: Best Android Browsers with Built-in Flash Player
So, here is the list of top browsers that supports flash player for Android. Most of our picks are light-weight and offers lightning-quick browsing speed which is essential for online games, animations, and movies. 
Choose the best-suited Android browser for you and enjoy a seamless browsing experience anywhere at any time.
Prachi Dani is a technical content writer who specializes in areas of science and technology. She is highly up to date with technological transitions and transformations. Writing is not her passion but the only thing that carries satisfaction in life. If not writing, you may find her engrossed playing action games on her treasured smartphone.
Subscribe to Our
Newsletter

and stay informed

Keep yourself updated with the latest technology and trends with TechPout.
Related Posts