10 Best Google Docs Offline Extension in 2022
Published Date :
Sep 22, 2022

You may read this article to know the best Google Docs Chrome extensions to use Docs more efficiently and easily.
Google Docs is an excellent cloud-based software to create documents with many useful features. However, despite having a plethora of features, it still misses out on some essential tools like an assistant to compose search engine-friendly articles. Therefore, users often need Google Docs offline extensions to help them for various purposes.
If you are also looking for the best extension, you have arrived at the right place. Through this write-up, we acquaint you with the best Google Docs offline Chrome extensions you can use to make your work easier. Let us go through a carefully curated list of the same.
Best Offline Google Docs Extensions
The following are the best Google Docs offline extensions you may use to make your documents better.
1. Grammarly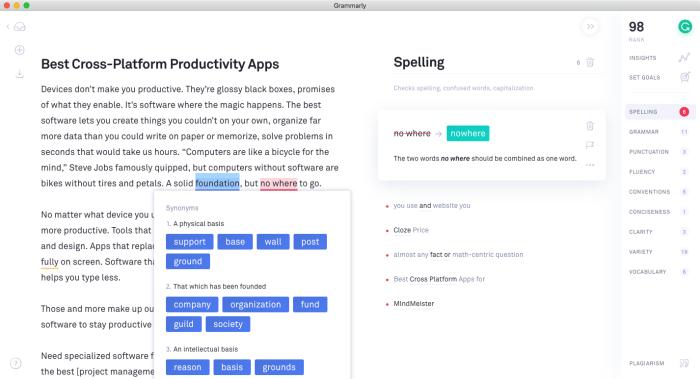 Grammarly is a renowned extension that helps you ensure grammatical correctness in your documents. Not only does it improve your grammar, but it also helps you enhance your overall writing with tone and other improvements.
Moreover, there are several advantageous features of Grammarly, some of which are plagiarism and spell checking. Apart from that, below is what you may expect from this offline Chrome extension for Docs.
Features of Grammarly
Improved vocabulary based on the article's tone
Sentence rewrites focused on clarity
Adjustments for the article's tone
Fluency checker
Also Read: Best Google Chrome Games to Play Offline
---
2. Writing Habit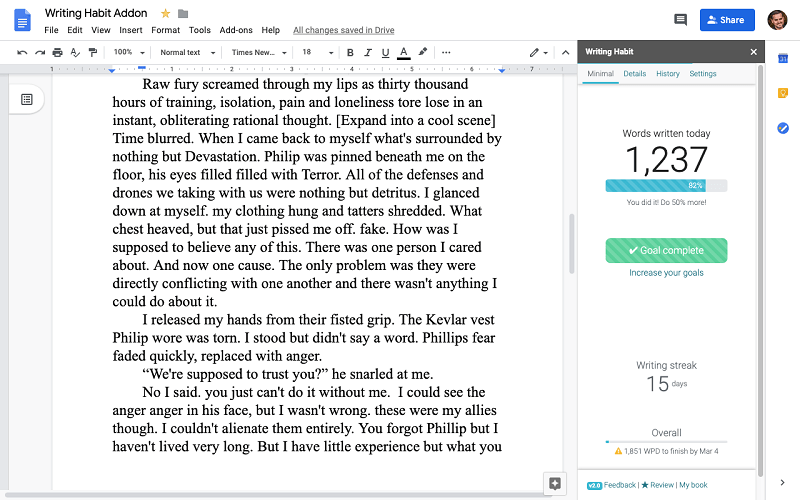 It takes a lot of effort to develop and improve writing skills. You can become better at writing only when you make it a habit to write regularly. And the Writing Habit Google Docs offline extension helps you write consistently and monitor your goals precisely.
Writing Habit offers a lot of features to keep you motivated to write, such as setting day-to-day and overall writing goals. Let us list the top features of Writing Habit below.
Features of Writing Habit
Progress bars to track your daily and overall words
Charts to show your progress during the past 7 to 30 days
Writing history for the past 180 days
Minimal mode so that you can concentrate on writing
---
3. Search & Navigate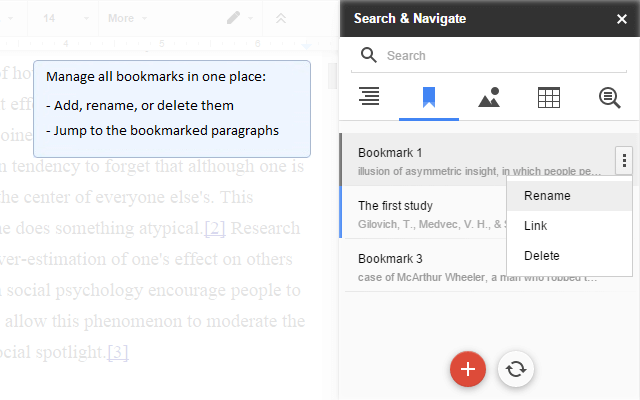 Document navigation in Google Chrome is quite a hassle. Hence, the best Docs offline Chrome extension like Search & Navigate goes a long way in helping you navigate the document effortlessly.
With the Search & Navigate Google Docs offline extension, you may locate and go to any part of the document, text, image, heading, or anything in the doc. In addition to this, Search & Navigate offers the following features.
Features of Search & Navigate
Table of contents to browse through the document and go to any heading
Creation of a guide through your text using bookmarks
Free to use on Google Chrome
Also Read: Best Google Chrome Themes 
---
4. Mail Merge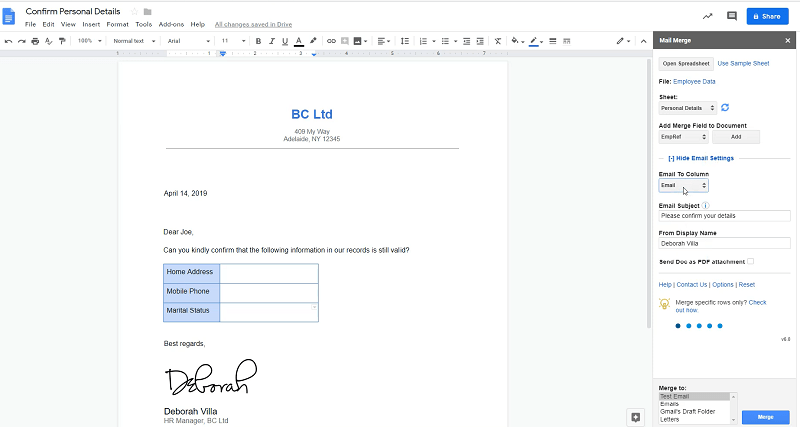 Mail Merge is a Google Docs offline extension with which users can easily customize their emails without having to leave the Google Docs dashboard. The add-on is very important for people who send a lot of emails to business executives, email and content marketers, teammates, and clients.
Google Docs users who use Mail Merge have access to many templates for their emails, the best tools for formatting emails, and they can add images and image labels to their emails. Other important features of this one of the best Google Docs Chrome extensions include the fact that you can merge as many fields as you want to make better-optimized emails, and that you can send those emails straight from Google Docs.
Features of Mail Merge
Affordable lifetime premium subscription
Hundreds of features to optimize your mail
Free trial for 30-days
---
5. SEMrush SEO Writing Assistant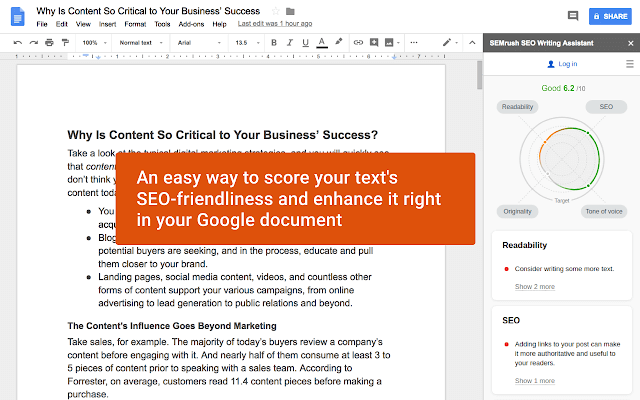 The SEMrush SEO Writing Assistant is a free Google Docs offline extension that helps users add a set of search engine optimization suggestions to each document they make. The writing assistant add-on is backed by the SEMrush SEO software package, which ranks first for search engine optimizations.
This means that you get top-notch quality with half the work. This is so because the SEMrush SEO Writing Assistant takes care of all crucial tasks from the Google Docs editor dashboard. This means that users don't have to copy and paste their content into the SEMrush program. Overall, this Google Docs add-on is simple and quick to use.
Here are other features that make it one of the top Google Docs Chrome extensions.
Features for SEMrush SEO Writing Assistant
Free to use
User-friendly interface
Improved article quality
---
6. Google Docs Offline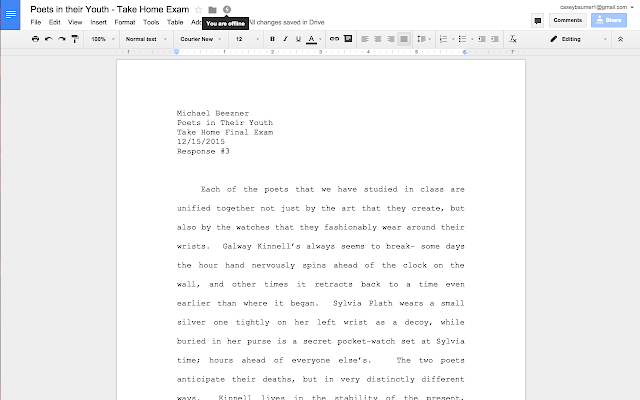 Since Google Docs is a cloud-based service, users must be connected to the internet in order to make and change documents. That doesn't have to be the case all the time because the Google Docs Offline add-on lets users access the platform even when they don't have an internet connection.
Users don't have to stop working when they aren't connected to the internet if they have the Google Docs Offline extension. Instead, the add-on lets you keep working on their Google Docs document even when you're not online. The changes you make will be saved as if you were online. When your connection is back, new changes are made to the document.
Features of Google Docs Offline
Mark or pin important documents
Copy and paste content seamlessly into your documents
Make your more productive even if there is no internet
Also Read: Best Google Chrome Extensions | Chrome Security Plugins
---
7. Doc Builder
The Doc Builder add-on is different from the standard Google Docs offline extensions because it automates some of your work. The free extension saves Google Docs users from typing and formatting effort by letting them build and save snippets of text or images that they can use again and again.
People who work with long, structured documents will find the Doc Builder add-on very useful. People who work on legal documents, technical manuals, and even financial reports that use a lot of preformatted texts and clauses fall into this category.
Features of Doc Builder
Free to use
Increase content quality
Saves your time and efforts
Better automation
---
8. OrangeSlice: Teacher Rubric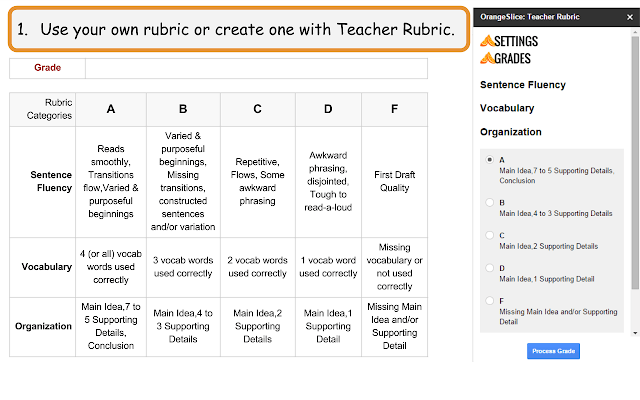 Here comes one of the best Google Docs offline Chrome extensions for teachers. It makes the student grading process much easier and faster.
The process of reviewing and grading the students' performance is quite tedious and involves many factors. Hence, with OrangeSlice: Teacher Rubric, you may create a rubric that helps you assess your students and grade their performance easily.
Moreover, the following features make OrangeSlice: Teacher Rubric a great Docs offline Chrome extension.
Features of OrangeSlice: Teacher Rubric
Points or percentage grade addition in the rubric
Highly-customizable rubrics
A complete solution for all grading requirements
---
9. MathType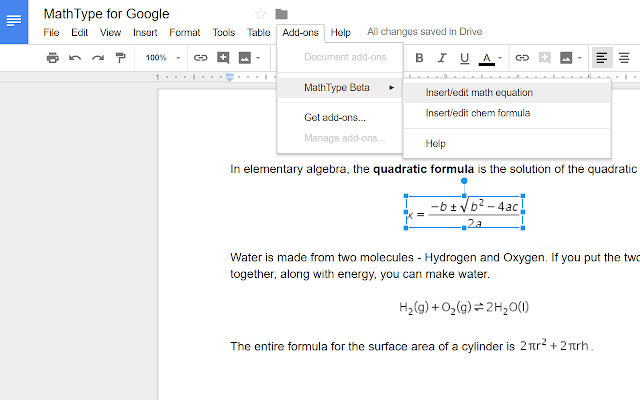 It is not easy to handle mathematical operations on Google Docs. Hence, if you create documents involving the use of mathematic symbols or notations, MathType Google Docs offline Chrome extension comes in handy.
With this one of the best Google Docs Chrome extensions, you may find all the needed symbols to input equations. Apart from that, here are the notable features of MathType.
Features of MathType
Supports chemical notations
Availability of MathML and LaTeX
---
10. Translate+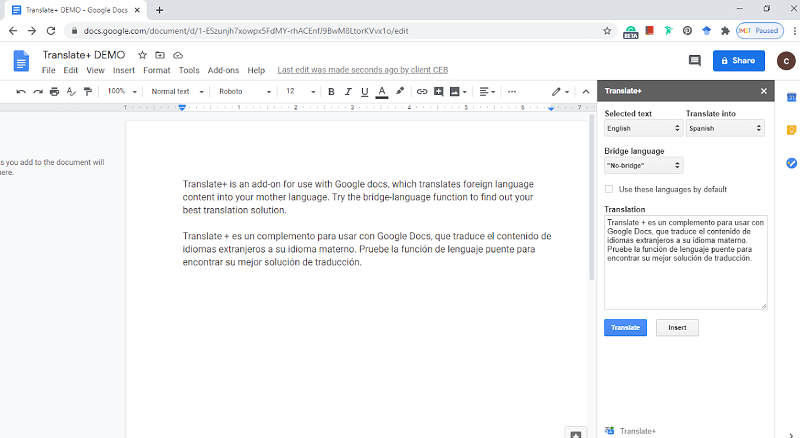 Google Docs is not easy for people who need to translate the document or a part of it. Fortunately, there is Translate+, a fabulous Google Docs offline extension you may download to translate even a specific section of your document effortlessly.
Talking about the Translate+ features, here is what you may expect from this Google Docs offline Chrome extension.
Features of SpeakD
Support for many languages
Bridge-language option to translate better
Also Read: Best YouTube to Mp3 Chrome Extensions of All Time
---
Concluding the Best Google Docs Offline Extensions
This article discussed the best Google Docs offline extensions through which you may create and work on documents effectively. You may download the needed extensions from the about list through the links provided with them.
If you think this list skipped on some excellent and useful offline Docs Chrome extensions, you may mention the same in the comments.
Niharika is a passionate soul who finds immense satisfaction in putting all her thoughts in writing. Being a technology enthusiast, she loves learning new things about tech and making everyone technologically literate through her articles. When not composing tech articles, you can find her bringing characters to life in her fictional stories, reading something intriguing, or spending time with her near and dear ones.
Subscribe to Our
Newsletter

and stay informed

Keep yourself updated with the latest technology and trends with TechPout.
Related Posts