PictureEcho Duplicate Photo Finder Review: Find and Remove Similar Photos
You need to check several factors including features, interface, and price before choosing any software. Below we have shared a PictureEcho Duplicate Photo Finder review, that will help you in making a choice.
Most of the space in any PC is covered by duplicates. Irrespective of how much data you have on your PC you will still have duplicate files. The duplicates are created when you import files from various sources and share files through the various sources, this is how most duplicates are created.
In order to keep your PC organized and fast you have to keep an eye on the formation of the duplicate and clean them timely. This is a very time-consuming task which can be frustrating when you do it all yourself. To help you with the process, you can use PictureEcho Duplicate Photo Finder software.
This is a great software that then helps you clean all your duplicates. But there is no point in trusting words. So we have covered every aspect of this software in this article. So without any further delay, let's start with the review of PictureEcho Duplicate Photo Finder.
Before moving further, knowing the software is very important. So let's take a look at a brief description of what is PictureEcho Duplicate Photo Finder.
What is PictureEcho Duplicate Photo Finder?
PictureEcho is a great software that can easily help every user find duplicates from their device and remove them easily with one click. The software is created to offer the easiest process to its user in removing duplicates. As compared to the manual method using PictureEcho Duplicate Photo Finder is 10X faster. Other than just offering the common duplicate photo cleaner features, it has some unique features too. We have listed some of the PictureEcho Duplicate Photo Finders features below, have a look.
---
Unique Features of PictureEcho Duplicate Photo Finder
The review is incomplete without the features of the software as the features make it a lot easier for the user to decide whether the cleaner software can fulfill the needs or not. So now let's take a look at
1. Image Preview and Details
Unlike most the duplicate photo remover this duplicate cleaner shows preview and details of the duplicate images so that you can easily filter out the image which you wish to delete and which you wish to keep in the system
2. Accurate Scan Results
While most of the duplicate cleaner does not scan deeply to find duplicates, this software works as efficiently and effectively as you expect a duplicate cleaner to be. This software finds every duplicate present in the system and deletes them.
3. Create's New Duplicate Folder
PictureEcho Duplicate Photo Finder works the way you want it to be. The creators knew that deleting from the list of duplicates can take time and people nowadays cannot spare time on deleting the duplicates on the go. So the software has a unique feature that can help all the users to create a new duplicate folder where you can easily store duplicates and filter them whenever you want.
4. Scans for Duplicates from Adobe Software
If you are a photographer or a designer or a user who uses Adobe software, then finding duplicates created by Adobe can be very difficult. For you, this software has a unique feature using which you can easily duplicate created by Adobe software. This is a very rare feature to find among duplicate cleaners as most of them fail to detect the duplicates.
5. Helps in Deleting Duplicates
PictureEcho Duplicate Photo Finder helps the user in deleting duplicates easily. Once you scan for duplicates the software automatically marks all the duplicates that can be deleted. If you are running out of time and want to make space then you can trust the software. Once the scan completes you can simply click on delete to make space and the duplicates will be removed.
Also Read: How To Delete Duplicate Photos Of Different File Formats
---
These were some of the main features which most of the users like about this duplicate photo cleaner. So far the features offered by the software are very useful but every software has its pros and cons which can never be ignored. We have added them in this Pictureecho Duplicate Photo Finder review so that you can easily take a look at them and assess the performance.
Pros
The software scans deeply for duplicates from each and every folder
You can easily filter and select the files which you wish to include or exclude in the scan
It scans for duplicates in other third-party software too
Users can create a separate folder of duplicates and relocate them
You can even rename the files and make it easy to locate
Cons
PictureEcho Duplicate Photo Finder is compatible with Windows 7 and later versions only
It is a paid duplicate finder software
The software does not offer any advanced features
---
PictureEcho Duplicate Photo Finder Price
Price is one of the most important aspects which can either make the decision or break the decision. Most of the users have a budget above which they cannot spend on software. So let's check if PictureEcho Duplicate Photo Finder fits in your budget or not.
 This software can be an ideal pick for a single user as it only charges $39.97 for a yearly subscription. If we break down the software's price, it approximately costs $3.3/month. Similarly, if you wish to upgrade the plan then you have to pay $ 10 for a two-year subscription and $25 for a lifelong subscription.
It does not just offer a great price for a single user but it also has a separate plan for family and small businesses. The family plan costs $49.97/ year which includes three users, while on the other hand a small business plan costs $69.97/ year in which 10 users can access this duplicate photo cleaner.
Till now in the PictureEcho Duplicate Photo Finder review you have found everything suitable then let's now take you to the analysis which we did.
Also Read: Best Free Photo Editing Software for Photographers in 2021
---
How to Delete Duplicates Using Picture Echo Photo Finder?
The user interface and simplicity of the software are really important as the user doesn't want complicated software that would take time to process. This is an easy-to-use software that can be adapted by anyone easily. We have below mentioned the steps following which you can easily find and delete duplicates.
Open the software and choose the file or folder which you wish to scan.
Now select either the 'Exact Match' or 'Similar Match' option. (In the Exact Match option you will observe the software has only scanned for files that are exactly the same as the original one. While the other option will scan for the files that even have a small similarity with the original one.)

Now if you wish to see the preview of the files then you can select the 'Show Preview' option.

After you have made all the required changes, click on the 'Start Search' option from the home screen.
Once the scan has started the software can take some time to find duplicates.
After the scan is complete, you can witness results on your screen and some images selected. (The images selected are the ones that are selected by the software's auto-delete feature.)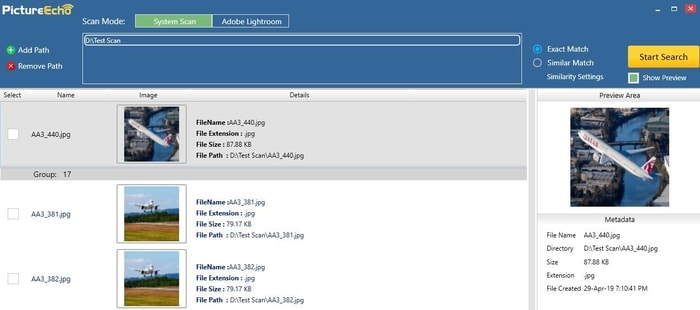 Now you can either check each file and mark them or go with the files selected by the software.
Once you are done with the selection you can simply delete the files.
This is how you can easily delete the files using the PictureEcho Duplicate Photo Finder's features. Other than the mentioned steps you can even select the file format and similarity level. The software will proceed with the scan as you select the option. The best part is that the software will present accurate results.
Also Read: 15 Best Photo Organizing Software For Windows 10, 8, 7 In 2021
---
Winding up The PictureEcho Duplicate Photo Finder Review 2021
PictureEcho Duplicate Photo Finder is a decent duplicate photo cleaner according to us, but this is our opinion about this software. We hope that you also have an opinion after reading the review of PictureEcho Duplicate Photo Finder. We would love to hear from you about your views on this software. So please do write your view in the comment section and let us know will you consider using this software for cleaning up duplicates from your system.
Tanmay is a technical writer from the field of mass communication. He aims to communicate the best of the technology to the readers through his write ups. If not writing you can find him with his camera capturing nature and exploring the unexplored world.
Subscribe to Our
Newsletter

and stay informed

Keep yourself updated with the latest technology and trends with TechPout.
Related Posts