Omegle Error Connecting to Server: Fixed (2023 Guide)

It's possible that you've encountered Omegle error connecting to server before if you've been using the service for a significant amount of time. It appears to occur at random every once in a while, and there is no obvious explanation as to why it does so. This only adds to the confounding nature of the situation.
Omegle is not immune to glitches; in fact, several users have stated that the website repeatedly prompts them to enter their Captcha code. In the given article we have mentioned solutions for Omegle error connecting to server. Follow the simple procedures that we have provided below in the given order to address the error and use Omegle without any interruptions.
Possible Reasons for Omegle Not Connecting:
According to the issues listed online, there are a few scenarios that can end up on error connecting to server Omegle:
Your Internet Protocol address has been flagged, and no longer enables you to use Omegle.
Omegle is experiencing some problems on the back end of its server that you have no control over.
It's possible that your computer or internet service provider will prevent you from connecting to Omegle.
Settings of web browser or on your computer that are outdated. These include DNS, cookies, and cache settings.
At first glance, these explanations appear straightforward; nonetheless, the solutions to each problem are extremely diverse.
Therefore, to save your crucial time and effort, it's extremely vital to eliminate potential causes of the Omegle error connecting to server issue.
---
What causes Omegle Lead to Omegle Error Connecting to Server 2023?
Although endless reasons can run into this issue, notable ones are either because of a shaky Internet connection or because of surfing data that prevent Omegle from functioning properly. The error message wth connection issues and try again can be associated with DNS servers.
Although the issue can be frustrating but thankfully have effective solutions which are listed below.
Also Read: Best Free Omegle Alternative
---
Solutions for Omegle Error Not Connecting to Server:
In the very first place before directly moving to solutions, make sure you Wait for some time. Although this is not a particularly well-liked method, some users have claimed that the problem disappeared after waiting for about a month.
If error connecting to server omegle continues try applying the following solutions.
Solution 1: Establish a connection using a different network
You need to disconnect from the network you're currently using. Switch to a different network once you've finished. Try using the network at a different area to see if it helps. After you have successfully connected, attempt to access Omegle once more.
This will somehow fix the Omegle error connecting to server issue. Some users have stated that they were able to work around this problem simply by utilizing their phone as a hotspot.
---
Solution 2: Try Different Web Browser
A number of people indicated that switching to a new web browser was the solution that worked for them. You are free to use any other web browser that is installed on your personal computer.
Make sure the browser you pick is well equipped with built-in networking functions. Additionally, the web browser also has a virtual private network (VPN) that provides an additional degree of protection while surfing the web. This means that the browser does not collect your information or keep a log of your activities.
Additionally, check if the browser has an ad blocker feature that not only prevents adverts that are disruptive to your browsing experience but also protects your privacy and speeds up your browsing.
Once you switch to a different browser check if the Omegle error connecting to server issue is resolved.
Also Read: How to Get Unbanned from Omegle
---
Solution 3: Delete all Stored Web page data
To resolve the Omegle error connecting to server, clear the data stored on a webpage. Here are the steps to do so.
Step 1: To access the menu, select the button located in the upper right corner.
Step 2: Proceed to the More Tools section. After that, select Erase all data from the list.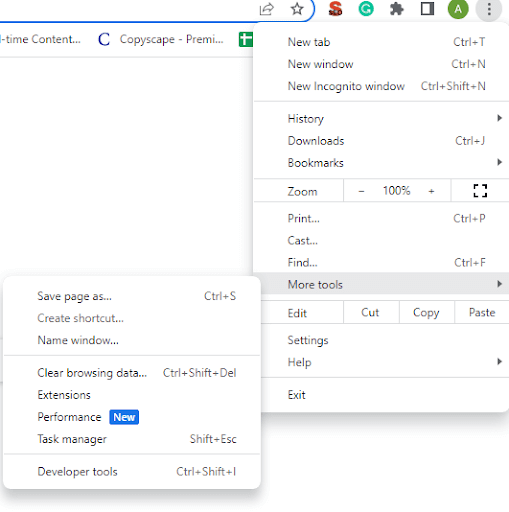 Step 3: Make sure that the "All time" option is chosen and then select the data that you wish to delete. After that, select the option to Clear data.
Step 4:  Verify that you really do want to delete all of the data.
This is a rather straightforward approach, and many users have indicated that it was successful for them. In case this method does not fix the Omegle error connecting to server problem, move on to the next step.
---
Solution 4: Make use of VPN service that Allows Usage of Omegle
If you're having trouble connecting to an Omegle server on your personal computer, you might find that using a virtual private network (VPN) is helpful.
Any reliable virtual private network (VPN) will help you prevent problems like this one while also protecting your privacy. Because your IP address is visible to other users on Omegle, using a virtual private network (VPN) is an excellent approach to conceal your online activity and maintain your anonymity.
Using a reliable free vpn such as NordVPN provides high level encryption in addition to a no-logs policy, your online activities will be completely anonymous.
Moreover, the service provides protection against DNS leaks, duplicate VPN connections, and automatic kill switches. All of these features contribute to the service's already impressive level of overall security. In general, this Virtual Private Network (VPN) is excellent for using with Omegle and web browsing in general.
If why does Omegle say error connecting to server question remains unanswered move on to the next solution.
Also Read: Best Free VPN for Omegle
---
Frequently Asked Questions (FAQs):
The following are the answers to some of the most frequently asked questions regarding the Omegle error connecting to server issue.
Q.1 Why does Omegle not work with VPN? 
In most of the cases the Omegle not working with VPN error can come up if your system's IP was identified by the server and was blocked. However, the issue can also occur if the VPN is prohibited.
Q.2 Why Omegle is not working on WiFi? 
The Omegle error not connecting to server issue can be associated with your internet connection. If the issue occurs on WiFi try connecting to a different network. Many users resolved the issue by simply switching to another internet connection.
Q.3 What does error connecting to server means? 
The error connecting to server Omegle signifies that the browser fails to connect to Omegle servers. This can end up hampering your Omegle experience or even blocking the usage of the website. However, these connection issues can be resolved by using the aforementioned solutions.
Q.4 Why does Omegle not work on Google Chrome? 
All modern browsers including Google Chrome support Omegle. However, if the error connecting to server Omegle occurs try clearing cookies and cache on your browser. In case the error is browser specific, switch to a different web browser.
---
Omegle Error Connecting to Server: FIXED
This brings us to the end of our guide on solutions to fix error connecting to Server Omegle. Hopefully, the above-listed methods have helped you in resolving the issue. If you have any more questions or suggestions feel free to connect with us in the comments below. Also, for more troubleshooting guides subscribe to our blog.
Akshara is an Engineer turned Technical Writer. She is a tech reader who aims to deliver the best of her knowledge to the readers without complicating it. If not writing you can find her in the kitchen, because no place serves the good tea.
Subscribe to Our
Newsletter

and stay informed

Keep yourself updated with the latest technology and trends with TechPout.
Related Posts