Best Free Omegle Alternative in 2023 [Websites Like Omegle]

If you are looking for the best free Omegle alternative apps. Then this article will provide you with some of the best options present in the 2023 market.
One of the main reasons people use Omegle is to connect with other people. Most people feel good and at ease when they talk to other people, hence why social networking sites and other networks like them are so popular. There are a lot of sites where people can meet, and many of them look like bulletin boards or forums where people can post comments and come back to see if anyone replied.
Omegle is one such great place to talk to people you don't know, but there are now too many people on it. However, other Omegle Alternative Apps, which are free and let members talk through plain text, audio, or video, make it possible for people to talk in real-time in a way that is similar to or the same as talking to one person. So, we made a list of the best free apps that can be used instead of Omegle.
Before you look at the different apps and Omegle Alternative Apps, you should think about why you shouldn't use Omegle instead of any other option.
Why You Should Consider Best Omegle Alternative Apps?
Apps like Omegle and its alternatives seem like a fun way to meet new people and talk to old ones, but it can be hurtful for minors and young children because it's easy for them to meet people with bad intentions.
The online messaging sites and apps are riskier than you might think because it is full of hackers, cyberbullies, and other kinds of cyber criminals. There have also been many cases of sexual predators, stalkers, as well as white supremacists preying on people through the site, among other explicit and dangerous users.
Even though it monitors some chats, it doesn't promise that its users will be safe. People now want Omegle alternative apps because they have seen videos of cybercriminals hacking accounts of users, slurs, and spewing hate speech. So, you may need to consider some alternative apps for Omegle for a better experience.
Top 9 Best Websites Like Omegle to Chat with Strangers in 2023
Everyone, young or old, should stay away from sites like Omegle because anyone can get hacked and have their information stolen or their online reputations ruined in a moment of "fun." Here are some of the best free apps and sites that you can use instead of Omegle.
1. Chatroulette: Best Website Like Omegle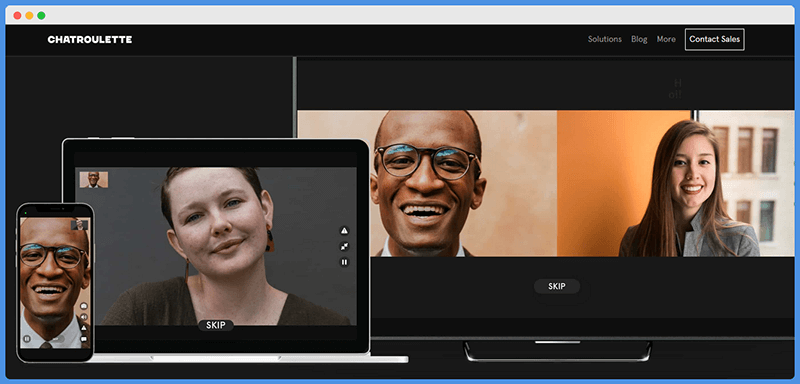 Chatroulette is one of the best Omegle alternative apps in the market. The platform is mostly for video chats, and when you choose to chat, you will be linked to two random users. Even before Omegle, it was around. It's not hard to use Chatroulette, and it's even easier because you don't have to sign up to talk to people. Additionally, the site looks great and is easy to use.
It also has fun features like being able to save the chat, change the size of the font, and draw on it. When you sign up for ChatRoulette, you get 15 coins, and you can get up to 50 coins for every minute you spend in a chat. Also, if someone chooses you for a conversation, you'll get three extra coins, making it the best Omegle substitute. If you decide to look for someone else, however, you'll lose one coin.
Also Read: Best Online Video Chat Websites
---
2. Houseparty: Best Chat Website Like Omegle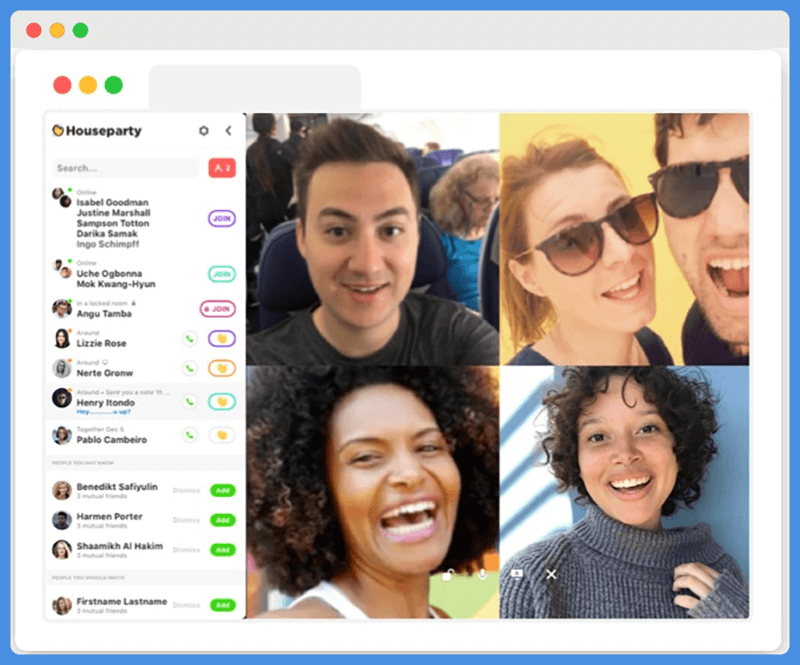 Houseparty is a platform for group video chat that lets people connect with each other through live video. The app lets 2–8 people chat with each other at the same time. If someone who isn't a direct friend joins the chat, the group is notified in case they want to leave, which makes it one of the best websites like Omegle.
You can, however, lock a chat so that no one else can join. The video chatting app is great for talking to friends, and both young and old people can use it. Omegle is mostly used to meet new people online, but this Omegle alternative app, which was bought by Epic Games, has games you can play with other people.
---
3. Chathub: A Nice Omegle Alternative App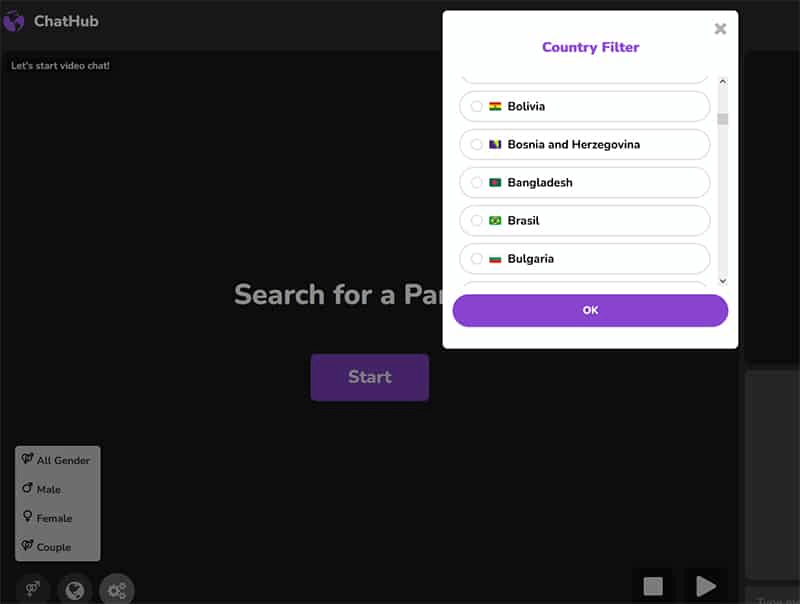 Chathub is a chat website like Omegle, where you can anonymously chat with people. On the welcome screen, you can choose whether you are a man, a woman, or a couple. To use ChatHub, you must be 13 or older with adult supervision or 18 or older. Once in a room for casual conversations and talks, while flirt is a room for adults to flirt and do other things.
Keep in mind that the second room is not moderated, so you may see things that aren't appropriate. They get more sophisticated filters that let the user only match with people whose faces they can see on the camera or whose microphones are on in the chat. You can narrow down your searches based on the languages spoken or the country of the person on the other end just like any other Omegle alternative app.
---
4. Chatrandom: Omegle's Replacement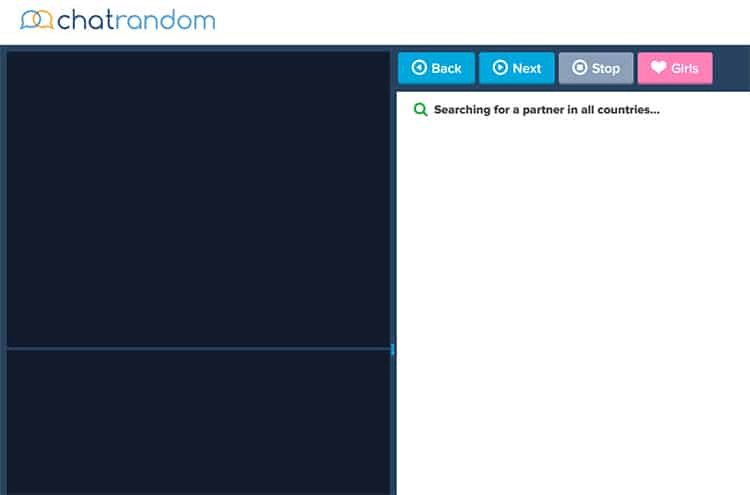 Everybody wants to make new friends. They want to find people who like the same things they do. On the Internet, there are many sites to visit. You can meet new people with the help of these sites. One of the best Omegle alternative apps is Chantrandom. You can use it to meet new people and talk to them.
It will also let you find people based on where they are from. So, you can also find people in your area. This app is already used by more than 1 million people. You can even use it like Tinder. You just need to know how to flirt. You can even share your own photos, GIFs, and videos. So, this site can help you form strong bonds with people you don't know.
Also Read: Best Video Chat and Calling Apps for Android
---
5. TinyChat: Best Websites Like Omegle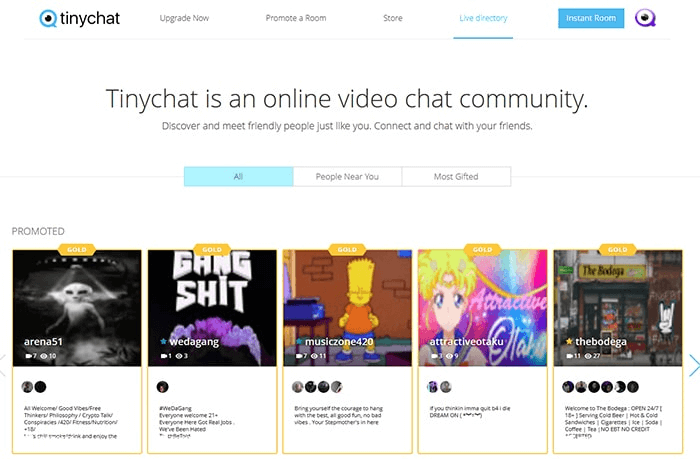 TinyChat is a replacement for Omegle that lets you talk to random people through text, audio, or video, depending on what you like. It doesn't work like Omegle's one-on-one chat, but it does have groups that you can join based on what you're interested in. You can also start chatting as soon as you open the website since you don't have to sign up.
But if you wish to use or create chat rooms on the platform, you will need to sign up, as this is one of the requirements. TinyChat is a free website like Omegle; however, you can choose to pay for plans with extra features like being able to use multiple rooms at once, watching HD videos, getting rid of pop-ups and ads, etc.
---
6. Live.me: Best Omegle Text/Chat Alternative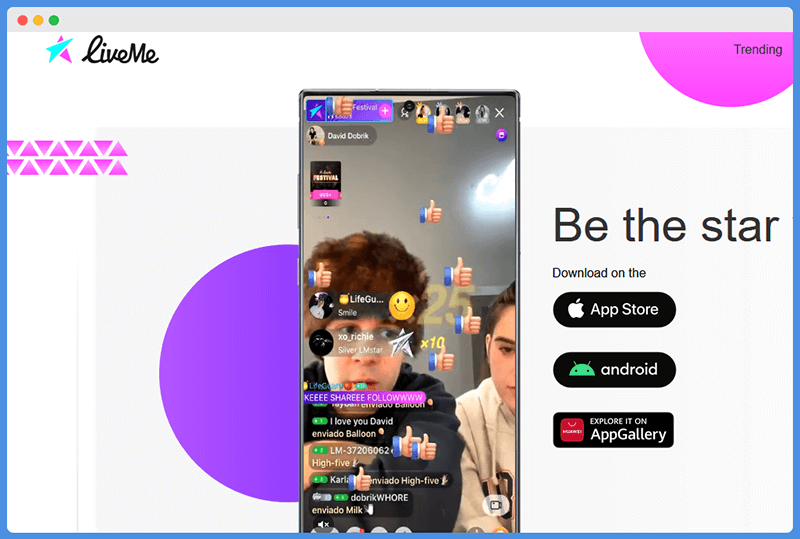 Live.me is a website like Omegle for live video streaming that lets you broadcast yourself and watch other people broadcast themselves live. You can also interact with other users in real-time without being able to control who is watching, and you can earn money from fans. The tool says that users must be 18 or older or have their parent's permission to use it, but children and teens do use it to broadcast.
This also shows that privacy issues are common because you don't have control over who watches your broadcasts. And anyone's clicks or interactions could be tracked or shared. The app has in-app purchases, which is different from Omegle, which is free, and live quizzes where you could win real money.
Also Read: Best Free VPN for Omegle
---
7. Chatki: Best Alternative To Omegle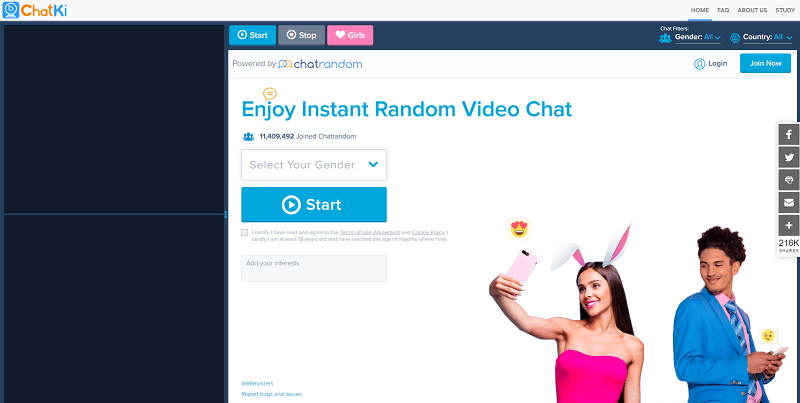 Chatki is a site that doesn't cost anything. There are no extra costs you need to worry about. It is one of the best chatting websites like Omegle. You can use it to talk to people you don't know. On this site, you can also use a webcam. You can find people based on what you like and where you are.
It will also let you find people by chance. The website is getting bigger every day. Every day, thousands of new users sign up for it. So, you can use it to find people you don't know. Also, most of the people on this site are adults. So, it's a great place to show off your flirting skills.
---
8. Chatous: Best Chat Websites Like Omegle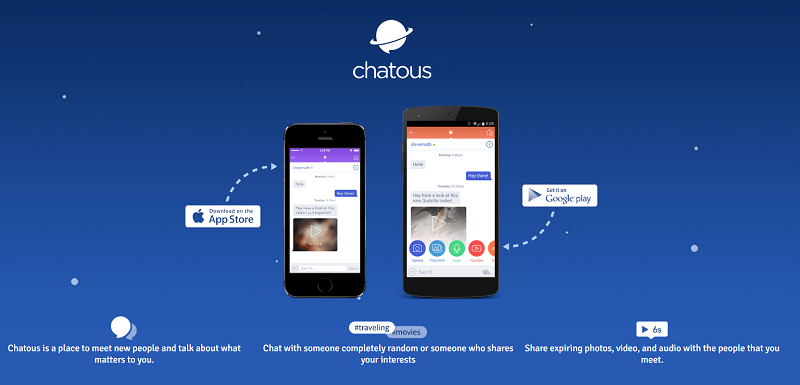 If you want to meet new people, this site is just what you need. It grows very quickly. Chatous is one of the most popular Omegle text and chat alternatives. On this site, you don't have to give any information about yourself. So, you can find people who don't want to be found on this site. You can make new friends without telling them anything about yourself.
It's easy to use Chatous. Everything is easy to find in this app. It will let you share some of your information with the public. You will be able to find more people this way. Both Android and iPhone devices can use it. It will also let you link your mobile account to your website account. If you want an Omegle alternative app, Chatous is just what you need.
Also Read: Best Dating Apps
---
9. CamSurf: Omegle's Replacement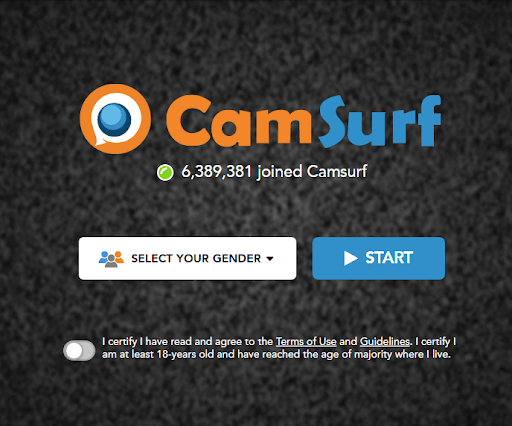 The last name on this list of the best Omegle alternative tools is CamSurf. The interface of the tool is quite straightforward and allows you to chat and call strangers, just like Omegle. Additionally, you don't even need to create an account on the portal to chat with anyone. The best part about the tool is that it allows you to stream high-quality video of the person you want to communicate with.
One of the best features of this app similar to Omegle is that it allows you to chat with the gender of your choice. Just select any gender and proceed to chat with the same. You can download the Android and iOS apps of CamSurf as well to chat and communicate. You can chat with anyone randomly without any matrix. You can even select the location of the individual you want to chat with.
---
Best Free Omegle Alternative Apps And Websites: Conclusion
Even though there are many social media sites that people all over the world use, it can be hard to figure out which one is best for you. Omegle is a platform for anonymous video chat that is used by many people because it is easy to use and is available online and on their devices, but it still has some problems.
Any of these best Omegle alternative apps offer the same services and more, like games, fun filters, and easy connections. We hope that these alternatives were the precise platforms that you were looking for. Do let us know in the comments which one of the above you liked the most.
Dhananjay is someone with a deep fascination for technology. He loves all tech ranging things from gadgets to applications that make life easier. Apart from the tech world, he derives happiness from translating his knowledge into words that can make almost everyone technologically literate. When not composing any tech-related or other forms of writing, you can find him capturing the beautiful moments of the day in a camera, spending hours binge-watching, and hanging out with dear ones.
Subscribe to Our
Newsletter

and stay informed

Keep yourself updated with the latest technology and trends with TechPout.
Related Posts