How to See Deleted WhatsApp Messages on Android
Published Date :
Mar 24, 2020

Whatsapp is by far the most famous messaging app across the globe and is widely used by people of all ages. It offers a fantastic platform to connect with your friends, send text messages, videos, documents, contacts, geo-locations, media files and audio recordings.
WhatsApp is owned by the social media giant Facebook and is known to offer some incredible features. One such feature was released in 2017 which allowed people to delete their messages. With this feature, you can delete text messages, shared photos, video, audio files and sent items. If you delete a message, the recipient will only see a note saying "This message was deleted" instead of the actual message.
However, as per some recent developments and updates, there's a way by which you can see all the deleted messages.
Let's have a quick look at these workouts and see how you can view your deleted messages.
3 Best Methods to Read Deleted Messages on WhatsApp:
In this article we have tried to cover some basic hacks you can use to view the deleted messages. Let us check out these tricks one by one.
1. Use WhatsApp Chat Backup Method to Read Deleted Messages
WhatsApp gives its users a choice to backup their messages with a chat backup option that occurs every night at 2 AM. There are three backup options including daily, weekly and monthly. The most recommended option is 'daily backup' as it allows you to recover almost all deleted messages.
To do so you can pursue the below-mentioned steps:
Uninstall the app from your Android device and install it again.
Tick mark the box asking if you "Agree to the Terms and Conditions". During the setup process, you will be asked to enter your mobile number along with the country code.
Once you enter your contact details you will be given an option to restore your chats from the backup. If you click on the option your chats will be restored as per the backup frequency set by you.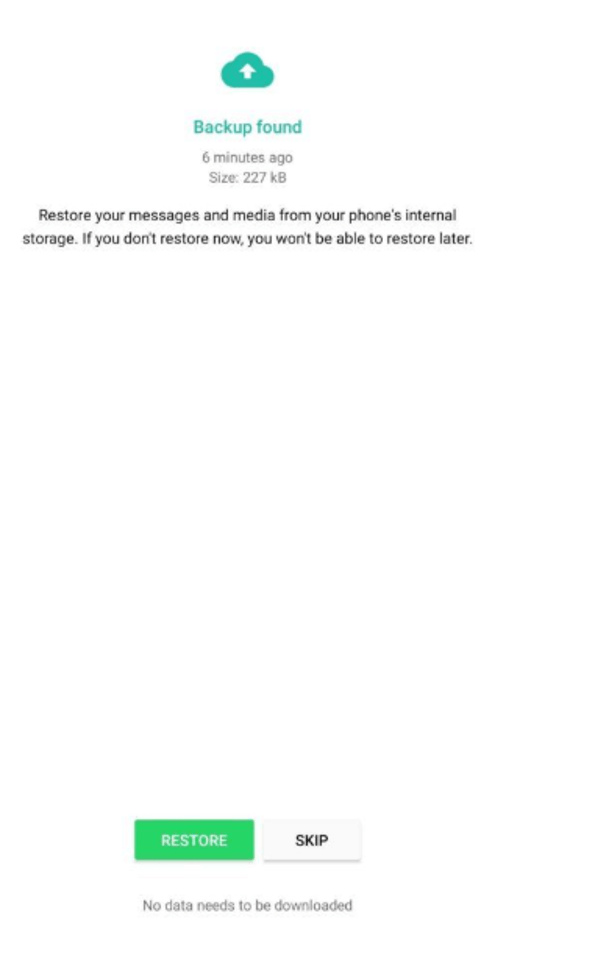 Read More: How to Recover Deleted WhatsApp Messages on iPhone
2. Use Third-Party Apps to Read Removed and Deleted Message
Well, Google Play store has several apps that you can use to recover and read the message removed by you or by the sender.
The main function of these apps is to maintain a notification register for your Android device where all your notifications are stored. An important point to note here is that the usage of such apps can expose your sensitive information to third-parties.
But even this method is not foolproof and supports recovery of only those messages that you have interacted with. Apart from this, if you restart your Android device the entire notification log will get erased, which means you will not be able to recover any deleted messages.
One such great application is 'WhatsRemoved+'. Download it today and follow simple steps to check your deleted messages.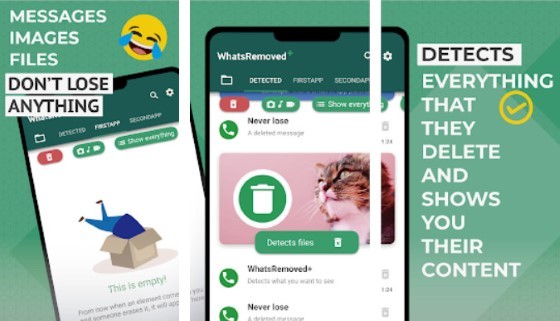 Download and start the setup process of WhatsRemoved+
Grant all the permissions it asks.
Next, select the app/apps for which you want to save the notification logs.
Choose WhatsApp here and click on the Next button.
From the next displayed window click on "Yes, Save Files" and then click on the Allow button.
This marks the complete setup of the app on your Android device.
All your notification along with deleted WhatsApp messages will now be registered and saved in the notification log. If you wish to see any message simply open the app and select WhatsApp from the list.
Read More: How To Use WhatsApp on Apple Watch
3. Notification Log
A few weeks ago, WhatsApp announced that it will give a 7-minute window to its users to read deleted messages. This means that the receiver will be able to read the message even if it is deleted by the sender.
The feature has although been taken down due to some notable flaws in it. The best way to see deleted WhatsApp messages on your Android phone is with the help of a notification log.
To start with, go to the Home Screen on your Android device.
Tap and hold anywhere on the free area of the screen.
From the list of options displayed, tap on the 'Widgets'.
In the next step, place the setting widget anywhere on your screen by tapping and holding it.
A list of options will be displayed on your home screen.
Select the Notification log tab from the displayed list.
Now tap on the Settings button to see the deleted messages along with other Android notifications.
So, this is it. Don't panic if you have accidentally deleted your important WhatsApp messages. Use the above mentioned methods to view them. If you know these tricks then you can easily view the deleted messages.
Snigdha is a technical content writer with expertise in the field of science & technology. Though she has a very diverse academic and professional profile yet she finds writing to be a creative form that she was unable to explore so far. When not writing, she can be found indulging in other forms of creativity like painting or travelling.
Subscribe to Our
Newsletter

and stay informed

Keep yourself updated with the latest technology and trends with TechPout.
Related Posts