Do you know how to use WhatsApp on your Apple Watch? Do you constantly need to be on WhatsApp for personal commitments or for conducting your business? There could be a great many reasons for seeking constant accessibility to WhatsApp these days and even after sticking to our smartphones 24/7, sometimes we still tend to miss important chats and calls.
When smartwatches were launched in the market, users started expecting more from them, as it certainly seems convenient to use them, compared to our smartphones. 
Apple Watch Series 5 was launched last September and ever since it entered the world of smartwatches, Apple Watch customers are inquisitive to know whether they can install and use WhatsApp on their Apple Smartwatch. 
Suggested Ways of Accessing WhatsApp From Your Apple Watch:
If you have recently pampered yourself with the latest Apple Watch Series 5, then here are two useful methods that you can use to set up WhatsApp on your Apple Watch.
---
Method 1: Setting Up WhatsApp on the Apple Watch through Your iPhone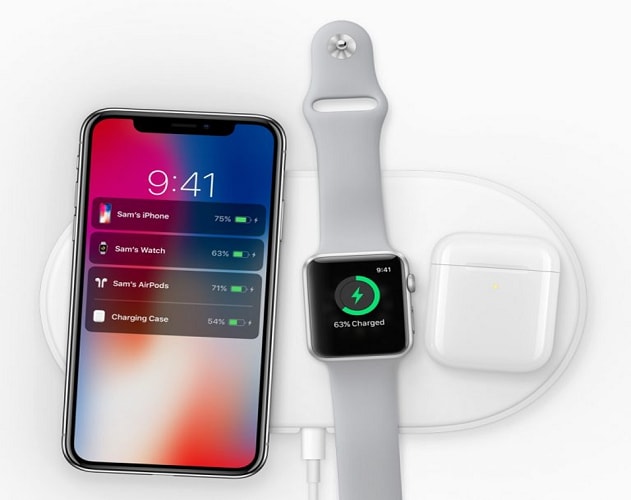 This is an extremely easy method to utilize WhatsApp Messenger on your Apple Watch via your iPhone. 
Although this method will prevent you from missing your chat and call notifications, yet its scope of applicability is limited. This is because the smartwatch screen interface is small to support WhatsApp completely, along with some imposed restrictions due to Apple's policies. You can only use it in a plain format with nominal features like receiving messages, responding to them, and deleting them.
Certainly, you must already be having the WhatsApp Messenger application installed on your iPhone. Below given are the steps that you need to follow:
Go to the iPhone Settings.
Then, go to WhatsApp Messenger from the Notifications section of the iPhone Settings.
Here you need to activate the "Allow Notifications & Show in Notification Centre" option.
Post this, you need to open the Watch app on your iPhone.
This section shows all the Apple Watch-supported applications.
Find the WhatsApp Messenger app here and activate its notification button.
This will now enable your Apple's smart wearable to receive every notification of WhatsApp.
Read More: How to Set Up Google Chromecast on Your TV
---
Method 2: Using Third-Party Application
Do you know what's the indirect approach of messaging on WhatsApp from your Apple Smartwatch? Simply, by installing third-party apps supporting WhatsApp on your smartwatch. We will quickly take you through the nitty-gritty of a few applications before diving deeper into the installation steps of such third-party apps.
There is certainly merit as well as a demerit to the use of such applications though:
Merit
You can send and receive messages on WhatsApp directly from your Apple Watch.
Demerit
Since this is a third-party application; therefore, some users might have concerns over data privacy matters.
Read Also: Best Free Apple Watch Games
---
List of Third-Party Apps to Use WhatsApp on Your Apple Watch
Following are the popular third-party apps that you can download from the App Store:
1. Chatify For WhatsApp

This is one of the best programs for availing WhatsApp on your Apple Watch as it has plenty of useful features. You can interact with your WhatsApp contacts in real-time.
Key Features:
This app lets you send and receive WhatsApp messages using your Apple Watch.
It even helps to view the profile photos of your WhatsApp contacts.
You can also view WhatsApp chat images and listen to voice messages.
It also provides support for WhatsApp Emojis and Stickers.
---
2. WatchChat 2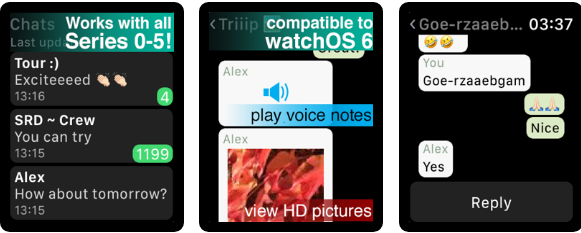 This is another amazing application that can let you a message on WhatsApp from your Apple Watch. This app is compatible with all models of Apple watches.
Key Features:
Provides access to WhatsApp chats.
It allows you to view chat images and listen to audio messages.
You can archive chats.
You can use FlickType, QWERTY, and ABC type of keyboard layouts to type your message quickly in English.
---
3. IM+ Watch

This is another notable application in the category of third-party apps for WhatsApp messaging via your Apple Watch. Despite being a paid app having a price of $2.99, this app is still worth giving a try as it offers a one-stop solution for the most prominent social media apps.
Key Features:
Supports receiving and viewing WhatsApp chats.
Provides support for displaying chat photos.
---
4. WristApp for WhatsApp

Here's another application to connect Apple Watch to WhatsApp, WristApp. It allows you to send and read WhatsApp chats and notifications right from your Apple smartwatch.
Key Features: 
Fast, simple, and easy to setup.
It allows you to view the latest chat messages, name of sender, etc.
Emoji, Voice, Group, DMs, and photo messages support.
You can send quick replies to your friends using a QWERTY or FlickType keyboard.
Download WristApp for WhatsApp
---
Let us now look at the steps to set up WhatsApp with a third-party app on your Apple Watch.
Install Third-Party Apps to Get WhatsApp on Your Apple Smartwatch
It is again obvious that you need to have your Apple smart wearable already configured with your iPhone to ensure that you can follow the below steps:
Download the third-party app of your choice from the App Store.
Then, start the same application on your smartwatch.
A QR code will appear on the smartwatch screen that you need to scan from your WhatsApp Messenger app.
To proceed with the QR scan, you need to go to the WhatsApp application on your iPhone and follow the below steps: Settings > WhatsApp Web/Desktop option > Select Scan QR Code > Tap "OK." 
Now with the aid of the camera, let WhatsApp scan the QR code which is being displayed by the third-party application on your Apple Watch screen.
Read More: How to Recover Deleted Facebook Account
Post this, you should be able to view your WhatsApp messages on Apple's Smartwatch.
---
Final Words: Connect WhatsApp With Your Apple Watch
It would be very impressive if the fully functional version of WhatsApp arrives on the Apple Watch's platform soon; however, until then you can hopefully find the above-suggested hacks beneficial enough for managing your requirements with WhatsApp from your Apple Watch.
Apps like Spotify and Uber are already available in the Apple Watch Store. Due to certain Apple policy terms, Facebook, WhatsApp, and Instagram apps are not yet available on the Apple Watch Store. However, these kinds of applications are highly in demand on the smartwatch platform, thereby hoping that maybe one day we can message our dear ones right from the smart device on our wrists.
Snigdha is a technical content writer with expertise in the field of science & technology. Though she has a very diverse academic and professional profile yet she finds writing to be a creative form that she was unable to explore so far. When not writing, she can be found indulging in other forms of creativity like painting or travelling.
Subscribe to Our
Newsletter

and stay informed

Keep yourself updated with the latest technology and trends with TechPout.
Related Posts