How to Fix Wallpaper Engine Keeps Crashing

In this article, you will learn different ways to fix the Wallpaper Engine keeps crashing on Windows 10, 11. Continue reading!
Wallpaper Engine is the popular software available for the Windows operating system. Its primary function is to enable users to generate and apply animated live wallpapers to their computer desktops. It has in-depth customization options, capability for Steam Workshop, additional user-created downloadable content, and more to play with than you can shake a stick at. On the other hand, a number of PC users have reported that the Wallpaper Engine program abruptly crashes on either Windows 11 or previous versions of the operating system. Now, it is becoming more ubiquitous.
Although this does not necessarily imply that every user of Wallpaper Engine is experiencing this problem, the majority of the time it does happen for one of numerous reasons that we have briefly outlined below. If you are one of the people who have come across this problem, then you can manually fix it by carefully following the steps outlined in this troubleshooting tutorial from start to finish. As per some reports, users on Windows 11 either get an error code such as 0xc0000005 or receive no error messages at all, which is becoming more typical these days.
Solution to Fix Wallpaper Engine Crashing on Windows 10, 11
The good news is that we have outlined below a few potential tactics to resolve Wallpaper Engine keeps crashing on Windows 10, 11. It is recommended that you go through each option in order until the issue is resolved for you. Therefore, let's not waste any more time and get right down to business and begin.
Solution 1: Update your Graphics Drivers
An out-of-date or damaged graphics driver is the most likely culprit behind the Wallpaper Engine crashing on your computer. If you find that the Wallpaper Engine is crashing for no apparent reason, you should make sure to update the graphics driver on your computer.
There are two different methods to update the graphics driver on your computer:
You have the option to manually update your graphics driver by going to the website of the manufacturer (NVIDIA or AMD), obtaining the most recent version of the appropriate driver, and installing it step by step. However, if you don't have the time or patience to do it manually, you may use Bit Driver Updater to automatically update your drivers. Follow the steps below to update problematic or outdated graphics drivers automatically with Bit Driver Updater.
Step 1: Download Bit Driver Updater from the button below.

Step 2: Run the downloaded file and follow the on-screen instructions to complete the process.
Step 3: Launch Bit Driver Updater, and click on the Scan option. After that, Bit Driver Updater will do a scan of your computer to look for any problematic drivers.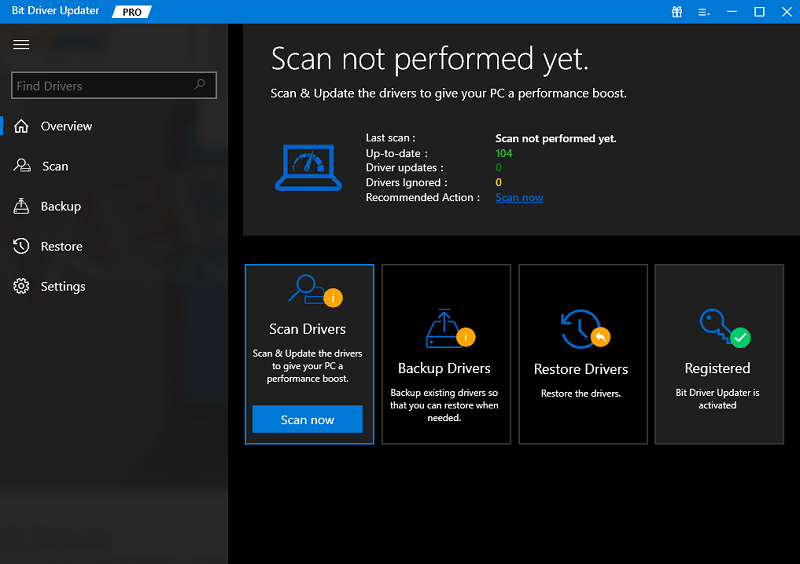 Step 4: Click the Update All button to immediately download & install the most recent and up-to-date version of all drivers that are either missing or not functioning properly on your PC.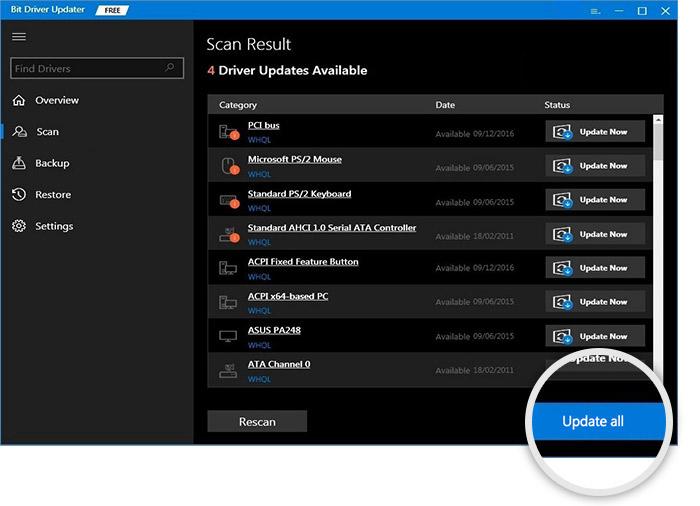 This feature is only available in the Pro edition; when you click the Update All button, you will be requested to upgrade. If you do not want to pay for the Pro edition, you are still able to download and install all of the drivers you need by using the free version; but, in order to do so, you will need to download each driver individually and then manually install each driver using the standard Windows method.
After you have finished, you will need to restart your computer so that the modifications may take full effect.
Also Read: How to Fix Nvidia Driver Crashing Issue in Windows 10, 11
---
Solution 2: Run SFC Scan
The Wallpaper Engine may also become unresponsive if it has corrupted system files. You may speed up the process of fixing the problem by doing a fast scan. System File Checker is a Windows tool that performs a prompt check of all the safeguarded system files located on your personal computer. It checks the versions of the files and fixes the broken ones by replacing them with copies taken from a repair source. To do so, simply follow the steps below:
Step 1: To open the command prompt, locate the Windows key on your keyboard and hit it. After that, choose Command Prompt and right-click on it, Next, select Run as administrator.
Step 2: When requested to confirm, click the Yes button.
Step 3: In the box that appears for the command prompt, enter sfc /scannow and then hit Enter.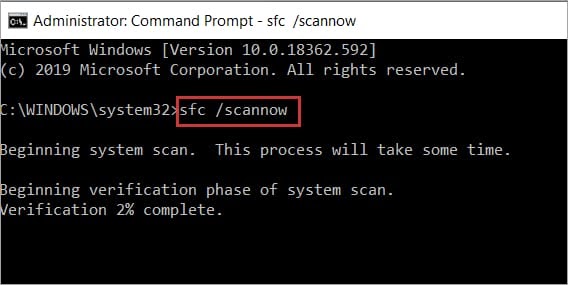 Now, sit back and relax until SFC completes the process. If it finds any damaged system files, it will need to replace them with brand-new ones and the process will take half a minute. You should try restarting your computer to see whether the Wallpaper Engine is functioning correctly.
---
Solution 3:  Turn off your Computer's Antivirus Software
Interference from other software, most likely your antivirus program, is yet another probable reason for Wallpaper Engine crashing.
In order to test the problem, we suggest that you temporarily remove the antivirus product (or add Wallpaper Engine as an exception to your program), whichever option is most convenient for you. Even if you deactivate them, some antivirus products will continue to do their job.
Also Read: How to Fix Disney Dreamlight Valley Keeps Crashing on Switch
---
Solution 4: Update Wallpaper Engine
There is a good probability that for some reason or another, your Wallpaper Engine program may go out of date for a period of time when the most recent version will already be accessible. In this circumstance, over the course of some amount of time, you can start seeing compatibility or stability difficulties on your Windows computer due to the fact that the program isn't up to current. Therefore, the best practice is to ensure that all of your software and apps are constantly running the most recent versions since this will result in increased stability and benefits. To do this, follow the steps below:
Step 1: Launch Steam, then choose Library from the menu that appears.
Step 2: Simply choose Wallpaper Engine from the menu to examine whether or not an upgrade is now accessible.
Step 3: Click the Update button if you have access to it. If this is not the case, go to the next procedure.
---
Solution 5: Check for Windows Update
It is always a good idea to check for optional updates on your Windows system since an extra driver or software update may be available that doesn't display on the Windows Update area. This is one of the reasons why it is always a better idea to check for optional updates. In such case, be sure to apply the optional updates as soon as possible by following the instructions outlined below:
Step 1: To launch Windows Settings, press the Windows + I key simultaneously.
Step 2: Select Windows Update from the menu, then select Advanced options when it appears.
Now, go to Additional options > Optional updates > Click the Download button. To expand the list, choose Driver updates from the menu.
Step 3: If there is an update available for any drivers or programs, all you need to do is choose the relevant ones.
Step 4: The last step is to choose Download and Install, after which you should wait for the process of updating to finish.
After you have finished, you will need to restart your computer so that the modifications take effect. Now, test the issue, if Wallpaper Engine keeps crashing on Windows 11, 10, then move on to the next solution.
Also Read: How to Fix Discord Crashing Issue on Windows PC
---
Solution 6: Reinstall the Razer Synapse Software
If none of the aforementioned solutions worked for you, you will need to remove and then reinstall the Razer Synapse program on Windows 11 (assuming that you are using that version of Windows). Because both applications are always operating in the background, it is possible that having other software on the PC can cause conflicts with the Wallpaper Engine program. So, this might help you fix Wallpaper Engine keeps crashing on Windows 10, 11. To do so, follow these steps:
Step 1: Navigate to the Control Panel by going to the Start menu in Windows, searching for it, and then clicking on it.
Step 2: To uninstall an application, go to Programs > Go to Uninstall an application.
Step 3: Right-click on the result of your search for Razer Synapse when you find it.
Step 4: Choose Uninstall, then complete the operation by following the directions shown on the screen.
When you have finished removing the program, ensure the window is closed and then restart the computer.
---
Wallpaper Engine Keeps Crashing on Windows PC: FIXED
That's all! We are going to presume that this tutorial was beneficial to you. You are welcome to leave a remark below if you have any more questions or further tips regarding the Wallpaper Engine keeps crashing on PC. For more tech-related information, you can subscribe to our Newsletter and follow us on Social Media – Facebook, Instagram, Twitter, or Pinterest.
Harshita Sharma is a technical writer with quite a distinct understanding of the tech realm. She is a tech enthusiast who believes that tech knowledge should reach one and all and tries to convert the sketchy knowledge into the simplest possible form for making people understand the tech world better. When not playing with words, she loves to travel and explore new places. And, is a coffee & cricket connoisseur.
Subscribe to Our
Newsletter

and stay informed

Keep yourself updated with the latest technology and trends with TechPout.
Related Posts