How to Fix LiveKernelEvent 141 Hardware Error in 2023

If you're encountering LiveKernelEvent 141 error, recently. You're not alone. Various users have reported this error and it is usually caused by the lethargic performance of your PC.
It suggests that something is wrong with your computer components. But, it's hard to specify what triggers this error, but it's been noticed that it occurs when you try to perform a graphics-intensive task.
However, after reading this post, you'll be able to fix live kernel event 141 error, quite easily.
4 Quick Solutions to Fix LiveKernelEvent 141 Hardware Error on Windows PC
There are some industry-grade, tried, and tested solutions that you can use to get rid of the LiveKernelEvent 141 error. These solutions include updating GPU drivers, stopping overclocking, installing the latest system updates, and running a disk check.
Well, you may not try them all, just work your way down through each until you find the solution that works for you and be the answer to "how to fix LiveKernelEvent 141 hardware error". So, without much build-up, let's get started with the solutions.
Solution 1: Update GPU Driver
GPU is a substantial contributor to your system's performance, especially during the gameplay.
An outdated or faulty driver may hold back your GPU from giving its best performance and can be the utmost cause for LiveKernelEvent 141 error.
So, before diving into more complex solutions, let's ensure that your driver is updated.
Here are two ways, that you can use to update your driver:
Manual Driver Update: If you have enough time, patience, and skills to update your driver manually, you can opt for this path. To manually update your driver, the steps are:
Step 1: Go to the manufacturer's official website.
Step 2: Find the latest driver available for your system.
Step 3: Download and install the driver on your PC.
Note: Manual method of driver update can be a little tricky and error-prone. Hence, it's not recommended for someone who does not possess enough computer quotient for doing so. For all such people, we suggest you go with an automatic driver update.
Automatic Driver Update: So, if you want to save your time, effort, and want a hassle-free driver update experience. We've brought you a Bit Driver Updater.
Bit Driver Updater is one of the best driver updater tools available on the internet. It has some cool features and it's also easy to use. It will allow you to update your driver without sweat.
The feature palette of Bit Driver Updater contains:
One-click Update
Scan Scheduler
Restore Wizard
Automatic Scans
Huge Driver Database
Latest and Verified Drivers and so on.
By using these features, you'll get a top-notch experience and you'll also be able to update your drivers with ease.
Here's a step-by-step guide, on how you can use Bit Driver Updater to update your drivers:
Step 1: Download Bit Driver Updater from its official website. You can also get its setup file from the below-given download button. Later, follow the wizard to install it on your PC.

Step 2: Launch Bit Driver Updater and click on the 'Scan' option
Bit Driver Updater will then deeply scan your PC for any sign of outdated or faulty drivers.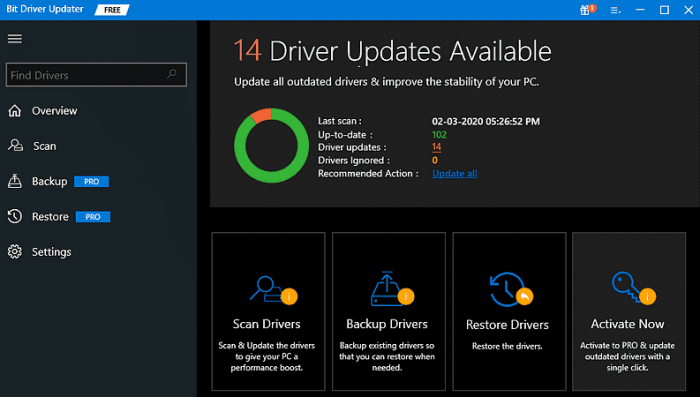 Step 3: Click on the 'Update Now' button listed next to the flagged graphics driver to automatically download the latest version of that driver.
Then you can install it on your PC.
Step 4: Or you can simply click on the 'Update All' button and it will automatically download and install the latest drivers on your PC.
Note: Using the 'Update All' feature requires a pro version.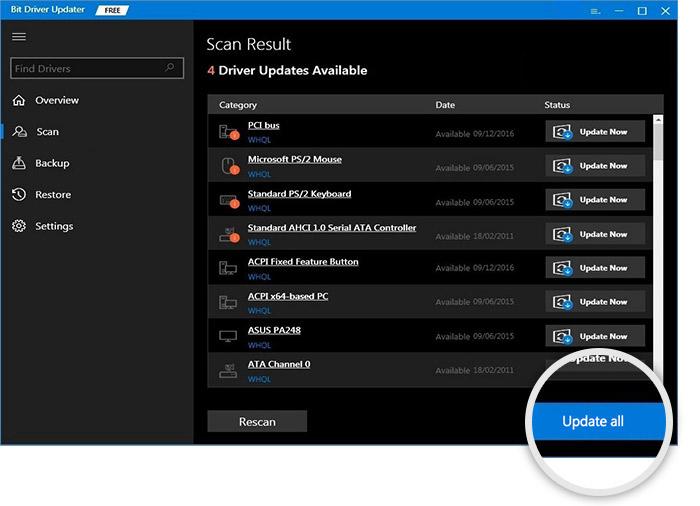 Also Read: How to Fix Kernel Security Check Failure Error in Windows 10, 11
---
Solution 2: Stop Overclocking
The LiveKernelEvent 141 hardware error may also appear because of overclocking. In its most fundamental form, overclocking is the process of increasing the clock rate of a component so that it operates at a faster speed than original. It is a common misconception among consumers that overclocking is only for the graphics processing unit (GPU) or the central processing unit (CPU).
As the clock rate of a component increases, the number of operations in a single second also rises. Nonetheless, this results in the production of more heat. If the performance of your computer is too sluggish for your liking, you may increase the clock rate of the CPU to make it operate faster.
The solution to the LiveKernelEvent 141 hardware error and other such problems is an overclocking tool, which would also help your computer run more smoothly and effectively. Overclocking software is there for you to increase the clock rate of a variety of components above the restrictions set by default.
There are tons of overclocking tools that you can use and protect yourself from such errors. However, if stopping overclocking does not work, try the next solution to fix the error.
---
Solution 3: Check For Windows Updates
If your system is not up-to-date, it also gives birth to LiveKernelEvent 141 error.
If you haven't checked for windows updates for a long time, we think it's time for it.
The steps for doing so are:
Step 1: Type 'Update' in the Windows search box and then click on 'Check for updates'.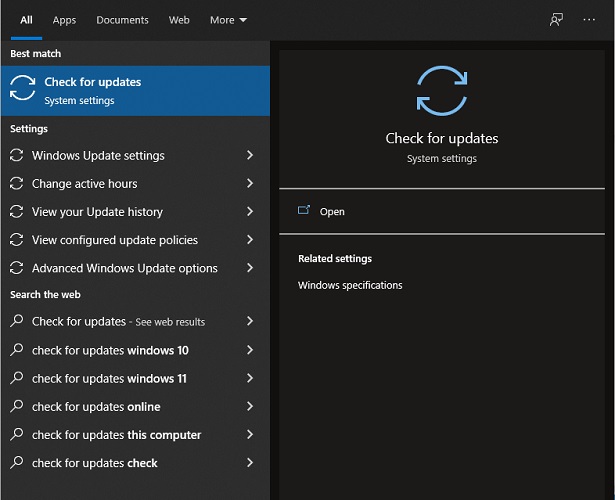 Step 2: After clicking on 'Check for updates, it will look for any available updates for your PC. If yes, then it'll download and install them, automatically.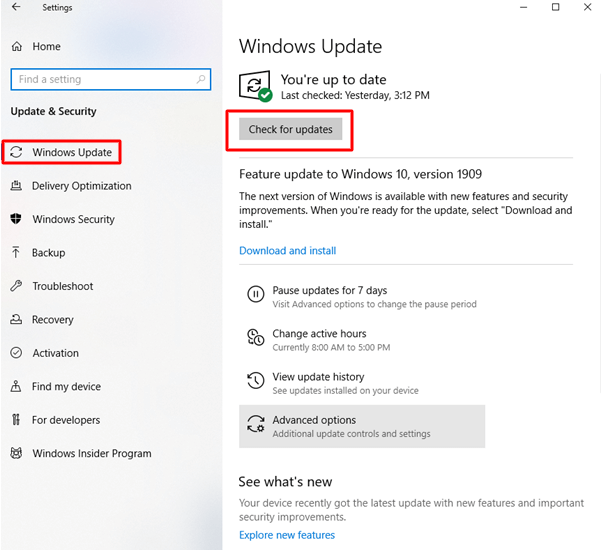 Step 3: After it completes, reboot your system to normalize the changes.
See, if the issue still persists or not. If yes, let's take a glimpse at the next solution.
Also Read: How to Fix Data Error (Cyclic Redundancy Check) [SOLVED]
---
Solution 4: Try Running A Disk Check
A hard disk is one of the most important parts of a PC. To check if the problem is in your hard disk, you can run a simple check using the CHKDSK tool.
Here we're listing steps for doing so:
Step 1: Type 'cmd' in the Windows search box. Then, right-click 'Command Prompt' and select 'Run as administrator.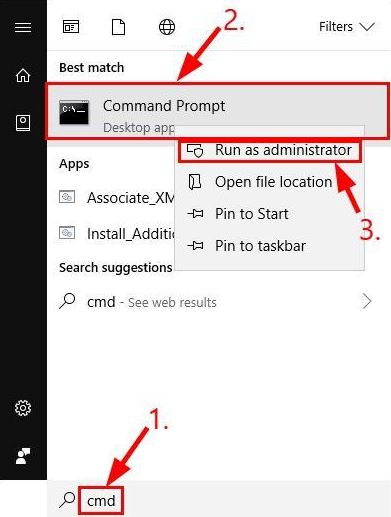 Step 2: Click 'Yes' when prompted.
Step 3: In Command Prompt, type 'chkdsk C: /f /r /x' and then press 'Enter'.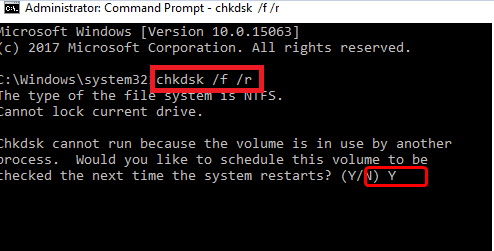 Step 4: Restart your PC.
Doing all this will scan your disk drive and try repairing any errors if detected.
Once done, check if the live kernel event 141 error is still resolute or not.
Also Read: How to Fix Critical Process Died BSOD Error
---
Closing Words on How to Fix LiveKernelEvent 141 Hardware Error
We hope that the above-mentioned solutions will help you to fix LiveKernelEvent 141 hardware error. Don't try them all, just go through them until you find the one that works for you.
Do tell us in the comments below if you have any queries or further suggestions. Lastly, do subscribe to our Newsletter for more troubleshooting tips.
Harshita Sharma is a technical writer with quite a distinct understanding of the tech realm. She is a tech enthusiast who believes that tech knowledge should reach one and all and tries to convert the sketchy knowledge into the simplest possible form for making people understand the tech world better. When not playing with words, she loves to travel and explore new places. And, is a coffee & cricket connoisseur.
Subscribe to Our
Newsletter

and stay informed

Keep yourself updated with the latest technology and trends with TechPout.
Related Posts