EaseUS Todo Backup Free Review with Features – A Complete Guide
Published Date :
May 02, 2023

Today, we are going to review the EaseUS ToDo Backup software. Here you find everything about the software. Continue reading!
Do you have a significant amount of data that needs to be backed up, but you are unsure how to get started? We are able to empathize with your predicament since the market is flooded with many backup products, making it difficult to choose the most appropriate one for your requirements. You should think about the capabilities, how well they work, and the cost.
One of our preferred Windows backup tools for a long time is EaseUS ToDo Backup. It is adaptable, dependable, and extremely simple to use.  EaseUS Todo Backup allows for the automated backup of the system drive, certain files and folders, and whole hard disks. The updated edition has an innovative design and, most importantly, cloud storage, while still providing more of the same great features. EaseUS Todo Backup is one of the backup programs that is commonly suggested by other people. Let's get into the details.
What is EaseUS ToDo Backup?
EaseUS Todo Backup is widely regarded as one of the most effective backup solutions available on the market today. When it comes to features, it includes everything you could possibly need in terms of data management, backup, and restoration. It is exhaustive, lightning-fast, and very effective in its premium editions. The restoration feature in EaseUS Todo Backup makes mounting the backup file as a virtual hard disk the simplest method to access backed-up data.
Notable Features of EaseUS ToDo Backup
Following are the best features of EaseUS ToDo Backup software that you must know.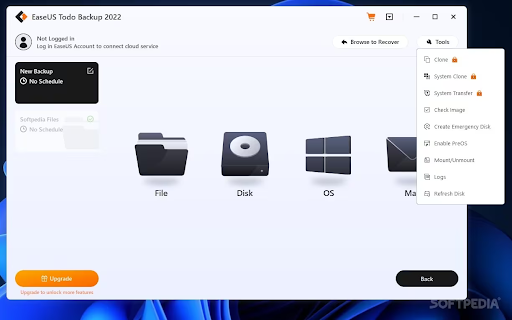 Backup
You may do a differential (incremental) backup based on a prior full backup in addition to the full EaseUS Todo Backup (file, folder, partition, disk, and system) backup.
EaseUS Todo Backup WinPE is an additional backup choice that enables you to make a bootable CD and safeguard your data even if your computer cannot be started.
Also Read: How to Choose Backup Software – A Complete Guide
Multi-Path Storage
Your backups may be stored on a network disk, cloud, or external hard drive. Although cloud storage has long been a part of Todo Backup's multipath storage, it has just recently been free for all users of the Todo Backup Free plan, with a maximum of 250 GB accessible.
Scheduling
When you can plan an automated backup for the next day, week, or month and set up regular repeat backups, there is no need to worry about forgetting to back up your data. The Home plan also comes with AI Smart Backup, which does weekly incremental backups using EaseUS.
Recovery
System image recovery, bootable recovery,  right-click recovery, and disaster recovery are all possible with Todo Backup. Data recovery from a non-bootable machine is not a possibility, however, system recovery based on an earlier backup is possible. You may restore a system backup image to a computer with different hardware or even a virtual machine if you choose the premium tool edition.
Backups without encryption might compromise the privacy of your data. Todo Backup allows you to add passwords to all of your backups since it understands how important that is to you.
Customer Support
EaseUS has established a customer support line that is available around the clock for all of its customers, and subscribers to the Todo Backup Advanced Server and Technician plans are guaranteed priority service. Live chat is the most effective method for contacting the EaseUS Todo Backup support team.
If you need assistance with Todo Backup, you may consult the official Support Center of the organization, which has in-depth tutorials and guidelines for each and every product. You also have the option of engaging in live chat with either a customer service representative or a technician, depending on the specifics of your inquiry and the severity of the issue.
EaseUS also provides a service known as Premium 1-on-1 Remote Assistance. With this option, a support specialist will connect to your computer using a program called TeamViewer and attempt to solve the issue. This customer care comes in a few distinct flavors, each with its own unique combination of response times, costs, and lengths of validity.
---
How to back up or image a system?
Excellent Windows backup image software, EaseUS Todo Backup provides full, incremental, and differential backups. Users may choose the backup type based on their own requirements. Users may also set up a Windows system backup schedule for daily, weekly, monthly, or annual backups. Along with the backup options, it also has cloning and OS migration capabilities.
Step 1: Download and launch EaseUS Todo Backup. Start a system backup via the UI by starting a new task and choosing a destination, or let it determine the best place by default.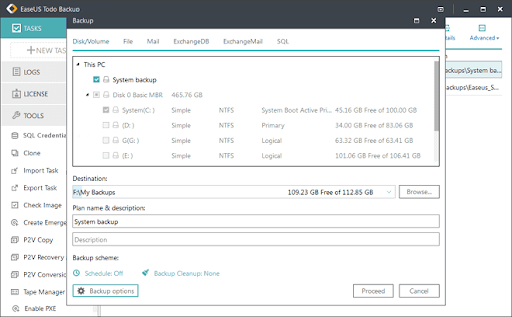 Step 2: Scheduled backup. Users may choose a one-time, daily, weekly, or monthly backup schedule.
Step 3: By selecting Backup Options, you can additionally configure backup compression, password protection, and splitting.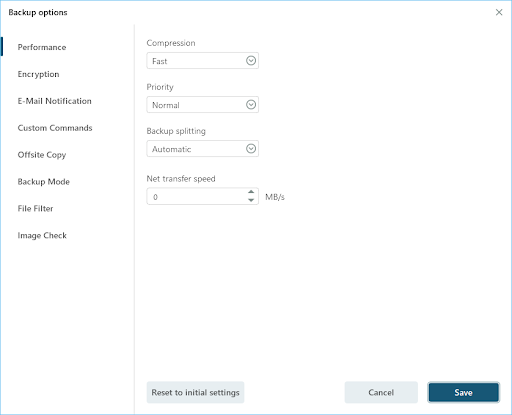 Step 4: To complete the system backup, click Proceed.
Also Read: How to Delete Backup Files in Windows 10 – Quickly and Easily
---
Pros & Cons of EaseUS ToDo Backup Software:
In order to provide a concise summary, we have highlighted the most significant advantages and included a few disadvantages.
Pros
Allows backup of the system partition.
Contains really helpful pre-OS applications.
Lightweight and fast.
Versatile functionality.
Easy to use.
Cons
Lacking a few typical traits.
Many features look useful but aren't available without payment.
---
EaseUS ToDo Pricing:
A free version of ToDo Backup is available from EaseUS, and it comes with a number of helpful backup capabilities, such as the option to create a complete system image backup. The fully functioning EaseUS ToDo Backup Home, which offers several more backup and disk imaging functions for both Windows PC and MacOS users, supports this free edition.
The Home versions are offered for purchase in a variety of configurations, including with or without lifetime free updates included, and on a monthly subscription basis with cloud storage included in the package. The prices for the versions as of this writing are as follows:
EaseUS ToDo Backup Home (Perpetual) – In addition to the aforementioned subscription license, ToDo Backup Home is also available as a perpetual license for a single one-time cost of $59 per year. The drawback of this license is that it presently prevents customers from using the EaseUS cloud storage solution (third-party cloud storage providers may still be incorporated), but it does come with free lifetime updates for a single PC.
EaseUS ToDo Backup Home (for MacOS) – For the same low one-time fee of $39.95 as the perpetual Windows version above, ToDo Backup Home is also available for the MacOS operating system. However, unlike the Windows version, this version does not offer the option to use EaseUS's own cloud storage (although third-party cloud integration is still possible).
EaseUS ToDo Backup Home (Subscription) – The monthly subscription price for ToDo Backup Home is $19.95, and the annual price is $39.95. Users of ToDo Backup Home have the option to add 1TB of cloud storage from EaseUS themselves as part of the yearly subscription package for an extra $50/year.
Also Read: How to Backup and Restore Files in Windows 10
---
Experts Advice
Due to its simplicity of use and excellent selection of backup, imaging, and disk cloning functions, EaseUS ToDo Backup stands out. Furthermore, it stands out as a solid value alternative to several other companies providing backup software on subscription-only plans for only $59 for a perpetual license with lifetime updates (among other licensing options).
A strong AES 256-bit encryption, use of third-party cloud storage, creation of an emergency WinPE boot CD, and usage of the integrated automated scheduling capabilities are just a few of the features included in the ToDo Backup free version's toolkit. With the addition of the Outlook backup tool, Smart backup tool, disk, and complete system cloning tools, file inclusion/exclusion tools, and a few more features, the ToDo Home edition expands on these capabilities.
The only disappointment we have is that there are currently only 3 third-party cloud providers (that can be utilized with all versions of ToDo Backup): OneDrive, Google Drive, and Dropbox. The EaseUS cloud storage can only be added when using the annual subscription plan.
Taking into account everything mentioned above, EaseUS ToDo Backup is a wonderful option for organizing a backup in both its free and premium editions, with the one with lifetime free upgrades offering particularly good value.
Harshita Sharma is a technical writer with quite a distinct understanding of the tech realm. She is a tech enthusiast who believes that tech knowledge should reach one and all and tries to convert the sketchy knowledge into the simplest possible form for making people understand the tech world better. When not playing with words, she loves to travel and explore new places. And, is a coffee & cricket connoisseur.
Subscribe to Our
Newsletter

and stay informed

Keep yourself updated with the latest technology and trends with TechPout.
Related Posts