Duplicate Image Remover Free Review 2021
Published Date :
Jan 12, 2021

Hey, Folks! Read our 100% honest and unbiased review of Duplicate Image Remover Free in 2021.
Are you fed up with the PC's slow performance? Don't worry, here is how to bring back the effective performance of the PC. But before we proceed further, here is one question "Have you ever wondered why your PC runs slower than expected?" Well, the answer is Duplicate Photos that hogs up storage space and snatches the effectiveness of the system.
Do you have tons of pictures on your computer? Well, everyone has a habit of keeping tons of pictures for long periods. However, nothing is suspicious in it except the duplicate pictures. We surely have tons of pictures and many of them are dupe shots that are nothing but trash. Such kind of trash covers up a large part of storage space. And, due to which the PC becomes dull and sluggish.
Now, you have a question "How do I delete the dupe shots quickly & easily?" Then, the direct answer to this question is – Duplicate Image Remover Free. And, wait on, what if, when you will get to know that you can use this tool for free. Feeling amazed no! Yeah, you have heard absolutely right. Duplicate Image Remover Free is completely free to use. But, if you want to access the tool for commercial purposes then you need to buy its pro version. Don't worry, in this article, you will get to know the overall pricing details of Duplicate Image Remover Free.
Duplicate Image Remover Free is a software that scans for all the duplicate pictures and then manifests all the culprits in the list so you can review and delete them all. It shows the list of the duplicate pictures on the criteria which have been chosen by you. So far now, if you are satisfied that it is the software which you have been searching for then click on the Download button given below to clean the junks and similar-looking photos from the PC.

And, if you still want to know more about the features, pricing details, specifications, and working of Duplicate Image Remover Free. Then, read on the entire details below!
Features of Duplicate Image Remover Free
The application offers some notable features that you don't find in any other duplicate photo finder and remover software. Have a glance at them!
1. Efficient and Fast Speed
We always wish to have software that consumes minimum resources and works smoothly. And, this application runs effortlessly and quickly. Plus, the user interface is extremely easy to use. Apart from this, the application produces the scan results in less time as compared to others. In sum, this application runs quickly and easily.
2. Enhanced PC's Performance
The sluggish behavior of our system directly affects the processing of every task. And, it takes more time than expected to complete the task. The application not only deletes the duplicate pictures but also improves the PC's performance. Duplicate Image Remover Free is highly capable of boosting the overall performance of your slow PC.
3. Save Results for Later
If you do not have time to analyze the scan results then with Duplicate Image Remover Free you can save the scan results and review them later. It is one of the most beneficial features which is hardly offered by any other software but Duplicate Image Remover Free does.
4. Wide Criteria of Comparison
The application provides various comparison methods including file, duplicate, and similar properties. Similar properties scan the results based on color, rotation, and size. Whereas, the file properties scan the results based on the size, name, and extension.
5. Improved Storage Space
By detecting and deleting unwanted copies of similar kinds of pictures or files, definitely it improves the storage space of your disc. And, thus, it levels up the slow performance of your PC.
Read Also: How To Delete Duplicate Photos On Windows 10
---
How Does Duplicate Image Remover Free Works?
As we have cited that Duplicate Image Remover Free is an ultimate solution to find and delete duplicate pictures from the computer. We have above indicated that the application works smoothly and quickly. So, here are the steps on how to use Duplicate Image Remover Free.
Step 1:- Download and install the Duplicate Image Remover Free by clicking the below-given download button.

Step 2:- Now, initially, select the comparison criteria along with the same file properties.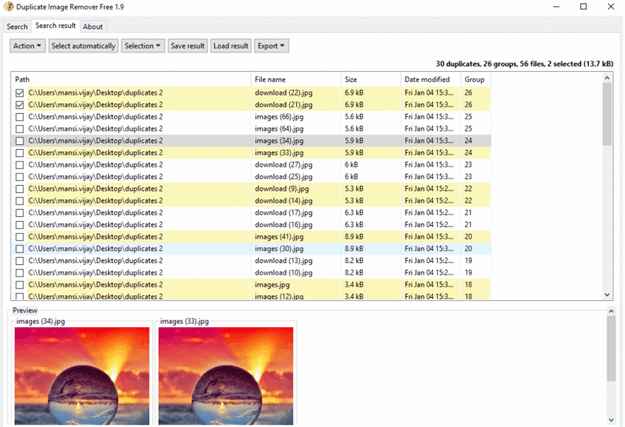 Step 3:- After this, click on the Add Folder option to decide where the scan must be carried.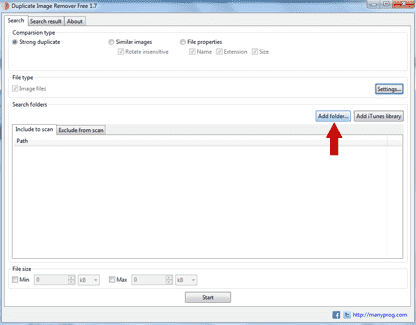 Step 4:- Next, validate the maximum and minimum size of the file. And, if required you can also change it.

Step 5:- Thereafter, you are required to click on the start button to commence the scanning process. And, until the completion of the process, you need to wait.
Step 6:- You will be immediately redirected to the page where the scanned results appeared.
Step 7:- At last, make a click on the Action buttons and choose if you want to move all the files to a separate folder or just want to delete them all.
And, here you go! That's all, you are required to follow to get rid of dupe shots in no time. Within the 7 easy steps, you can delete all the duplicate pictures from your system using Duplicate Image Remover Free.
Read More: Best Free Duplicate File Finder & Remover For Windows
---
Full Specifications of Duplicate Image Remover Free
Operating System:- Windows XP, Windows 7 or higher
RAM:- 512 MB or higher
CPU:- 400 MHz or higher
Developer:- Manyprog
Website:- https://manyprog.com/duplicate-image-remover.php
---
Pricing Structure of Duplicate Image Remover Free
So, as we have stated that Duplicate Image Remover Free is completely free to use for personal use. But, if you want to use it for commercial purposes then for better features you have to upgrade to its pro version. Check out the pricing list below!
| | | |
| --- | --- | --- |
| Plans  | Types  | Price  |
| Business Plan | Commercial | $149 |
| Unlimited Plan | Commercial | $7960 |
---
Duplicate Image Remover Free Review – Wrapping Up!
It's a bit cumbersome to find duplicate pictures and delete them one by one. Plus, it takes more time than usual. Now, you have one question and which is "How to delete duplicate pictures easily and quickly?" So, the only answer to this question is Duplicate Image Remover Free. That is exactly what you are looking for, so long. Hence, download the magical duplicate finder and remover software right now on your Windows PC and get rid of dupe shots.
So, that's our 100% honest review on Duplicate Image Remover Free. If you find it a bit helpful then share it around your circle. Plus, subscribe to our Newsletter for staying up-to-date and informed. And, do tell us your opinions on this in the comment box below. Dear readers, that's a wrap! We'll come back shortly, till then, stay tuned with us.
Harshita Sharma is a technical writer with quite a distinct understanding of the tech realm. She is a tech enthusiast who believes that tech knowledge should reach one and all and tries to convert the sketchy knowledge into the simplest possible form for making people understand the tech world better. When not playing with words, she loves to travel and explore new places. And, is a coffee & cricket connoisseur.
Subscribe to Our
Newsletter

and stay informed

Keep yourself updated with the latest technology and trends with TechPout.
Related Posts