How to Delete Duplicate Photos on Windows 10

Snapping is easy with DSLRs and high-end smartphones but sorting similar photos and clutter from the stock of photos can be a tiring task. If you want a short-cut to deleting duplicate photos, then you can acquire a duplicate photo remover app for your Windows 10 PC.
These tools are extremely easy-to-use and automate the process of finding similar photos and removing them to reduce the bulk of photos, save your device's storage space as well as keep your digital photo organized and optimized.
Capturing mesmerizing moments that we see around us in a camera is a passion for some, while a hobby for others. Some people even like to just collect and stock all the precious and memorable moments of their lives in their smartphones and PCs.
But identical photos and selfies often create unnecessary crowd in the system or device. Therefore, it is recommended to get rid of such similar looking images. 
In this post, we have outlined the way in which you can smoothly remove duplicate photos on Windows 10 systems with the help of the best photo cleaner app in the market – Similar Photo Cleaner.
Similar Photo Cleaner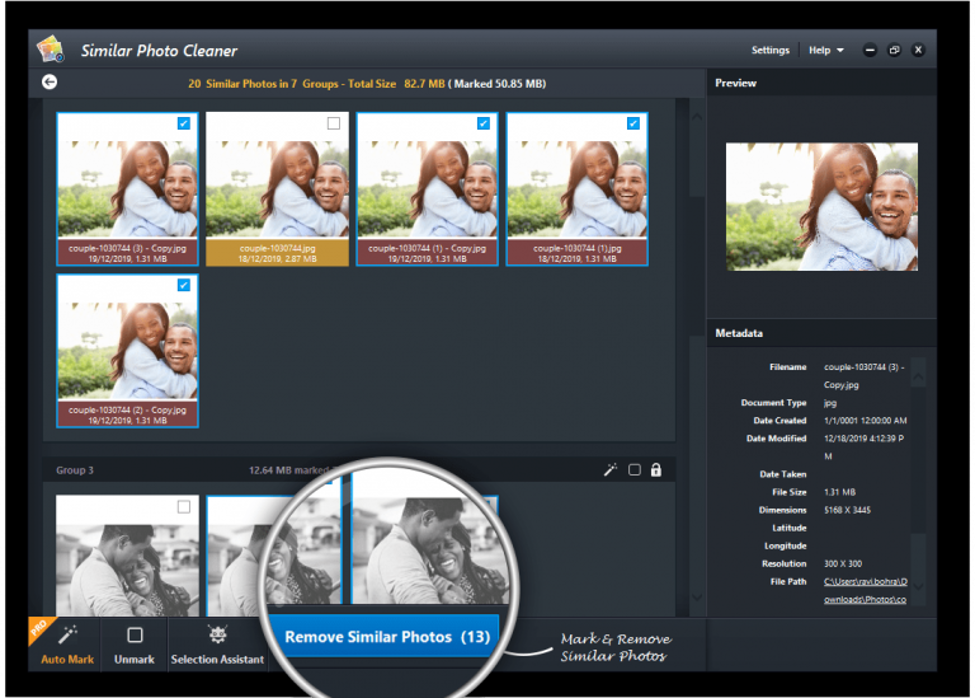 Similar Photo Cleaner is one of the best duplicate photo cleaner tools available in the app market to remove the clutter of images on your Windows 10 system.
The tool has many promising features that make the process of deleting identical photos breeze.  
It is compatible with Mac as well as Windows devices and needs a RAM space of at least 512 MB as its basic functional necessity.
This tool comes with the option of drag and drop photos/folders to remove duplicate photos from specific locations. This tool can be regarded as a one-stop solution for removing similar photos because it supports all types of popular image formats.
It also lets you preview the scanned images, so that you can exercise your judgement over the tool's selection to remove or retain certain photos.
You can auto mark files with this tool. Additionally, this tool also supports external devices such as pen drives, USB devices, and even external drives to delete duplicate photos from them as well.
You can also get round the clock technical assistance. Thus, recover disk space by erasing thousands of unwanted similar-looking photos with the aid of this tool.

Steps To Delete Duplicate Photos On Windows 10:
Once you've installed the application on your Windows 10 computer, post this you need to follow the below steps to remove duplicate photos from your computer.
Upon completion of installation, you can start the app and begin the scanning process in two ways. You can either add photos or add folders to initiate the scanning process.
There is also an option to drag and drop the photos or folders into the scanning area.
Once the addition of photos is complete, you can hit the "Scan" button.
This will make the app look for identical images in the added locations.
There is also a way to customize the search criteria by modifying the search filters to get the desired results.
Upon scan completion, the application displays the search results of similar photos.
You can click the "Remove Similar Photos" button in the Similar Photo Cleaner app to erase the duplicate photos.
So, it's done so easily in just one click, saving your time and energy.
Read More: Best Free Photo Editing Software for Photographers
Summarizing
Therefore, Similar Photo Cleaner is the best free duplicate photo finder app for Windows 10. Using this tool can not only sort and clean your image library and make it more organized, it can also reduce the load on your system. 
It has plenty of noteworthy features and has an appealing UI that makes it stand out in the crowd in comparison to other tools in the same category of utility apps for PC. 
This image finder tool is capable of running quick scans that can detect duplicate photos in a snap and remove them in a single click. Therefore, whether you are a professional photographer or an amateur, this app on your system can be of immense benefit to you. Install this application right away and sort your albums folder in jiffy.
Snigdha is a technical content writer with expertise in the field of science & technology. Though she has a very diverse academic and professional profile yet she finds writing to be a creative form that she was unable to explore so far. When not writing, she can be found indulging in other forms of creativity like painting or travelling.
Subscribe to Our
Newsletter

and stay informed

Keep yourself updated with the latest technology and trends with TechPout.
Related Posts