Dell vs HP: Which Laptop Brand is Better in 2020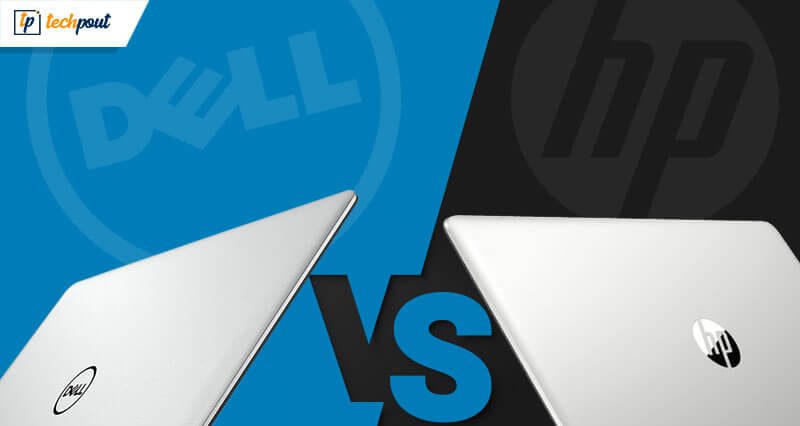 Finding the best gadget can be tough, and when it's about Laptops it's even tougher. If you are trying to find the best laptop in 2020, Dell and HP are the first choices that you can consider. Both brands enjoy a rich base of satisfied customers and stand at a leading position amongst other competitors.
Laptops have become an integral part of our day to day lives and a lot goes in while trying to find the best-suited options. There are a lot of criteria that one must consider for comparing various options, like performance, durability, quality, specs, and the price.
If you are still confused about which one is a better brand between Dell and HP, here we have prepared a well-researched comparison for you. We have also listed a few of the best Dell vs HP laptops that you can consider before making your final choice. 
Things to Consider Between Dell and HP | Comparison Criteria
1. Price
Well, pricing is a factor in which HP has always been a winner. It clearly outstands Dell with its pricing. However, Dell, on the other hand, ensures users' satisfaction by providing class apart features and top-notch performance benchmarks. 
So, if you are looking for a laptop with powerful functioning at an affordable rate, HP is hands down the best option which you can consider.
2. Appearance and Design
In the battle between best Dell vs HP laptops, HP has an upper edge when it comes to the appearance of the laptops.
Several users believe that Dell has always focused more on the reliability and power of its system components over the overall look and design. However, of late it's seen that Dell has started coming up with sleep design concepts, the best example being Dell's XPS 13. Its white-gold chassis and slim profile give it an aesthetic look. Apart from this, Dell's Alienware laptop series with fancy logos and backlit keyboards is quite popular amongst the gamers. 
While on the other hand, HP gives closer attention to the design and appearance of its laptops. It ensures that its gadgets offer a perfect combination of accents, texture, and material which make it more appealing. Apart from this, a silver matte finish combined with an aluminum frame, minimal curves and thin lines along with a perfect combination of leather and aluminum body makes it a unique visual experience for its users. 
Dell laptops have a standard look and appearance while on the other hand, HP has very limited color options to offer. HP laptops are not only stylish but also carry a sleek look, which makes it a perfect choice for both professional and personal use. 
If you are looking for a laptop for office purpose then both the brands can work well for you. 
Read Also: Which Is The Best Gaming Laptop In The Budget?
3. Components
Well, no one can beat Dell when it comes to components, over the years Dell has been a clear winner in providing powerful and high-quality hardware. Not only this, but it also offers a wide range of graphic cards, processors to suit all requirements. Budget laptops at affordable prices are what you get with Dell.
Its Alienware product line and Inspiron series set a perfect example of top-notch quality with variable features. 
If we talk about HP, it does provide comparable components but is unable to beat the standards set by Dell. HP focuses more on providing laptops with long battery life, while on the other hand, Dell processors are more reliable and faster. 
4. Innovation
Another important criterion in our discussion about, "Dell vs HP Laptops – Which One Should You Buy" is Innovation. Dell has an upper edge in this as well, it follows a success mantra of "Constant innovation for providing better and different technologies". 
Traditionally, Dell used to focus more on developing bulky systems catering to large businesses, but over time it has also managed to spread its roots to suit various user needs with market expansion. Its research and development department works dedicatedly to come up with varied innovations and offerings. 
If you compare the Dell XPS series, over its traditional laptops, Dell XPS has a lot more to offer. It not only comes in a lightweight sleek design but is also powered by innovative features and advanced controls. Apart from this, its Dell Precision series is a perfect example of its constant journey towards innovation.
However, over the years Dell has mainly focused on its high-end laptops. With a varied customer base, It needs to expand its focus in other categories as equally. 
On the other hand, HP is involved in multiple hardware products, printers and scanners being its prime focus. Not to forget, the newer laptops of HP are equipped with advanced features. 
All things considered, HP is far behind Dell in providing innovative computing products. 
5. Customer Support
Customer support is another important discussion point in our article about the best Dell vs HP laptops. When it comes to after-sales service and customer support, Dell enjoys a massive number of 5-star ratings on Amazon. Users swear about it's fast and efficient service. Apart from this, its warranty policy also backs it quite well. In exceptional cases, it can also go limitless by replacing the faulty laptop completely for better user experience. 
On the other hand, HP is also known to offer valuable services to its users. It's customer team not only responds to users' queries on the phone but also on social media platforms. However, several users have reported instances where HP has failed to provide timely assistance. 
6. Laptop Options
Dell is an unbeatable winner when it comes to the number of options it provides to its customers. It has a massive basket of options suitable for all types of users.
7. Ultrabook
The Envy line of HP is best suited for users looking for  Sleek-and powerful options
8. Gaming
The Alienware series by Dell offers a variety of gaming laptops, perfect to cater all your gaming needs and specifications.
I hope our detailed comparison between Dell Vs HP laptop Comparison has cleared most of your queries and questions around the topic. Let's now have a quick look at some of the laptops you can consider buying based on their processor, storage, Memory, and Display. 
| | | | | | |
| --- | --- | --- | --- | --- | --- |
| Model Type | Processor | Display | Storage | Memory | Graphics |
| HP Pavilion 15 | Intel Core i5-8250U | 15.6-inch HD 10-Finger Multitouch Support | 512GB SSD | 16GB DDR4 | Intel UHD Graphics 620 |
| HP Spectre x360 | Intel Core i7-8550U | 13.3-inch FHD 10-Finger Multitouch Support | 512GB SSD | 16GB DDR4 | Intel UHD Graphics 620 |
| HP Chromebook 14 | Intel Celeron Dual-Core N3350 | 13.3-inch FHD 10-Finger Multitouch Support | 32GB SSD | 4GB LPDDR4 | Intel HD Graphics |
| Dell XPS 13 | Intel Core i7-8565U | 13.3-inch Ultra HD InfinityEdge touch display | 1TB PCIe SSD | 16GB LPDDR3 | Intel UHD Graphics 620 |
| Dell Latitude 7490 | Intel Core i7-8650U | 14.1-inch LCD | 512GB SSD | 16GB DDR4 | Intel HD Graphics |
| Dell Alienware 17.3 | 8th Gen i7-8750H | 17.3″ Full HD (1920 x 1080) IPS Anti-Glare LED-Backlit Display | 32GB | 32GB DDR4 Memory | GeForce GTX 1070 (8GB) |
| Dell G3 15 | Intel Core i7-8750H | 15.6-inch FHD IPS Anti-Glare, LED-Backlit | 256GB SSD + 1 TB HDD | 16GB DDR4 | NVIDIA GeForce GTX 1050TI |
Frequently Asked Questions
Which laptops are more durable, Dell or HP? 

If you are looking for durable laptops, then the competition between HP and Dell always goes toe to toe in terms of sound and build. However, HP provides better battery life and display making is a better option.

Which is the best option for budget buyers? 

HP is the best option when it comes to budget laptops. However, if you are ready to spend for the class apart features and benefits then choose Dell.

Which one has better customer service, Dell or HP? 

Dell is a clear winner on this front. It is known to offer fast and efficient after-sale services to all its customers.

Final Words
In the battle of the best Dell vs HP laptops, it is extremely hard to come up with a clear winner. Both brands are quite popular among users including students, business owners, gaming enthusiasts, etc. 
User preferences and needs play a crucial role here and become the final deciding factor. While HP provides a range of laptops suitable for varied customer needs. Dell is better in customer service, innovative offerings, and hardware components. Dell provides an unmatched mix of repairability- performance-price and reliability. 
So, Dell is a better brand to consider in today's market. 
Prachi Dani is a technical content writer who specializes in areas of science and technology. She is highly up to date with technological transitions and transformations. Writing is not her passion but the only thing that carries satisfaction in life. If not writing, you may find her engrossed playing action games on her treasured smartphone.
Subscribe to Our
Newsletter

and stay informed

Keep yourself updated with the latest technology and trends with TechPout.
Related Posts