How to Connect Your Apple iPad to Your TV

Streaming movies is so easy on your iPad but often the resolution and the small screen size make us look for better alternatives. Connect your Apple iPad to the TV and enjoy watching the latest shows and HD movies on your HDTV.  
Even if you don't have a smart TV, don't worry because there are multiple ways of linking your Apple devices to your TV screen. 
In this post, we will specifically focus on how to establish a connection between an iPad and your TV. There are multiple ways to do so and the options vary from going wireless to using cables. 
Whatever method is most feasible to you from the ones given below, you can utilize the steps that we have explained to catch all your favorite online streaming sites directly on your TV from your iPad.
Simple Ways to Connect Your Apple iPad to TV:
There is obviously more than one way to connect your Apple iPad to the TV and they are described vividly below:
#1. Connect Your Apple iPad to HDTV via AirPlay
AirPlay is all about mirroring video content from your Apple iPad on your Apple TV wirelessly. It supports content mirroring from any Apple device that uses iOS version 4.3 or above. 
Read ahead to know the way of connecting your Apple device with Apple TV using AirPlay:
Ensure that your iPad and Apple TV are connected to the same WiFi network.
Then, ensure that your TV is set on display mode.
Go to the settings of the iPad and tap on screen mirroring.
Then, you need to choose the option of Apple TV.
Finally, you will be able to view the Home screen of the iPad on your Apple TV.
So, there it is, a simple and effective way to connect your iPad wirelessly to your TV screen.
#2. Connect your Apple iPad to the TV via Google Chromecast
In three simple steps, you can connect your Apple device to your HDTV via Chromecast and watch all the Cast-enabled apps from your iOS device on your TV.
The Chromecast device and the iPad should be connected to the same WiFi for this method to work.
You need to also ensure to switch the TV input to HDMI by pressing the HDMI button on your TV remote.
You need to then download and install the Google cast app on your iPad.
Using the WiFi settings, you will then need to install, configure and set up the Chromecast device on your Apple iPad.
That's all! You are now all set to stream and watch content from your iPad on your HDTV.
Read More: How to Set Up Google Chromecast on Your TV
#3. Connect Apple iPad to the TV via Adapters 
Apple devices that run on iOS version 4.0 and above and have a 30-pin connector can be used to connect to a TV with an adapter. 
Connect Apple iPad to the TV via cables and adapters as described below:
Plug the adapter to your iPad or iPhone
Connect HDMI cable to the cable adapter
Connect the HDMI cable to your HDTV and you are all set.
#4. Connect Apple iPad to the TV via VGA Input
A VGA adapter is a way in which iPad and iPhones can be connected to your televisions and computers. If you need to hear the broadcast, then you have to externally connect them to the speakers.
If you want to connect an Apple device by VGA Adapter then, use the below steps:
Attach the iPad by the VGA Adapter.
Connect the VGA adapter to the VGA cable.
Plug the VGA cable into the television.
Read More: How to Connect Your Wireless Headphones to TV
#5. Connect Apple iPad to the TV with a DLNA App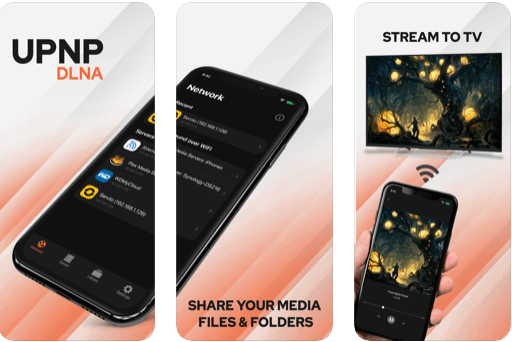 DLNA (Digital Living Network Alliance) is a way in which media streaming can be done effortlessly. If you have the right kind of app you can always listen to continuous music streaming. 
It does not work for those files (music or video) that are bought from the iTunes store basically since the digital rights of those files are protected under the Digital Rights Management (DRM). 
You can also use the app to connect your TV with other devices like your PC, iPad to stream movies and TV series.
You need to install the app on the iPad and select your TV. Then, using WiFi-direct it will stream selected content from your iPad on your TV.
Summarizing
So, you saw that connecting your Apple iPad with your TV is no big deal. All you need to do is have a medium that can help you effectively establish such a connection without any hassles.
So, now you can enjoy Apple TV, Disney+, Netflix, Amazon Prime Video, Hulu, and YouTube from your iPad on your big screen HD television easily.
If you are opting for wireless methods like Chromecast or AirPlay, then you need to ensure that all the devices which you want to link are connected to the same WiFi.
Snigdha is a technical content writer with expertise in the field of science & technology. Though she has a very diverse academic and professional profile yet she finds writing to be a creative form that she was unable to explore so far. When not writing, she can be found indulging in other forms of creativity like painting or travelling.
Subscribe to Our
Newsletter

and stay informed

Keep yourself updated with the latest technology and trends with TechPout.
Related Posts