16 Best uTorrent Alternatives to Download Torrent Files in 2023

The article will help you find the best uTorrent alternatives. You can refer to the list and choose the best alternative that suits your requirements and needs. Keep reading to know more about the alternatives.
uTorrent is among the most used and the best torrent to download. Using this platform you can easily download whatever you want to from the internet easily. uTorrent has been leading the market for a long time now with a number of uTorrent alternatives, but after it was taken over by BitTorrent the user base started to decline rapidly. The interface was not easy anymore. whereas other competitors offer many effective tools for a very less cost.
In this article, we have shared some of the best uTorrent alternatives for PC or laptops that you can try. So without any further delay, let's take a look at the best replacement of uTorrent that you can opt for.
Top 16 uTorrent Alternatives to Try in 2023
Below are some of the best alternatives to uTorrent in 2023. Scroll through the list below to find every necessary detail about the uTorrent substitute software including features and offers. All these software or apps like uTorrent are completely safe alternative to uTorrent.
1. Bitport.io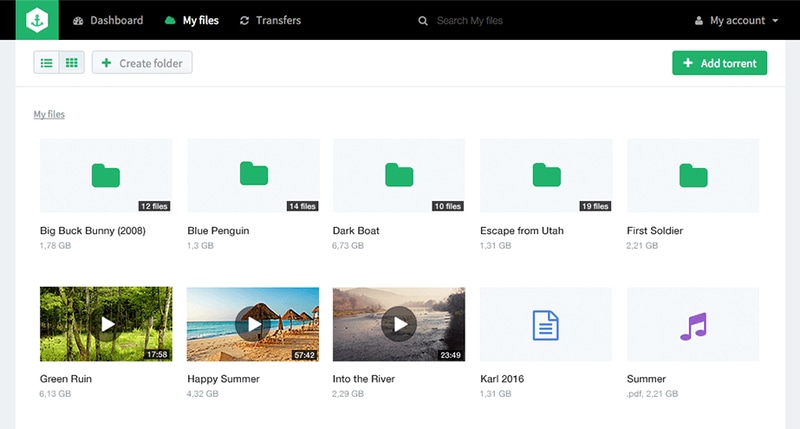 While looking for the best uTorrent Alternatives we have found a great platform for you. Bitport.io lets you easily download all kinds of files within a few minutes. The reason why we have kept this software in the first position is that it offers a secured cloud platform where you can keep all your downloaded files without even affecting the space on your PC. The security protocol makes it a choice better than uTorrent with no need for downloading or installing.
The interface of the software is very simple, you would feel like using a cloud platform. But unlike cloud platforms, you can easily access all your files without the internet too. The best part about this alternative to uTorrent is that it doesn't require any kind of download or installation; you can simply operate from the website itself. For using this alternative you need to create an account and that's it. You are good to download anything from the internet.

---
2. qBittorrent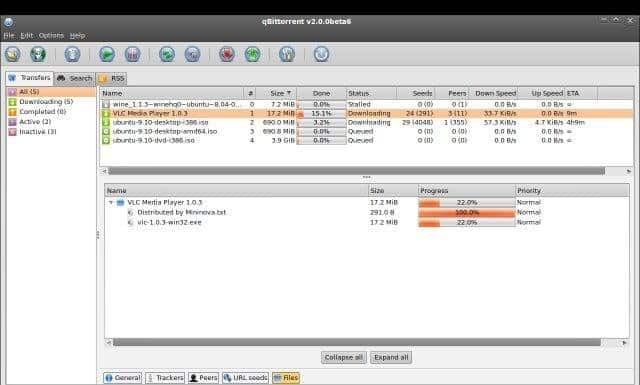 This torrent client was ideally made as a replacement for uTorrent. This is an open-source, lightweight, and completely free-to-use platform. Other than this there are no ads that can interrupt the process. The interface is very easy and brief, you can easily understand the work of tools and the details mentioned.
The qBittorrent is similar to uTorrent and makes a good choice for a large user base. Whether you are a beginner or experienced you can use this torrent client to download your favorite files from the internet easily. Using this torrent client you can download any torrent, search torrent, control bandwidth, add filters and do a lot more. Though you would not find the advanced tools in this torrent client, what else you can expect from a free alternative to uTorrent.
Read More: Best Free Movie Download Sites
---
3. Vuze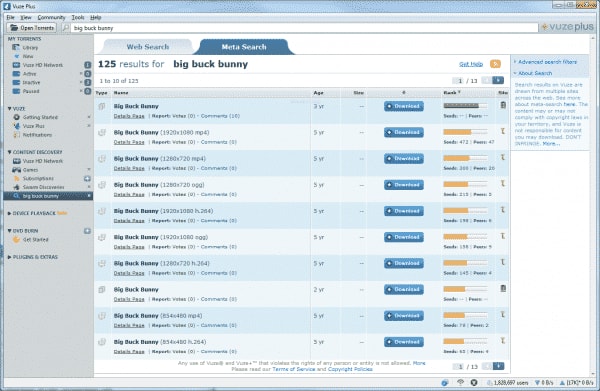 Vuze is one of the best uTorrent alternatives as it offers the easiest user interface for its users. This platform is a decent choice in place of uTorrent. The torrent client not only offers a simple and neat interface but also offers many other features which can help you in easing the process of downloading. The features list includes an HD video player, bandwidth management tool, and RSS updates like options that you can use.
It moreover also supports magnet links too. This is heavy in resources and complex clients that can be tough for the new users to adapt to. Overall this is a great alternative to uTorrent to opt for in 2023.
Also Read: 18 Best Duplicate Photo Finder & Cleaner Software
---
4. BitTorrent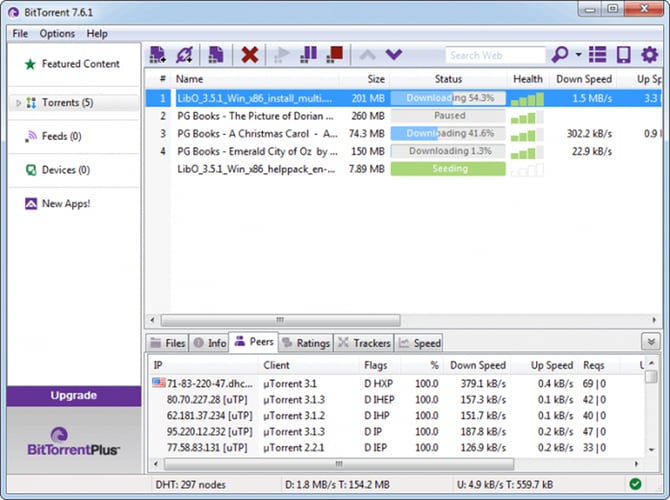 Another great uTorrent alternative for Windows is BitTorrent. It is one of the oldest torrent clients on the list. The brand has also taken over uTorrent as its subsidiary brand in the past. The features and the interface have not changed after the launch, it is still the same. While there are some tools that are added to BitTorrent, the tools include the browser start page.
This alternative to uTorrent offers ads and spam offers which can be frustrating for the users while they download. But it can be changed as the torrent client is fully customizable. You can change the settings as per your needs and requirements.
---
5. Deluge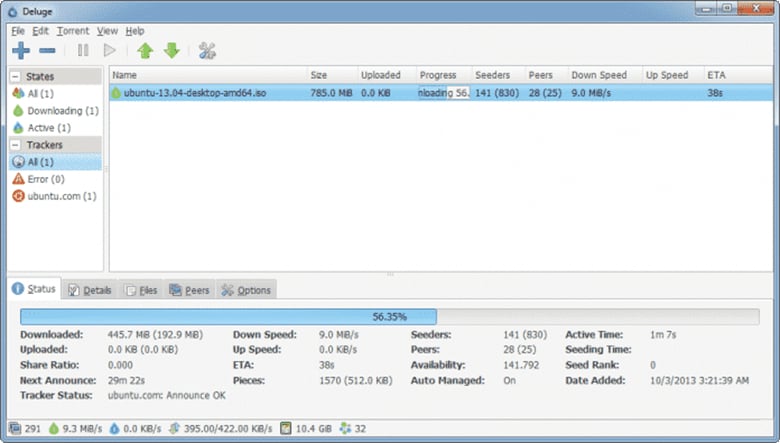 Deluge is a uTorrent alternative that is based on the same BitTorrent source code. This is similar to BitTorrent and the older version of uTorrent. Though the interface the uTorrent replacement is neat if we compare it to qBittorrent then you will find it a little messy. This client is completely free to use and the best part about this is that it doesn't offer any kinds of malware, adware, or even ads in the main interface.
The client has limited features to offer but you can use a plugin to solve the issues. You can simply download any plugin which you want and add extra functionality to the client. Some of the functions of this client include encryption, peer exchange, UPnP, speed limit, password protection, and bandwidth management.
Also Read: 14 Best Free Duplicate File Finder & Remover For Windows
---
6. Tixati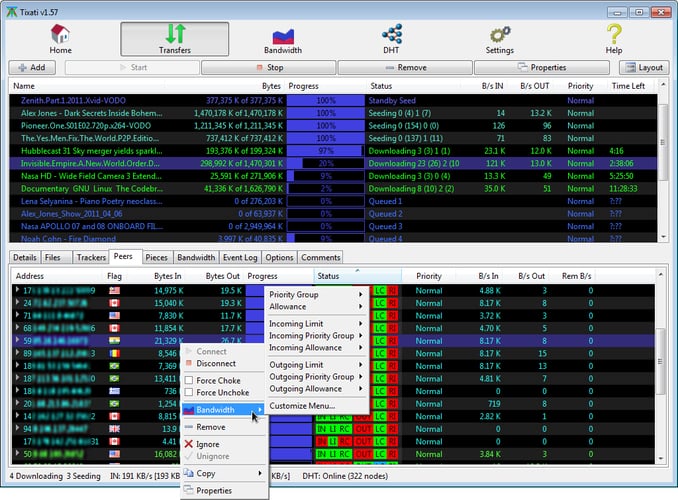 This torrent client is new and one of the best uTorrent alternatives that you can try. It is a free torrent client and is a closed source. The client has many options for both new as well as experienced users. Though the interface can be new as it is very different from the standard torrent clients.
The information on the screen is shown in a neat and clean manner, even the client uses charts to display information that can be easy for the user to understand. You can join different channels using this client which already has seeders and peers to share files. Other than this you also get features like filters, DHT, torrent search, bandwidth control, and UPnP. If you are new to torrent clients then we would not recommend you to use this client as the interface can be complex for you to adapt.
---
7. Transmission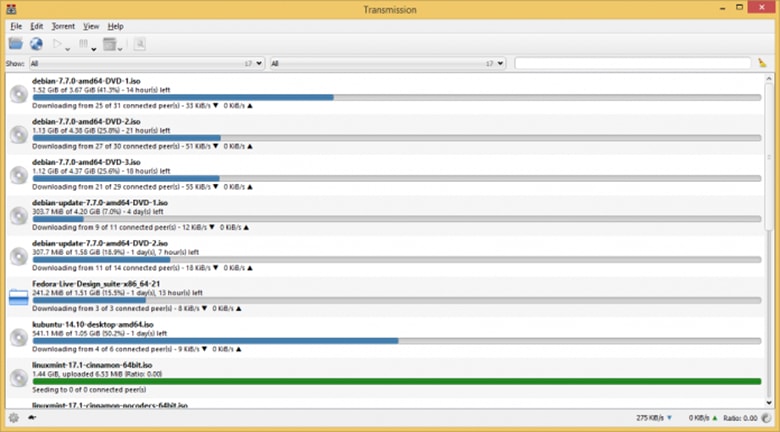 Next up in the list of best uTorrent alternatives is Transmission. If you are a Mac user or a Linux user then this is the right choice to make. You can also use this torrent client for Windows as a third-party download site. It is an open-source torrent client which can be used by anyone. The best part about this client is that it is free from crapware, ads, and other malicious threats.
Talking about the features, Transmission offers webseed support, web interface, peer exchange, DHT, tracker editing, and speed control. It has a simple and clean interface that offers rich torrent clients on Linux and MacOSX systems.
Also Read: Best Free File Managers For Windows 10
---
8. Tribler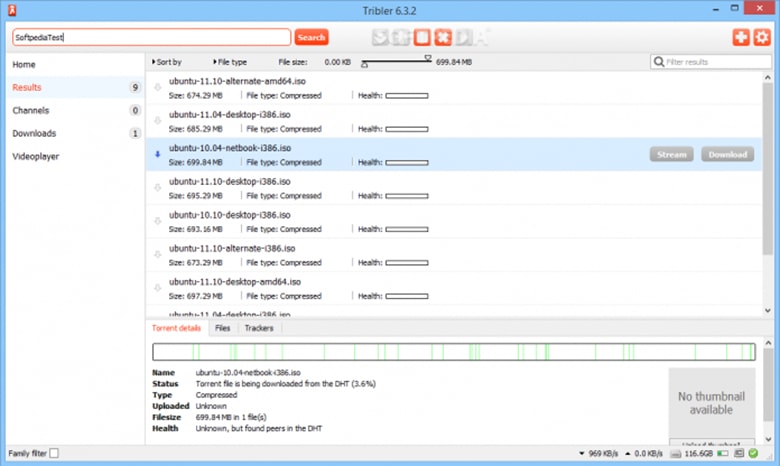 Tribler is one of the cleanest torrent sites available. For all those who are looking for the best uTorrent alternative for Windows and other OS that offers a clean interface, this can be the end of your search as this torrent client has the cleanest interface by far. Other than just getting a clean interface you will get all the other tools that you would need to have an easy download from the internet.
The speed of this alternative to uTorrent might be slower than the other torrent clients but if you have a good internet connection that offers high-speed internet then this problem can be resolved.
---
9. Boxopus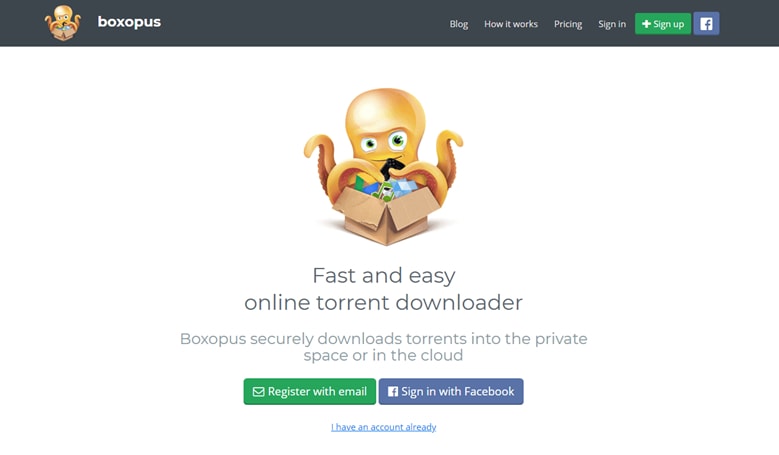 Boxopus is another uTorrent alternative in this list that you can try. The availability in all major platforms makes it the all OS replacement of uTorrent. Unlike other torrent clients, this will save all you download directly onto your Dropbox. So if you are looking to save space on your PC then this alternative to uTorrent is the best option to choose.
The only downside with this client is that sometimes users have experienced that Dropbox has banned the account of users. In such cases, users can send the files to Boxopus servers where they can download them easily.
Also Read: Best Game Boosters and Optimizers for Windows PC
---
10. Halite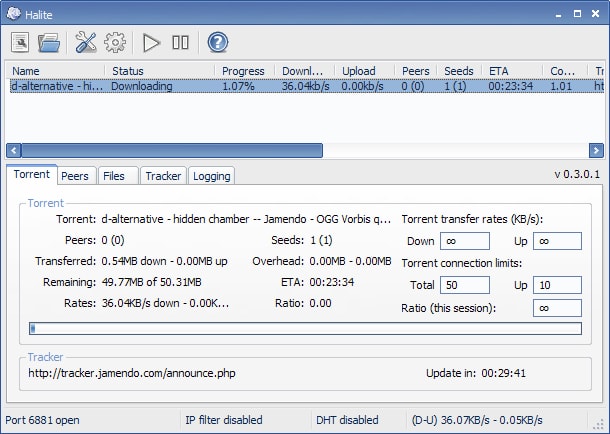 Another great uTorrent alternative in the list is Halite. This is the best option available for Windows 10 users. This is a very lightweight and user- friendly torrent client, what else you want from a client. The interface is really simple and the best part about the interface is that it offers an ad-free experience. Other than this the client offers a great downloading speed so that the user won't face any issue with the download. Overall Haliet is a great replacement for uTorrent that you can opt for and enjoy hassle-free downloads.
---
11. Frostwire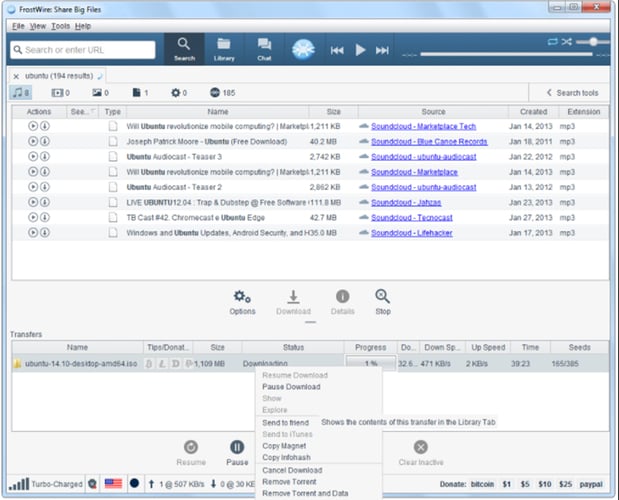 The next torrent client in our list of best uTorrent alternatives is Frostwire. This is a very lightweight and straightforward torrent client. It can be used by beginners as well. The client has many features that can help you in downloading files easily. The best part is that you would not witness ads while you use the client, unlike other torrent clients which keep on bombarding ads.
The torrent client offers features like a built-in search engine, magnet links, media player, import files from iTunes, and many other features. You also get a lot of bandwidth management tools.
---
12. Web Torrent Desktop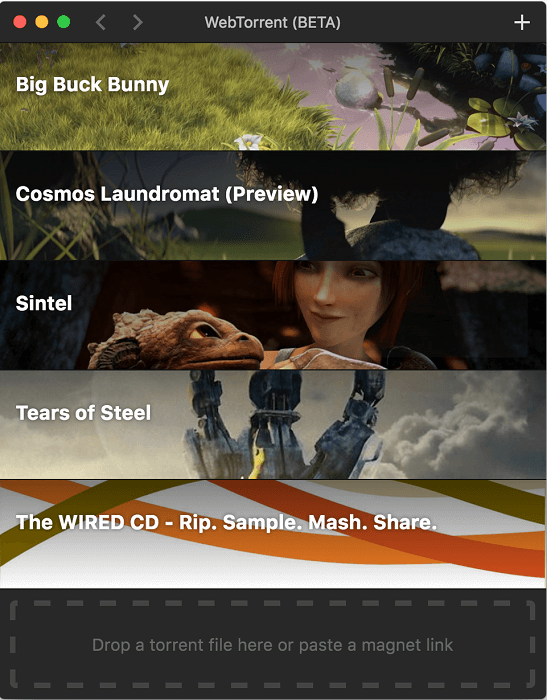 Here comes the last one in our list of best uTorrent alternatives i.e Web Torrent Desktop. It is one of the best uTorrent alternatives available for desktops. The open-source tool is ad-free and has a user-friendly interface with the functionality to download multiple torrent links at the same time. It is available for Windows, Linux, and Mac operating systems. Moreover, you can also stream content while the download is in progress.
The Web Torrent Desktop enables you to stream videos on Chromecast, DLNA, Airplay, tracker server, peer exchange, and DHT. However, the WebTorrent Desktop is in the beta phase of its development and hence can have some bugs. But the developers are working enough to attain perfect working for it.
---
13. CuteTorrent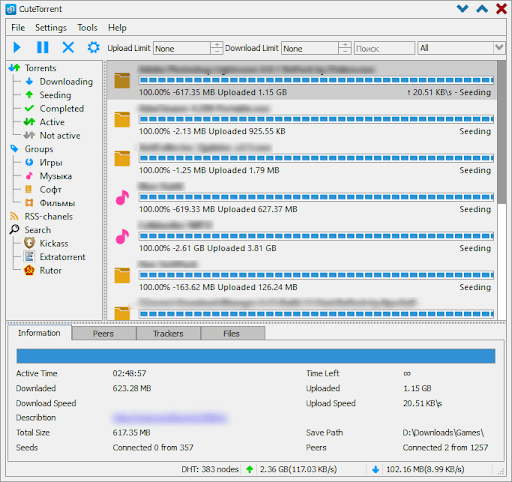 The list of the best alternatives to uTorrent can never be complete without CuteTorrent. It boasts almost all the features, such as web seeding, BitTorrent library, and peer-to-peer exchange you may need for your daily torrenting activities.
Moreover, torrent filtering, unquestionable reliability, ease of use, easy torrent sharing, and customizability are some other factors responsible for making it one of the best torrent software.
Also Read: Best VPNs For Torrenting And uTorrents
---
14. BitComet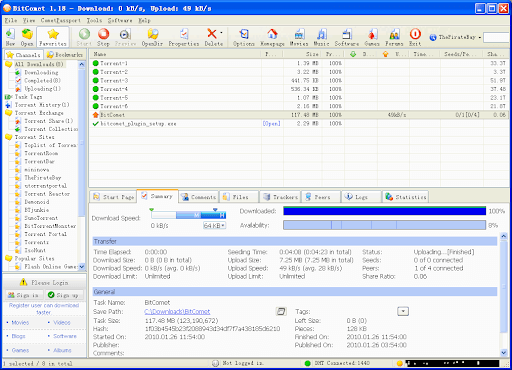 The last name on this list of the best alternatives to uTorrent is BitComet. With the help of this tool, you can easily download any type of content using torrent links. One of the best things about the tool is its high-speed seeding.
Apart from this, the user interface of the software is quite straightforward and attractive. You can easily preview the content of the media that you are downloading while downloading with BitComet.
---
15. Free Download Manager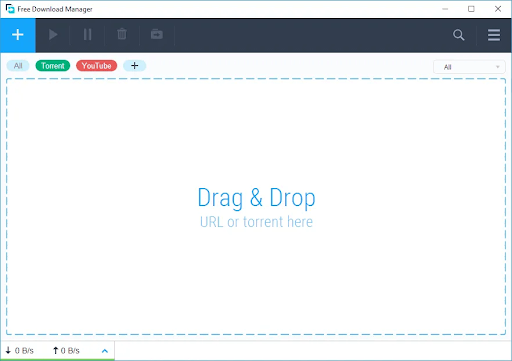 Last but not least, we have Free Download Manager to conclude our list of the best websites like uTorrent to download torrent files. You can use this open-source and ads-free program to download any file from the browser without any third-party extension to do it.
Moreover, this free torrent downloader boasts video/audio previewing before download, download acceleration, resumption of broken downloads, powerful scheduling, smart file management, dark mode, and a lot more. Furthermore, you can use this software through a USB stick without any prior installation.
---
16. BiglyBt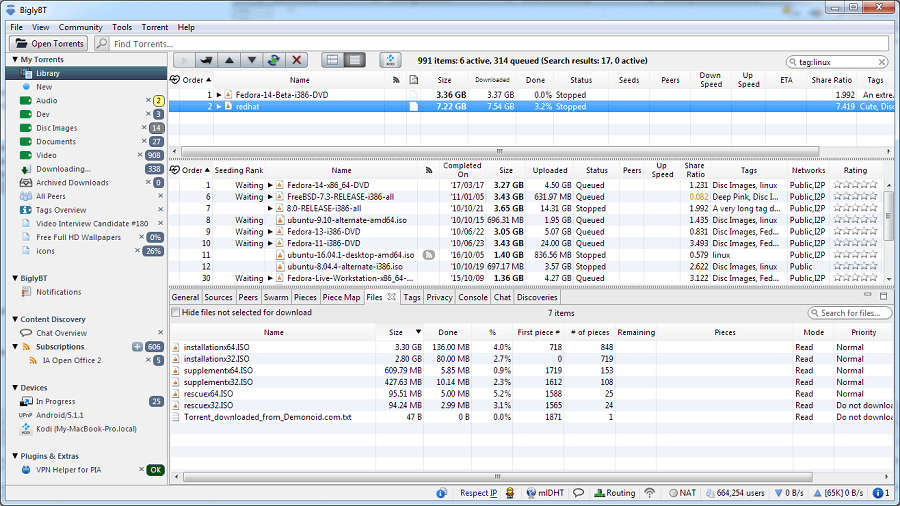 The last name on this list of the best uTorrent alternatives is BiglyBt. This is an amazing tool that allows you to download torrent content from different links. Moreover, the tool also works on mirror links. BiglyBt is an open-source tool. This means that you can edit the coding of the tool quite easily.
This is a free torrent downloader that's available for Android devices as well.
---
uTorrent Alternatives – Faqs
Q1. Is Utorrent still working?
BitTorrent maintains its client uTorrent and provides features such as scheduling downloads, small size, running on web browsers, etc. It has been existing around since 2005 and is used by clients across the globe.
Q2. What is better than Utorrent?
If you are seeking a safer and better alternative for uTorrent Tribler is among the most secure torrents available online. It provides features of security, data encryption, and many other safety protocols to have an uninterrupted and safe environment.
Q3. What to use instead of Utorrent
Although the parent company for BitTorrent and uTorrent is the same therefore there's not any major difference. But BitTorrent makes a better choice despite uTorrent being a lighter program for your device.
Q4. Is there an alternative to Utorrent?
Yes, there are plenty of alternatives available for uTorrent. However, we have listed the top 16 among the options present. You can go through the list and pick the one that makes a better choice for your device.
---
Choose the Best uTorrent Alternatives 2023
The list above has the best option that you can choose in place of uTorrent. The above-listed uTorrent similar apps are completely safe to use.  All the torrent clients mentioned have some similarities and better offerings than uTorrent. We hope that you will find the ideal uTorrent alternative from the list. Tell us which torrent client did you pick as a replacement for uTorrent,  write the name in the comment section below.
Tanmay is a technical writer from the field of mass communication. He aims to communicate the best of the technology to the readers through his write ups. If not writing you can find him with his camera capturing nature and exploring the unexplored world.
Subscribe to Our
Newsletter

and stay informed

Keep yourself updated with the latest technology and trends with TechPout.
Related Posts