Since mobile phones have become our go-to solution for most activities and situations, users take pleasure in accessorizing, enhancing and glorifying these mandatory companions. One of the best ways to do that is setting up themes for display to give your eyes a sense of contentment (yes, that's a thing) as you look at your device. While there are such options internally in today's smartphones, there's a whole separate selection of external themes that await you. We have brought you this article naming the 7 best themes for Android devices to satisfy your standards of a perfect look-check for your phone. Here we go.
List of Best Free Android Themes in 2020
Let's walk you through the list of the best themes for Android phones that we have picked including the sci-fi effect, 3D studded display and the soothing ones to take the itching off your eyes. Let's get started.
1. 3D Theme for Android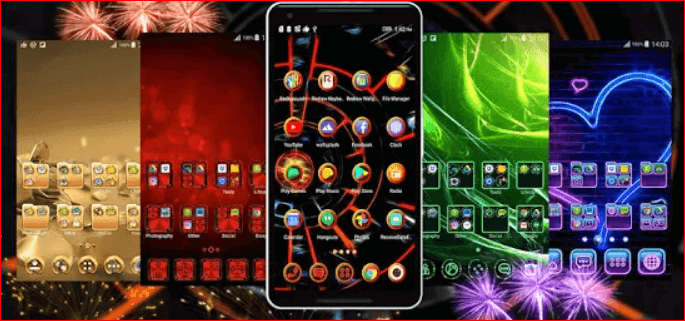 Read Also: Best Google Chrome Themes You Can Try in 2020
This theme is probably the best theme for Android that allows you to adorn your phone's appearance with magnificent graphics and cool icons. First things first, this program is pretty easy to install. It offers a set of wonderful icons, themes and graphics along with an easy-to-use functionality. You can use custom features such as the ability to change font and color in any theme for your device as you desire. Apart from stunning visual effects, this app offers an icon mask for app icons. Overall, this one's a great choice for beautifying your smartphone with themes, thanks to a plethora of designs. If you are looking for a free theme for your Android mobile, try this one. 
Download App: Android
---
2. Launcher New Versions 3D
Launcher New Versions 3D is the next best stop to your Android phone's stunning appearance. This one stands brings the treat of best themes for Android phones that are too amazing to not have a try on. It offers fantastically cool graphics, icons and beautiful wallpapers that make things appear interesting. Besides, it has an easygoing functionality, so you won't be bothered picking your favorites and to set them. This app is easy to download and can be operated without any itch. If you are into harnessing your phone with 3D impact and incredible visual effects with ability to customize colors and font styles to suit the icons as well as your mood, this one is worth a shot.
Download App: Android
---
3. 3D Space Galaxy Theme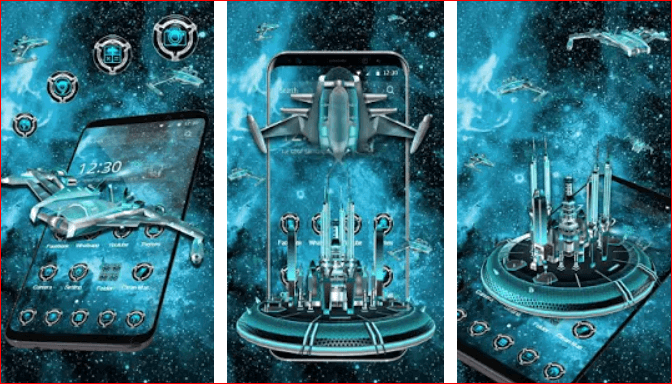 Yet another best pick if you are hunting for the best 3D appearance to stun your phone, especially if you are a fan of space and the galaxy. 3D Space Galaxy Theme offers a selection of the best Android themes to beautify your smartphone. You can use this app to bring in space and universe with 3D impression. It allows you to incorporate live wallpapers and amazing icons along with the holographic design with blue effect that is a must try in this app. Apart from the different categories and huge collection of themes, this app features a lock screen to safeguard your phone. On the top, it is one of the best free themes apps that is quite easy to download. So, here you go.
Download App: Android  
---
4. Modern Theme For Computer Launcher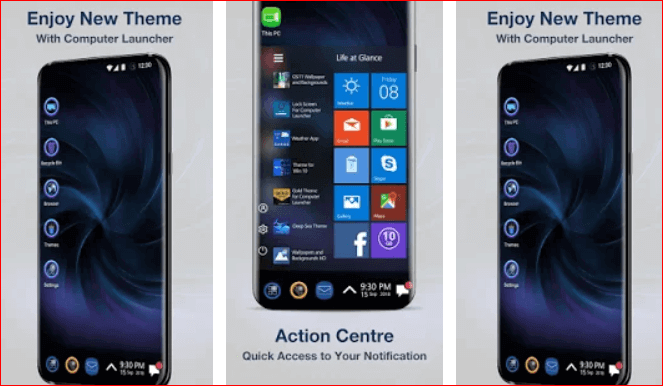 Read More: Best Lightweight Mobile Browsers For Android
This one is yet another best theme for Android devices that give you the privilege of a mini computer impact right on your hand. This app is designed with blue impact and you will find tons of amazing wallpapers to help yourself find the best one for display. This one features super smooth animations and incredible icon packs for different apps that you can customize. On the top, it won't drain your phone's battery which can be a relief to you. If you are willing to invite a sci-fi zone to your phone, you must try this one.
Download App: Android
---
5. Water Drops Theme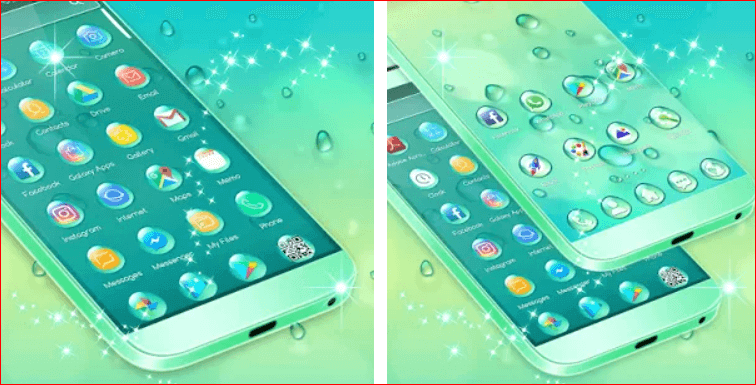 Here's another best theme for Android smartphones that stand out when it comes to adorable appearance. Water Drops Theme allows you to decorate your phone's display with fresh and beautiful water drops themes. The wallpapers offered in themes are designed with the shape of water drops and you get cool headed icon packs to complement them. Apart from them, the downloading and installation of these themes won't take much of your time and the functionality is super convenient. This one's probably the set of  best themes for Android devices when it comes to refreshing designs. 
Download App: Android
---
6. Black Blue Future Theme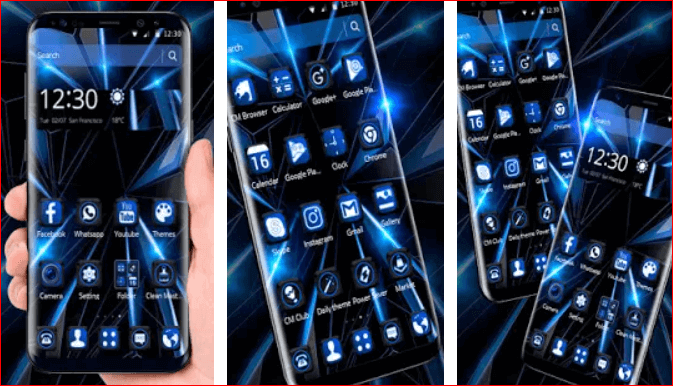 Here's another amazing theme for Android smartphones that you can try for your phone's display- Black Blue Future Theme. This theme, Neon Blue Launcher, brings you fantastic options of 3D graphics, themes and wallpapers with stunning resolution. The appearance in these themes will enhance your screen with advanced impact which is enriching overall. Apart from that, you have freedom of customizing your phone with beautiful options in icons and widgets. Besides, the Homescreen feature is a must try. On the top, you can operate these themes with ease and a few taps. 
Download App: Android
---
7. High Style Launcher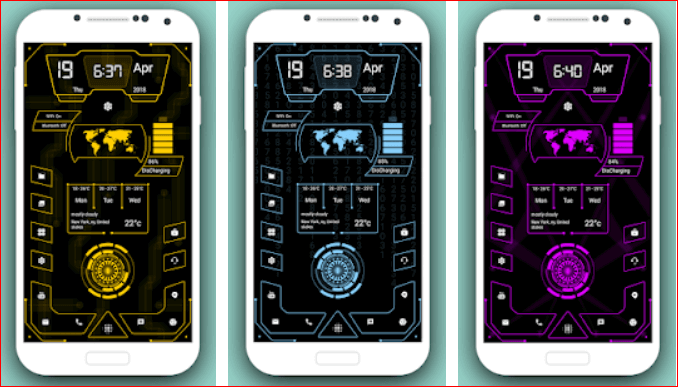 Read More: How to Change Google Chrome Incognito Mode Color Theme
Last but not the least on this list, High Style Launcher is one of the best themes for your Android phone to shake up the appearance. Some users may find this one quite hard to resist and the credit goes to that dashing led light factor against the black background. The abstract designs that you are offered here counts. This one's surely one of the best Android themes apps when it comes to easy functionality and performance. You will easily adopt using the wallpapers, icons and widgets in this app. On the top, this app can easily make you fall in love with 3D wallpapers. With a user-friendly interface and on the go performance, this one is worth a try.
Download App: Android
---
Final Thoughts
Let's hope you have found what you've been looking for. These apps provide a selection of graphics, themes and icon packs so it enhances your ability to find what goes well with your mood. Besides, using them is not an endeavour. Now that the standard theme on your phone's display is boring you, you can get the trials on these options. What's your favourite? Feel free to write any recommendation or opinion you want to share in the comment box.
Jyotsana is a technical writer with a non-technical background. An eye of detail and a knack for writing helps her to write technology related content.Apart from writing, she is a coffee connoisseur and an aesthete who rejoices in poetry and music during leisure.
Subscribe to Our
Newsletter

and stay informed

Keep yourself updated with the latest technology and trends with TechPout.
Related Posts