13 Best Google Chrome Themes You Can Try In 2021

Being able to switch the scorching white theme to a dark screen to sanctify your eyes or setting up more customization using Chrome's settings is something many users give importance to. Because why not? 
The longevity of Chrome usage is certain to make you take strolls around the homepage and when it comes to the homepage, let us tell you that you can turn it into a thing of beauty with the help of different themes for Google Chrome that can be dark, white, abstract, minimal and even superhero-ish. We have a list of the best Google Chrome themes for you that may help you take a roll on some newness the next time you go to the screen.
Best Google Chrome Themes For 2021
Chrome lets you enjoy the extensive themes to apply on your homepage. Sometimes, you may just want to put the dark mode on and ease your sight but there is a diverse selection of Google Chrome themes in the Chrome Web store waiting for you. These themes vary from minimalism to fictional characters and while some focus on color gradients, there are themes that bring you the sights of city and nature.
Here is the list of 13 best Chrome themes that you can try today.
1. Themes by Chrome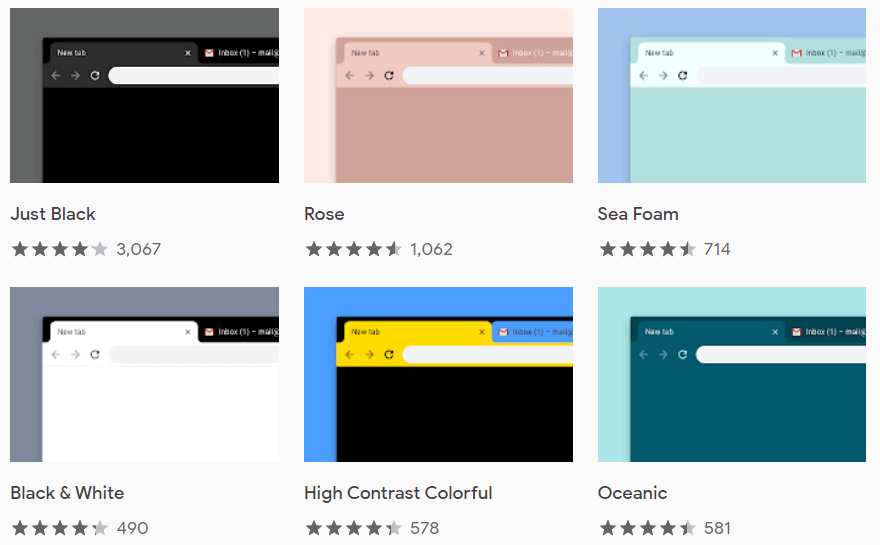 Read Also: Best Free Live Wallpapers for Windows 10 PC
To begin with the themes let us tell you that Google offers its own range of native themes to Chrome. There are 14 themes that are focused on various colourful complexions that you can select the best one from. The best part about these themes is that you can change the colours anytime you want. You may have your favourite one.
---
2. Beauty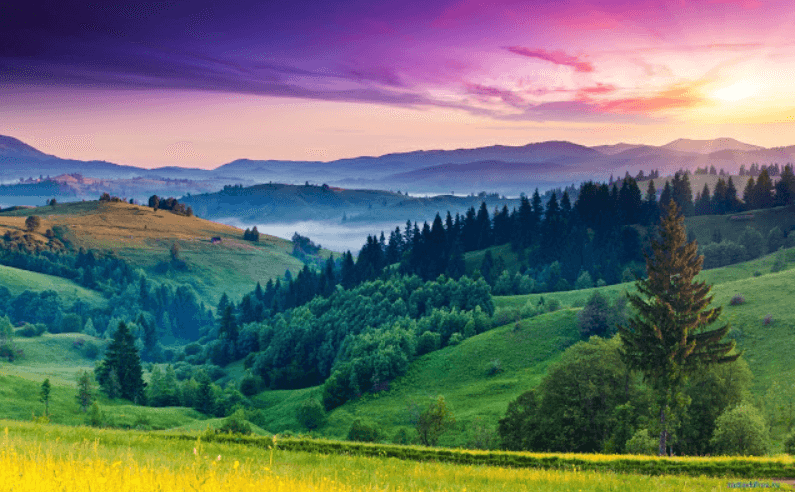 Beauty, as the name suggests, has to be one of the most beautiful Google Chrome themes which is enough to make you fond of this whole idea of chrome themes and it is all about the forest, the mesmerising meadows and well, nature's beauty decorating your homepage to calm your mind to utmost serenity. Besides, you never say never to a beauty unfiltered.
---
3. Iron Man-Material Design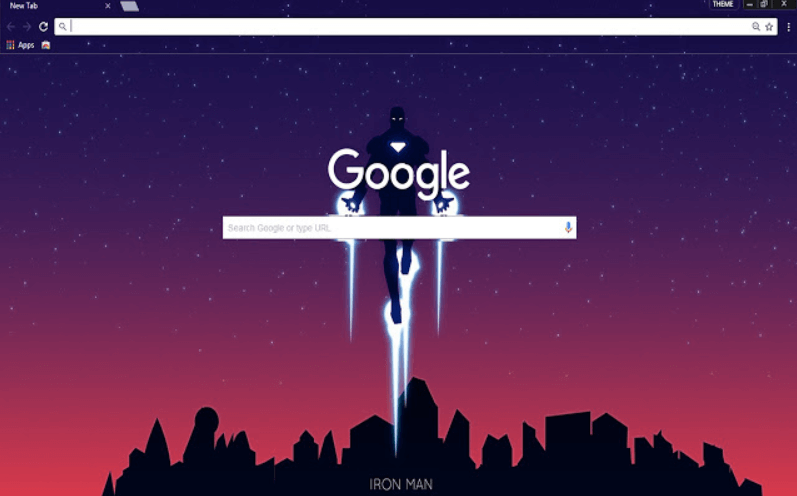 Here you go, the Tony Stark lover. If you have a thing for Iron Man then there is no denying in the 'marvel' this theme holds for you. This one is another best Google Chrome theme which features the artwork of Iron Man to stun your homepage and of course, to make your head held high. It features a blue accent across the tabs and qualifies to stun your browser with its unparalleled energy.
---
4. Tardis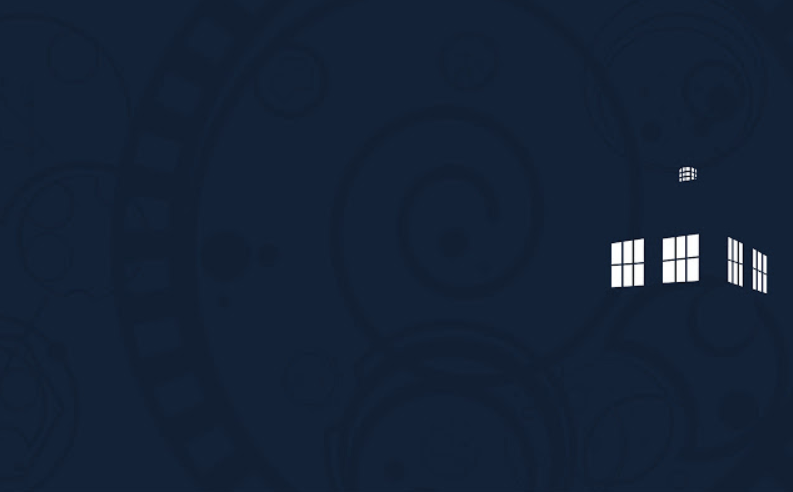 Yes, some of us prefer minimalism over anything which is what makes Tardis enter the list of best Google Chrome themes. Inspired from the world of Doctor Who, this theme compliments the homepage with its minimal approach and keeps the current tab distinct with a white bar above. It is simple, helpful and fictional. So what are you waiting for, dear fan of Doctor Who? 
---
5. Nordic Forest
Read More: How to Change Google Chrome Incognito Mode Color Theme
If you need your very own calling from the woods then you have to try Nordic Forest. It is one of best Chrome themes which showcases those ultra-special pine trees and becomes your ticket to the forest feels through the homepage. So if you are a nature lover, then this one has surely come to please you.
---
6. Zodiac Animals Theme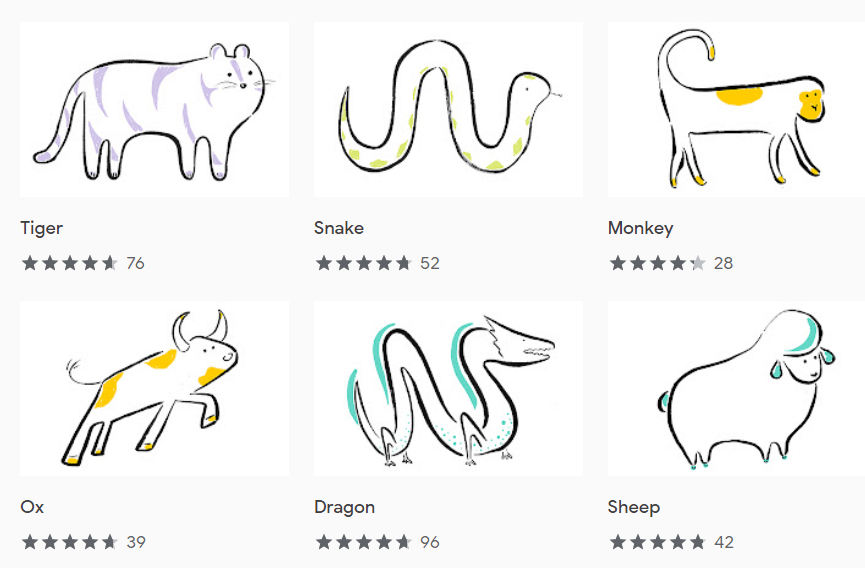 This theme features a series of 12 Chinese Zodiac animals with an impression of cuteness to charm you. It is created by Google and it sets on your homepage with the artwork of animals. Now, you may just want to decide which animal will best compliment your homepage.
---
7. Night Shift Redux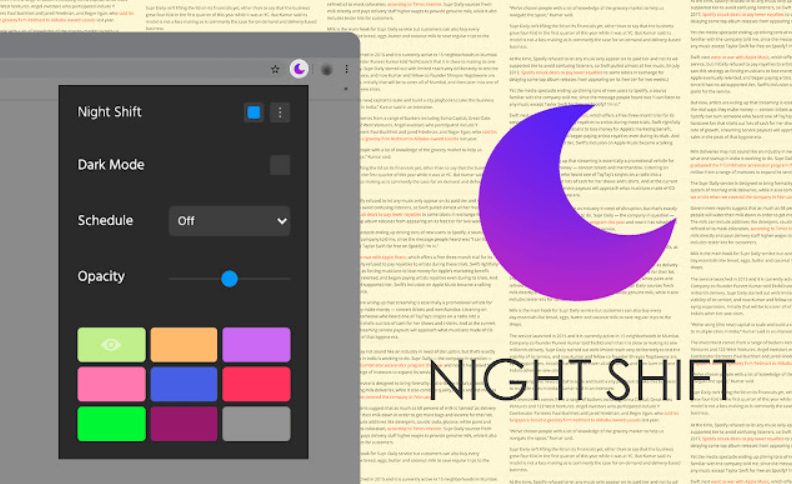 If you are looking for a dark theme for Google Chrome then you will probably love this one. It is one of the best Chrome themes which is capable of shifting the colours, taking care of your eyes during those long hours of night-shift. It allows you to browse comfortably in the darkness and keeps the protection in check. 
---
8. Deadpool Full Screen Theme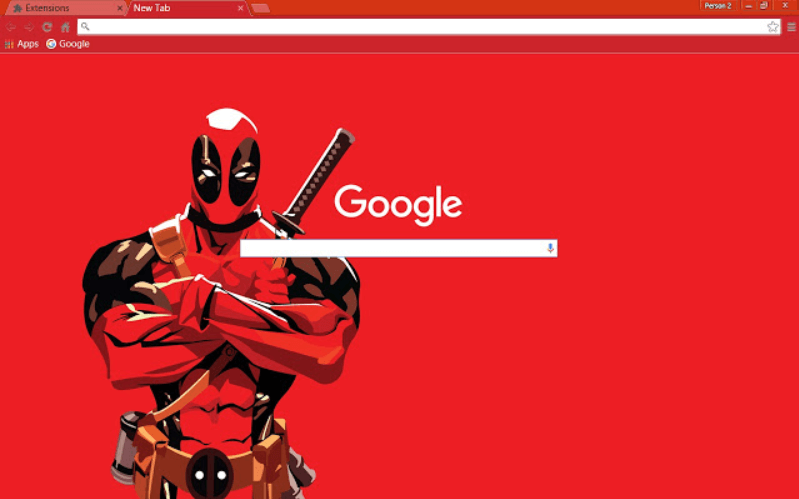 Be it apparel or a Google Chrome theme, superheroes are everywhere and so is Deadpool. This theme is all about that red accent entertaining your homepage with the charming presence of Deadpool who is too much of a thrill to overlook. 
---
9. Sahara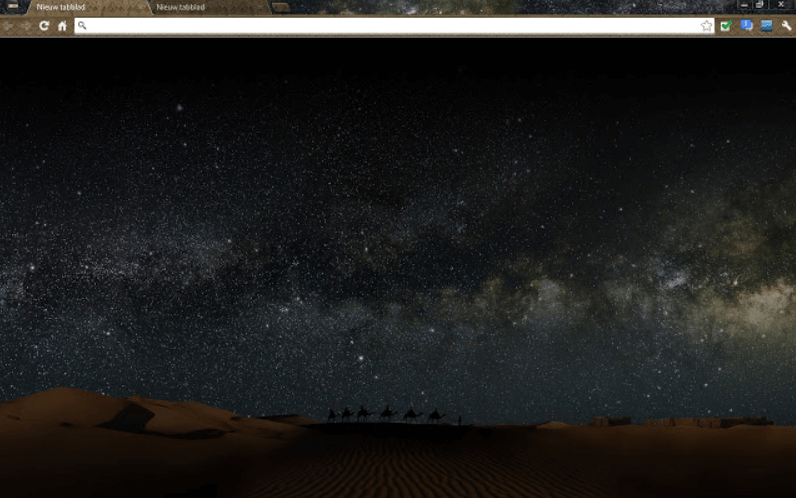 Created by Peter Noordijk, Sahara is one of the best Google Chrome themes to count on. It features a landscape of the Sahara desert. Then there are caravans and the camels and the magnificent milky way illuminating your day and the night.
---
10. Material Incognito Dark Theme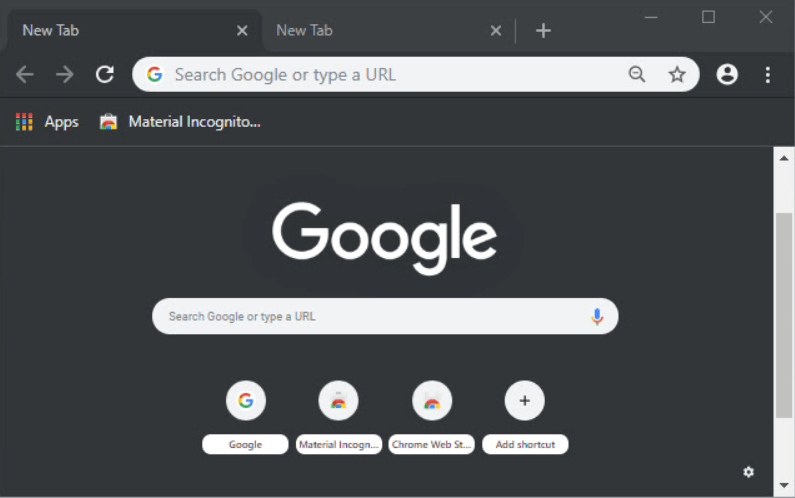 Read More: 25 Best Google Chrome Extensions
Material Incognito is yet another one of the best Chrome dark themes to make sure that you are comfortably exploring the browser without an itch in your eyes. It carries the black well and matches the colour scheme of Chrome's incognito window. 
---
11. Night Time in New York City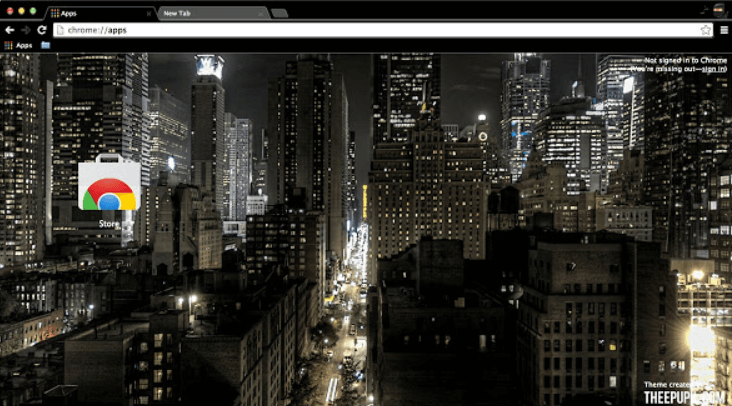 Everybody needs a dose of those NYC feels and there are plenty of reasons behind that including the lights, skyscrapers and well, Gossip Girl, maybe? This one is the best Google Chrome theme if you are looking for a view with glow during the nights and the unalike artsy entertainment that can only be found in New York City.
---
12. Color Fusion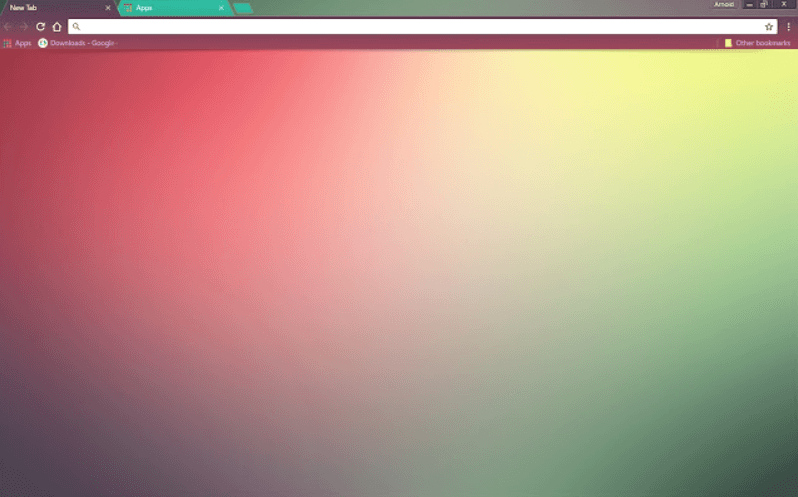 Colour Fusion is a colourful Google Chrome theme to beautify your homepage. If you prefer the colour gradients and wish to pick what suits your mood then this one for you. It allows you to explore the different complexions of colour and features separate colour grades for bookmark bar, tabs and address bar for easy navigation.
---
13. Harvest Paisley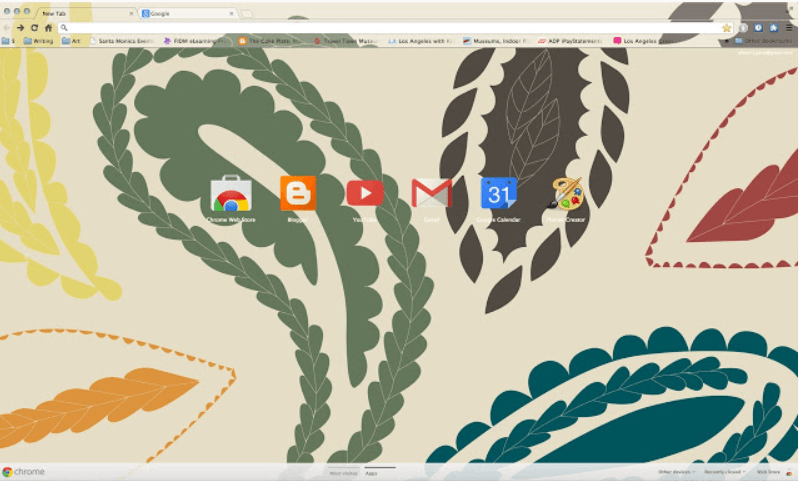 Last but certainly not the least, Harvest Paisley makes it to the list because of the abstract theme it showcases. It features a pattern of autumn leaves and displays an arc of the leaf across the tabs. If you are an admirer of art and looking for something to soothe your eyes then here you go.
---
Frequently Asked Questions (FAQs) About Google Chrome Themes
Q1. Are Google Chrome themes free?
Even if it says Chrome Web Store, you can explore and install different themes for free.
Q2. How to install a new Chrome theme?
Here are the simple steps to install Google Chrome theme:
Open Chrome on your computer.

At the top right, click More to go to Settings.

Click on Themes in the Appearance section or you can visit Chrome Web Store Themes to explore the gallery.

Preview different themes by clicking on thumbnails and click Add to Chrome once you finalize the one.

The theme will be set and if you wish to remove the setting then you click Undo from the top.
Q3. How to remove a Chrome theme?
Here's how you can remove a Chrome theme:
Open Chrome on your computer.

At the top right, click More to go to Settings.

Click on Reset to Default in the Appearance section and the standard Chrome theme will reappear.
---
Add a Life to Your Google Chrome Homepage With These Beautiful Themes
Watching the same view every day is not everyone's cup of tea and that is okay. Customizing the appearance of the UI in Chrome with something you have a feel-good time with is not a big deal anymore. There are plenty of other themes that in some way or another will catch your taste and brighten up your day. 
We have brought you a selection of Google Chrome themes that are unparalleled for their own special reason, be it the Iron Man or a muted color to soften your mind. It is time to navigate yourself to the list and select as your eyes desire. If you have more themes to recommend, there is always a comment section down there and we cannot wait to read what you have got to write.
Jyotsana is a technical writer with a non-technical background. An eye of detail and a knack for writing helps her to write technology related content.Apart from writing, she is a coffee connoisseur and an aesthete who rejoices in poetry and music during leisure.
Subscribe to Our
Newsletter

and stay informed

Keep yourself updated with the latest technology and trends with TechPout.
Related Posts