Text editing apps and android devices do not work together for a lot of users. While some don't prefer Android devices for editing text, others are still waiting for a standalone editing app. However, having that said, relying on your android device is still a better option than carrying your laptop everywhere.
What we need in this tech era is a distraction-free Android text editor app. These text editors for Android applications are specifically designed to optimize distraction, minimize interface cluttering and provide the maximum amount of screen space. 
An important thing to understand here is that note-taking apps, word processors, and text editors are completely different from each other and cater to specific user requirements. 
Note Taking Applications: These tools majorly focus on features like notebooks, reminders, formats and other useful features. 
Word Processor: These are comprehensive applications that can effortlessly take care of all your word formatting needs, along with various font styling and text editing tools.
Text Editors: Text editors are simple tools designed to cater to simple text editing requirements of users. They are generally used to edit plain text.
List of the 7 Best Text Editor Apps For Android:
1. iA Writer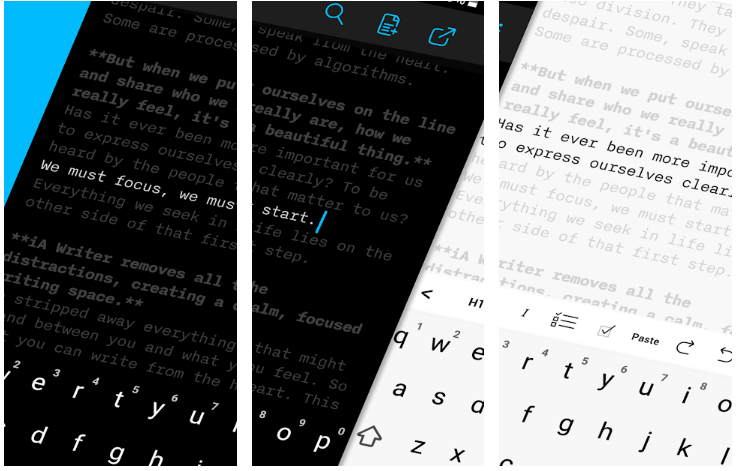 Known as the word processor for Mac and iOS devices, iA Writer deserves the first place on our list of best text editing apps for android for fairly good reasons.
For Android devices, it is popularly addressed as a misnomer and focuses majorly on providing a great writing experience to its users. The word processor tool comes with a simple yet effective UI and clean functionality.
Use it for both plain text editing and markdown, apart from this you can also use its integrated file browser feature to effortlessly search and access different files on your device. For better viewing and improved user concentration, it also has a night mode.
With iA Writer you can directly post your content and export files in various formats including Word, PFD and even HTML. With this online text editor, you can also sync your documents on Dropbox and Google dropbox platforms.
Read More: Best Free Photo Editing Software for Photographers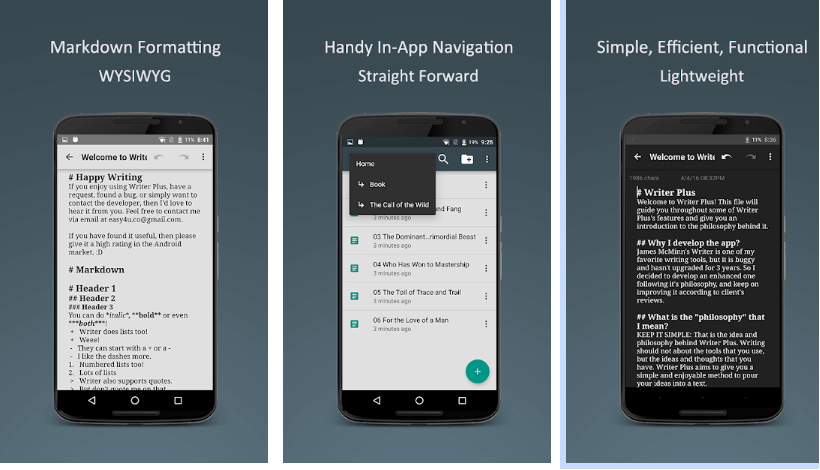 Next on our list of best text editors for androids is Writer plus. It works well as a markdown and plain text editor. 
It comes in a lightweight and handy body that is best suited to old devices. Apart from being lightweight, it consumes limited system resources, enhances battery life and ensures crash-free working of your device. 
Its vast basket of features include: 
Basic Markdown formatting.
Night Mode for better performance and less eye strain.
Folder Organization.
Undo/Redo feature. 
Word and Character count.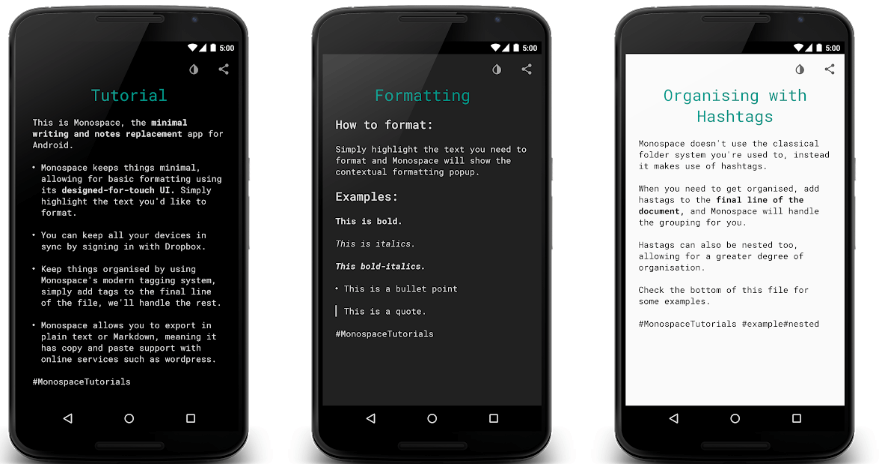 The next text editing app that you can consider is highly popular and reliable. Monospace comes in a simple structure but is loaded with several useful features. It helps in increasing your screen space for a better view. It supports only one font type which ensures minimal user distraction. 
The app has all the essential text formatting features to offer. Apart from this you also get an added hashtag-based organization feature with it.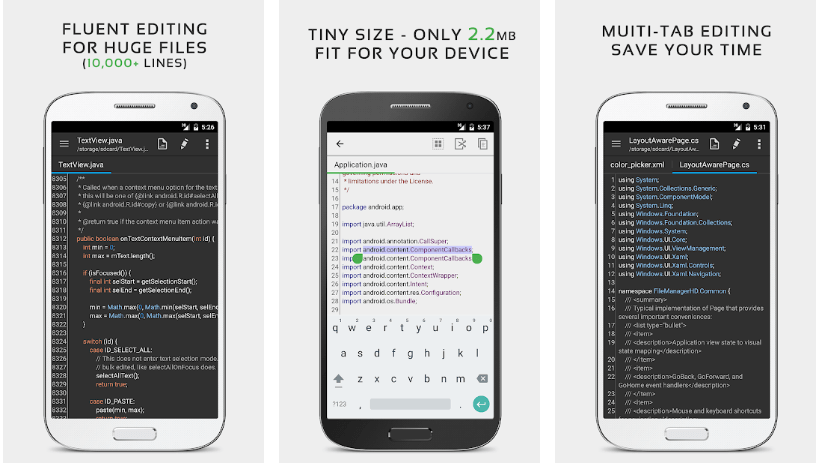 Quick Edit Text editor is by far the best android text editor for programming. It can be used by both beginners and advanced programmers and can support various languages including JavaScript, HTML, C, C++, Ruby, CSS, PHP and many more. 
Notable features include:
File search and replace option.
Line numbers.
Custom font setting feature
It can open and support multiple files at one time.
It can easily sync with cloud services.
Powered with a customizable interface.
Unlimited Undo and Redo Options.
Easy navigation and fast editing abilities.
Read More: Top 10 Best Video Editing Software for Windows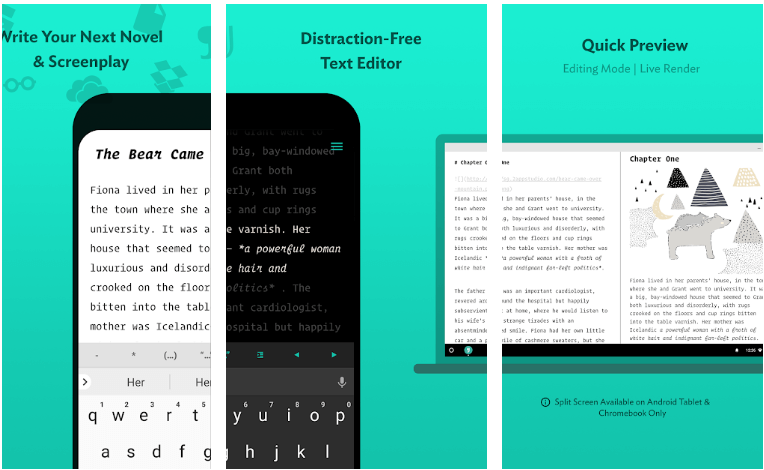 Jotter Pad is one of the best text editing apps for creative minds. It comes with a clean interface that supports distraction-free working and can be used for pain text editing requirements as well. 
Its special features include: 
Markdown formatting.
Typewriter scrolling.
Custom fonts
Style customization.
Phrase finding and keyboard shortcuts. 
Apart from the free version, it has two paid versions as well. Its Pro version is priced at $14.99 while Creative is priced at $5.99.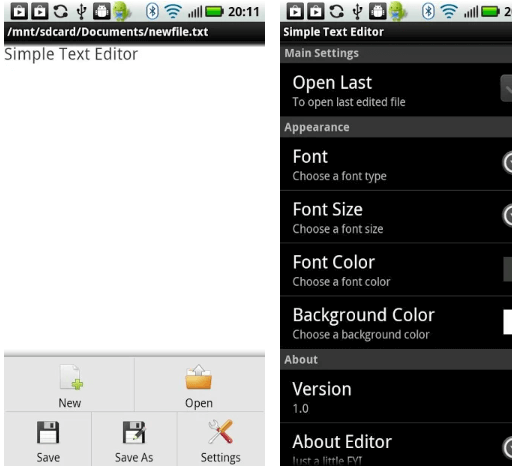 Our next Text editing app works well for beginners and supports all the essential functionalities.
It works well for editing plain text and can be used for small text notes.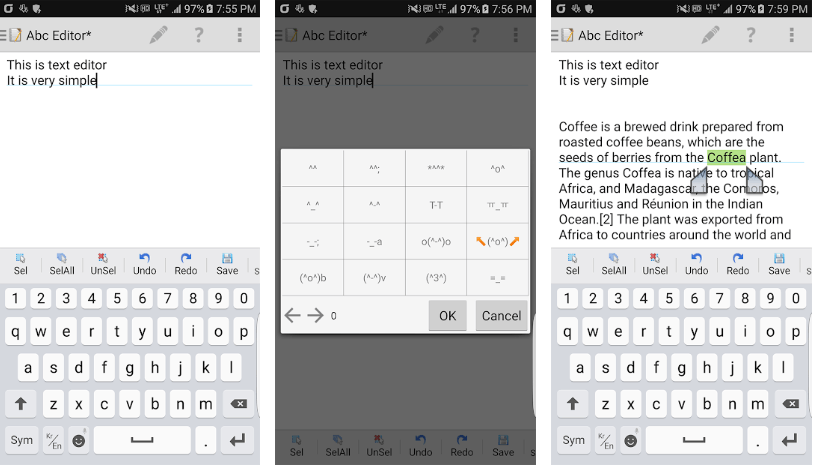 If you want to edit long text files then Abc is the best text editor for you. It can be used to edit text files up to 500 MB with the default keyboard. 
However, if you consider using a custom keyboard, you might face some time lag issues. All-in-all it is a good app and deserves a try.
Read More: 11 Best Free PDF Editors For Mac in 2020
Wrapping Up
We hope that our well-researched rundown of text editor apps has been of great help to you. Each app listed above has some unique features and specialties. 
Pick the best-suited application as per your requirements and get started. These apps are great for both casual and advanced text editing requirements.
Image Credits : Google Play Store
Prachi Dani is a technical content writer who specializes in areas of science and technology. She is highly up to date with technological transitions and transformations. Writing is not her passion but the only thing that carries satisfaction in life. If not writing, you may find her engrossed playing action games on her treasured smartphone.
Subscribe to Our
Newsletter

and stay informed

Keep yourself updated with the latest technology and trends with TechPout.
Related Posts