7 Best Task Manager Alternatives for Windows 10, 11

You can use the best alternative apps to replace the in-built Windows 10 Task Manager. These apps offer better features and performance. Hence, we share them through this article.
We rush to the Task Manager whenever any application on Windows becomes unresponsive or the computer runs into problems. This in-built tool helps figure out what's happening inside the device and solve the issues. However, sometimes you may not find this utility competent enough or get bored with this default tool. In these situations, the best Task Manager alternatives come to your rescue.
The best Windows 10 Task Manager alternatives come with advanced features, a refreshed look, and better capabilities. And the cherry on top of the cake is most of these programs are free.
So, let us quickly have a rundown of the best Windows Task Manager replacements that cater to your requirements better.
Well-Researched List of the Best Task Manager Alternatives
The following are our top recommendations for the best programs better than Windows Task Manager.
1. Process Explorer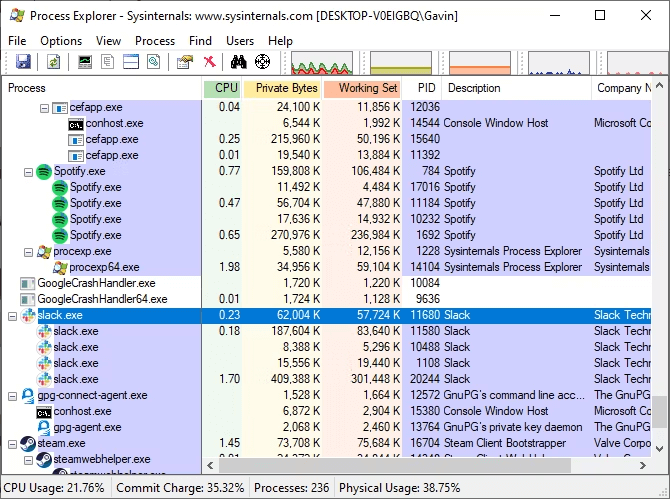 Let us begin our list of the best Windows Task Manager alternatives with Process Explorer. Coming from the house of SysInternals (later acquired by Microsoft), this program is a favorite of millions.
As far as features are concerned, Process Explorer boasts a portable mode, a color-coded list of processes for seamless navigation, and the following offerings.
Key Features of Process Explorer
Organizes active processes in a tree-like view for a better understanding
Displays complete details of the running tasks, such as their resource consumption
Power-packed search engine to help you effortlessly find the processes of a particular app/program on your computer
Option to restart, kill, or suspend processes
Also Read: Best Flash Player Alternatives
---
2. System Explorer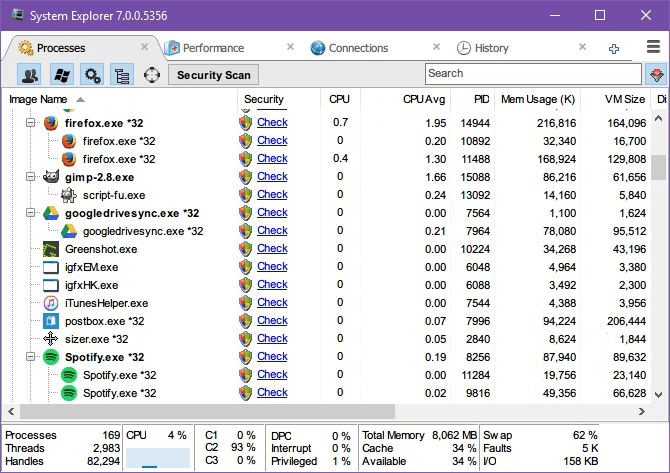 Next, we have System Explorer on our list of the best Task Manager replacements. It is a feature-rich program that helps you manage processes and boost system security.
The most likable thing about System Explorer is that it displays the per-process history of CPU usage. You can view the CPU usage over the past day, hour, and minute.
Moreover, the following are a few other System Explorer features making it one of the best Windows 10 Task Manager alternatives.
Key Features of System Explorer
Displays overall system performance statistics, such as page fault numbers and system interrupts percentage in real-time
Lets you create snapshots of registry, file, or file+registry
Security scans to identify a suspicious process
Availability of priority and affinity actions for processes
Allows you to end processes, suspend, or restart them
Color-coding to highlight different processes
---
3. Process Hacker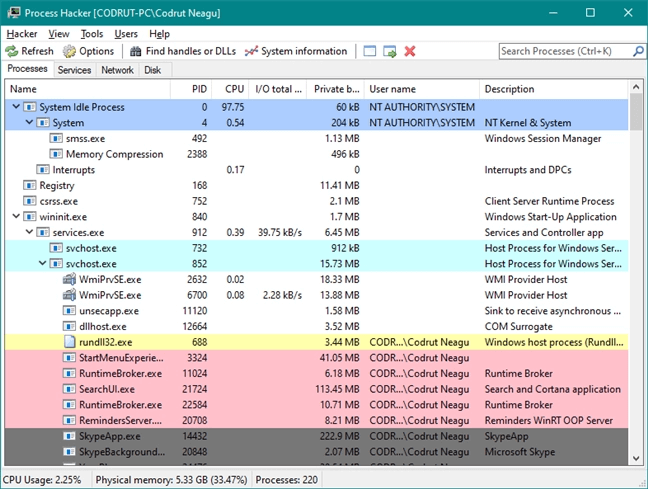 Here comes Process Hacker, another attention-worthy alternative to Windows 10 Task Manager. It is open-source software available in both portable and installable versions to help you with process management.
Like Process Explorer, Process Hacker displays a hierarchical (tree-like), color-coded view of processes. If you wish to get detailed information about a particular process, simply right-click on it.
Additionally, below are some more features that make Process Hacker one of the best programs like Task Manager.
Key Features of Process Hacker
You can set I/O priority, priority, and affinity actions for processes
Lets you find windows by processes or processes by the window
Allows you to manage network connections, disks, and services
Gives you the option to terminate, suspend, and restart tree actions
Real-time display of diagnostic data and graphs related to RAM, GPU, and CPU
Also Read: Best Sticky Notes Alternatives
---
4. Daphne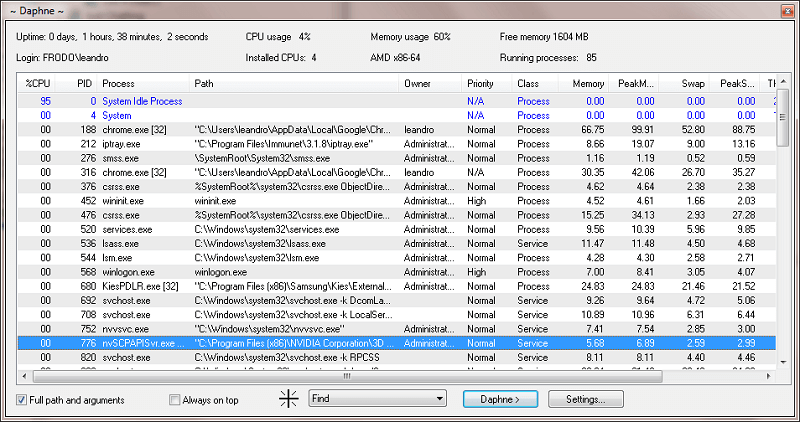 The next Task Manager replacement we have for you is Daphne. It is lightweight and open-source software with a plethora of useful features. For instance, it allows you to kill a process in four ways (immediate polite, immediate, scheduled polite, and scheduled).
Moreover, below are some other noteworthy Daphne features that justify its position on our list of the best Windows 10 Task Manager alternatives.
Key Features of Daphne
Gives you the option to run processes on particular days and times
Lets you change window sizes, set alpha transparencies, and move processes to the front or back
Hierarchical process viewing
Windows by processes and processes by window finding
Allows you to set priority and affinity actions for processes
You can copy various live processes on your clipboard for better troubleshooting
---
5. AnVir Task Manager Free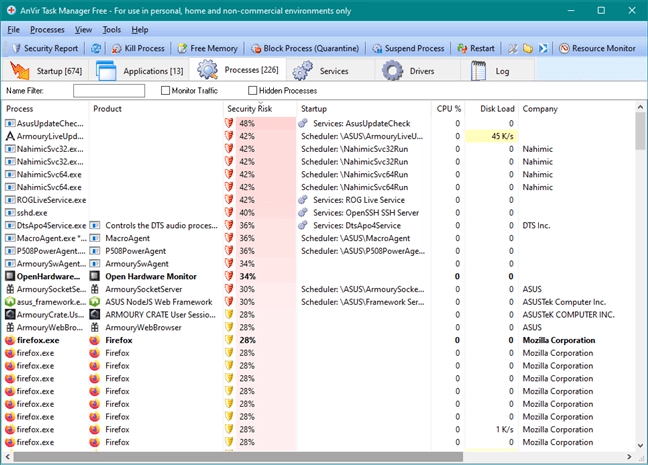 Taking forward our list of the best Windows Task Manager alternatives, let us talk about AnVir Task Manager Free. You can use this software to get complete information regarding your computer's processes, startup programs, processor, services, and storage drives.
Talking about the features, below are some of the most delightful things AnVir Task Manager Free has to offer.
Key Features of AnVir Task Manager Free
Interface split into easy-to-understand tabs
Displays complete information about network inbound and outbound traffic, performance graphs, DLL files used by programs, storage drives load, internet connections, and more
Provides valuable information about the security of each startup application, running process, and service
Also Read: Best Free Windows Start Menu Replacements and Alternatives
---
6. Task Manager Deluxe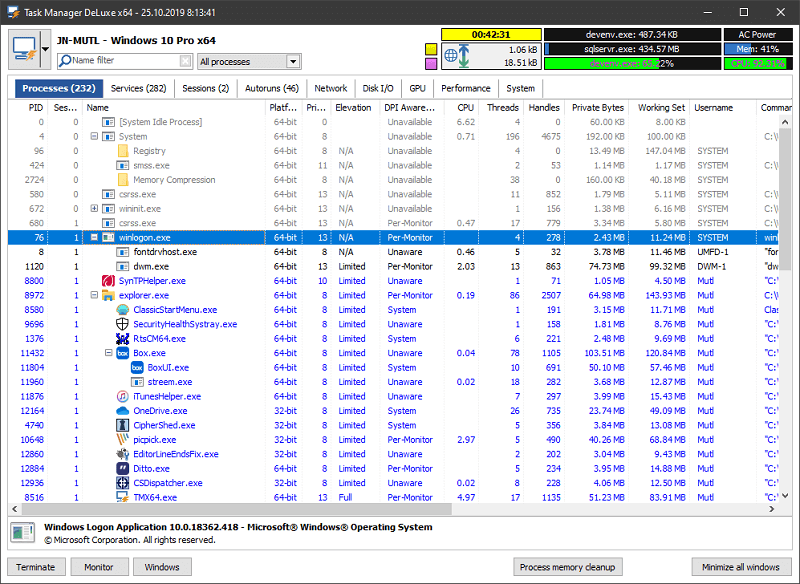 Task Manager Deluxe can be a wonderful choice if you are looking for a better Windows Task Manager. Available as a portable application, it boasts real-time monitoring of processes, network connections, services, startup apps, and tasks.
Additionally, the software shows graphs and charts of various information related to processes. Furthermore, the following are some more Task Manager Deluxe features.
Key Features of Task Manager Deluxe
Hovering the mouse over windows shows process details
Lets you browse all locked/opened files, search, and filter them
You can locate windows by processes or processes by window
Allows you to terminate, suspend, and restart actions
Management of disks, services, and network connections
---
7. WinUtilities Process Security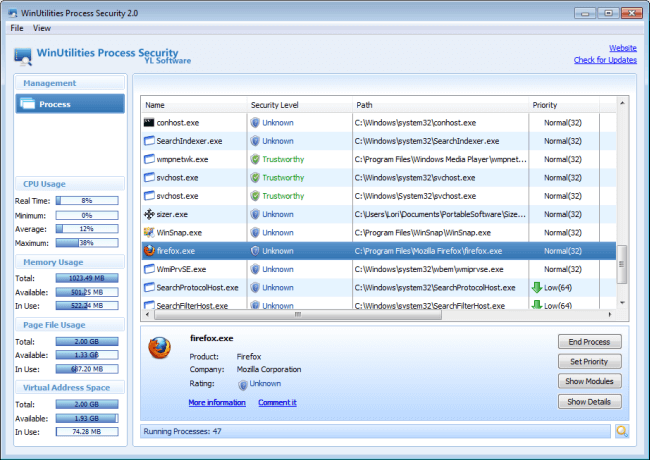 Let us conclude our list of the best Windows 10 Task Manager replacements with WinUtilities Process Security. It helps you track and manipulate processes according to their security level. You can find out whether a particular process is safe or not. If a process is unsafe, you can quarantine it.
Moreover, the following features prove why WinUtilities Process Security is one of the top Windows 10 Task Manager alternatives.
Key Features of WinUtilities Process Security
Informs you about the applications that you should run for your device's smooth functioning
Lets you eliminate unwanted processes
Ease of use
Comes bundled with many useful utilities, such as registry backup, disk cleanup, and an uninstall manager
Also Read: Best Free Winrar Alternative for Windows
---
Summing Up
Above, we had a rundown of the best alternatives to Windows 10 Task Managers. You can go through them and compare their features with your requirements to choose the one that fits your needs the most.
If you think we missed out on a deserving Task Manager replacement, you can mention it in the comments section. Moreover, you can also use the comments section to share your views about this article. We are waiting to hear from you.
Niharika is a passionate soul who finds immense satisfaction in putting all her thoughts in writing. Being a technology enthusiast, she loves learning new things about tech and making everyone technologically literate through her articles. When not composing tech articles, you can find her bringing characters to life in her fictional stories, reading something intriguing, or spending time with her near and dear ones.
Subscribe to Our
Newsletter

and stay informed

Keep yourself updated with the latest technology and trends with TechPout.
Related Posts