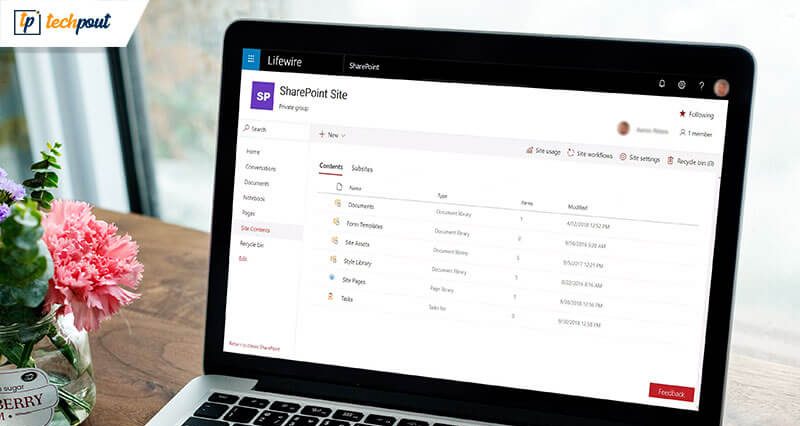 The Internet provides a ready platform for people to collaborate on a common platform, and applications like Sharepoint serves this purpose well.
Sharepoint creates a document library, helps in connecting people, share information, and organize meetings. It is most widely used for business purposes.
However, some of the most common non-business uses of SharePoint are:
It can be used to prepare and share a sports calendar for a college.
Books clubs can also use it to schedule their next publish along with critique and review comments.
Volunteer groups can effectively use it to plan their upcoming activities and tasks.
While there are other means to complete these tasks, SharePoint does the job of collaborating people and bringing them to a familiar place effortlessly.
It works reasonably well on significant platforms, including macOS, Linux, Windows, iOS, and Android.
The article ahead will talk about its standard functions, which included creating web pages, sharing files, and creating a new Sharepoint space.
How to Create a New Share Point Space?
Before we learn how to create a New Share point space, let's have a quick at some of the prerequisites.
A business office 365 account is a mandate.
You need to be the admin to create your own share point space, or else you may ask a friend to do it on your behalf.
Once you have all the essentials in place, follow our step-by-step guide to create a share point space.
How to Create a Site in Sharepoint?
To start with Login into your Office 365 account and choose Sharepoint from the top left corner.
From the next window, choose the "Create Site" Button.
Now open "Team Site" from the display window.
Next, choose a design to start with your site, it's like making a SharePoint for dummies which can be changed later on.
Add site details, including description and name.
Next click on "Finish" to complete the task. Sharepoint will keep working in the background to create your site and will display the progress report.
The above steps will create a space for you, and you will have access to several functionalities including
Conversations: This allows you to set a private message board for all your meetings.
Site Page: With this, you can create your custom page.
Documents: Over here, you can share your files and see the check-in/ check-out features.
A Onenote Notebook: This feature gives your teammates an option for add and collaborates notes in a single place.
How to Use SharePoint Document Libraries?
To use the Documents library, open to Document link.
Next, click on the "New Button" to add items. You may also drag and drop various files to add to your current library.
Next, select the appropriate file to open it in the web-page.
It also gives your colleagues to edit the files, and simultaneously you can also choose to check-out. However, a point to note here is you will not be able to make any changes once you are check-out.
How to Create a SharePoint Site Pages?
This will help you to create pages with graphics and text. The only difference is that only logged-in members can see the site. To create this private intranet, follow the simple steps described below.
From the left-hand navigation, choose the "Page" option.
Then from the menu bar, click on the "Select+New" button. You can choose from the following page types.
Site Pages: It opens a blank page.
Wiki Page- Self-explanatory.
Web Part Pages: It gives you an option to choose from pre-designed pages and layouts.
Once the page is created, you can edit it as per your requirements and preferences. Give it a name to start with.
Next hit the "Publish" button to make changes visible to your colleagues.
You can see your pages on the left-hand side of the screen.
Edit choose the Edit button from the menu bar.
How to Add Web Parts to Sharepoint Pages?
Another most loved feature of Sharepoint is that you can add your WebParts to your pages. It can include a simple News Feed, a list of recent activities, or a directory of your team members. To add a Web Part to your page, follow the simple steps mentioned below.
Select a page to edit.
To add web-parts click on the "+" sign, and then search for the item to be added.
Post selection your web-part will be added to your page.
Configure your web-page and click on the "Add Image" button to add an image.
Next hit on "Publish" to save the changes and publish your SharePoint page.
Using and Installing Task Apps
To make your site look more interesting, you can add various Task apps to it. Such tasks can be assigning work to team members, adding a to-do list for your subordinates, and track their activity.
To add a new Task, from the home page, click on the "Select +New" button.
Next select App.
From the displayed list, select the App you wish to add.
Once the task is added to your page, you can start assigning work to your team members.
Sharepoint is a highly advanced and easy way to collaborate with your team members and friends. Create your SharePoint page, outlook address book, a to-do list with this fantastic application.
Prachi Dani is a technical content writer who specializes in areas of science and technology. She is highly up to date with technological transitions and transformations. Writing is not her passion but the only thing that carries satisfaction in life. If not writing, you may find her engrossed playing action games on her treasured smartphone.
Subscribe to Our
Newsletter

and stay informed

Keep yourself updated with the latest technology and trends with TechPout.
Related Posts