Know some best startup manager apps for Mac to speed up the overall performance of your macOS. Read on the entire write-up for complete details. 
Every time you start your Mac, numerous services, apps, and background running processes (also known as login items) begin to run automatically. But sometimes, useless apps and processes also add up to this list, which maximizes the bootup time of your Mac and reduces the performance. These startup or login items load without the user's permission when you boot your MacBook and make your Mac function slower.
In addition to this, such items are deleted from Startup but they also leave a broken or missing link that causes an error pops-up and the system to crash. This sounds really annoying, but luckily there are various startup manager programs available for Mac, that help you disable the unwanted startup items to speed up your Mac's performance and make it more efficient.
8 Best Startup Manager Programs for Mac in 2022
Using any of the below-mentioned Mac startup manager programs, you can make sure that your Mac runs smoothly and is in good shape.
1. CleanMyMac X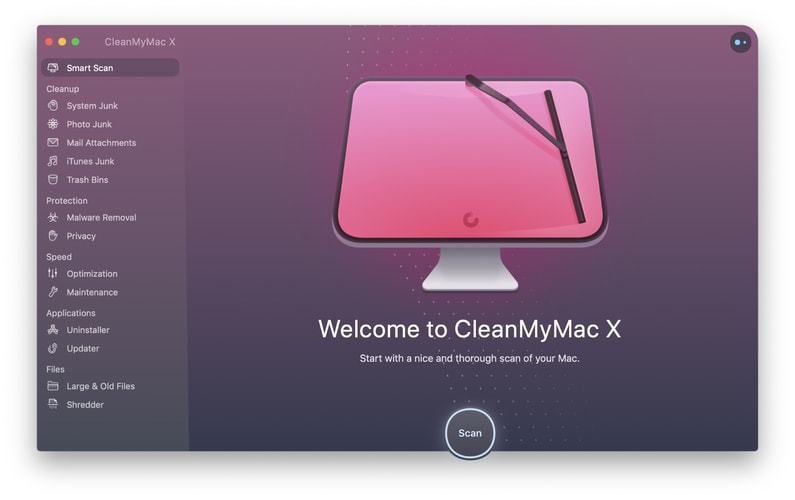 CleanMyMac X is a perfect all-in-one startup manager app for Mac. It cleans megatons of system junk and makes your machine run faster. The system optimizer can be anything you tell it to be, a performance monitor, malware or virus remover, a macOS cleaner, and more.
It searches for the junk in all the corners of your Mac. And, cleans useless files, like obsolete cache data, broken downloads, unneeded localizations, and logs. Using this tool, you can delete tons of clutter that lurks in Mail, Photos, iTunes, and even find GBs of huge hidden files.
Key Features of CleanMyMac X:
Quickly remove your browsing history, along with offline and online activity traces.
Run an in-depth check-up of your Mac for all kinds of vulnerabilities.
Make your Mac 2.5x more responsive.
Better and faster boot time.
Also Read:Hidden Features Of MacBook You Should Know
---
2. MacReviver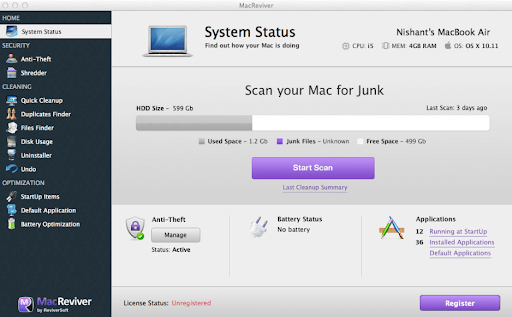 As its name suggests, MacReviver is the best way to restore the optimum performance and stability of your Mac. It is a simple to use and lightweight tool designed to help you maintain and optimize your MacBook without any hassles. This startup manager for Mac incorporates all the necessary tools to help you clean, optimize and manage your machine in order to ensure its smooth working.
Moreover, the software also has a special Anti-Theft Protection feature that provides you with an added layer of security against any malicious threat to your Mac. The tool comes in two models i.e., free and pro versions. The free version comes with basic or limited features, whereas the pro version unlocks the complete potential of the utility.
Key Features of MacReviver:
Detect and delete duplicates that cover valuable disk space.
Maintain your battery by setting up the battery usage profiles.
Look for different file types based on the size and other characteristics.
Automatically creates a system restore point to securely roll back modifications to a previous condition.
A special feature to track down your stolen MacBook.
Comes with a default uninstaller to safely uninstall apps, preferences, widgets, and plugins.
---
3. CCleaner For Mac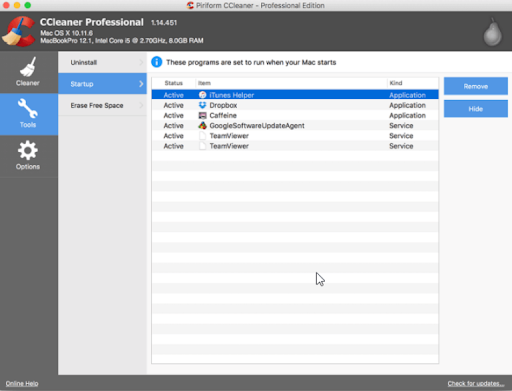 If you are experiencing a slow-running Mac, you can use CCleaner for Mac to get rid of all the unused files and collected junk. Not just for Mac, the CCleaner works the same for both a Mac and PC. Additionally, it also allows you to clean your recycle bin, broken permissions, temporary files, and folders, and so on. The Mac cleaner provides a different module to keep startup items organized. That means, with the help of that module, you can easily disable the startup items that are unproductive and increase the response time of your Mac.
Key Features of CCleaner for Mac:
Straightforward user interface.
Efficient and thorough cleaning of the browser and the system.
Unlike others, CCleaner for Mac is an ideal tool for repairing broken permissions.
Lets you exclude particular files and folders from scanning.
Reduce clutter and speed up the boot times.
Real-time protection from malware and viruses.
---
4. MacBooster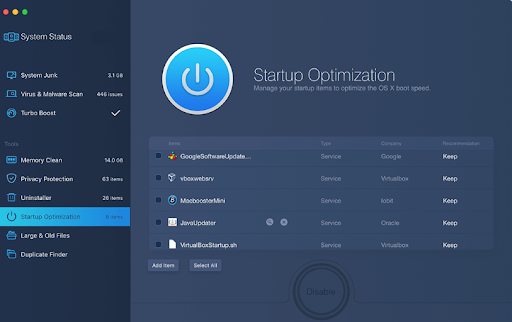 Lives up to its name, MacBooster is a dedicated tool to boost the overall speed and performance of the Mac machines. This is an excellent utilization tool that aims at strengthening and protecting your machine from malware, viruses, and other malicious threats. This Mac optimizer and startup manager is very easy to use and it boasts a user-friendly interface.
In just a few simple steps, you can find the Startup items that you don't need and can easily disable them one by one. By disabling the unnecessary startup items you can enhance Mac's productivity.
Key Features of MacBooster:
Real-time activity monitoring.
Thorough and deep cleaning of junk and duplicate files.
One-stop Mac maintenance tool to protect your Mac from malware and virus.
It optimizes Mac hard disk and fixes all disk permission-related issues.
Also Read: Best Mac Disk Space Analyzer 
---
5. TuneupMyMac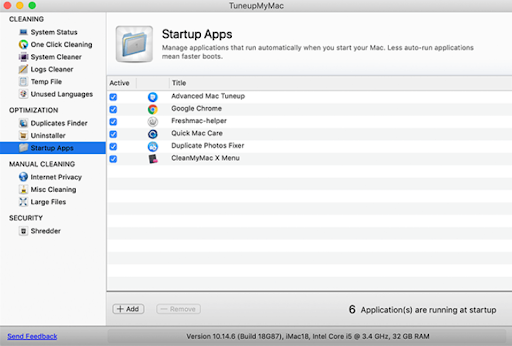 TuneupMyMac is an expert and easy-to-use solution for MacBooks. It provides a simple way to clean, secure and optimize your Mac in order to keep it running smoothly and effectively. This system optimizer for Mac can be used to disable the startup items on the Mac machine. TuneupMyMac's advanced features and robust tools help increase Mac speed with ease and improve the overall user experience.
This amazing startup manager helps you deal with the automatic application launch during the Mac startup. Using this tool, you can discover, disable, enable or add startup items pretty easily & quickly. However, in order to get access to all the features of TuneupMyMac, you'll need to upgrade to its paid version. Because the free version comes with limited features.
Key Features of TuneupMyMac:
Enables you to clean your Mac machine in a single click.
Removes junk files and frees up a huge amount of space on your hard drive.
Possesses unique and powerful tools to perform multiple tasks at the same time without interfering with one another.
Lightweight and user-friendly startup manager for Mac machines.
---
6. MacKeeper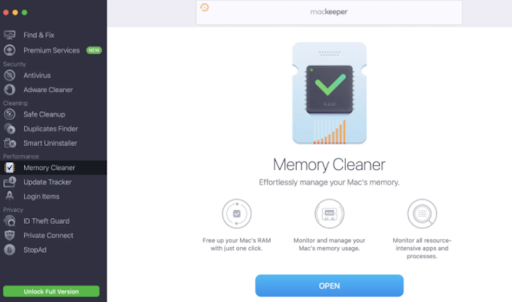 MacKeeper is all you need to keep your Mac in tip-top shape. MacKeeper is well-known for its 3M concept – More space, More speed, and Maximum security. With the help of this startup manager for Mac, you can keep your Mac clean and safe with zero effort. The software has everything you need to supercharge your Mac performance.
It can effortlessly tune up your Mac's performance by detecting and removing malware while deleting the system junk and can do a lot more than you have ever expected from any Mac optimizer. Mac users can use MacKeeper to clean duplicates, junk, and unwanted apps or files to save GBs of disk space.
Key Features of MacKeeper:
Provides real-time protection by instantly blocking threats (malware and adware) with an impressive 99.7% protection rate.
Frees up an ample amount of space on Mac by removing similar/duplicate files, cache data, and useless applications.
Offers ad-free browsing by monitoring 24*7 for passwords or data breaches.
Comes with several essential tools for a better and faster startup time, automatic app updates, and more.
---
7. OnyX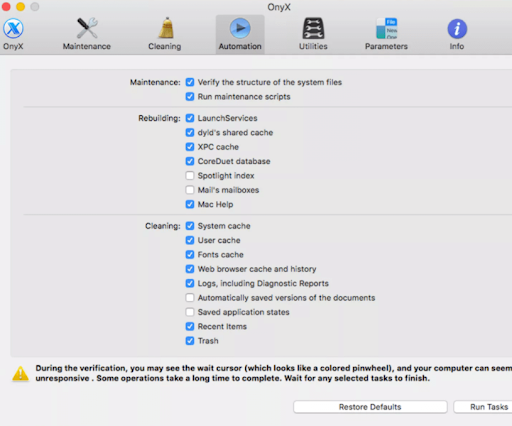 Is your Mac running slow? No need to panic, just try OnyX to clean up and organize your MacBook. It is promoted as one of the best startup manager apps for Mac that you can use to disable the unnecessary startup items occupying a lot of resources that are making your Mac lethargic.
It is a trusted application that boasts a clean interface to several tasks that would otherwise need complex commands to be typed utilizing a command-line interface. Not just that, but it can also be used to rebuild numerous databases and indexes.
Key Features of OnyX:
Completely free to use Mac startup manager.
Easily manage startup items to delete specific erroneous folders and files and remove system caches.
It can run miscellaneous maintenance and cleaning tasks.
Configures parameters in the Dock, Safari, Finder, and some other Apple apps.
---
8. Mac Optimizer Pro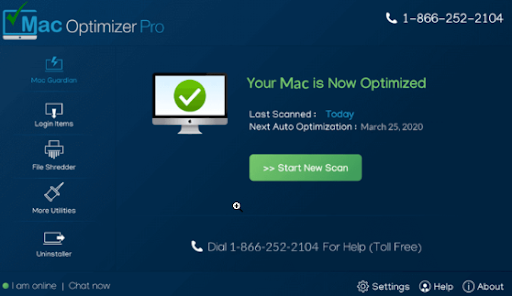 Last but not least, Mac Optimizer Pro is another best startup manager for Mac that you can consider to keep your Mac clean. It is a consumer-certified speed booster for Mac. Increase the performance of your Mac machine with its wide range of powerful features that guarantee superior performance.
Mac Optimizer Pro is an ideal solution for tuning, tweaking, and optimizing your Mac for faster and better performance. In addition to this, the module of its Login items helps you monitor and manage the programs and applications that start while you boot your machine.
Key Features of Mac Optimizer Pro:
It has built-in incredibly powerful and fast disk utility.
Keep your MacBook in good shape by automatically checking for issues.
Military-grade file shredder powered by multiple-overwrite technology. The file shredder helps you easily clean up your Mac, and free disk space, without compromising your privacy.
Quickly detects and fixes the issues that lead to poor or sluggish performance.
Also Read: Best Uninstaller for Mac to Completely Remove Unwanted Apps
---
Best Startup Manager Apps for Mac in 2022: Closing Words
Startup items certainly make your Mac slower than expected. But there is no need to get taken away with these startup items. Startup manager apps are here as your savior. The best startup manager apps for Mac help you to optimize your Mac and manage the startup items. With the help of the above-mentioned apps, you can hassle-free manage and disable the unwanted startup items on your Mac.
If you have any better suggestions, then please do tell us in the comments box below. Share your doubts or questions with us in the comments section below.
If you find this article helpful, then share it with your friends and family who are experiencing the same issue as you with their Mac. For further information, do subscribe to our Newsletter. Additionally, follow us on Facebook, Twitter, Instagram, and Pinterest
Harshita Sharma is a technical writer with quite a distinct understanding of the tech realm. She is a tech enthusiast who believes that tech knowledge should reach one and all and tries to convert the sketchy knowledge into the simplest possible form for making people understand the tech world better. When not playing with words, she loves to travel and explore new places. And, is a coffee & cricket connoisseur.
Subscribe to Our
Newsletter

and stay informed

Keep yourself updated with the latest technology and trends with TechPout.
Related Posts