Having a storage crisis on your Mac can be quite a hassle. Even if you're not having it right now, there's always a chance you may encounter this evil while watching your favorite movie or working on that important project.
You can free up your disk space or get an external disk when such a problem arises. But, it's a time-consuming and heavy solution that might not suit everyone. So, we've got a hack that can save you a lot of trouble; a Mac disk space analyzer.
What's A Disk Space Analyzer?
A disk space analyzer is a storage management utility that is developed to scan each disk, folder, and sub-folders, and mobilize a fast cleanup and optimization.  A disk space analyzer helps you to analyze and manage your disk space without the risk of deleting something important.
So, we're going to present you with the 10 best Mac disk space analyzer software that can help you in having a faster and better PC without much effort.
But, before jumping onto the top Mac disk space analyzer software, let's understand:
Top 10 Mac Disk Space Analyzer in 2022 (Free & Paid)
Now, let's start with our top Mac disk space analyzer software:
1. GrandPerspective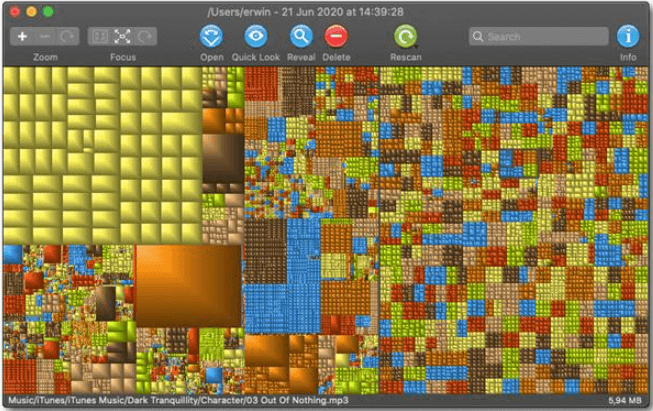 GrandPerspective is a top-tier disk space analyzer utility that allows its user to scan their system for unwanted and junk files. Later on, these files can be deleted at the user's discretion. The best thing is that it's available for free and provides a lot of value despite being "free".
GrandPerspective helps users to have a sorted view of files by date, type, size, and so on. This storage manager utility can show a comprehensive and detailed list of folders, sub-folders, files, and so on.
Users can also view the top 100 files as per their size or the top 100 oldest files. Having such a view will help users to delete any unwanted files and take a step toward a faster system.
Key Features of GrandPerspective:
Deep scans to dig out the oldest and finest files.
Customized scan settings.
Easy sorting of data through groups or categories.
Gives a comprehensive file's properties.
Pricing: Free
Compatible With: macOS 10.10 or higher
Also Read: Best Mac Cleaner Apps to Clean and Optimize Your Mac
---
2. DaisyDisk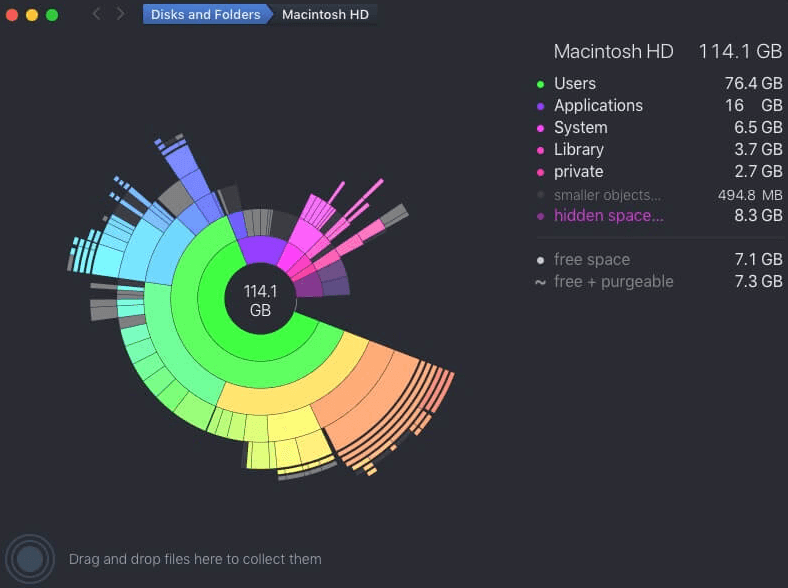 DaisyDisk is a brilliant and intuitive software that proves to be one of the best Mac disk space analyzer software available. Its stylish looks and interface make it a gossip among software testers and critics.
So, DaisyDisk scans your PC and shows all the files and folders in an interactive visual map that gives you the vibe of a computer genius, even if you're not!
In addition, all the changes are updated in real-time, which helps you check the recovered disk space and how much more you'll need.
It's a state-of-the-art storage management tool that every Mac user should possess if they want to keep a check on their disk space usage. With its free version, you can regularly clean your disk space and also keep a tab on your disk usage.
Key Features of DaisyDisk:
Fast and effective performance.
Cost-effective for the needs of an average user.
Visual maps are fun to play with.
Scans multiple files and folders, simultaneously.
Pricing: $9.99, free trial available
Compatible With: macOS 10.10 and higher
---
3. Disk Cartography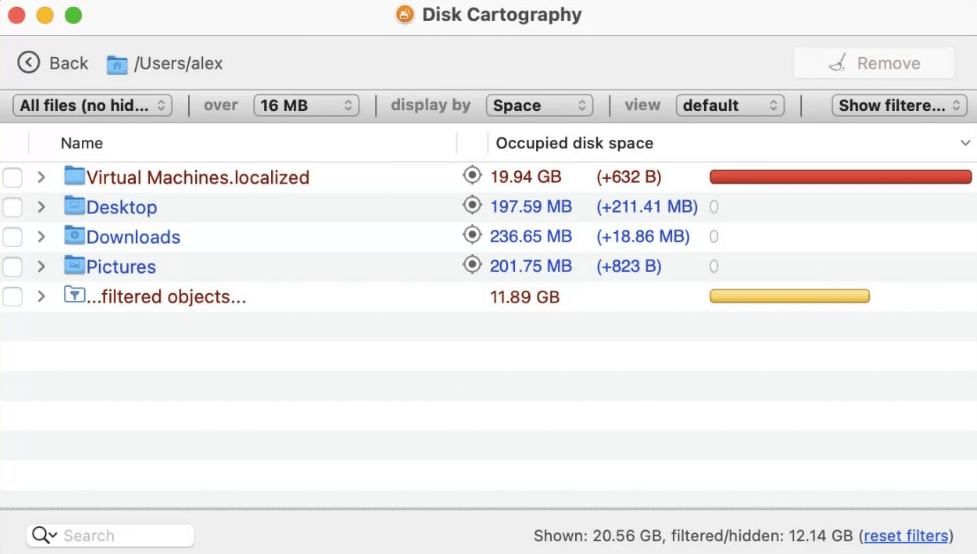 Running low on your disk space? Disk Cartography, (currently known as CleverFiles Cleaner) got you covered with its cool features and amazing UI.
Disk Cartography is an amazing and light disk space analyzer that helps you to analyze your disk space swiftly. The application scans your system and digs out all the large files and folders that take up a huge space of your disks. Moreover, Disk Cartography also scans USB drives, directories, and external devices too. As the scan completes, Disk Cartography presents a tree view of all the files and folders from the largest to the smallest.
This magnificent Mac disk space analyzer offers 3 display modes; Disk space, percent, and file count. These modes make it easier for the user to sort files as per their respective filter. The scan results of this mac disk space analyzer are color-coded which shows the largest to smallest file in specific colors that helps the user in identifying their files with ease. Visual maps of Disk Cartography help you in seeing your system and disk storage in a fun and interactive way.
So, these were some things that make Disk Cartography an excellent Mac disk space analyzer.
Key Features of Disk Cartography:
Real-time scan results.
Availability of manual and automatic filters to sort files by file type, size, or name.
Includes three different display modes. 
Pricing: Free
Compatible With: macOS 10.8.5 and higher versions, and later versions of 64-bit.
---
4. Disk Space Analyzer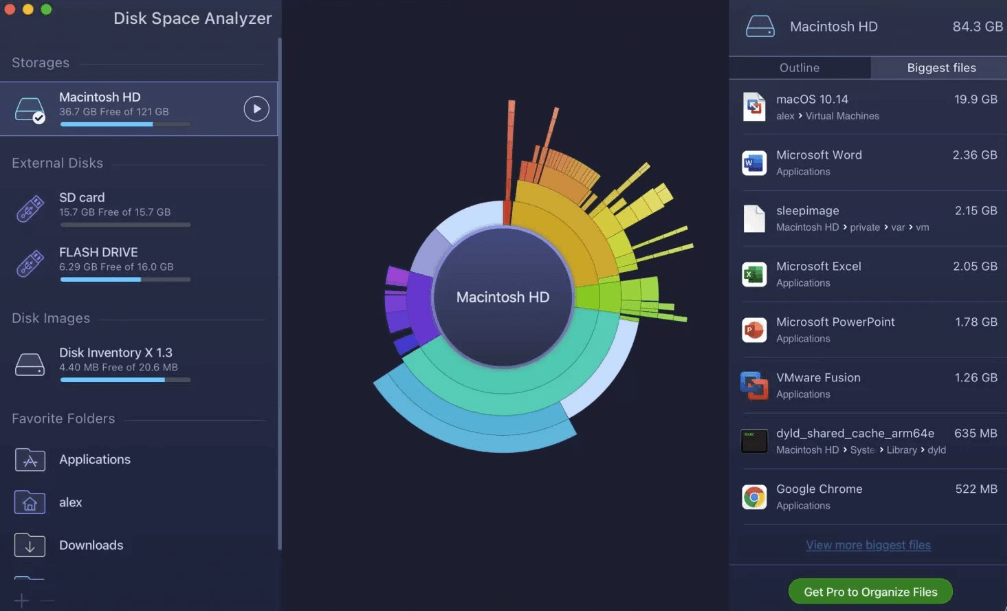 Disk Space Analyzer is another Mac disk management utility that helps the user to manage their disk space and offers them a faster and better PC. This storage manager helps its user organize data and free up disk space on their PC. Disk Space Analyzer is built to find and eliminate unnecessary files that put a toll on your PC's performance.
If you ever encounter a 'startup disk is almost full' message then Disk Space Analyzer can come to your rescue. This software scans the deepest corners of your hard drives and finds junk files that are harmless to delete. We'll let you in a secret, that it also finds hidden files on your PC. Beware secrets! Disk Space Analyzer is coming.
To recover your precious disk space you just need to select the drive you want to scan and then Disk Space Analyzer will scan the system for the largest files. This software can even scan cloud storage folders. However, not all but some of these features are available for a free trial.
Key Features of Disk Space Analyzer:
Effective and efficient scans.
Able to find hidden files.
Scans external disk and cloud storage.
Pricing: $9.99. Free trial available
Compatible With: macOS 10.10 and higher versions.
---
5. WhatSize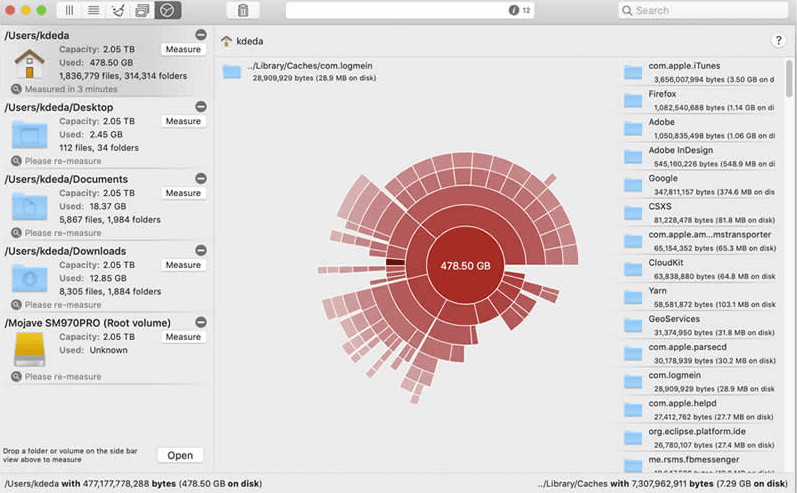 WhatSize is a revolutionary disk management tool that works for all sorts of users. From regular swing users to techy geeks, it works for all. This mac disk space analyzer helps the users optimize their system by finding the largest files that occupy unnecessary space on your PC. Using this premium tool you can view the pent-up space inside your Mac and free up your disk space.
This disk manager utility also shares some suggestions that can be used to reclaim your disk space and remove redundant files from your PC. WhatSize also offers a chart representation of your disk space, making it easier for the user to digest information quickly.
Key Features of WhatSize:
Find and eliminate duplicate and redundant files.
Quick scans to save the most precious asset; time.
Find hefty space users.
Pricing: $29.99
Compatible With: macOS 10.12 and higher versions.
Also Read: Must-Have Apps and Software for Mac of All Time
---
6. OmniDiskSweeper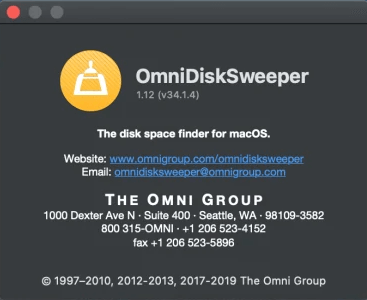 OmniDiskSweeper is another free mac disk space analyzer that finds and deletes a big chunk of unnecessary data from your PC. After you download and launch OmniDiskSweeper, Select the driver you want to clean> Click Sweep Selected Drive> After that, click on any folder and select any file that takes up a bigger space than usual.
By doing so, you'll be able to have a better Mac than before. OmniDiskSweeper offers different download versions depending upon the macOS you're using.
You can also sweep, shared folders, external drives, and disk drivers on the network.
Key Features of OmniDiskSweeper:
Lightweight yet effective performance.
Fast operations and quick storage recovery.
Display detailed information about the scanned files and folders.
Pricing: Free
Compatible With: macOS 10.5 and above.
---
7. Disk Drill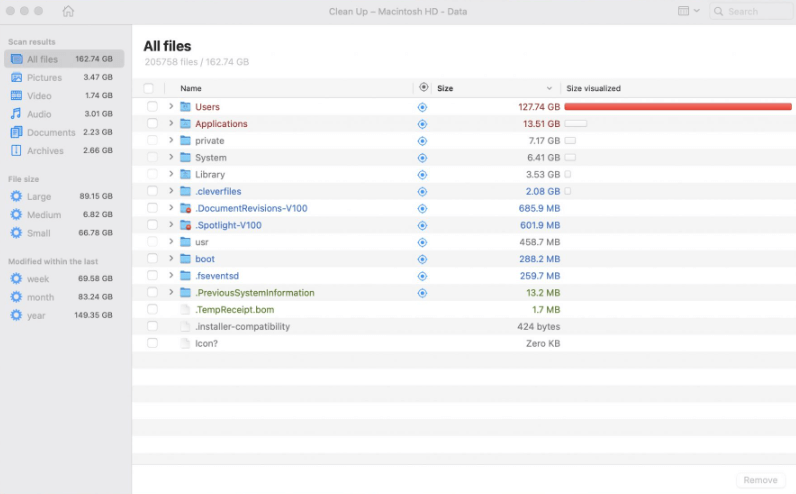 Are you looking for an efficient mac disk space analyzer for your PC? Disk Drill might end your search. Disk Drill is a great storage management tool that allows you to see and clean your hardware storage just after a simple scan. It helps you in locating files that can be deleted or relocated to save space on your selected drives. Users can select different views as per their choice; file size, type, name, date, and so on.
Disk Drill is a comprehensive disk space analyzer that can also work as a data recovery tool for mac users.
Key Features of Disk Drill:
Helps in detecting and deleting redundant files.
Offers three display modes for better disk management.
Also works as a data recovery tool.
Doesn't scan system files.
Pricing: $89.00
Compatible With: macOS 10.12 and higher versions
---
8. NCDU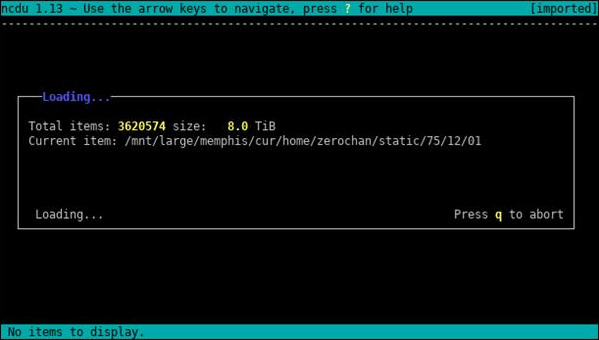 Unlike other free mac disk space analyzers on this list, NCDU is different. NCDU happens to be a command-line-based disk space analyzer that uses the Ncurses interface. NCDU was designed to scan and find big or small files that unnecessarily clog up your computer's space and make your system slower. The special thing about this utility is that it works well on remote servers as well as desktops. Being based on DU command, NCDU is quite faster than other disk space analyzers for mac.
After installation completes, launch Terminal> then, type 'ncdu/' to start the scan. To look for specific files, use arrow keys.
Key Features of NCDU:
Lightweight, simple, yet effective mac disk space analyzer utility.
It allows you to export information on an output file.
Let's you use file comparison apps.
Pricing: Free
Compatible With: macOS 10.10 or higher.
---
9. Disk Inventory X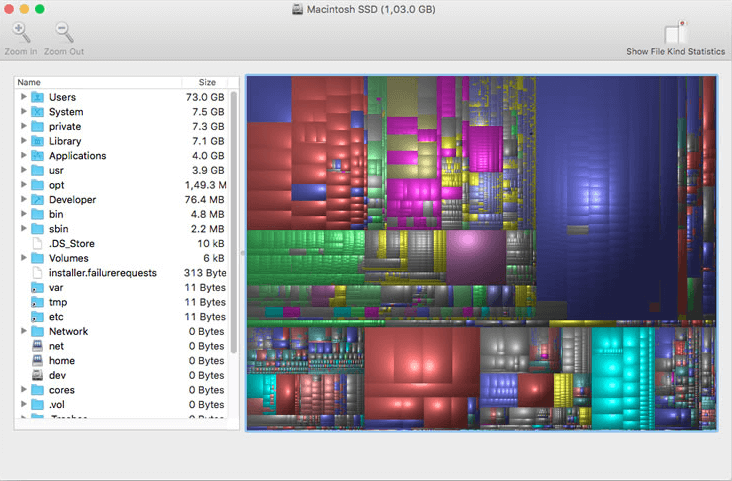 Disk Inventory X is also a free mac disk space analyzer tool that can represent your disk data in treemaps. While showing data, it also specifies the size and other details about the files. If the users want, they can look for more specifications of a file just by selecting it.
The scan results are presented in an organized manner that makes it easier to analyze the entire disk without much effort. Disk Inventory X's graphical treemap makes it more convenient to assess the scan results, making it easier to read by an average mac user.
Key Features of Disk Inventory X:
Easy to use, yet effective.
Treemaps to show comprehensive information.
Let's you zoom into folders to have a detailed look.
User-friendly interface.
Pricing: Free
Compatible With: macOS 10.3 and above.
---
10. CleanMyMac X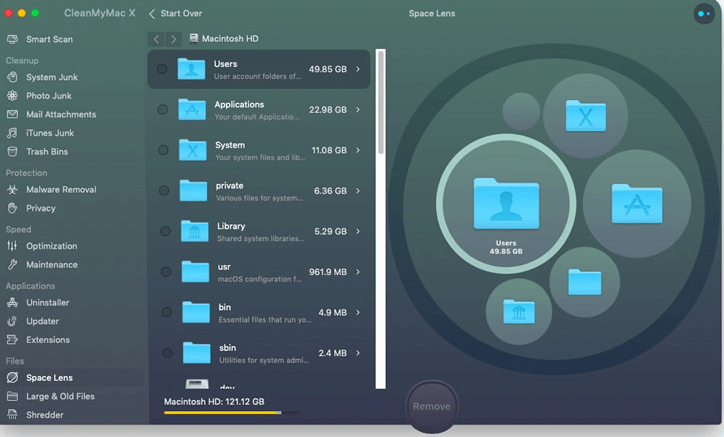 CleanMyMac X can be considered a competent rival to all the software listed here. This storage manager utility does all the things that are expected of a regular mac disk space analyzer. In addition to that, it also provides a special feature; a space lens. Space lens allows all the users to have a comparative view of different folders in a drive. Representing each storage area as a bubble. Each bubble's size depends on the storage it's using.
CleanMyMac X has an intuitive interface that lets the user move between files and folders, with ease. You'll also get access to a lot of file cleanup tools that'll help you to get rid of all the unnecessary files.
Key Features of CleanMyMac X:
Protects system files from getting deleted.
Easy multi-level navigation with the mouse.
Also, have a free version available.
Pricing: $34.95
Compatible With: macOS 10.10 and higher.
Also Read: Best Uninstaller for Mac to Completely Remove Unwanted Apps
---
Frequently Asked Questions: Best Mac Disk Space Analyzer
Here are some common FAQs regarding disk space analyzer for MAC:
Q1. Does It Help To Have A Disk Space Analyzer?
Sure it does. A Mac disk space analyzer helps you to scan, find, and eliminate unwanted files from your machine. Doing so will result in you having a faster and better device with enhanced speed and performance.
Q2. How To Manually Check Disk Space On Macs?
Here are the steps you can follow to manually check the disk space of your Mac:
Step 1: Click on the Apple menu>About this Mac.
Step 2: Then, click on Storage Tab.
Step 3: You'll now see a colored bar, hover your mouse above the bar to check which thing is taking up the most space.
---
Closing Words
So, these were some of the best mac disk space analyzer software available for Mac users around the world. This list is a mixture of free and paid software, so you can choose the one that suits your pocket. Make sure to select the software that matches your macOS and the needs of your system.
For more information, do subscribe to our Newsletter and follow us on our social media handles includes Facebook, Twitter, Instagram, and Pinterest.
Harshita Sharma is a technical writer with quite a distinct understanding of the tech realm. She is a tech enthusiast who believes that tech knowledge should reach one and all and tries to convert the sketchy knowledge into the simplest possible form for making people understand the tech world better. When not playing with words, she loves to travel and explore new places. And, is a coffee & cricket connoisseur.
Subscribe to Our
Newsletter

and stay informed

Keep yourself updated with the latest technology and trends with TechPout.
Related Posts