Best Snapchat Filters To Take Selfies For Boys And Girls
Published Date :
Aug 14, 2022

Snapchat has fantastic effects for every situation, whether you want to impress someone or just have fun with your pals. When using some of the best Snapchat filters, users can choose from a variety of lenses and filters to enhance and beautify their photos. Although Snapchat has many other entertaining features, including the ability to make bitmojis and keep streaks, its good snap filters and lenses are its best feature.
And there is no denying that everyone enjoys editing their photos with various good Snapchat filters and effects. In addition, boys and girls love using different Snapchat lenses and filters to express themselves. As a result, Snapchat is becoming popular day by day among youths.
While Instagram's Story postings have grown to become one of the most popular social media platforms, Snapchat, by sticking to its strengths, has expanded its daily active users globally to reach 293 million by the end of June 2021. And what it excels at doing is making you appear old, cool, or slightly kinder.
By 2021, over 1.5 million new popular Snapchat filters and lenses had been developed. But, if you're still having trouble finding the best Snapchat filters for selfies, we've got you covered. To help you improve your picture-taking abilities, we have put up the top 12 Snapchat filters for you to test!
12 Best Snapchat Filters For Selfies
Nowadays, everyone has a favorite selfie posture because selfies have become so popular. However, if you snap a selfie for Snapchat, whether it's on your right or left profile, it must reflect your best self. Therefore it needs perfect Snapchat funny filters to make you look good. So without further ado, let's get started with some of the 12 best filters on Snapchat currently available.
1. Cartoon 3D Style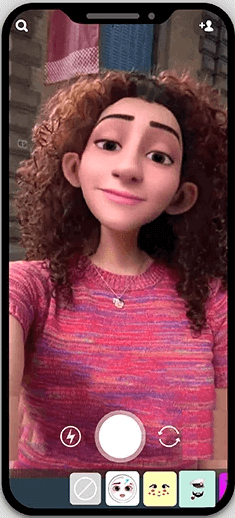 One of the funniest Snapchat lenses, as it enables you to see yourself as a 3D cartoon. At some point in their lives, we bet everyone wished they looked like a Disney character. This Snapchat funny filter gives you this option. You will resemble a pretty Disney princess or a dashing prince from a Disney film after using this cutest Snapchat filter, which turns you into a Disney character.
This is one of the best filters on Snapchat that has been viewed 1.7 billion times as of now. In addition, this filter imitates the atmosphere of the beloved Disney film "Frozen." Utilize these entertaining face filters on Snapchat, take pictures, and post them to social media and your pals.
Also Read: How To Find Someone On Snapchat Without Username & Phone Number
---
2. My Twin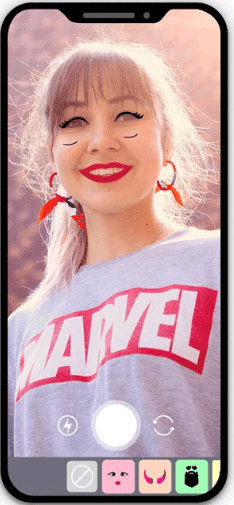 You must test out this prettiest Snapchat filter if you want to know how your opposite-gender twin will appear. Your lost twin will be displayed with this best snap camera filter, but they will be of the opposite gender. Additionally, by altering your eyes, haircut, and skin tone, this filter enables you to change into your opposite gender.
A person who applies this best snap filter will see a male version of himself, and a female who does so will see a female version of herself. This popular Snapchat filter is a resounding yes if you always wonder what your doppelganger looks like. It's amazing to see how engaging and entertaining these top Snapchat filters are to use.
---
3. Old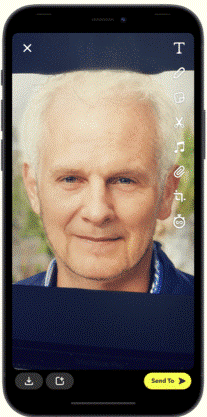 Have you ever considered how you might look in the future? If the answer is yes and you are genuinely interested in how all those wrinkles and grey hair will look on you, then this Snapchat funny filter is for you. Snapchat allows you to visualize yourself as an older man or lady.
This cutest Snapchat filter is straightforward; it simply ages your face. It defies the Trending cliche of beauty-defining filters and is one of the most widely used Snapchat funny filters right now. Finally, this good Snapchat filter will add wrinkles to your face and grey your hair, making you appear older than you actually are.
Also Read: How to Remove Snapchat Filters from the Saved Photo
---
4. Neon Horns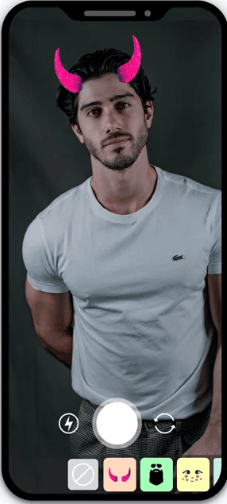 Do you have any spooky tricks up your sleeve while we wait for Halloween? Snapchat has got you covered, so relax. If you have this best Snapchat filter stored, you don't need to wait for Halloween any longer. The classic neon horn filter is one of the most remarkable and prettiest Snapchat filters it has in store.
You seem cool and spooky at the same time because of the aesthetic balance of dark light and bright neon horns. The horns' ability to change hues is another amusing feature. It's true what you heard! In addition to pink, white, lime green, magenta, orange, and light blue, there are other possibilities. This top Snapchat filter is an enduring classic because of its neon tones.
---
5. Fire Sunglasses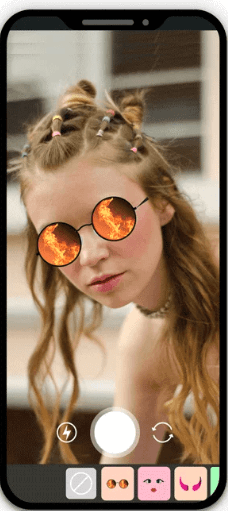 Users want to let everyone know that the game is on when they're fired up and motivated. So for you, these Fire Sunglasses are the ideal Snapchat filter. It provides customers with a set of aviators that always appear stylish. The flames only increase the energy of selfies. One of the best Snapchat filters for selfies that makes the best use of augmented reality.
The Snapchat lens can even create animated videos full of life, such as morning motivating posts and posts following workouts. It is one of the top Snapchat filters on our list for both men and women taking selfies.
---
6. Polaroid Frame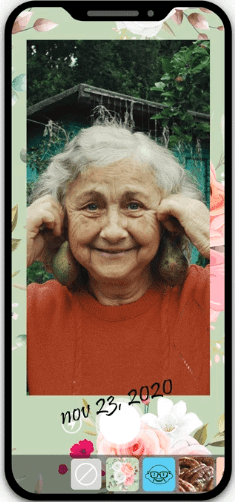 Here is another best snap filter for selfies for those who enjoy taking photos and films in a vintage manner. You may get an authentic old-school experience thanks to this cutest Snapchat filter. The image is softened and has some blur added by the filter. Therefore, you must try this good snap filter if you want a filter with the perfect amount of natural tones but without being overly dramatic.
The picture's color quality is improved, and the brightness is just right. The main feature of this best snap filter is its exquisite flower border, which enhances the beauty and color of the image. In a distinctive font we manually hand-drew, the filter also contains the date and day specified at the bottom.
---
7. Bald Character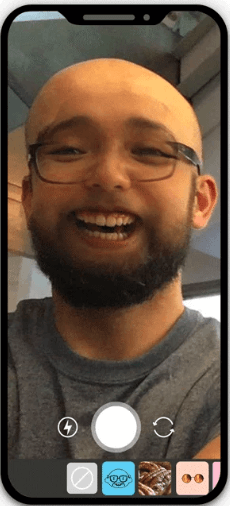 Bald character is, without a doubt, one of Snapchat's funniest filters. If you've ever wondered what you'd look like if you became bald, you may use this best filter on Snapchat to find out. Snapchat allows users to play with their appearance; this filter will make you appear to be bald without actually going bald. How awesome is that?
This Snapchat funny filter is not only non-experimental but also humorous in nature. To make fun of themselves and their pals, many people take images using this best Snapchat filter.
Also Read: How To View Someone's Snapchat Story Without Them Knowing
---
8. Lips Freckles
What could be better than having your picture editing app's users feel loved? Your app can make a bad day better if you add this prettiest Snapchat filter to it. Furthermore, aren't people in need of this today more than ever?
The lips' freckles are instantly added to the blush by this beautiful Snapchat filter. This straightforward and popular Snapchat filter can significantly improve consumers' moods. Users may also use it to cover up blemishes and acne while producing the ideal Instagram shot for the hashtag cute. Lip Freckles is one of the most effective and cutest Snapchat filters for girls.
---
9. Pecan
We don't know when it will be safe for us to go to the beach and tan flawlessly. A tanning salon visit is not something that everyone enjoys scheduling and paying for. Right? So the Pecan Snapchat filter created by Luckee Bains is ideal for your Snapchat app.
It instantly produces a flawless tan; the best part is that customers can easily adjust their settings to change their appearance. For example, Snapchat's artistic filters excel at adding graininess and the textured filter. Additionally, users can easily remove graininess with a tap if they don't like it.
---
10. Vogue Noir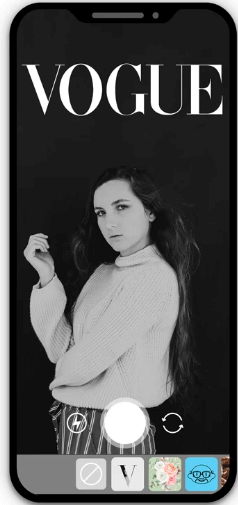 Everyone desires to appear on the Vogue magazine cover. Of course, getting there is difficult, but all it takes to simulate the experience is a good Snapchat filter. Vogue Noir is one of the best snap camera filters for 2022 because it enables users to see their dreams come true.
The most admirable feature of this best Snapchat filter is that it can also be used on hilarious photos. So it becomes hilarious in this manner.
Also Read: How To Play Snap Games on Snapchat
---
11. Sailor's Cap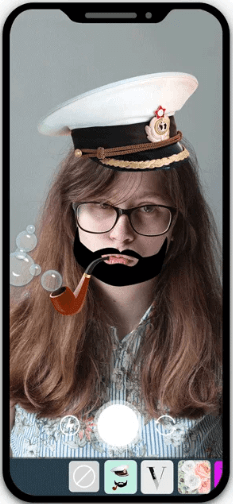 Okay, who will ever refuse the opportunity to serve as a captain? This Snapchat funny filter, which lives up to its name, transports visitors to a place where any app developer's heart desires to go. Saint Martin is one of the many places from where it might draw users.
Every millennial who grew up watching "Popeye- The Sailor Man," the famous cartoon character, has fantasized about being a captain. And that wish is pretty well satisfied by this top Snapchat filter. You get the ideal beard for the situation and an oversized captain's cap placed on your head.
---
12. Fashion Sunglasses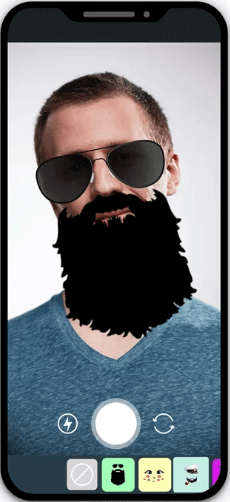 By including this Snapchat effect as a function in your photo-editing program, you are letting your users know that they do not need to wait years for the perfect beard to grow. It is among men's most significant, most suitable, and best Snapchat filters.
Only a smartphone with a camera and your app is required. A fantastic beard with the ideal shades can be obtained by using this filter. It draws in all riders or those who "want to be riders" and gives them access to a variety of avatars.
---
Conclusion
There is no end to creativity and imagination with the best Snapchat filters and lenses. Try these amazing Snapchat filters and effects to look gorgeous and unique in pictures and videos. These top 12 Snapchat filters will thereby improve your photos and your whole mood far more than they would otherwise. So, it's time to raise your fantasy with fashionable Snapchat filters and lenses that give your pictures a sophisticated look!
Samuel is an ardent tech geek who is obsessed with technology. He loves using his technical expertise to write informative and useful content to help people. Besides the techy stuff, he enjoys listening to music, reading books, and playing football.
Subscribe to Our
Newsletter

and stay informed

Keep yourself updated with the latest technology and trends with TechPout.
Related Posts