14 Best Quiz Maker Software to Make Quizzes in 2022
Published Date :
Oct 03, 2022

Are you a quiz lover? Does the feeling of solving quizzes intrigue you? In today's competitive world several companies and organizations have started using puzzle systems to judge people, thrill contestants, add excitement to audiences, and know their buying patterns. Wondering how to make typical quizzes, take the help of quiz maker software. 
Quiz creator software uses fun and unique strategies to build engaging questionnaires and puzzles. Use them to create survey sheets, class assessments, feedback forms, etc in a hassle-free environment. 
Refer to our list of best Online Quiz Makers in 2022 which you can pick to select various types of questions, use built-in formats, select the level of participants, and develop real-life questionnaires. 
What are the Best Quiz Makers on the Internet For Creating and Sharing Quizzes?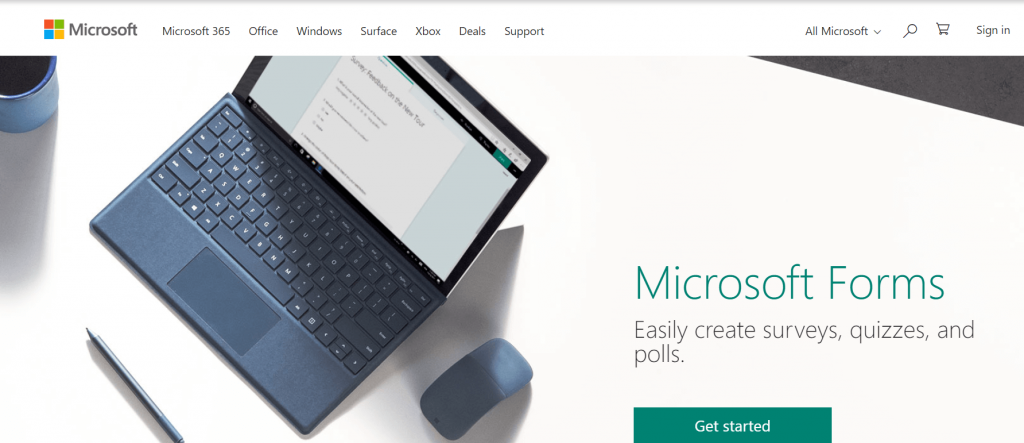 Our next Quiz Maker Software comes from the house of Microsoft and is widely used to create pools, quizzes, and survey papers. It supports real-time feedback and assessment reports for better understanding and statistics.
The results displayed by Microsoft forms can be exported in Excel. Use it to streamline and transform your business solutions and conduct various surveys and take feedback.
Prominent Features of Microsoft Forms:
It is one of the most trusted sites for creating a quiz
The platform offers a real-time assessment of the survey or reports
The result can be safely exported to spreadsheet software for further assessment
It charges no amount for creating forms and quizzes
---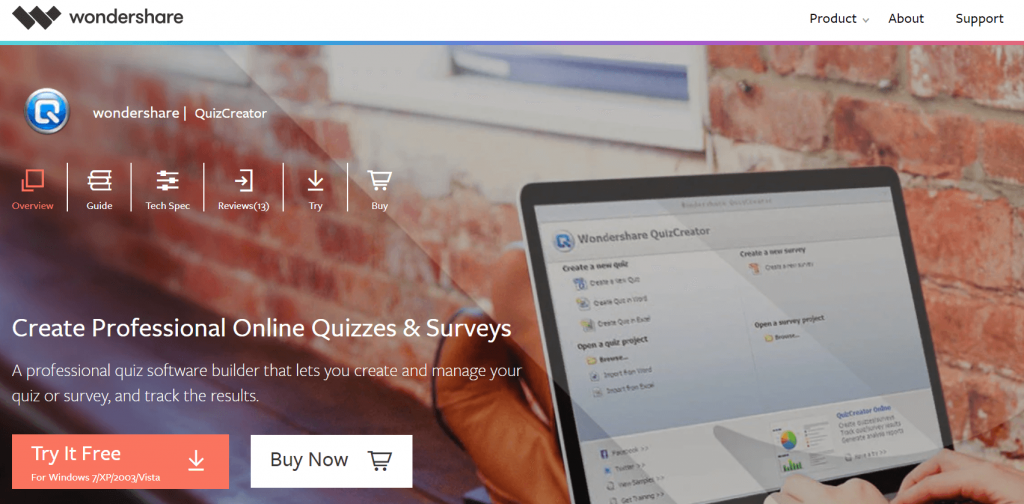 If you are looking for an elaborate quiz creator software, then Wondershare is a good piece of software. With this powerful tool, you can create customized quizzes in various formats including.
Multiple Response
True/False
Word Bank
Fill in the blanks
Multiple Choice 
Match the following and much more.
Prominent Features of WonderShare Quiz Creator:
The software offers various options for customization
In the quiz created by this software, you can include images and videos for reference
It offers a new way of learning which isn't boring
The software has a free trial for all the users
Apart from this, you can also add various flash videos, images, and voice-overs to make them more engaging. With this amazing tool, you also get access to various symbols for creating subject-based puzzles along with a self-grading system.
If you are still wondering How do I make an online quiz? Then choose Wondershare to create web assessments and online surveys, a class apart tool from teachers, researchers, evaluators, and testers. 
Read More: 13 Best Educational Apps For Android Smartphones
---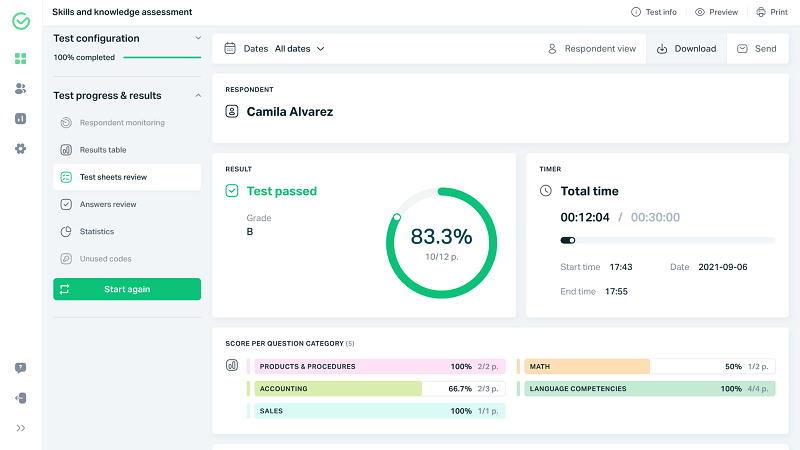 If you are looking for a skill and knowledge assessment platform, then Testportal is the right choice. It's used by business professionals from hiring departments and training teams to create insightful quizzes.
It features cost-effective proctoring solutions and an intuitive question editor, but its most important asset is the insight engine offering detailed test statistics and analytics, allowing quick access to detailed information.
Tests and quizzes created with Testportal are fully customizable, with optional branding and white-label.
Testportal allows users to customize quiz settings and play with time limits, question categories, randomization, scoring, and much more.
Some of the key features of Testportal:
Charts and graphs for in-depth insights analyses.
Multiple question types are enriched with an advanced equation editor and attachments (images, videos, and audio files).
API integration.
Dedicated app for Microsoft Teams.
Cheating prevention with smart proctoring features.
Testportal offers a free 14-day trial and business plans start from $29/month per month.
---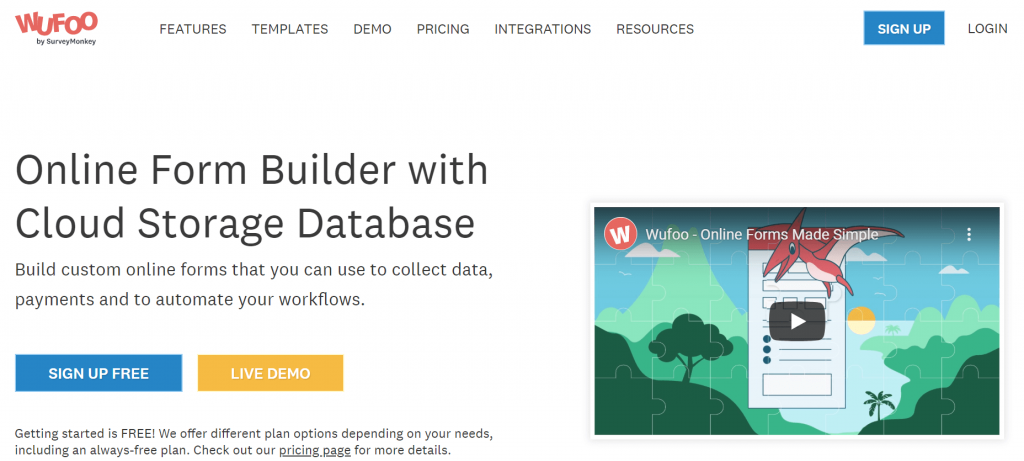 Wufoo is an online form builder software powered with cloud storage. It is one of the most trusted quiz maker tools in the market and is widely used by big brands like Disney and Amazon. 
It is developed by Survey Monkey and comes with an award-winning user interface and easy to use templates and customization features.
Prominent Features of Wufoo:
This is a web-based program that does not require any space from your disk
Big brands like Disney and Amazon has trusted this tool for creating survey and quiz
The platform offers easy templates with customization features
---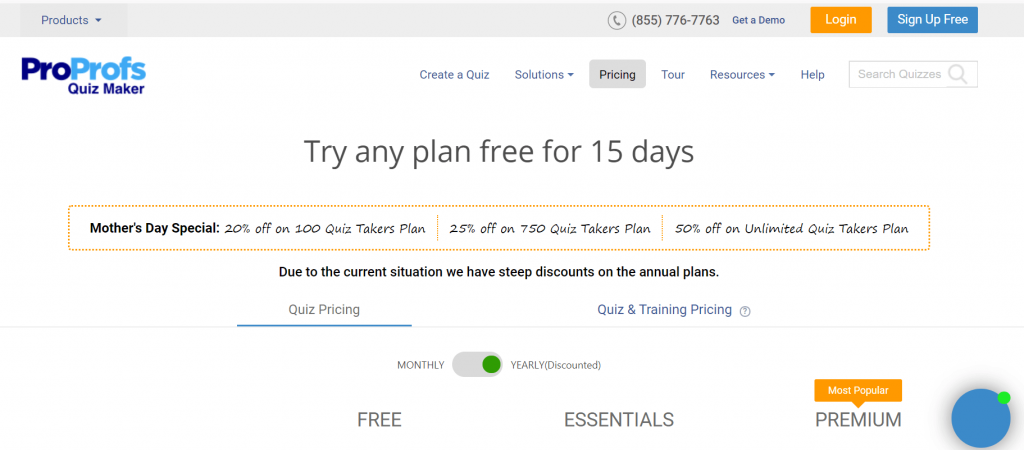 If you are still looking for the Best quiz maker app, then ProProfs is worth every chance. It is a great tool for creating exams and quizzes. In addition to this, its secure working methodology prevents cheating and allows you to schedule various papers. More than simple educational tests you can also use it to make online tests, surveys, employee assessments, polls, and personality quizzes.
Some of its Major Highlight Features are:
Advances feature life automated grading systems. 
Complete data security, free templates, feedback, and surveys. 
Complete analysis of test results, and delivery of end reports and statistics.
You can use it to create small quizzes and survey questions, add a logo and video to it and share it on social media.
It is available as free software but frequent and annoying ads may disturb you, you can pick its Pro version for an ad-free experience along with a question bank and 500 MB of storage.
---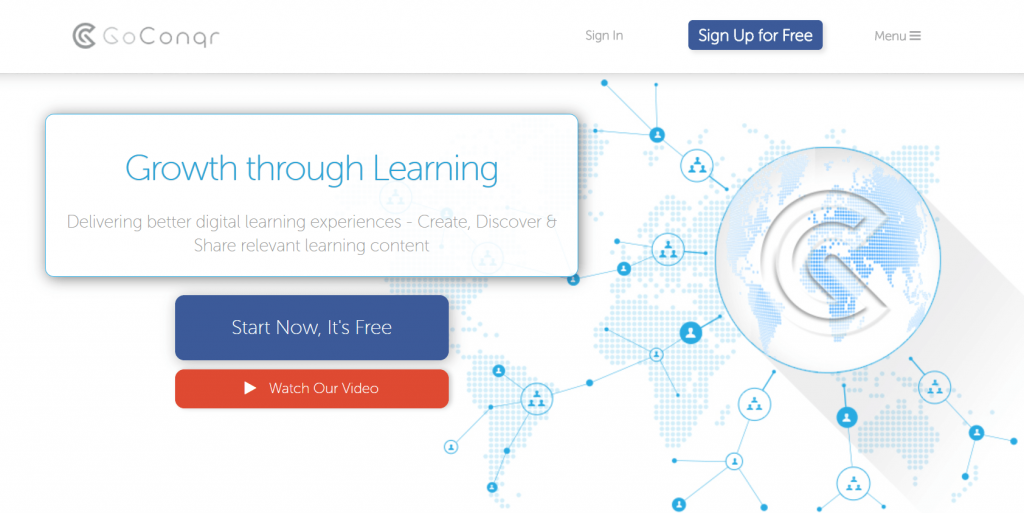 Discover, create, and share online quizzes with GoConqr. It is a great platform for education and is loaded with several subject-based quizzes and puzzles. 
Use it to do knowledge assessments in various subjects, monitor your progress report, and plan a study routine. Its ability to prepare and share online tests makes it a perfect tool for teachers and students.
Study planners, mind maps, quizzes, flowcharts, discussion enhancement, and course builders are a few of its prominent offerings. You can pick its Pro version for ad-free working.
Prominent Features of GoConqr:
Using this software you can easily share quizzes with other participants easily
The software creates a report of all the performance and keeps adding new performance
You can create quizzes, mind maps, flowcharts, and course builder-like elements using this tool
The software is available for free
---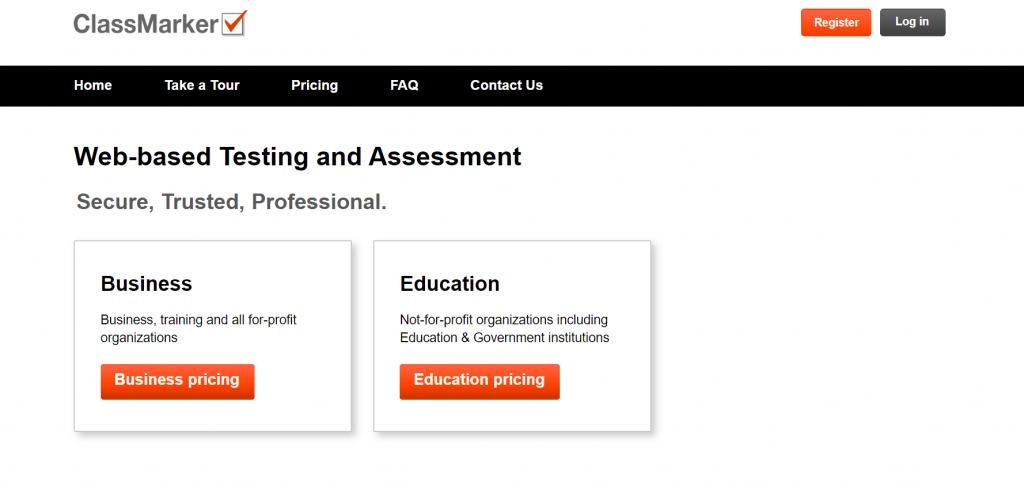 Next on our list of the best software to create quizzes is Class Maker. More than being a customizable tool it is a highly secure and professional tool that works with utmost ease and smoothness. 
Some of its Prominent Features are: 
Automatic grading system with real-time viewing options.
Branding of exams and custom certificates.
Easy management of exams.
Multi-purpose platform with zero downloading requirements.
Simple and easy to define test options and settings.
Unlimited questions and quizzes.
Online certification, API access, multilingual student interface, white labeling of exams. 
Use this feature-rich tool to make various quizzes, view the test results, and analyze the statistics in a hassle-free manner. You can opt for its free or paid version depending on your requirements.
---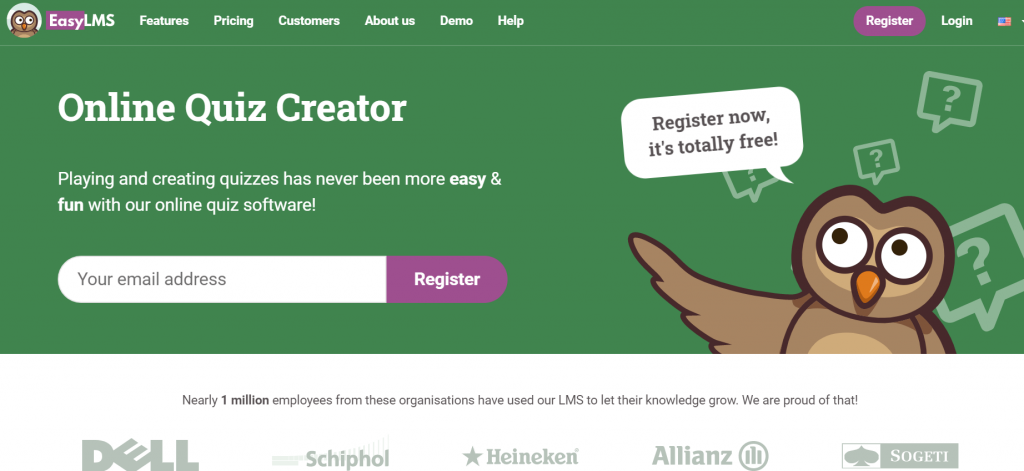 If the above web-based quiz maker software has not been of great help to you, then you can try Online Quiz Creator. This stunning tool adds a flavor of fun to your enterprise and business level quizzes and surveys. It also allows you to create a leader board.
The puzzles that you create with Online Quiz Creator can be accessed on various tech platforms including smartphones, desktops, tablets, etc. Here are some of the formats in which you can create your puzzles and test papers. 
Select the correct answer.
Correct image among various options.
Multiple options.
Choose the right answer.
Prominent Features of Online Quiz Creator:
The software doesn't take any space from your disk as it is web-based
Using this software you can add images to the quiz for making it more interesting
It has a very simple user interface that can be adapted by anyone
The software keeps a track of the past result and creates a leaderboard
The tool is powered with an efficient yet simple UI.
Read More: 11 Best Email Marketing Software To Grow Your Business
---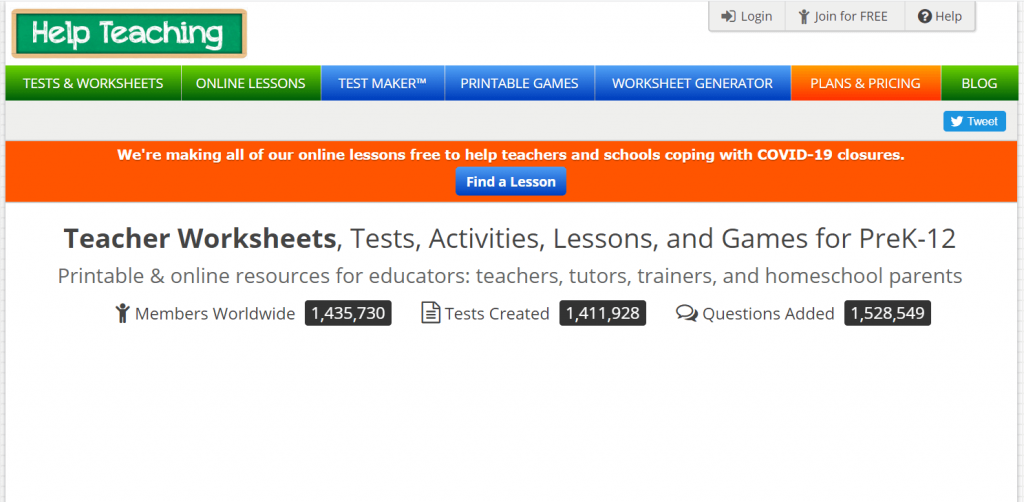 Are you looking for an online quiz maker for teachers? Then Help Teaching is the perfect pick for you.
Use it to make test papers and compile online lessons for classroom coaching. It can be used to formulate various test papers based on the subject and its level of difficulty. Students can download their test results and refer to various practice papers for better understanding.
Prominent Features of Help Teaching:
It is a great software for all the teachers who want to access their students
This platform is trusted by more than 1 million users
You can create various types of papers and test using this tool
---

Ever wondered about getting your test results on your email? Well, that's exactly what iSpring is popular for. Besides creating class-apart quizzes and test papers it also delivers test results via email. 
It is a great tool for office employees and businesses and supports various formats of puzzles including true/false, short answers, etc. 
Prominent Features of iSpring QuizMaker:
The result of the quiz is delivered by the mail
It is an ideal tool for businesses
You can easily access the skill and competency of the aspirant
Not just creating quiz but you can even create result analysis
Pick this best quiz-making software to access the skill and competency levels of your employees. Make beautifully branded assessments and set testing results for accurate employee analysis.
---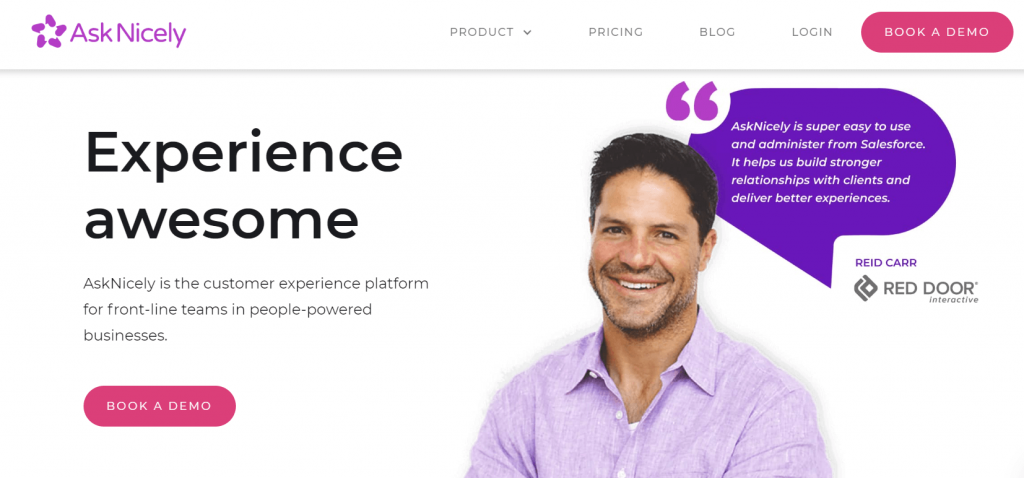 If the above-mentioned quiz maker tools have been unable to provide answers to your 
"What's the best online quiz maker" queries then it is time for you to try AskNicely. It is an advanced marketing tool that companies use to create feedback forms and surveys. 
Multi-lingual, triggered delivery, fully configurable branching logic and regular sampling are a few of its notable features. 
Prominent Features of AskNicely:
This tool offers great features for creating quizzes and surveys
Irrespective of your language you can create quizzes
The interface of the software is very easy, one can easily use the software
Check the customer experience of your brand with AskNicely.
---

SchoolHouse Technologies is a blessing for professors and Teachers. The software is fully compatible with Windows and can be used to create various test papers, worksheets, assessment activities, and quizzes. 
Match the column, multiple-choice, short answers, fill in the blanks are few of the question formats used by School High. It can also help you prepare quizzes in graphical and diagrammatic formats and forms.
Prominent Features of SchoolHouse Technologies:
This is an ideal tool for teachers who wishes to create quizzes and assessments
You can easily create quizzes having multiple-choice, short answers, and fill in the blanks
The software is fully compatible with Windows PCs
Read More: 13 Best Free PDF Editing Software For Windows
---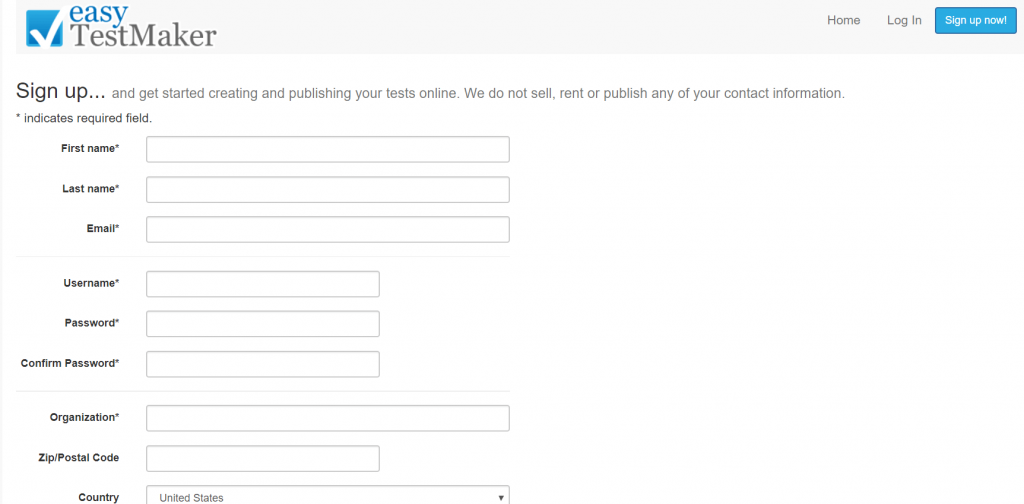 If you are looking for the best quiz maker software that can perform multiple tasks with ease then Easy Test Maker will be a good pick for you. With this incredible tool, you can formulate questions in multiple formats, print them, and publish them online in no time.
By far it is the best quiz maker app for people who want to make multiple choice papers, match the columns quizzes, true/ false, and fill-in-the-blank type puzzles with easy and clear formatting options. 
The availability of multiple question formats is what makes it distinct from other web-based quiz maker software in the market. Apart from the basic features, it also allows you to save your quiz paper online and automatically arranges the questions if you add or delete certain questions.
Its inability to make online quizzes is its only drawback. Few added features are: 
Spellchecker
Highlight and bold various words and portions.
It supports easy export to PDF or Word files.
It can also generate various versions of your quiz to reduce cheating. 
The application is available in both a free and paid version. If you wish to set time limits, print individual graded test papers and insert graphics then pick its paid version.
---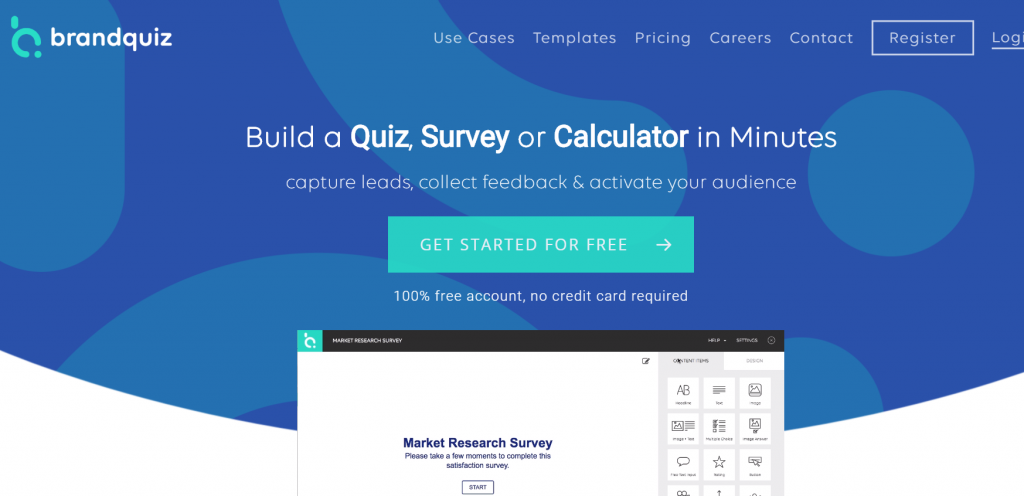 If you want to create a massive range of customer-oriented quizzes then pick Brandquiz for seamless and professional working.
The tool can easily sync with various enterprise-level marketing tools like MailChimp, Hubspot, etc. it comes loaded with 60 different templates, 35 fonts, and other useful designing options. 
The mix of Puzzles offered:
Image Answer.
Multiple Choice Questions.
Signup form.
Rating items.
Video embeds etc.
Prominent Features of BrandQuiz:
This is an ideal software for business as it offers the best syncing feature
It offers more than 60 templates and 35 different fonts
You can easily share your quizzes and forms using various platforms
The software offers designing tools too which is not common among quiz makers
---
Wrapping Up
So, this is it friends. We have tried our best to pick the most used and reliable quiz maker tools software for you, however, the choice you make will highly depend on the kind of audience, company, user category, and end goal you are focusing on.
Each and every tool mentioned in our list of Best Quiz Maker Software has a few unique features and offerings. Whether you are a teacher, business holder, professor, or employee, this software will help you in making the best test papers, puzzles, employee feedback forms, and surveys.
Prachi Dani is a technical content writer who specializes in areas of science and technology. She is highly up to date with technological transitions and transformations. Writing is not her passion but the only thing that carries satisfaction in life. If not writing, you may find her engrossed playing action games on her treasured smartphone.
Subscribe to Our
Newsletter

and stay informed

Keep yourself updated with the latest technology and trends with TechPout.
Related Posts