10 Best Project Management Software | Best Free Project Management Tools

Are you still struggling to complete your projects on time? Are you still flooded with spreadsheets, weekly update meetings, and other hardships of project management (PM)?  If yes, you're on the right place. Managing a project using old-school ways is a total waste of your time and effort. To save both of them and have some quality time with your friends or family. We heavily recommend you use project management software.
There are plenty of project management software available in the market that can help you to bye-bye your competitors and always stay ahead in this competitive and dynamic world.
Today, we'll talk about how using a project management tool can help you a lot and save you the most precious asset of a person; time. While doing that, we will tell you about the top 10 project management software available on the internet that are the best there is.
So, before jumping on to the agile project management tools,  let's take a look at what's a project management software, and why do you need it?
What's Project Management Software?
So, dear readers! Project management software is a tool that is developed to help teams collaborate and work on project planning, resource allocation, scheduling, and other such aspects of project management.
These tools can be used by various industries and they can also serve as a platform where stakeholders of a project can also collaborate with each other.
Project management software also allows project managers as well as teams to control the budget and quality of the project. Exchange of all kinds of documentation can also happen on a project management software.
What Are The Qualities Of An Amazing Project Management Software?
Project management software is used to handle the all-around responsibility of a project. From tracking the deliveries to managing resources, to the collaboration of team members. There's a lot of burden on project management software. So, it's necessary to make the right choice while having a project management utility.
These are the 5 aspects that a project management system must be judged on. These aspects will guide you to make an informative decision:-
To-do lists: Make sure that your software is able to assign and update tasks or to-do lists of everyone in your team. A team must stay on the same page of the project.
Scheduling: A good project management software offers calendars, grant charts, or milestone tools that help you in understanding where a task stands in the project cycle as a whole and how much it should be completed.
Sharing Files: You should be able to share files and other key project documents. It diminishes the time wasted on searching for files.
Communication: It is an important aspect of project management as smooth and easy communication means better problem solving and good flow.
Reporting: It's an important aspect as it is substantial for all team members to update their status as a whole. Also, it relieves the project managers who want to check their project's progress and make sure tasks are carried out promptly.
So, these were the aspects one should be aware of when selecting a paid or free project management software.
Know More: Best Hospital Management Software
10 Top-Notch Project Management Tools You Can Try in 2022
Now, enough beating around the bush, let's discuss the top project management software out there!
1. Zoho Projects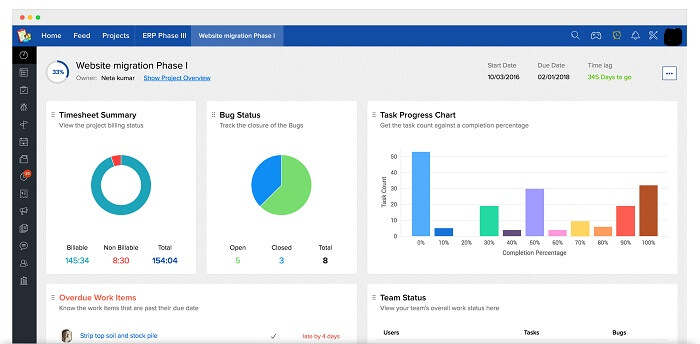 Teams are willing to spend thousands of dollars on project management software but they don't have to. With Zoho projects, you don't have to put a toll on your pocket as it is a miracle when it comes to budget project management software. Zoho comes with a palette of features that includes most if not all features of a project management software. It is one of the best project management tools that you can use to keep a track of your projects.
Zoho provides high value for its low cost, making it everyone's favorite and earning it an Editor's choice winner as a project management software for small and growing businesses.
Features: 
High value for its price.
Easy to set up and navigate.
Profound configuration settings.
Robust time-tracking tools.
Multiple communication ways in one app and so on.
---
2. Teamwork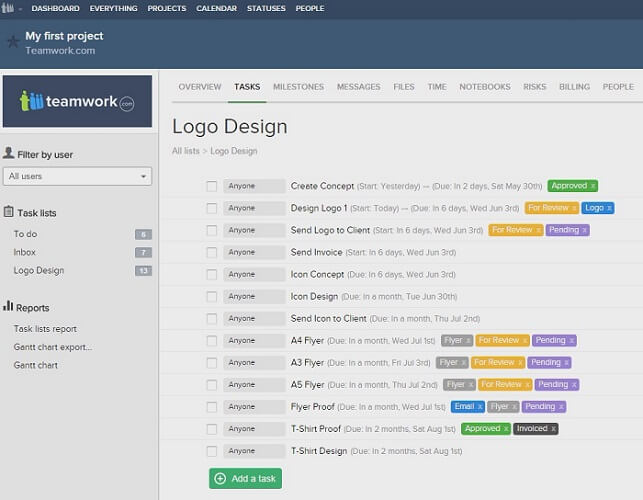 Project management is a complex field that people usually spend two years getting a master's degree in and still then having difficulties. With the use of Teamwork, this complex subject doesn't feel that complex.
Teamwork is an excellent online platform that soothes the pain of a project manager by being one of the best project management software out there. This tool helps in managing a project, its milestones, and its tasks by giving team members an easy-to-use interface with all the tools one may need in project management.
It also includes billing, invoicing, and other such financial aspects.
Project managers and business owners can keep a watch on their employees' time and workload, get notified when a deadline is on the verge of slipping, and so on.
Features: 
Amazing customization options.
Free account available.
Includes billing and invoicing.
---
3. Celoxis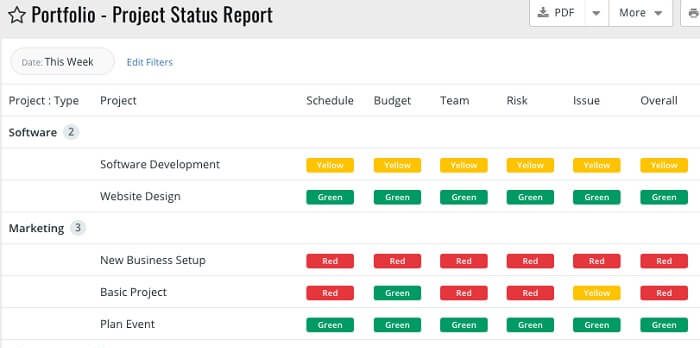 Project management software has to work on projects that can vary from being simple to tricky and complex. Some of them are relied upon to track tasks and the overall progress of the project, but not employee availability and the project's budget. While some others can calculate every minute worked and every dime spent, they take time to set up and are somewhat complex to use.
But, Celoxis brings you the best of both worlds. Goof around the software for a few minutes and you'll find that you've learned enough to get started. After a week, you and your team can use Celoxis to forecast revenues, adjust project schedules, record hours, and so on.
Features:
Easy-to-use interface and quick setup.
Good value for money spent.
Loads of reports and tools for the use of project managers.
Also have time tracking, budgeting, and resource allocation.
---
4. LiquidPlanner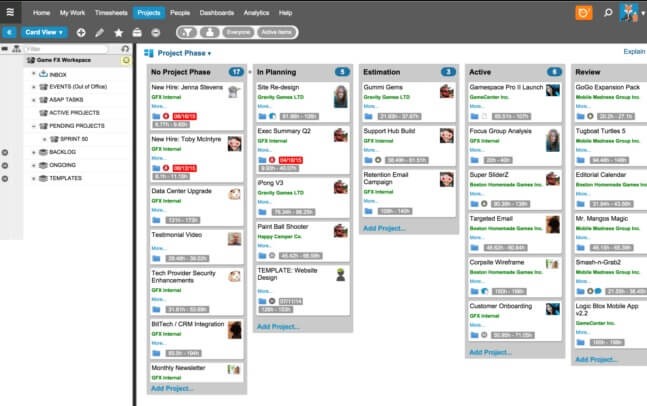 LiquidPlanner is a relatively complex and powerful project management tool and can be trusted to be one of the best project management software available on the internet.
LiquidPlanner requires a considerable amount of time to be learned and a large amount of time to maybe even master. However, we can be sure that the efforts will pay off at the end of the day. While LiquidPlanner is considered a project management software, it is capable of doing much more than that.
It helps teams track progress, schedule work, allocate resources, and it eases the collaboration between staff and even external partners.
Features: 
Automatic and intelligent schedules.
Best and worst case scenarios for projects and tasks.
A gamut of rich management and insight tools.
Know More: Best Payroll Management Software in 2021 [Automate Process]
---
5. ProofHub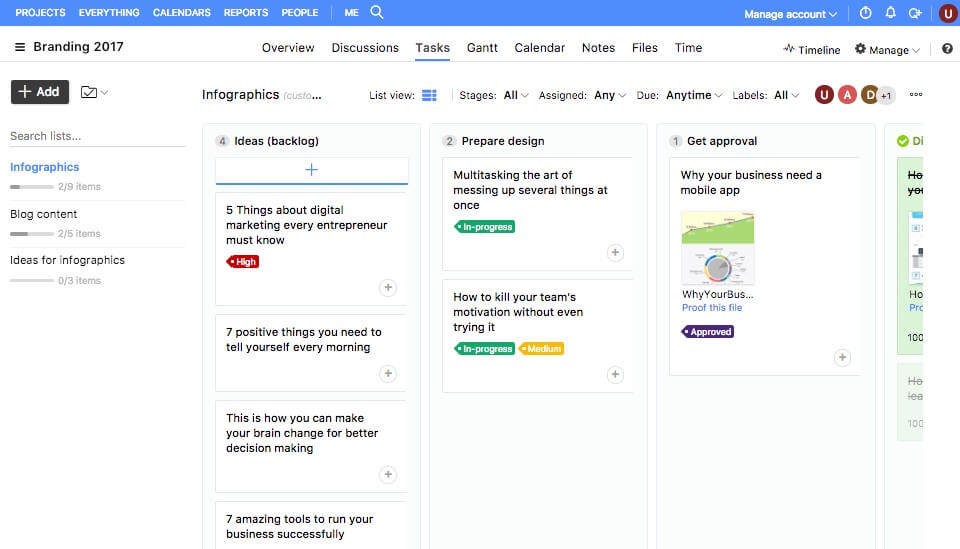 Just like most of project management apps, ProofHub helps teams to organize and check the status and progress of the project. It also helps them in collaborating while they're at it.
The thing that makes ProofHub stand out among other project management software is that it possesses tools that help the teams to discuss visual materials. So, if your team has to manage a project that includes design work, advertisements, and such visual materials, ProofHub should be your topmost priority. ProofHub is also quite easy to use and requires much less time for its set-up.
ProofHub can be a quite good choice if you have a small and growing team. It can work wonders for you if your project is more visual-based.
Features:
Quick and easy setup.
User-friendly interface.
The perfect balance of features and simplicity.
Right tools for discussing visual materials.
---
6. Redmine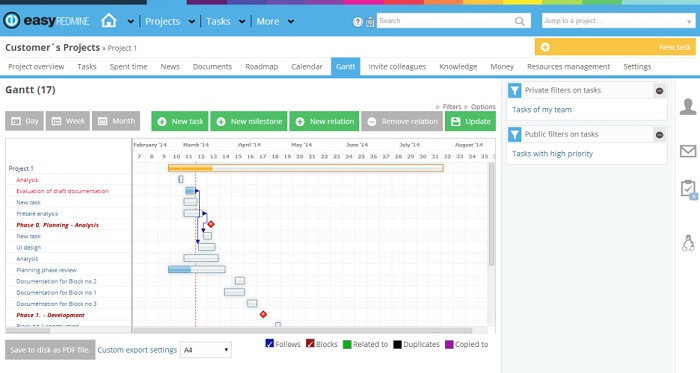 Redmine is a different, open-source, and customizable project management software. While other such tools are cloud-based and easily accessible for any business owner or project manager, Redmine must be installed and maintained by your staff member.
The special thing about Redmine is that it can be customized as per your need by anyone who knows how to work with an application written on the Ruby or Rails framework.
In addition to that, its feature set is more capable of tracking bugs issues rather than being the perfect project management software.
Features:
Open-source and free to use.
Consists of time estimates, dependencies, Gantt charts, and project wikis.
Customization can be done according to the user.
---
7. Smartsheet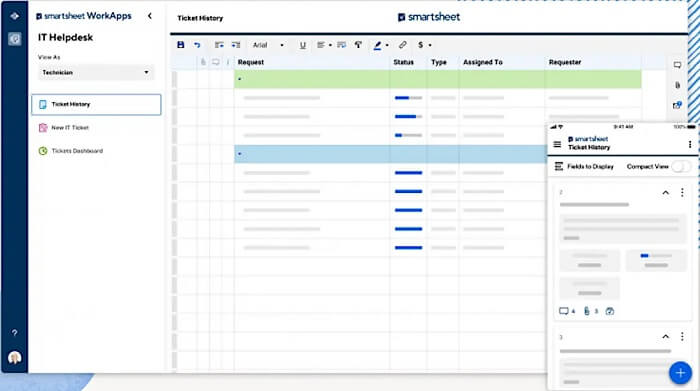 Smartsheet is an online cloud-based project management application that has the foundations of a spreadsheet application that can be used to track, manage, and collaborate on work.
Smartsheet can be used differently for different functions. For instance, it can be a project management software loaded with grant charts, resources management tools, and task trackers. It can also be used to retrieve information from a web form, and automate parts of your workflow, on top of that, you can even use it as a CRM app.
Smartsheet is a highly versatile, dynamic, and customizable application. The user may take a while to figure out how it works. But, it'll take much less time figuring out how you use it.
If you're looking for a tool that can help you in collaborating for work and can bend according to your needs, Smartsheet might end your search.
Features:
Highly customizable and powerful.
Supports automation, proofing, and webforms.
Can also work like a spreadsheet application.
---
8. Wrike
Wrike is a leading tool that works as collaboration software and project management software.
Initially, Wrike started out as an online cloud-based platform for team collaboration, work, resources, and project management, it continues to grow while adding more related features.
The app has included some work intelligence features alarming the team when the project starts to fall behind and then bringing attention to the reasons behind it.
However, Wrike is a premium project management software but it's quite easy to set up and use as compared to other such software available in the market.
Features:
Easy-to-use interface.
Quick setup.
Can be used to manage both projects and ongoing work.
The special account is assigned to different people.
---
9. Team Gantt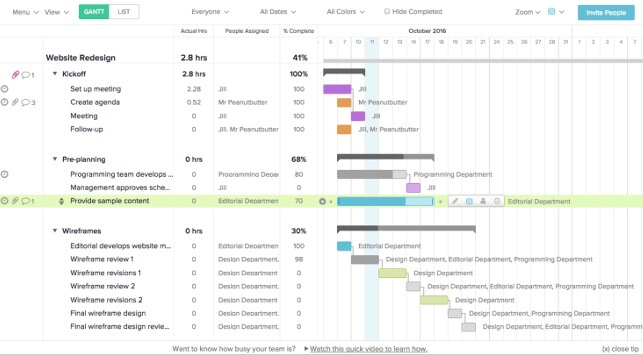 Team Gantt is a beginner-friendly, easy-to-use, and intuitive project management software. This tool helps you to view and edit Gantt charts.
Now, what's a Gantt chart? A Gantt chart is a kind of bar chart that is used to track and check all the aspects of a project simultaneously. A Gantt chart shows a timeline as well as task dependencies, exceptionally well.
Team Gantt proves to be quite user-friendly and even if you don't know a single thing about Gantt charts, it won't take long before you'll be able to play around with this project management tool. And, in just an hour you'll be able to do everything.
The communication part of the app could be better. Otherwise, it's intuitive and well-designed.
Features:
Intuitive and easy-to-use interface.
Robust tutorials.
Availability of interactive Gantt charts.
---
10. GanttPro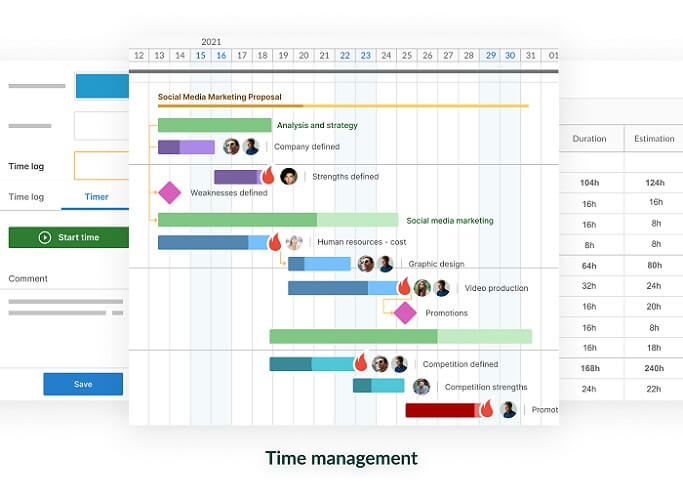 If you're tasked with dealing with multiple projects and this workload is getting on your nerves, GanttPro is coming to your rescue!
Gantt is a top-tier project management software that offers what every other project management tool provides. But, in addition to that, it also shows how each task is contributing to the project's end results. Also, what're the possible roadblocks to your project?
Launched in 2015, GanttPro has been the first choice for small businesses wanting to have a robust project management solution. As GanttPro offers all the services needed by small businesses, it has been an Editor's Choice winner.
Features:
Reasonable pricing.
Well-designed and easy-to-use UI.
Saves history and undo utility.
Consists of custom fields for tasks, kanban board view, critical path feature, etc.
Know More: Best Test Management Tools
---
Final Words: Best Free Project Management Tools
So, these were the best available project management software. There are many factors one should consider before opting for a project management tool, such as the size of the business, features required, pricing, and so on.
We hope that we've helped you in some manner and now it'll be much easier for you to select your perfect project management program.
Harshita Sharma is a technical writer with quite a distinct understanding of the tech realm. She is a tech enthusiast who believes that tech knowledge should reach one and all and tries to convert the sketchy knowledge into the simplest possible form for making people understand the tech world better. When not playing with words, she loves to travel and explore new places. And, is a coffee & cricket connoisseur.
Subscribe to Our
Newsletter

and stay informed

Keep yourself updated with the latest technology and trends with TechPout.
Related Posts