7 Best Podcast Hosting Platforms in 2023
Published Date :
Mar 23, 2023

This article acquaints you with the most popular and the best sites and platforms to create, store, and publish your podcasts to reach a wider audience.
Podcasts have been around for a long time as a medium to share your ideas with the world. It helps you build an audience to which you can convey your thoughts and expertise on various topics, such as sports, entertainment, news, etc. However, one cannot become a start influencer without the best podcast platforms.
The best podcast hosting sites help you store your audio episodes and provide a platform to deliver them to the rest of the world. Moreover, these sites automatically send your uploads to directories like Spotify, Apple Podcasts, Google Podcasts, etc., widening your reach.
However, choosing the best podcast hosting platform from a wide range of options is challenging. Therefore, this article is here to help you.
This write-up shares a list of the podcast sites we compiled after thorough research, analysis, and comparison of the most popular podcast platforms. The following section takes you through it.
Well-Researched List of the Best Podcast Platforms
The following is our carefully curated list of the best sites and platforms for podcast hosting.
1. Captivate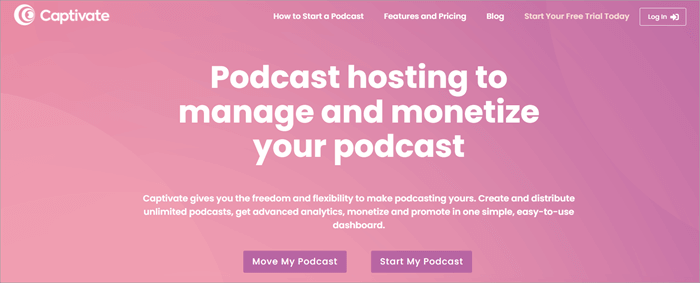 Let us introduce you to Captivate. It bagged the first position in this list dedicated to the best podcast platforms for a variety of reasons, such as a user-friendly dashboard, an in-built CTA (Call to action) to direct your audience wherever you wish, and much more.
Moreover, private podcasting and the following features further justify Captivate's placement in our list.
Key features of Captivate
Advanced yet easy-to-understand analytics
No limits on how much content you can store and upload
Lets you embed a website, playlist player, and social media
Support for transcription
Allows link customization
Supports all major podcast streaming applications
Availability of international customer support
Allows batch uploading
Also Read: Best Podcast Apps For Android & iOS
---
2. Buzzsprout
Next, we would like to focus your attention on Buzzsprout. It is among the most popular podcast platforms for its attractive dashboard, episode chapter markers to make them more convenient for your audience, and a lot of other features.
We liked Buzzsprout the most for its high automation. The platform takes care of all things automatically after you upload your podcasts. It submits your podcasts to various directories according to your publishing preferences.
Additionally, the following are its other attractive features.
Key features of Buzzsprout
Advanced analytics gives you direct insight into details like the number of downloads per episode and where your podcasts are popular
Lets you add or remove pre and post-roll segments along with dynamic content
Availability of in-built episode transcription
Magic Mastering for perfect-sounding episodes
Helps your Buzzsprout site grow with affiliate marketing integration
There is a text editor for showing notes
---
3. Castos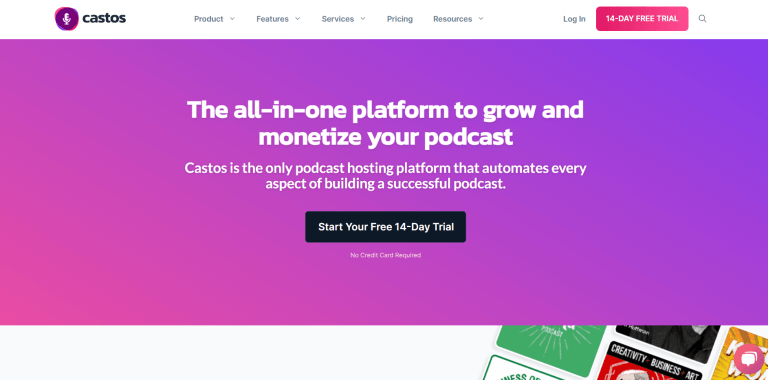 Here comes yet another one of the best podcast platforms. There is no limit on how many podcasts you can create, store, and publish with Castos.
As far as monetization is concerned, it supports direct donation collection from listeners to help you make more profit. Moreover, the following are its exciting features, making it the best podcast hosting platform.
Key features of Castos
No restrictions on how many shows you can launch
Allows you to test different styles for your podcasts and make longer episodes
The "Seriously Simple Podcasting" plugin allows you to upload episodes and manage them directly via WordPress
Lets you launch multiple shows simultaneously
Availability of a few private subscribers with every subscription plan
Automatic transcription to boost your reach
Lets you customize the podcast webpage
Auditing of podcasts
One-click publishing and YouTube republishing
---
4. Resonate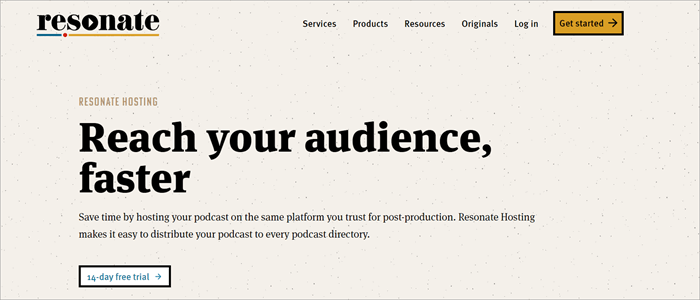 Let us now talk about Resonate. It is among the best podcast hosting sites to reach your audience faster. It only needs a single click to distribute your podcasts across various listening applications.
Moreover, Resonate is a platform where you can find professional editing and production services for seamless show hosting. Furthermore, below are its other notable features.
Key features of Resonate
Live visual dashboard showing insights about your podcast's performance
A podcast player you can add to your social channels, blogs, and website
Private podcast hosting allows you to choose the audience of your podcast
Real-time support over chat
Automatic podcast microsite creation
Supports addition and management of podcast ads
Also Read: Best Music Player Apps for Windows 10, 11
---
5. Transistor
Next, we would like to introduce you to Transistor. It is one of the best podcast platforms with incredible analytical and private podcast hosting capabilities.
Moreover, detailed analytics is what attracted us the most to Transistor. It gives you in-depth information about subscriber count, per-episode downloads, current trends, and crucial metrics from apps where your episodes are listed.
Additionally, below are a few other noteworthy features of this platform.
Key features of Transistor
In-built website customization according to the brand of your podcast
Supports multiple podcast creation
Allows you to embed podcasts on your blog, websites, and social media
User-friendly podcast management
Allows multiple users to log in and collaborate with each other
---
6. PodBean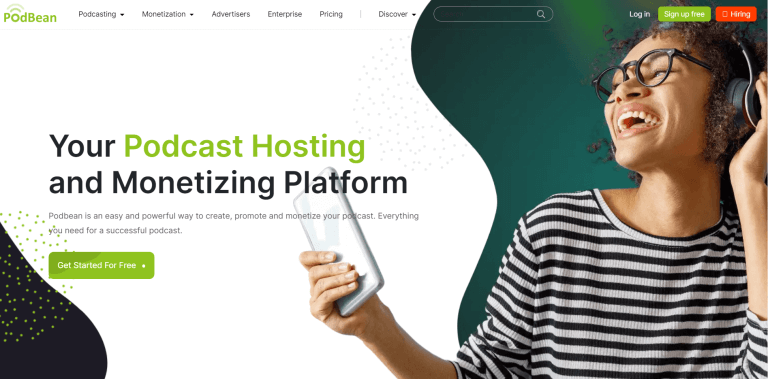 With a subscriber base of more than 600,000 subscribers, PodBean makes it to the sixth position on our list of the best podcast hosting sites. It allows you to both record and live-stream your podcasts.
Moreover, it offers a free and customizable website for your brand. Furthermore, it imposes no limits on the content you can record or download using this platform.
Additionally, below we share other PodBean features you should know before trying it.
Key features of PodBean
Easy episode listing on Apple Podcasts, Spotify, and other sites
Automatic sharing of all uploads to your social networks
Podcast scheduling according to your requirements
Podcast cover art creation with a variety of templates, fonts, and images
Performance statistics such as download numbers
Boasts an advertising marketplace to help you find sponsors
Lets you chat with the audience and interact with them in real-time during live streaming of podcast
Mobile application for easy podcast management
---
7. SoundCloud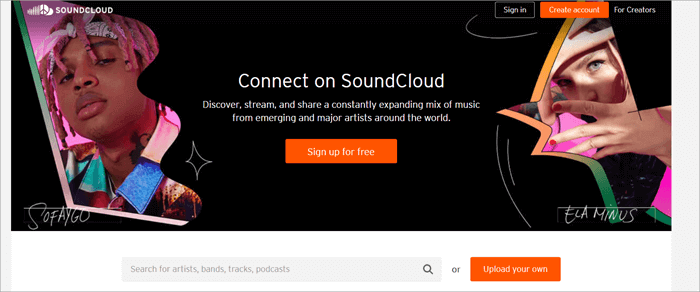 No list of the best podcast hosting platforms can be complete without SoundCloud. Ideal for beginners, it allows you to upload a podcast of 3 hours every month for free.
Moreover, SoundCloud boasts the following attractive features.
Key features of SoundCloud
Easy podcast scheduling
Timed comments
Embedded players
Twitter cards
Effortless podcast uploading and sharing
A lot of monetization options
Also Read: Best Free Media Players For Windows
---
Concluding the Best Podcast Platforms
This article discussed the best sites and platforms for podcast hosting. You can use them to create podcasts and upload them to reach a wider audience.
If you wish to add some other most popular podcast platforms to the above list or have any other suggestions/questions about this write-up, feel free to leave a comment. We will be delighted to hear from you.
Niharika is a passionate soul who finds immense satisfaction in putting all her thoughts in writing. Being a technology enthusiast, she loves learning new things about tech and making everyone technologically literate through her articles. When not composing tech articles, you can find her bringing characters to life in her fictional stories, reading something intriguing, or spending time with her near and dear ones.
Subscribe to Our
Newsletter

and stay informed

Keep yourself updated with the latest technology and trends with TechPout.
Related Posts