13 Best Invoice Software For Small Businesses 2020
Published Date :
Nov 01, 2019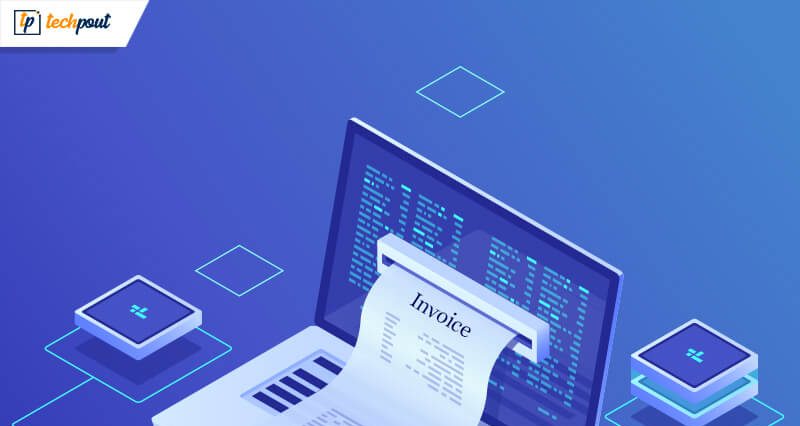 Invoicing can be a painful task, and there is no denial of this fact. A robust accounting system is the backbone of any successful business.
Making bills, keeping track of payments, and reconciling unpaid bill manually can be an overwhelming task, and can result in potential errors and losses. Using an Invoice software can be a good idea in such scenarios. 
Invoice generator software offers an efficient way of maintaining accounts and save both money and time. The market is full of such Billing and invoicing software that can assist you in tracking your payments and ensures timely release and receipt of amounts. 
Here, in this blog, we have handpicked some of the best invoice software available in the market. These tools are highly reliable, efficient, and scalable in their performance. Refer to our article and pick the best-suited software that can help you in payment processing, general ledger management, and invoicing. 
13 Best Invoice Software For Small Businesses:
1. Quickbooks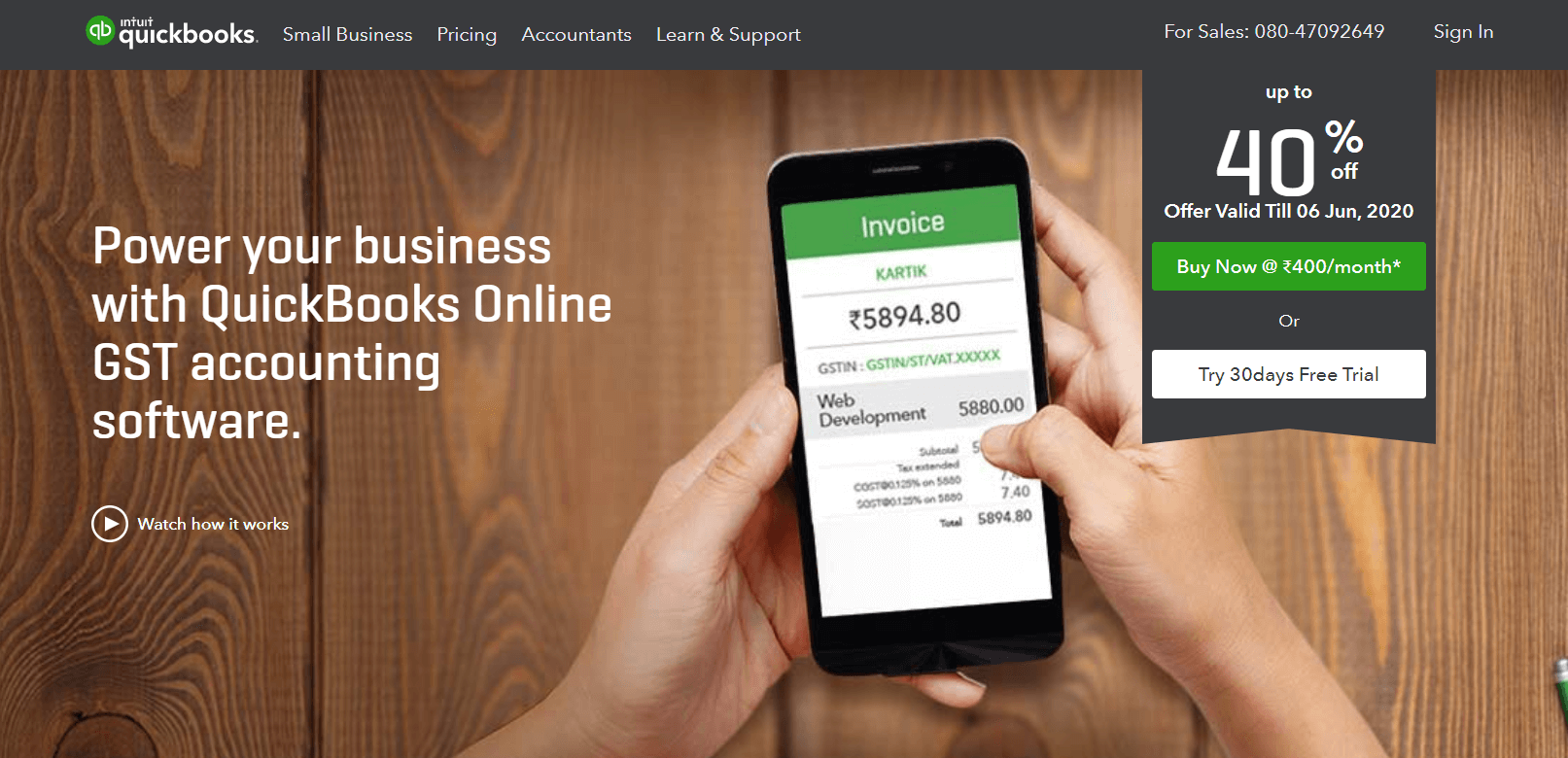 Organize your finances effortlessly with this incredible cloud accounting software. It comes with an array of useful and advanced features. 
Small businesses can use it in their day-to-day financial transactions, like creating an invoice, along with estimates and sale receipts.
It assists in managing sales, tracking expenses and profits, and paying bills. If your business involves foreign currency payments, a Quick book can be a useful tool for you. 
You can create purchase orders, generate sales quotes, and track your inventory using this incredible software. 
The most beautiful thing about this Invoice software is that it automatically syncs your data with other devices and stores it on the cloud. Since most of the work is done online, it becomes easy to manage finances no matter on what equipment you are working. 
Must Read: 13 Best Marketing Apps To Promote & Drive Your Business
2. Freshbooks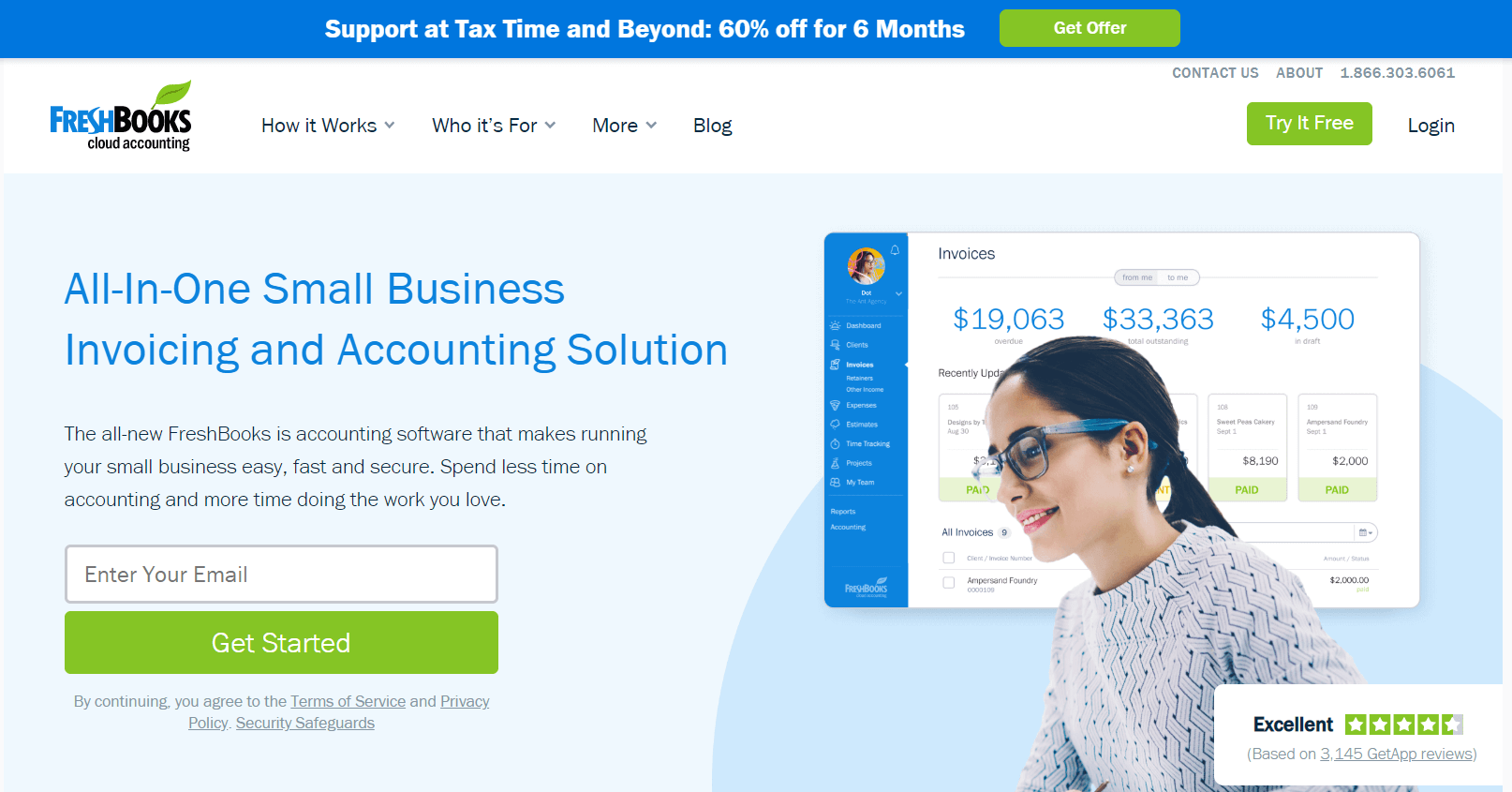 Are you looking for a dedicated expense tracking and invoicing software? Freshbooks can be an excellent choice to consider. 
This fantastic tool works incredibly well and can create invoices within seconds. It has been in the market for quite some time now with millions of users worldwide. 
Freshbooks comes with an extensive list of useful features: 
Use it to generate multiple invoices, including the recurring ones. 
It allows users to set late payment reminders and view received and paid invoices.
It is compatible with desktops, tablets, and smartphones.
You can also use it to get an overall insight into your entire business standing in a report and dashboard form. 
Considering the pricing part, it comes in a free 30-day trial version, and it's monthly subscription costs around $15. 
3. Scoro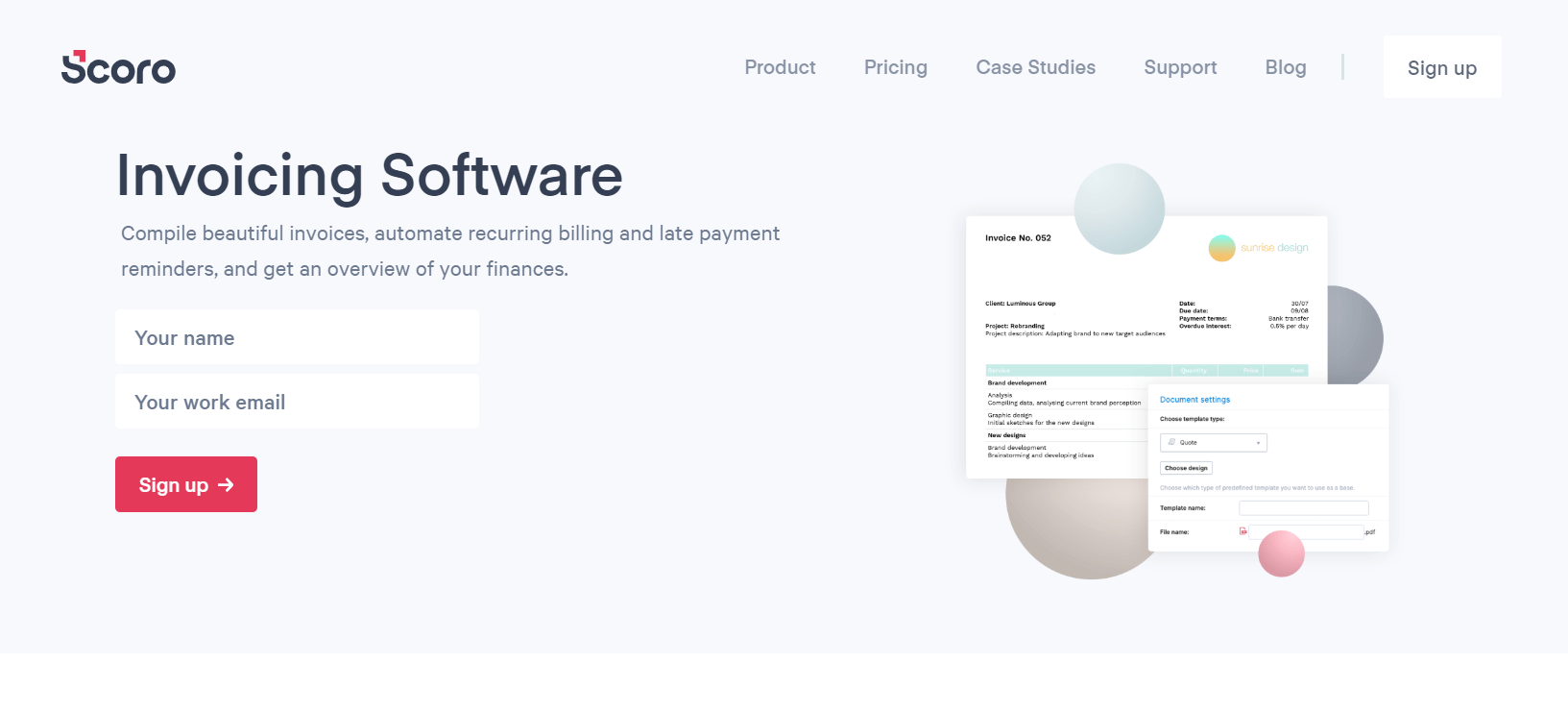 Next on our list of best Invoice Software For Small Business is Scoro. It is an all-in-one tool that can manage all financial aspects of your business, including invoicing, clients, and projects. 
It saves you from the hassle of toggling between various order books and payment spreadsheets. You can use it to set automated reminders of overdue and recurring payments. 
With Scoro, you can view real-time figures for your project profitability and business growth. Use this stunning tool to create invoices, manage payments, and monthly billings. 
You can opt for its 14 days free trial version initially and later on switch to its paid version that costs $26 per month.
4. Xero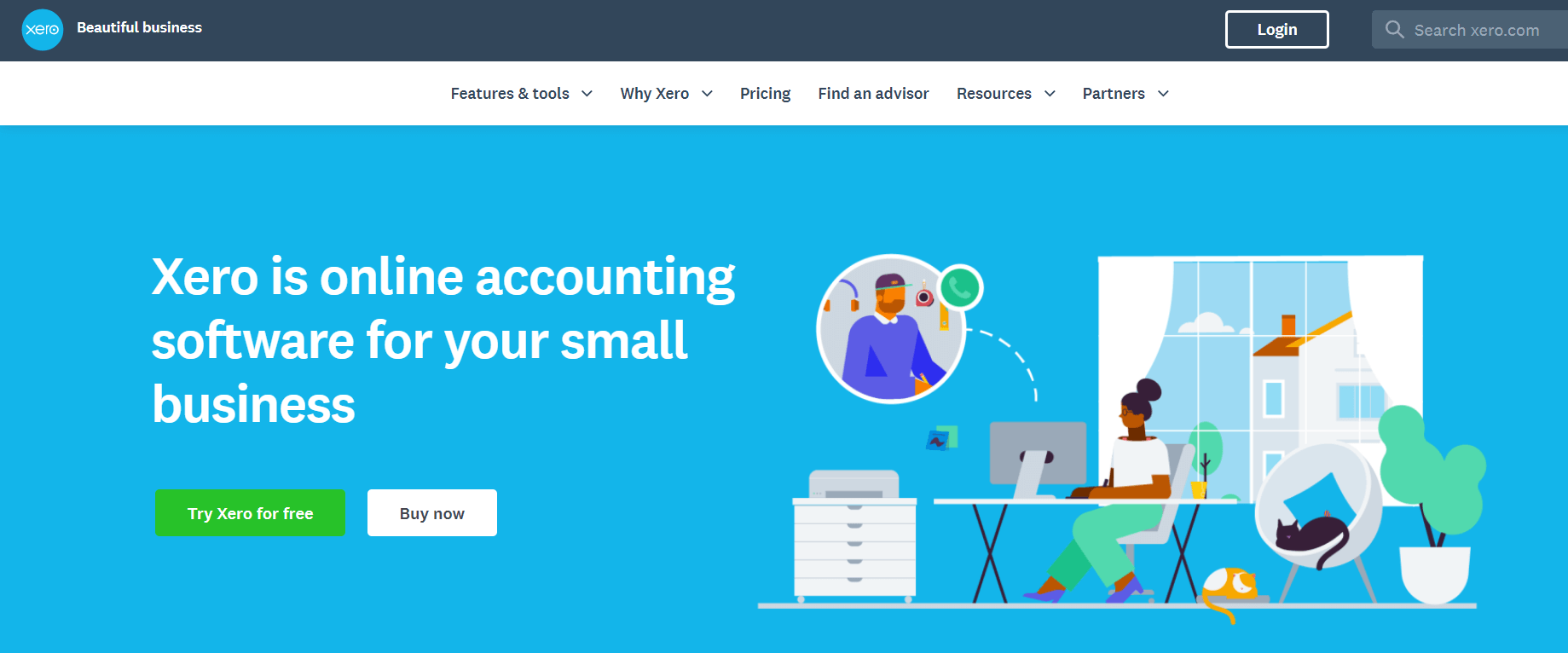 This accounting software can save a lot of time for you. It not only provides you 24/7 support but is extremely reliable and secure. 
It is best suited for businesses that require bulk invoicing. Using this automated tool, you can create professionally customized bills and automatic payment reminders to your customers. 
You can also use it to prepare and send bills straight from your mobile phones and tablets. Its cash flow mechanism also records cash inflow through PayPay, Debit, and credit cards. 
  It comes in a 30-day free trial version, and its monthly subscription costs $20.  
5. Zoho Books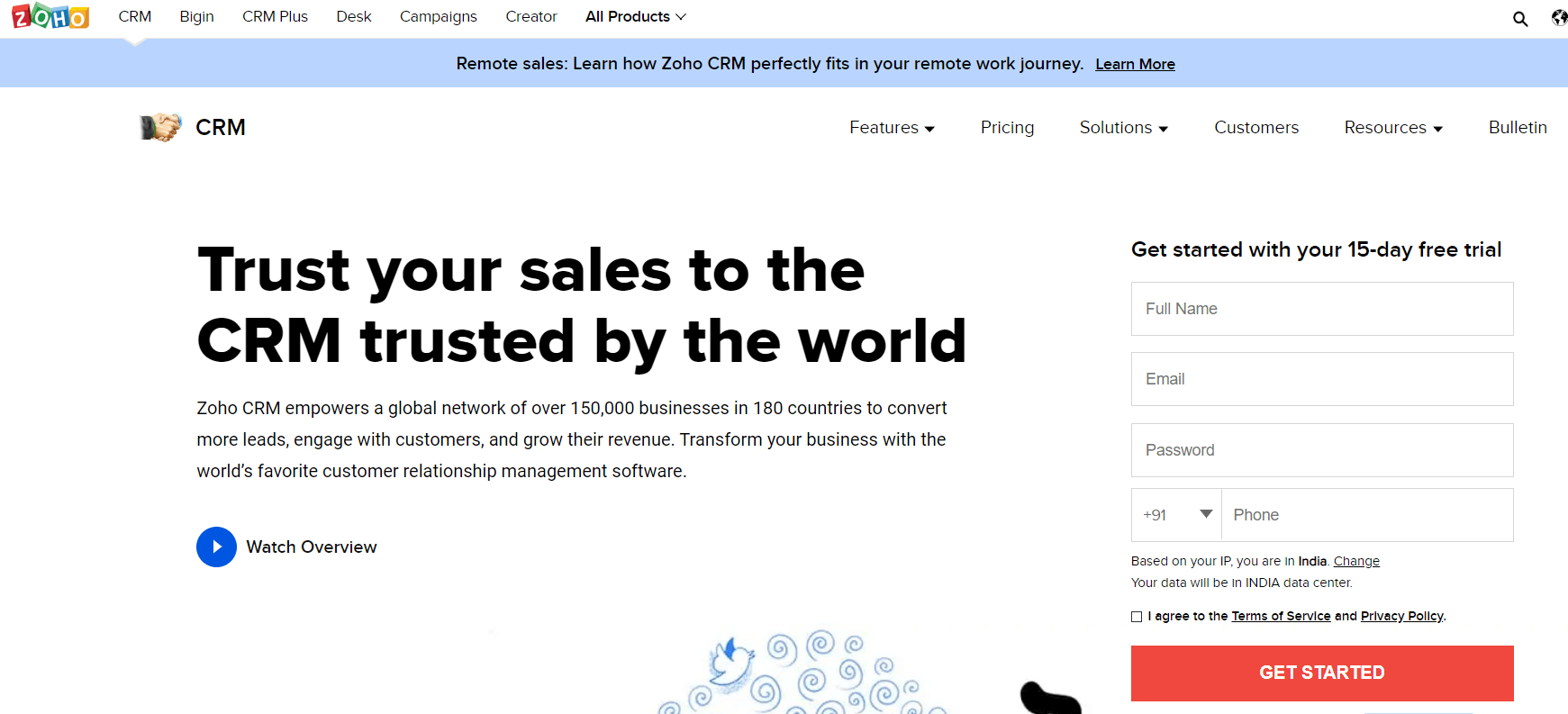 If you are looking for a simple yet multi-tasking best invoice software, then there is no better option than Zoho Books. You can use it to create and send bills, sync different bank accounts, track expenses, and accounts, along with organizing various financial reports. 
The most highlighted feature of Zoho Books is the accounting solutions that it offers. From Profit and Loss statements to Balance sheets, it can assist you in analyzing the financial position of your business. 
Its free trial is for 14 days, and its monthly plan costs $10 per organization. 
6. Sage 50c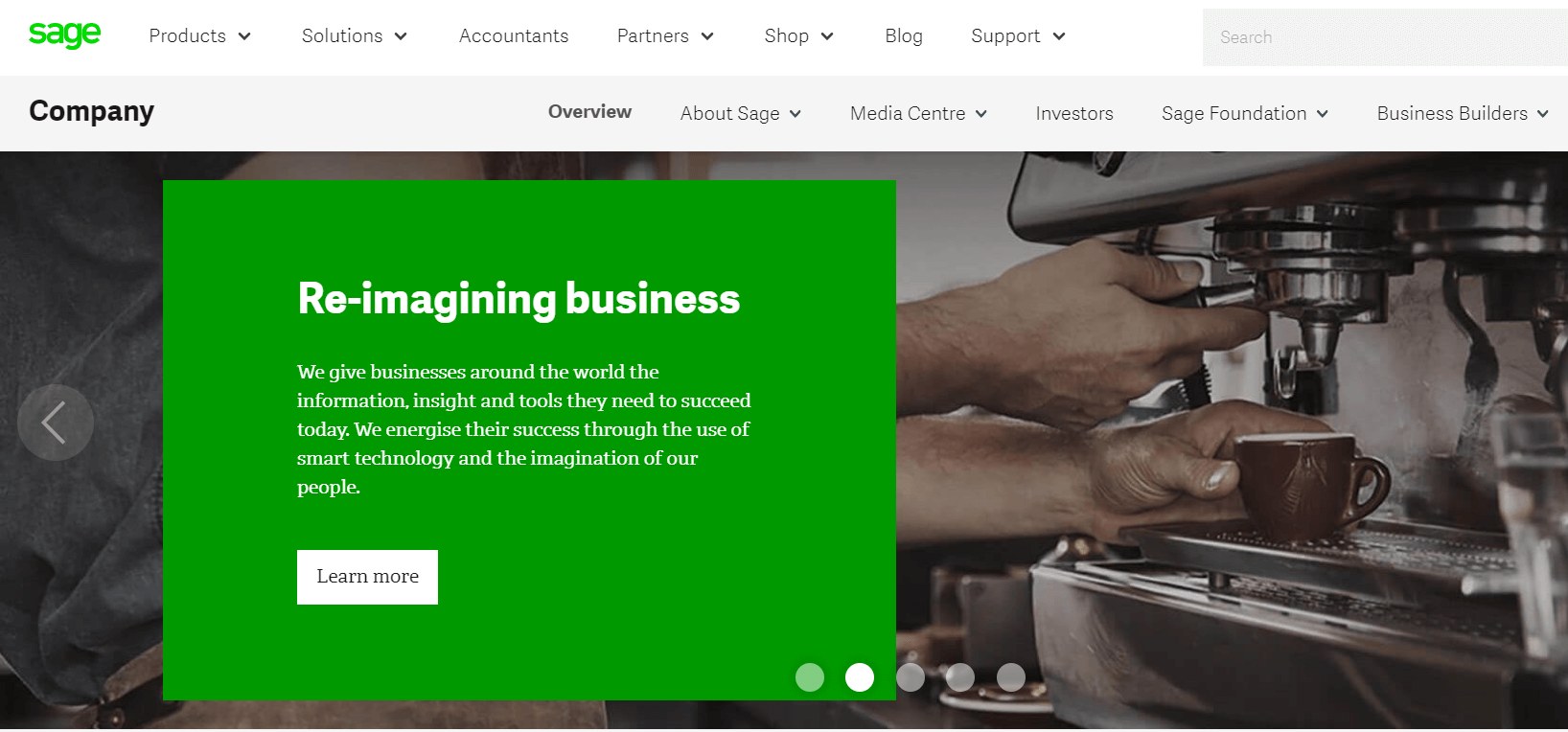 Sage 50c comes from the Sage family, a well-known name in the providers of business management tools. 
It provides cloud-based financial solutions and combines the ease of working with anywhere and anytime availability and access to your financial data. The "c" in Sage 50 c means the cloud. 
Use this powerful tool to get a real-time view of your profits, income, and expenses. 
7. Invoice2go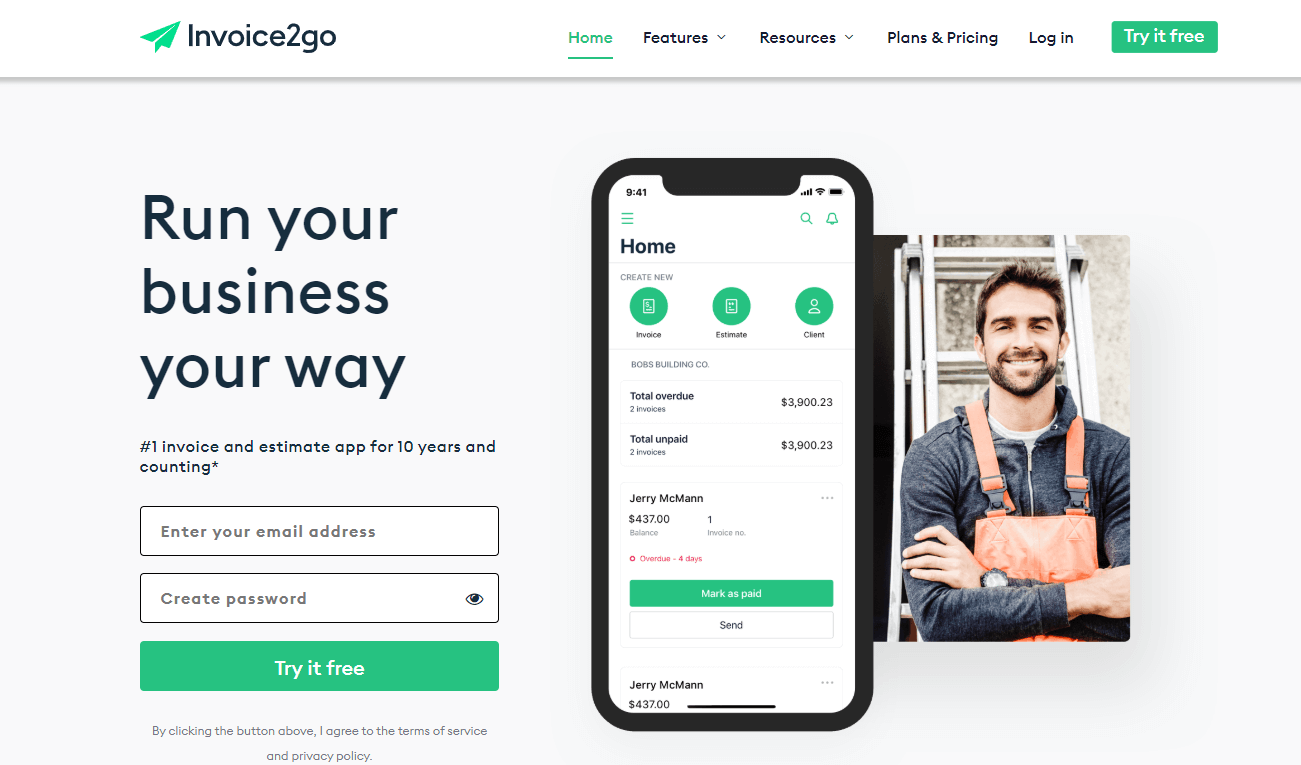 If you want a simple to use yet efficient billing software, then there is no better choice than Invoice2go. It comes with a payment reminder mechanism that saves you from a lot of hassle and takes care of your unpaid bills. 
Invoice2go can easily sync across various devices and can track your daily and monthly expenses. You can use it to create customized bills and track multiple invoices for your customers. 
Its yearly plan comes for $21 per user; however, to get an initial feel of its working, you can also try its trial version for 14 days. 
8. Wave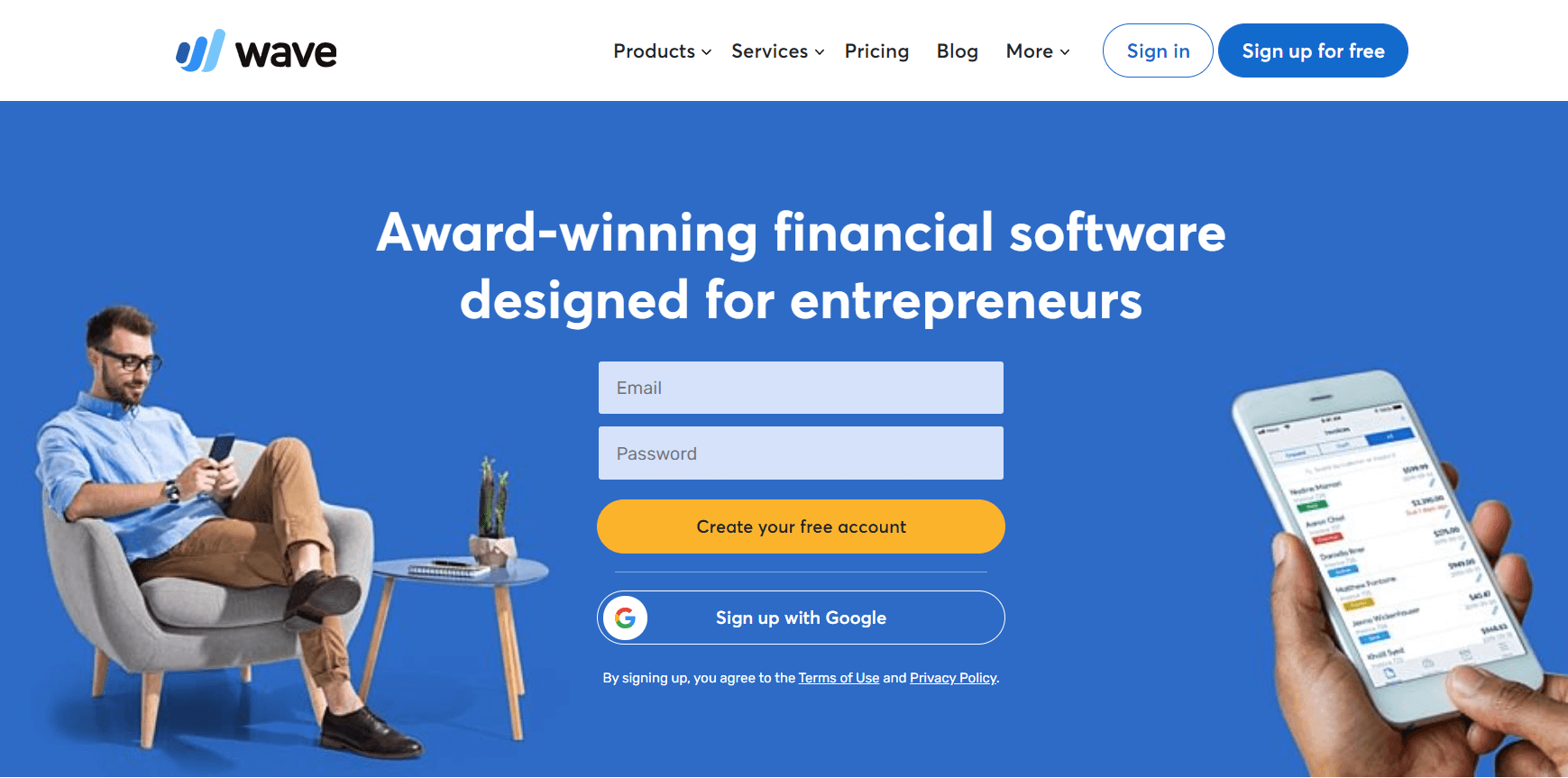 With this cloud-based Free Invoice Software, you can effortlessly manage your payments, expenses, and bills. It is best suited for businesses with a small employee strength. 
This robust billing software is entirely compatible with both iOS and Android platforms. With its automated billing system, you can easily schedule your unpaid and recurring bills. You can also monitor the status of your payments, credit card payments, accounting, payroll, and invoices. 
The best part about this incredible tool is that it comes for free. 
Read More: Best Tips To Choose A Perfect Domain Name For Your Business
9. OneUp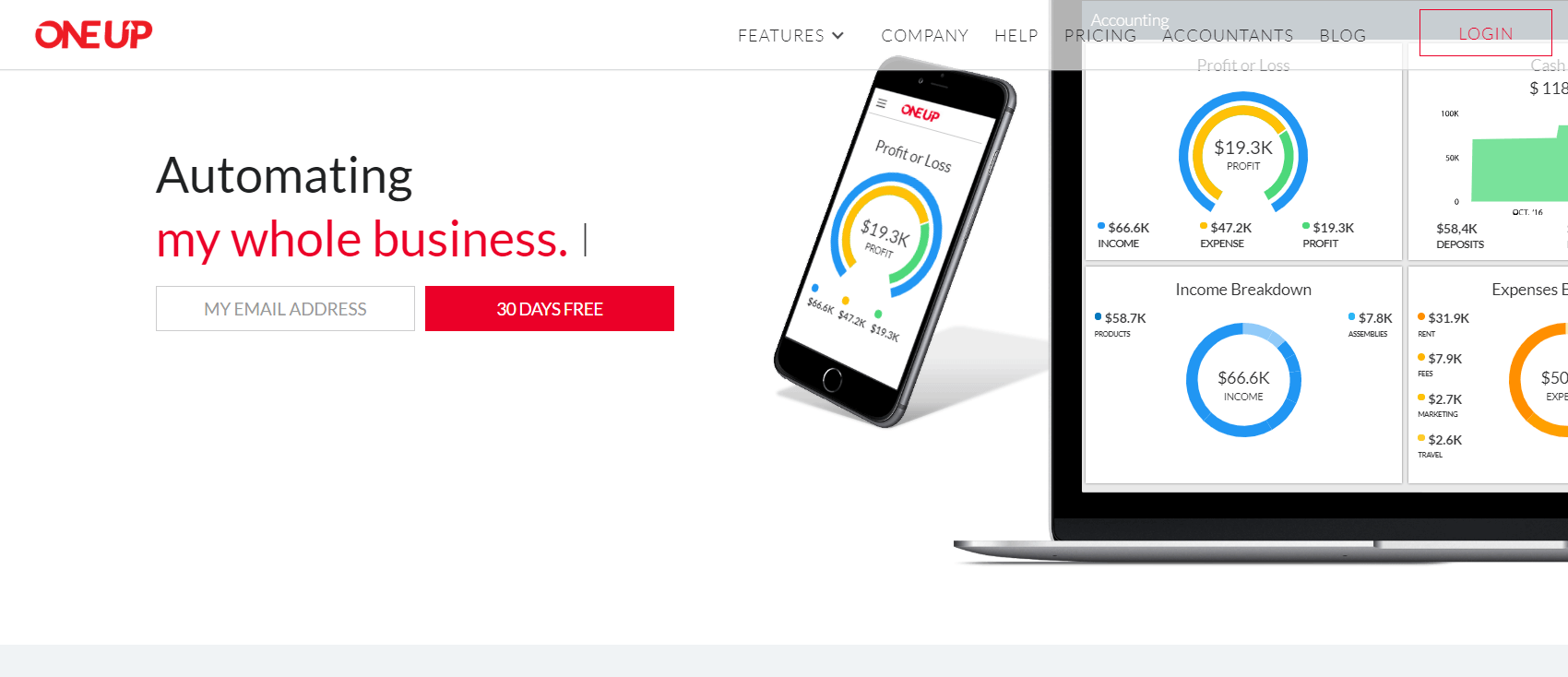 OneUp is a superb cloud-based billing tool. With this incredible app, you can take care of accounting, inventory, Billing, and finances directly from your smartphone. 
You can create and share invoices in a single click and sync all your bank account for effortless management. The most highlighted feature of OneUp is that you can create invoices and share them directly with your customers via email. 
Use it to get a 360-degree view of your business position. Furthermore, it also sends an alert notification for all due payments just before the due date. 
You can use its free trial version for 30 days, and also opt for a monthly plan at $9.
10. Chargebee
Chargebee comes with all the essential tools required for managing invoices, recurring payments, and subscriptions. This fantastic tool lets you focus on meaningful work while it takes care of all your finances and accounting requirements. 
It comes with multiple features, including analytical tools, reporting functionality, and subscription management. With this beautiful Invoice Generator Software, your customers can make payment via credit/debit cards and online wallets. 
It works free until a range of 50k revenue. 
11. Financial Force Billing

This Invoice generator software works in complete sync with your Salesforce platform, which means all bills with being auto-generated according to the sales. 
Financial force Billing offers an incredible way to manage your Billing and assists in tracking your collections and credits, along with cash flow and Sales outstanding. 
12. Work[etc]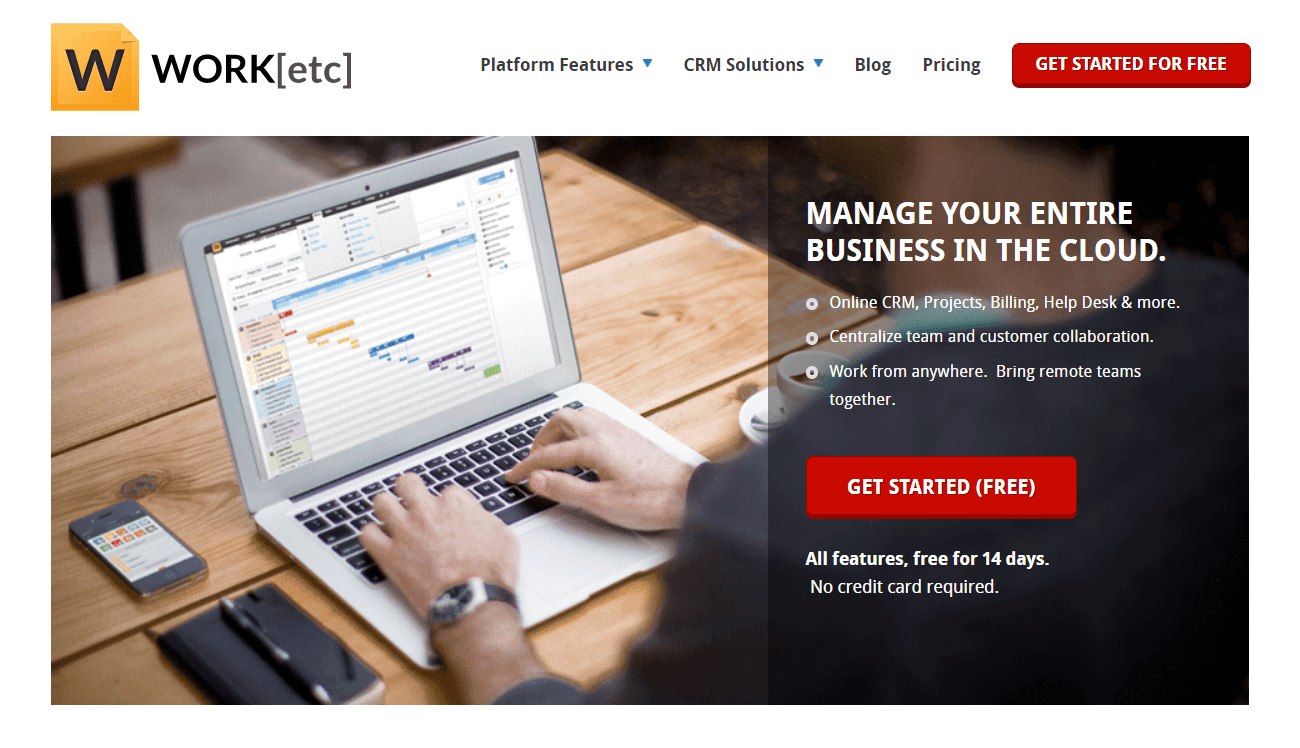 Work[etc.] is a one-stop cloud-based billing software. It uses preset templates for preparing invoices and automatically captures all billable events and sales. 
You can use it for tracking time, daily invoices, and payments. 
13. Harvest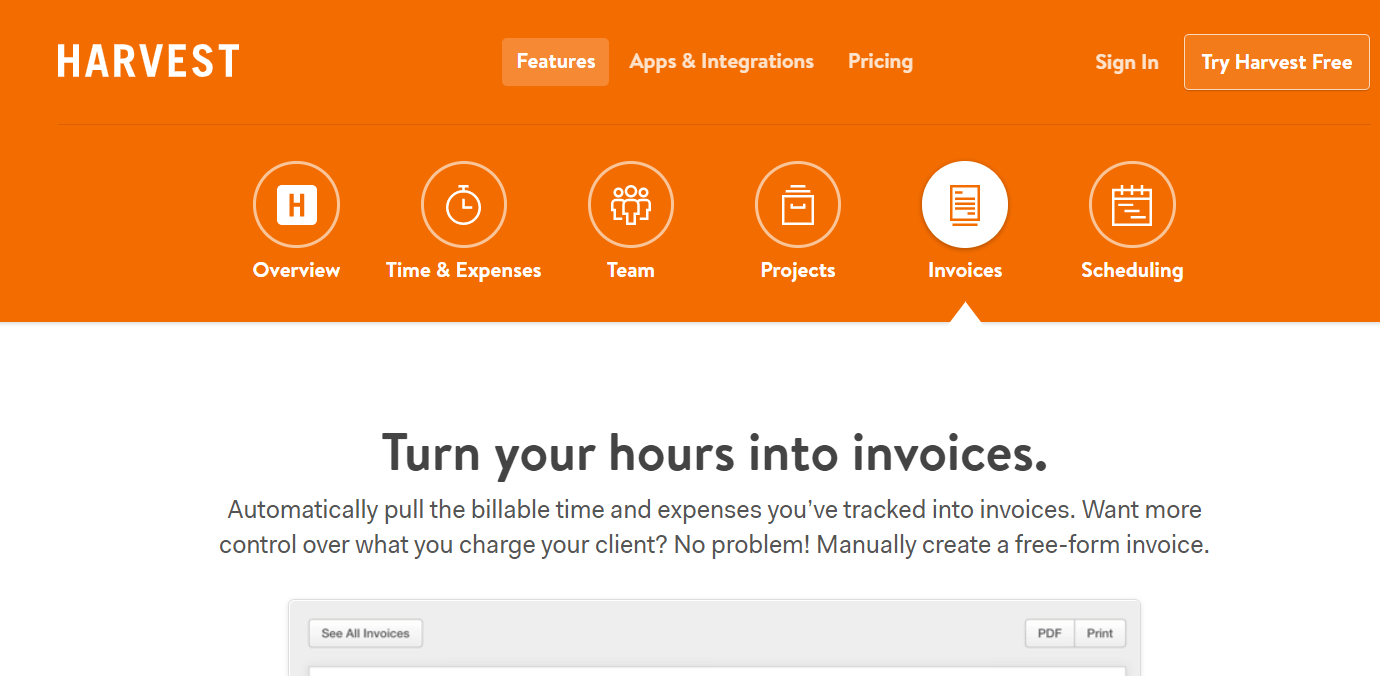 Harvest is an all-in-one invoice generating software for a small business that can efficiently track expenses, income, bills, and time. 
It also keeps you updated about all billable invoices and creates automated bills for you. Additionally, it also allows you to get a clear picture of all realized and unpaid bills. 
Wrapping up
So these are some of the best Invoice software for Small business. These tools can effortlessly manage all your invoicing and billing requirements while you can take care of other essential business activities. 
Prachi Dani is a technical content writer who specializes in areas of science and technology. She is highly up to date with technological transitions and transformations. Writing is not her passion but the only thing that carries satisfaction in life. If not writing, you may find her engrossed playing action games on her treasured smartphone.
Subscribe to Our
Newsletter

and stay informed

Keep yourself updated with the latest technology and trends with TechPout.
Related Posts