7 Best Banner/Poster Maker Apps for Android and iPhone in 2021
Here, we've handpicked the best poster maker apps for both Android and iPhone. Read the entire details below to get the ideal one!
There is no denial of the fact that visuals speak louder than words. Creative banners and posters have more power to convey and express one's mind and leave a long-lasting impact on the audience.
It forms the backbone of the advertising world. From funny posters to promotional and inspirational banners, the online spectrum is loaded with promotional graphics.
For individual use or business promotion, one needs to create posters quite often, so what do you do in such scenarios? Hire a professional!! Not every time. 
To your surprise, there are many banner maker apps available that help in making promotional graphics. Through this write-up, we have brought up the list of some amazing poster maker software that you can use to create innovative and impressive designs to spread your ideas to one and all. So, without wasting more time, let's get started with the list for the very same!!
List of Best Poster Maker Apps For Android & iPhone in 2021
Want to depict or scribble your ideas in a more amusing way? Then, we can help! Here's the rundown of the best poster making apps that you can easily get on Google Play Store and App Store. So, paint your ideas in the actual way you want!
1. Poster Maker, Flyer Designer, Ads Page Designer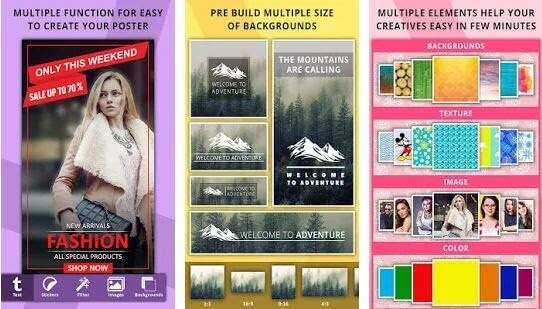 Rated highest amongst various poster making apps- this one offers almost everything that one can ever imagine. You can either create your posters from scratch or use pre-designed options available. One of the best poster making apps that you can easily get on the App Store and Play Store. 
Read Also: Best Photo to Cartoon Picture Apps
It allows you to pick a pre-designed background, customize it, add images, change its font and color. You also get an array of settings and options to create new posters, from its color to background you can choose everything as per your requirements. 
It also offers a wide variety of stickers, ribbons, decoration along with some excellent text customization options. 
Overall this is the best app to make a poster and offers a decent variety of poster making features. 
Download App: Android
---
2. Canva – Graphic Designer and Photo Editor Software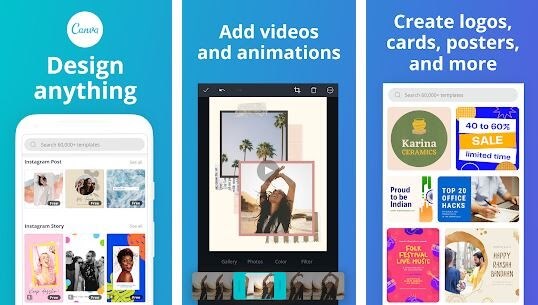 Considered as one of the best banner maker apps, Canvas is available on both iOS and Android platforms and enjoys an ever-increasing number of downloads. 
You can make posters, Facebook cover photos, logo, Twitter Header, and Youtube Thumbnails with this multi-purpose image editor. 
It has more than 60,000 pre-designed templates to offer. After selecting a model, you can modify it completely as per your requirements. You can change its color, font, add or remove images, and text. 
Overall it's a beautiful poster maker app and can be used to create amazing infographics.
Download App: Android and iPhone
---
3. Post Wrap – Poster Maker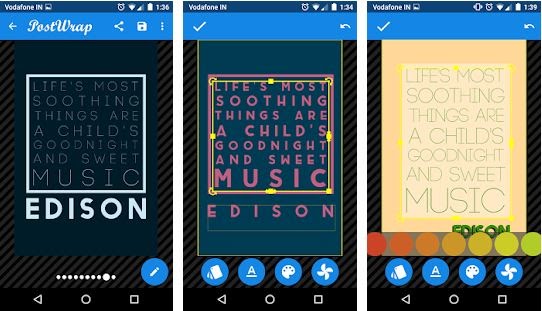 Moving forward, here is the best banner maker apps i.e., PostWrap, anyone can blindly include it in the list of most worthy banner apps. It offers all essential elements of poster making including special effects, font color, and you can also add text wherever required. 
Compatible with all Android gadgets this power-packed app can effortlessly make your pictures look stunning. Moreover, it takes out the artists within you and motivates you to design more posters. Whether you are an amateur or a professional user, you can't afford to drop it! So, click on the below download link to get this magnificent app directly!
Download App: Android
---
4. Poster Maker – Flyer Designer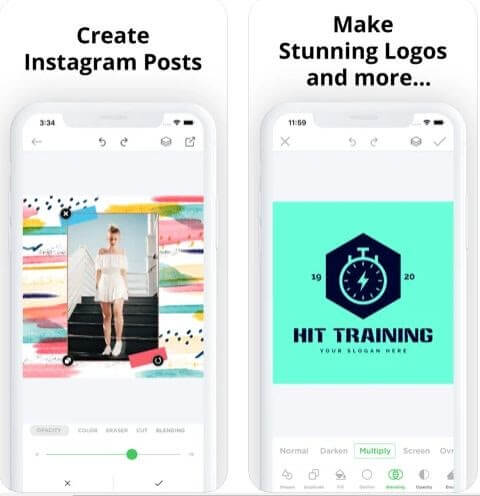 The next app on this rundown is Poster Maker – Flyer Designer which is more than an app for iPhone users, in order for those who especially want to take out their inner-shell. This app enjoys an unbeatable rating of 4.9 on the App store. It lets you create a bunch of graphics including banners, flyers, business cards, newsletters, social media posts, and many more. 
Read More: Best Pinterest Alternative Sites & Apps
You can also create your logos with it and customize images suitably.
Once you are done creating your image, you can save them in different formats and publish them on social media platforms directly within it. It is worth noting than other banner maker apps.
Download App: iPhone
---
5. Posteroid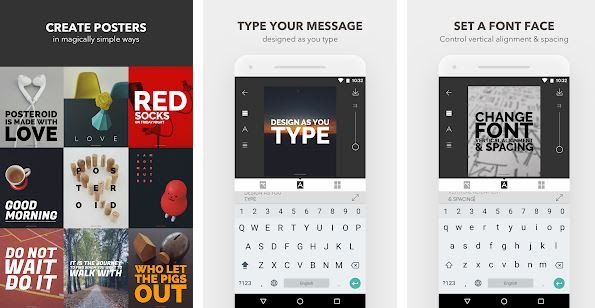 This best poster making apps for Android and iPhone is quite easy to use and is the ideal choice when you want to add captions and text to your pictures. 
Unfortunately, you can only use your images as backgrounds. It allows you to add text and simple fonts to your pictures along with white borders. You can save your final picture in small, medium, or large sizes. So, if you are a newbie and generally create normal posters then you can go with this dash-run app. 
Download App: Android and iPhone
---
6. VanillaPen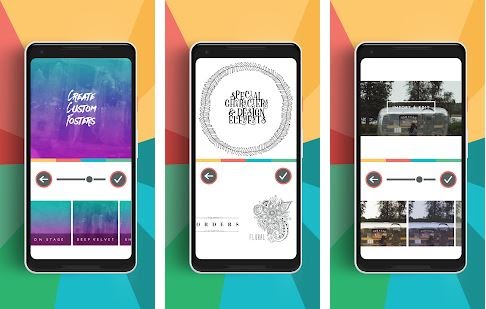 Next in the list of best banner maker apps is VanillaPen. It has a wide variety of fonts styles and text options to offer and is highly appreciated by people who like making customized posters. 
Furthermore, it also has several decorative and attractive features like sketches, borders, and badges. 
We assure you VanillaPen will never ever strikes you down in terms of anyways related to what it's supposed to do. Use this user-friendly app to create your masterpiece today.
Download App: Android and iPhone
---
7. Banner Now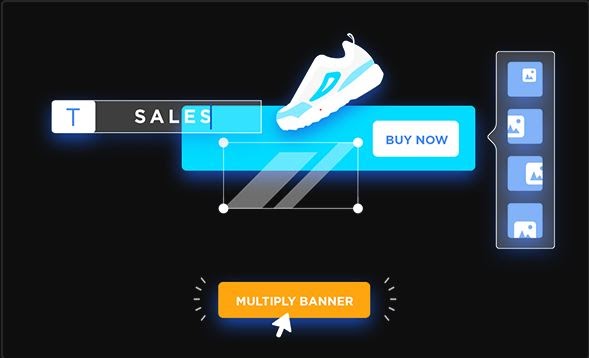 This web-based Flash banner maker comes with many features. You can either choose an existing banner or create one with custom dimensions. 
Read More: Best Instagram Photos & Videos Downloader Apps
It comes with a full-fledged editing screen where you can add special effects, change the background, font size, and icons. Each image is fully customizable with this easy to use banner generator tool. If you want to shape your ideas quite brilliantly just like a pro artist does, then Banner Now is the best app to make a poster, banner, logos, and more.
---
Which is the Best App to Make a Poster?
Above mentioned are a few of the best posters maker software which can help you in creating stunning pictures and posters. 
With the help of these tools, you can add flying colors to your creative side. With all this, it's time to wrap up the list of best banner making apps for Android and iPhone. Hopefully, now you can create your art-piece by using one today. 
Lastly, don't forget to subscribe to our Newsletter, and if you feel there is something which we forget to mention it about then do tell us in the comment box below. We'll see you soon with yet another eye-catching techy post to bring you a bit closer to the tech realm. Till then, stay tuned with us!
Prachi Dani is a technical content writer who specializes in areas of science and technology. She is highly up to date with technological transitions and transformations. Writing is not her passion but the only thing that carries satisfaction in life. If not writing, you may find her engrossed playing action games on her treasured smartphone.
Subscribe to Our
Newsletter

and stay informed

Keep yourself updated with the latest technology and trends with TechPout.
Related Posts