The approach to a productive to-do list is incomplete without the presence of office apps. There's always a hustle to draft crucial documents, create spreadsheets and then, office apps save you accidental deletion of those documents. There's a lot to benefit from such apps in terms of backup, sharing and of course, betterment in productivity due to a variety of tools including especially the editors.
This article names 7 best office apps for Android smartphone users in 2021. Cut short on everything else and take a moment to view the best office apps to take a hand from.
What Are The Best Office Apps For Android Devices In 2021?
This list of best Android office apps brings major features including sheets, presentations and support for various formats. You can flawlessly accentuate a word document and tweak it with the help of images and editors that are present in almost all the office apps. Most of these apps are free but some also have pro and premium versions in the store for you to treat more extensive features. We will let you jump to the list and see it for yourself.
Here are the best Android office suits in 2021: 
1. Google Drive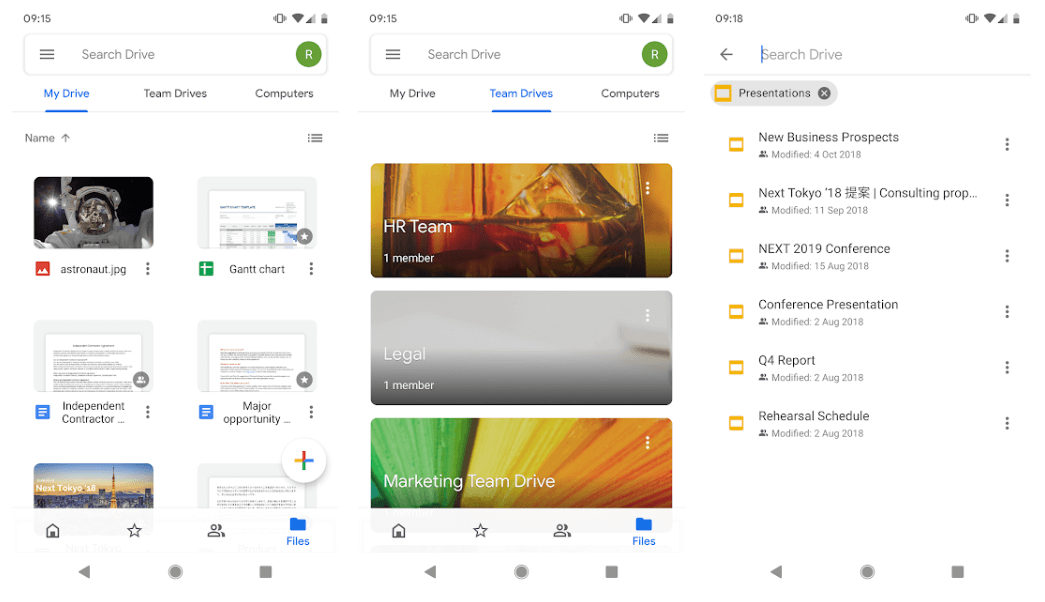 Google Drive is almost everywhere, being preferred by the majority of the population. While you call it Google's ever-rising treat, you cannot keep from passing the credit to its extremely useful functions. The interface is simple and straightforward enough to navigate through the options. It brings a platter of office apps which includes Google Docs, Google Slides, Google Sheets, PDF viewer and then, Google Drive. Basically, it is a storage hub for this variety of documents and services for free. 
Read Also: Best ES File Explorer Alternative Apps For Android
However, if you want to own more of the Google Drive space then let us tell you, Drive offers 100GB at $1.99 per month and its plans go up to 10TB at $99.99 per month. This one is worth being called one of best office apps for its all-in-one functionality and of course, its popularity.
Download App: Android
---
2. Microsoft Office
Price: Free / $6.99-$9.99 per month
Ever since Microsoft has geared up its services to mobile, its popularity has undeniably doubled and made it one of the best office apps. Microsoft offers you to open and save files and also lets you use OneDrive to sync the files to your desktop. Besides, you can make use of its editing tools. Simply download Microsoft Word, Excel and PowerPoint which is free and get started. However, to unveil more features, you can get a subscription for Office 365 starting at $6.99 per month. 
Download App: Android
---
3. Office Suite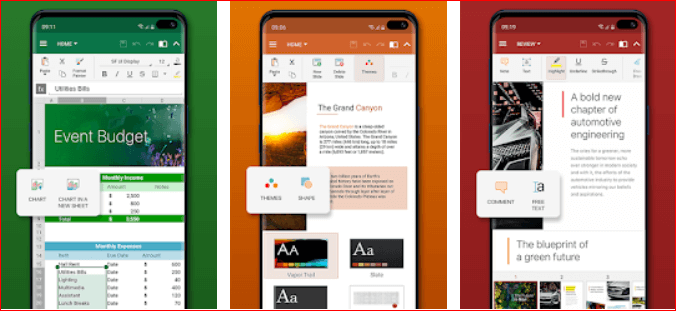 Price: Free; Starts at $19.99
Now comes another best office app for Android devices that services you with all the essential tools to lead your to-do. First of all, the relieving part about this office app is that it supports every basic Microsoft format like DOC, DOCX, XLS, XLSX, etc. and it also has compatibility with other major file formats like PDF, ODT, OOS, ODP, etc. Office Suite allows you to access files in Google Drive, OneDrive, Amazon Cloud Drive, MobiSystems Drive and Dropbox as well as sync them. 
If you are looking for an app to fetch services like creating and editing your documents then perhaps the free version will meet your demands. To get features like PDF scanning, spell-checking and chat functions with several other offers, you may want to go for the paid version.
Download App: Android
---
4. Polaris Office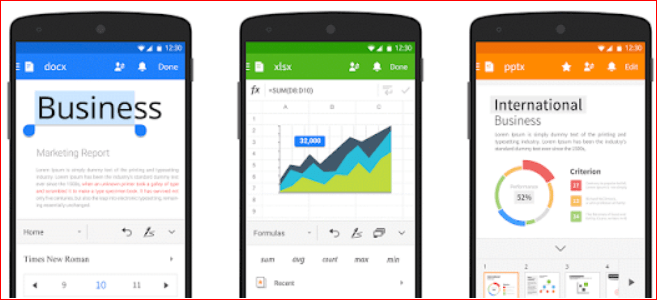 Price: Free; Starts at $3.99 
You will find this one of the incredible office apps, Polaris Office, in an easy-to-use and friendly tool and with the benefits of most important features, this app makes a tool worth trying. Coming to its features, it all begins with its ability to support multiple file formats PDF, PPT, DOC, DOCX, XLS etc. 
Read More: Best Free Document Scanner Software for Windows 10
Then, it has compatibility with other office apps. Although you can view and sync your files and documents on Polaris Drive it also allows you to access your files in other cloud platforms like Google Drive, Dropbox, Box and OneDrive. Another cool feature of this office app is that it lets you use a pointer and pen to create and take notes. You can open the files and start brushing up on them if you wish to make edits. This office tool offers free as well as premium versions.
Download App: Android
---
5. WPS Office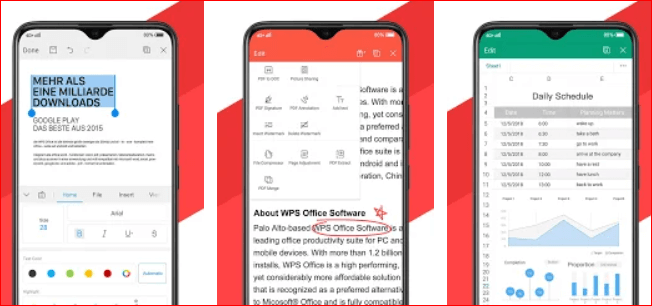 Price: Free; $29.99/year
WPS Office brings you an all-in-one office tool that assists you with major features of Microsoft Office as well as Google Drive. Standing for Writer, Presentation and Spreadsheets, WPS allows you the ability to create and edit your presentations and spreadsheets. 
You can also add finishes to word documents and PDFs with this tool. It lets you save and access your files and documents including these presentations and spreadsheets in your preferred cloud storage platform. 
Apart from these functionalities, you get a free PDF reader in WPS Office and it brings you the converter as well as an editor in order to let you freely check and add your signature to a PDF file. So, there's no harm in checking this wonderful office app once and decide for yourself.
Download App: Android
---
6. Docs to Go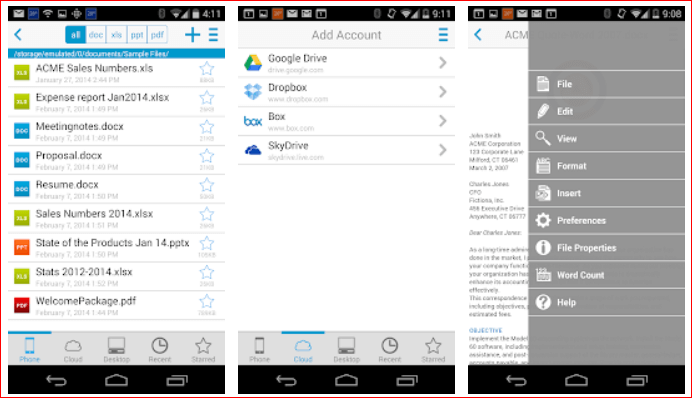 Price: Free; $14.99 
In the search of an office app, wandering through a multitude of important features, you can consider checking out what Docs to Go app has in the store for you. Compatible for your Android mobile, this office app allows you to view and sync your files using your device to your cloud.
You can easily open and edit the files and documents on your phone and apart from that, there is room for sharing and receiving the email attachments in supported formats via Gmail and other email tools.
Another interesting feature to use in Docs to Go is its ability to let you find and replace the documents so that you can save time and quickly start viewing and editing them. If you go for the paid version, there are features including password protection on Word, Excel, PowerPoint and PDF files.
Download App: Android
---
7. Smart Office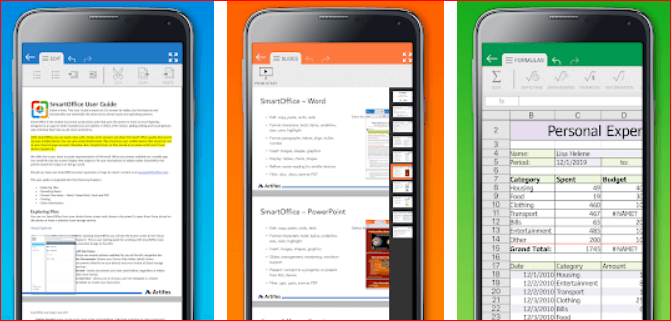 Price: Free
If you are trying to select the best office all to meet your expectations of productive assistance then you can give a moment in magnifying the Smart Office app for Android. With Smart Office, you are free to easily plan the meetings and create presentations. 
You can flawlessly format and put finishes to your slides with perfect sequences, graphics and transitions. Another incredible part is that this app lets you present these slides directly on your mobile as well as using a projector at your best convenience. 
Read More: Best Notification Apps For Android Smartphone Users
Smart Office gives you the privilege of a wireless printing feature with which you can print from a number of supported printers. If you don't have too much to ask for then with a pile of useful features, this one may turn out to be the best office tool for your Android device.
Download App: Android
---
Accent The Productivity With Best Office Tools Of 2021
Raising the productivity bar has turned easier and more convenient in the presence of office apps. Now that you have just hovered around the best office apps for Android, let's hope that they better your pace and save you from the fuss. 
While you will successfully find many best free office apps for Android, it is up to your requirements and the size of your agendas if you don't bother splurging on premium versions to summon additional features. Amidst all this, let us know which one from this list is the best office app for you. Shoot your views in the comment lane and we will soon return with another list of the best ones. 
Jyotsana is a technical writer with a non-technical background. An eye of detail and a knack for writing helps her to write technology related content.Apart from writing, she is a coffee connoisseur and an aesthete who rejoices in poetry and music during leisure.
Subscribe to Our
Newsletter

and stay informed

Keep yourself updated with the latest technology and trends with TechPout.
Related Posts