8 Best Freelance Platforms for Beginners to Earn Money in 2023

Freelancing gives you the liberty to work whenever you want and wherever you want. Most often, it lets you be your own boss. Hence, this article introduces you to the top freelancing platforms and websites for beginners.
No boss, no tight working hours, and perfect work and life balance, these and many other perks are a reason people prefer freelancing over full-time jobs. Talking numbers, the US has over 70.4 million freelancers as of now.
If you are also willing to join this bandwagon of self-employed individuals, you may check the best freelance platforms shared in this article.
The top freelance platforms connect you to organizations looking for someone with skills, location, or experience like you. So without further ado, let us get straight into the well-researched list acquainting you with these websites to earn money.
List of the Best Freelance Platforms that Work in 2023
The following is a list of the best freelance websites with a plethora of jobs and opportunities for beginners.
1. Fiverr

Let us begin our quest for the top freelance platforms with Fiverr. It is among the most popular websites connecting freelancers with organizations searching for services in various sectors, such as content writing, website designing, mobile application development, and a lot more.
You should note that Fiverr calls freelancers sellers, the work they perform gigs, and business owner organizations buyers. Moreover, the following are some other noteworthy Fiverr features making it one of the best freelance websites for beginners.
Key features of Fiverr
Used by many big companies like Facebook and Netflix to hire freelancers
You can register on Fiverr for free
Protected payments (note that freelancers get 80% of the price, 20% deducted as Fiverr's commission)
Round-the-clock support
Also Read: Best Programming Languages
---
2. Jooble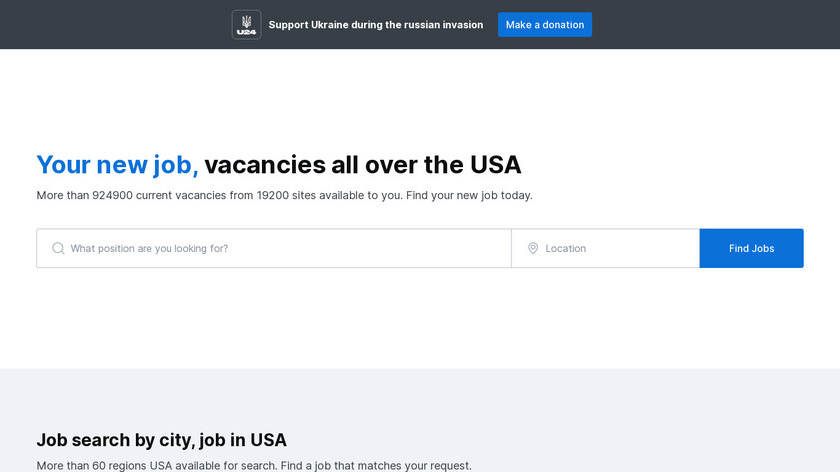 Next, we have Jooble on our list of the best freelance platforms. It is a job search engine aggregating over 140,000 worldwide sources such as online job boards, social networks, corporate websites, classifieds, and online job boards.
With Jooble at your disposal, you do not need to search multiple platforms for freelancing opportunities, as it centralizes the whole process. Additionally, the following are Jooble's other remarkable features.
Key features of Jooble
No account is needed, you can search for the desired job with its keyword
You may apply filters like salary range, post date, work experience, etc., to find the desired job
Informs you about new jobs posted related to your searched keyword if you sign up for email alerts
---
3. Toptal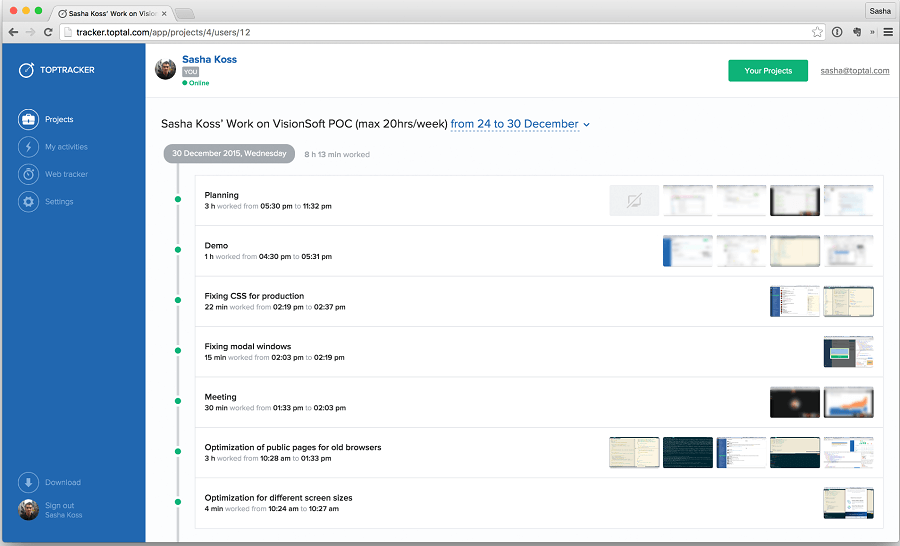 We have Toptal in the third position on our list of the best freelance websites for beginners. It is among the top platforms, but getting into it may require a bit of effort from your end. To get into Toptal, you must clear a five-step screening process, consisting of project assessment, English evaluation, etc.
After clearing the screening process, you get access to a wide range of job postings from companies like Airbnb and Motorola. In addition to it, the following features contribute to making Toptal one of the best online working platforms for freelancers.
Key features of Toptal
TopTracker for invoicing and time tracking
You get the complete offered price
Toptal pays you via Paypal, Payoneer, or direct local bank transfer
Only developers, finance experts, designers, and project and product managers can work with Toptal
Also Read: Best Tumblr Alternatives
---
4. Upwork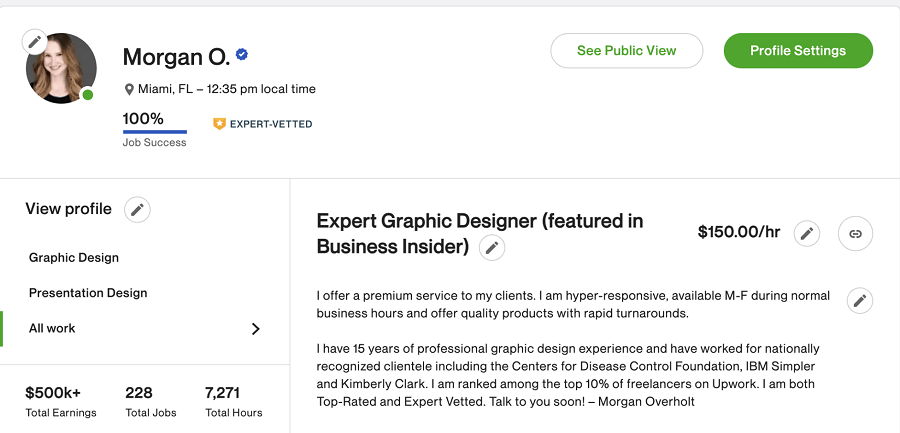 Next, we would like to list Upwork as one of the best freelance platforms. The website is highly popular due to the availability of a plethora of categories such as web design, software development, accounting, and customer service.
Moreover, Upwork offers many resources and articles to help you find work and grow your career. Furthermore, the following are a few other attractive Upwork features.
Key features of Upwork
Availability of a job board where you can offer to sell a service
The more you work, the less Upwork's commission fee
Many payment withdrawal options, such as PayPal, direct transfer, and wire transfer
Upwork has a lot of credible clients on its platform
---
5. Freelancer.com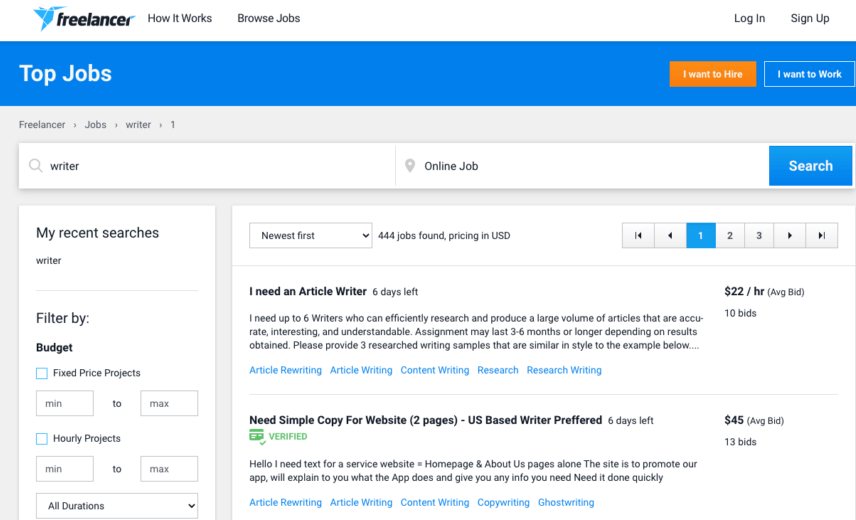 Next, we would like to talk about Freelancer.com. It is yet another top freelance platform for beginners to earn money. In addition to freelance opportunities, Freelancer.com runs many contests, such as web design to help you earn money and reviews on your profile.
Moreover, Freelancer.com boasts the following features to attract users to this one of the best freelance websites for beginners.
Key features of Freelancer.com
Used by companies like IBM, Google, and Amazon to hire freelancers
Availability of modules to generate ideas and learn about different subjects
Freelancer.com offers a progress tracker
24*7 customer support
Also Read: Accounting Software
---
6. Flexjobs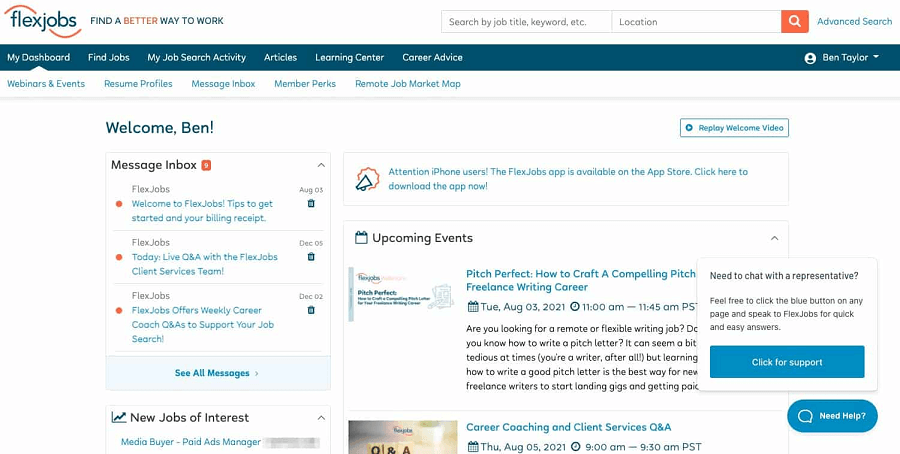 We cannot skip Flexjobs when talking about the best freelance platforms. Specializing in remote jobs, Flexjobs offers great freelance opportunities as well. Here, you may find work in various categories, such as writing, education, and journalism.
Additionally, Flexjobs screens and verifies all job openings so that you see only legitimate jobs and stay away from fake companies. Furthermore, the below features are also a reason for listing this platform as one of the top freelancing websites to earn money.
Key features of Flexjobs
Availability of career coaching sessions, articles, and events
Quick and simple process to make a profile
Email alerts when a new job is posted by an employer
Offers protected payments and API for developers
---
7. Guru
Here comes Guru, one of the top freelancing platforms for beginners. Here, you get job recommendations according to your skill set and work experience.
Moreover, there are both short and long-term projects for you to bid on. And the following features make Guru an even more desirable option as one of the best online working platforms.
Key features of Guru
SafePay to ensure timely payment to freelancers
Progress tracking and API for developers
Boasts a huge user base
Customer support through the contact form and phone
---
8. People Per Hour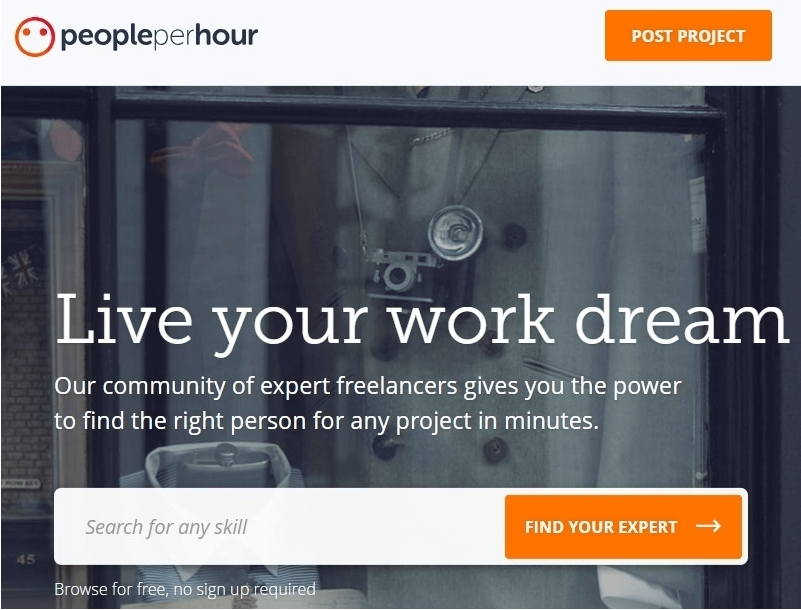 Finally, we have People Per Hour to conclude this list of the best online working platforms. Here, organizations/business owners hire freelancers by project or hour.
All you need to do is create a free account, set up your profile, wait for the moderators to approve your application, and, once approved, browse for freelancing jobs.
Moreover, we would like to mention the following features of this one of the top freelance platforms.
Key features of People Per Hour
Freelancing opportunities in a plethora of categories, such as content writing, SEO, web development, etc
Option to apply for certification so that you become more attractive to employers
AI system that matches you with potential projects according to your abilities and experience
Project Streams allow easy communication, project management, and asset sharing between freelancers and employers
Also Read: Top 5 Software Development Languages For Programming
---
Summing Up the Best Freelance Platforms
In this article, we discussed the best freelance websites for beginners to earn money. You may go through the above list, study the features of all platforms, and then select the one that fits your requirements the most.
If you think any other top freelance platforms should also feature on the above list, you may mention them in the comments section for us to review and add them. Also, do not forget to share your views about this article in the comments section.
Niharika is a passionate soul who finds immense satisfaction in putting all her thoughts in writing. Being a technology enthusiast, she loves learning new things about tech and making everyone technologically literate through her articles. When not composing tech articles, you can find her bringing characters to life in her fictional stories, reading something intriguing, or spending time with her near and dear ones.
Subscribe to Our
Newsletter

and stay informed

Keep yourself updated with the latest technology and trends with TechPout.
Related Posts