Best Free Video Enhancer Software for Windows 10, 11 in 2023

The article mentions a detailed list of the best free video enhancer software that you can use on your Windows 11 or 10 devices. 
Video conveys more information than still images or words ever could. It is impossible for things to go worse than finding a video you have been looking for for a long time, only to discover that the video is unclear or blurred. In such a situation,  you might come across the question, How can I make the quality of this video better? In order to enhance the quality of your videos, you should invest in paid or free video enhancer software.
Although there are endless tools available online to edit videos and enhance their quality we have listed the best free video enhancers that you can use in 2023. Additionally, these can also be used on other platforms depending upon the compatibility.
So without any further ado let's begin our guide on the best video enhancer software for Windows 11, 10, or other devices.
7 Best Free Video Enhancers for Windows 11, 10
The following section in detail mentions a comprehensive list of the best video enhancers available for Windows devices. Go through the description and use the most feasible video enhancer alternative for your system.
1) Adobe Premiere Pro CC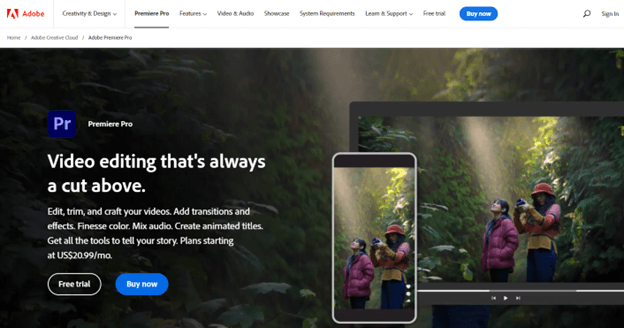 The first one on our list of best free video enhancer software is Adobe Premiere Pro CC. The program makes it simple for users to enhance the video's overall picture and sound quality. It gives you the ability to export videos in a variety of formats. The list of options available for formats includes AVI, MXF, etc.
The video enhancement software allows you to edit videos and improve the quality of the file. Once the enhancement completes you can easily export the video on your desired platform.
Key Features of Adobe Premiere Pro CC:
Expand the capabilities of the editing platform.
Transform your videos into the desired format automatically.
Assists in the management of curve corrections.
Offers tools required to develop and share custom narratives.
You can combine audio and video with the help of this video enhancer.
Also Read: Adobe Premiere Pro Alternative Tools for Video Editing
---
2) Kapwing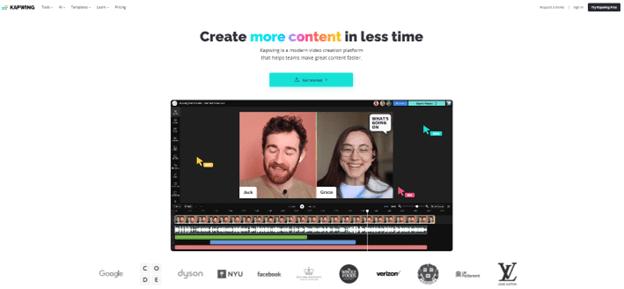 Here comes the next free video enhancer on our list which is definitely one of our favorites i.e Kapwing. This video quality enhancer offers a straightforward user interface. It also serves as an ideal option for anyone looking for a way to edit short footage. The tool can be downloaded from the official website and installed on your computer for use. Apart from video enhancer it also offers multiple features that are listed below.
Key Features of Kapwing:
You have a lot of options available to you with this free piece of software.
The aspect ratio is one of its top characteristics, and it may be of great assistance to you in the process of optimizing your video for all platforms, including YouTube, IGTV, and others.
Alter the aspect ratio of your movie as well as make other modifications, such as changing the color profile or the color of the background, among other things.
Even if you join the website for free, they will not add the watermark to your photos.
---
3) Avidemux
To move further with our list of free video enhancer tools, the next one we have is Avidemux. This video quality enhancer tool is available for free on the Windows platform. It requires not much of expertise and is beginner friendly to edit and enhance your existing video files.
Key Features of Avidemux
You are able to sharpen your image and reduce the amount of noise in it with assistance.
You may not be able to raise the resolution of the video, but you can change the format in which the video and audio are delivered.
Can make a huge impact, particularly if you plan to submit the video on YouTube, as a crisper image will not have much of an effect after being processed by YouTube's severe compression algorithm.
This is especially true if you plan to upload the video on YouTube.
Having said that, it is not a flawless application, and you cannot get away with simply having this and not good video editing software without a watermark. It does not feature any of the bells and whistles that you might want, such as animations, transitions, and so on, which might be a deal breaker for you. Overall the video quality enhancer tool is a fair choice for basic editing and enhancements.
Also Read: Best Free Video Merger Software
---
4) Ashampoo Video Optimizer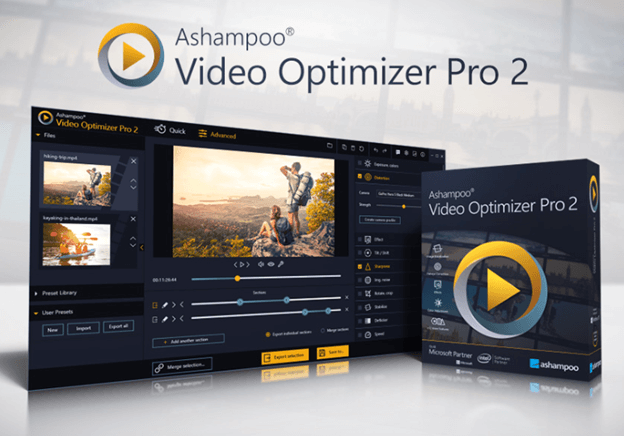 Ashampoo Video Optimizer is another best free video enhancer tool available. This robust video editor helps you get the most of each of your shots. Simply clicking a button will allow you to sharpen your film, improve the colors and contrasts. Moreover you can stabilize unstable movies through this video quality enhancer tool.
Key Features of Ashampoo Video Optimizers
Reduce the amount of noise in your films and still images by lowering the ISO and improving the illumination.
Take away the fish-eye look from both the video and the photo.
This video enhancement software can help you boost the contrast, saturation, and other features of your films and photographs, giving them a more vibrant appearance.
Includes filter named tilt-shift in camera's settings to produce a blurring effect that is selective and give your photographs a distinctive appearance.
It is capable of boosting the sharpness and contrast of your photographs and videos, giving the appearance of greater crispness to the final product.
---
5) Clip Champ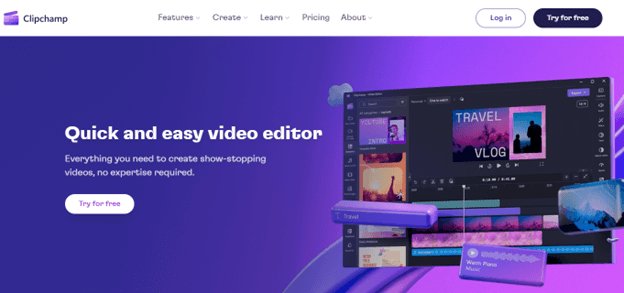 Next one here on our list for best video quality enhancer tool is Clip Champ. This free video enhancer is a piece of software that enables users to edit and improve the overall quality of any clips they have. The huge video template library offered by the program are editable. You are able to combine different clips of stock footage with different audio tracks.
Key Features of Clip Champ:
This tool not only enhances video quality but also makes it easy for you to compress, convert, collect, record, and generate videos without causing you any problem.
You will have the ability to trim, crop, and rotate the video. Producing videos with media assets from the stock library is now possible thanks to this feature.
It helps you minimize the file size, convert clips into MP4, and does a lot more besides.
Also Read: Best Free Video Stabilization Software for Mac
---
6) AVCLabs Video Enhancer AI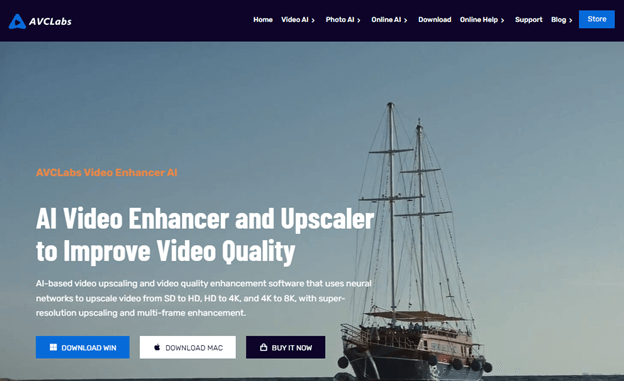 AVCLabs Video Enhancer AI is an AI-powered video enhancement and upscaling program that uses a neural network to improve the video quality and upscale video from standard definition to high definition (720p or 1080p), to 4K, and 8K with a single click. Additional features include super-resolution upscaling and multi-frame enhancement.
Key Features of AVCLabs Video Enhancer:
Lossless video upscaling from standard definition to 4K or 8K resolutions
Use artificial intelligence to make your videos look better.
Completely automatic processing of video, without any adjustments.
Support automated face refinement to increase faces' details
Super quality is capable of regenerating a high-quality video from a source that only has a low resolution.
Generate additional pixel data to fill in the blanks where the original video was lacking.
Improved Video quality, removed motion artifacts, stabilized video wobble, and removed overlay noise and grain for realistic results.
---
7) Lightworks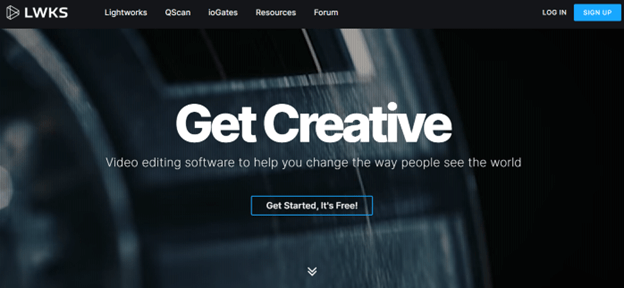 The next one here on our list of best free video enhancer software is Lightworks. This video quality enhancer platform allows the editing of digital video present in broad variety of formats. These can be high definition (HD), 2K, and 4K resolutions, among others.
With the video enhancement software, you will be able to export films to platforms like YouTube, Vimeo, and more using this program that improves video quality.
Key Features of Lightworks:
You will have no trouble editing the movie chronology or trimming it down.
You have the ability to create both the titles i.e. 2D & 3D.
Sharing a clip with other users and giving them read or write access to the clip is possible within Lightworks.
You are able to personalize the shortcuts with the help of this video enhancement tool.  Lightworks provides support for a wide variety of languages, including English, German, and Italian.
The video editing software makes it easy to trim your video to the appropriate length.
Operating systems such as Windows, Mac, and Linux are supported.
Also Read: Best Free Video Sharing Sites Like YouTube
---
Steps to Improve Video Quality via Best Free Video Enhancer
As we have listed the best free video enhancers you can select any one of the suitable options and apply the underlying instructions to improve the quality of your video.
Add video file into Video Enhancer
Step 1: You can get this software onto your computer for free by downloading it, installing it, and running it.
Step 2: Simply click the "Add File" button to begin the process of importing one or more video files into this software for the purpose of enhancement.
Enhance Video
Step 3: To access the improvement interface, navigate to the home screen and select the "Video Enhance" option.
Step 4: Here you will have different choices available to you here to increase the overall video quality.
Step 5: When you start with a standard definition video, upscale resolution can help you get a much higher level of video quality.
This will automatically make the colors in your movie more pleasing to the eye by adjusting the brightness and contrast.
Additionally, You may get a steady video with the help of reduce video shaking, which does this by altering how the full frame moves.
Edit the video and export it.
Step 6: After you have improved the quality of your video, you will be able to use this free software to edit video files in a variety of ways. This includes rotating, flipping, adding a watermark, cropping, and applying effects.
Step 7: Click the Convert button once you've finished configuring everything else before beginning to export the movie.
Step 8: Simply choose the desired format from the drop-down list of Profile to do the conversions, and then click "Convert" to apply all of the effects and output the video file.
These are the basic steps for video enhancement software. However, for advanced editing you can learn about the working of each software and then use it to enhance video on your Windows devices.
---
Closing Lines Best Free Video Enhancer Software for Windows
That was it from our side. We hope the above guide helped you find the best free video enhancer tool for your Windows device. Hopefully, you were able to select the most suitable option depending on your requirements. If you think we missed out on your favorite video enhancer software feel free to add them in the comments below.
For any questions or suggestions related to the video enhancement software please leave them in the comments below. Also, for more lists and tech guides don't forget to subscribe to our blog. Follow us on Facebook, Instagram, Twitter, or Pinterest to never miss any tech tips, news, and updates.
Akshara is an Engineer turned Technical Writer. She is a tech reader who aims to deliver the best of her knowledge to the readers without complicating it. If not writing you can find her in the kitchen, because no place serves the good tea.
Subscribe to Our
Newsletter

and stay informed

Keep yourself updated with the latest technology and trends with TechPout.
Related Posts