Here, you will learn about the 8 best free phone number applications for Android that allow you to make phone calls free anywhere in the world.
We all have witnessed the era of utilizing actual landline phones but eventually, it comes to an end. Between easily available Internet & cheaper smartphones, it is easy to drop that cord for good. You will still need to get a data connection like WiFi or a carrier plan, but there are certain applications available over the web that allow you to make phone calls at no cost.
Free calling tools help you make or receive international and domestic calls for free using cellular data or WiFi. Phone number apps include other much-needed features such as transferring, call recording, call forwarding, and customized voicemail greetings. Such apps give you a second phone number (typically in the US) that you can consider to text or call any other America-based number, and fortunately, it will exactly show that you are in the US only.
This write-up contains a descriptive list of top-notch free phone number apps for Android, and it will help you make the right decision.
8 Best Free Calling Apps for Android to Making Free Phone Calls
Below listed are some of the most popular phone number apps that you can consider to make calls for free across the globe. Without further ado, let's get started.
1. Dingtone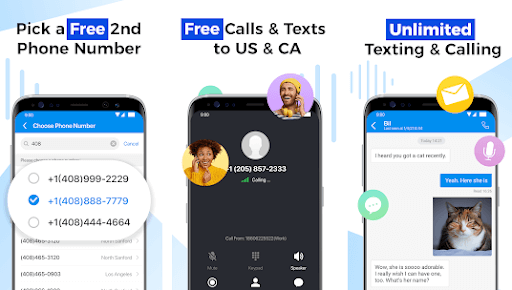 Dingtone is one of the most excellent phone number apps available on the Google Play Store. The application can give you a phone number according to your local area code. Moreover, it can make phone calls across 200 countries. With this free number app, users can easily make an unlimited number of calls over mobile data as long as their corresponding friends & family use the same application. The in-app purchases enable you to make phone calls even to real phone numbers through a credit system. Later on, you can add or get more free credits via numerous adverts and promotions.
Key Features of Dingtone: 
Make phone calls to anyone without any sort of hindrances.
It supports international calling.
Make video & voice calls, and send messages in over 200 countries.
Supports conference calls.
Comes with an in-built recorder that allows you to record calls.
Also Read: Best Voice Changer Apps For Android
---
2. Hushed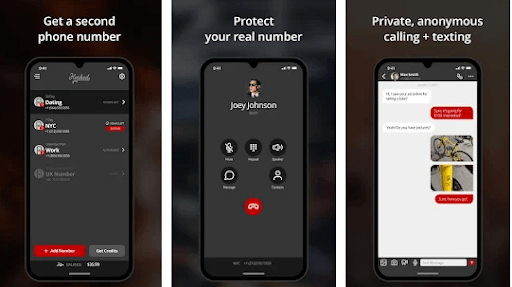 Yet another free phone number app for Android is Hushed. It lets you call, and send pictures, videos, and texts to any number across the world. This app helps you keep your real number safe and protected by giving you a second number that you can consider to make phone calls. What's more, it allows you to add and manage multiple phone numbers. In addition to this, it also lets you forward a call to another number. Using this tool, the users can also record and customize their voicemails.
Key Features of Hushed:
Completely free to use.
Keep your conversation secure and private.
Enables you to integrate the app with Slack or DropBox.
You can even access your number through WiFi or a data connection.
Users can manage more than one number.
It has full talk, text (SMS), picture messaging, and MMS capabilities.
---
3. Grasshopper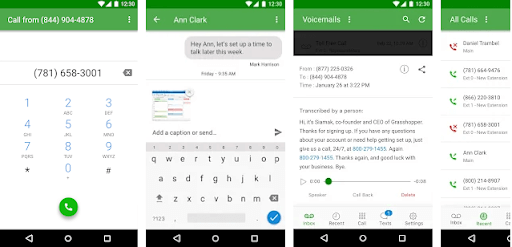 Grasshopper is a free phone number app that offers excellent communication solutions for small organizations or businesses. The tool provides a one phone number that can be accessed on currently existing mobile devices or landlines, without any hassles. Moreover, it lets you receive multiple calls at the same time by routing to another team member or phone. Its WiFi calling feature easily detects suspected spam calls. Users even can modify the call forwarding settings.
Key Features of Grasshopper:
You can make and receive phone calls through a mobile or desktop application.
This app converts voicemail messages to text so that you can easily read without listening.
It offers a complete view of your business interactions across multiple channels.
Allows you to record professional messages in order to welcome your clients or customers.
The tool lets you send/share fax documents as a PDF from your preferred email.
---
4. Ring4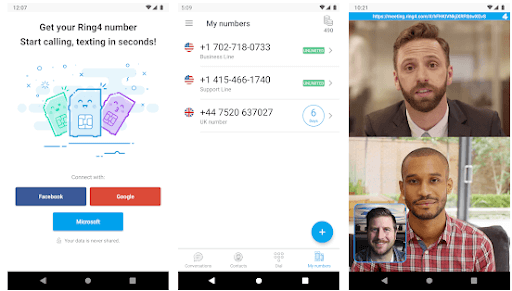 Be it for business or personal purposes, Ring4 is the best free phone number app that you can consider in order to generate a second phone number. Not only a second phone line or eSim, but Ring4 also supports high-definition (HD) video conferencing, call recording, voicemails, robot call blocking, and international calls. With an unlimited call, text, and video meeting plan, Ring4 is an excellent solution for your virtual office.
Key Features of Ring4: 
Creating and managing multiple phone lines is much easier.
Allows you to choose a number with your local Area code.
Provides a contact list and dial-pad.
Comes with in-built recorders that help you record any call with ease.
Its smart block feature lets you block unwanted calls.
Enables you to customize voicemail messages or greetings.
You can send text messages along with emoticons and picture messaging.
Also Read: Best Video Chat and Calling Apps for Android
---
5. MightyCall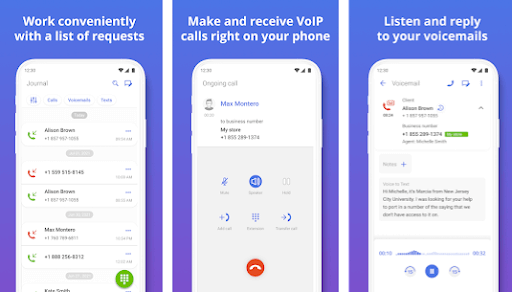 MightyCall is one of the best virtual phone systems designed especially for small businesses. This free phone number app enables you to make and answer calls on any device of your choice. It also lets you reject the call, accept, or send it to voicemail. The application helps you to form your flow with a conversational and clear chart. Moreover, it provides you with the complete history of your communications. You can effortlessly forward calls to any phone number or device.
Key Features of MightyCall:
Offers unlimited calling.
You can choose a toll-free or area code number without paying a penny.
Allows you to record your calls.
Lets you listen to voicemails and receive notifications.
You can even visualize your voicemail.
Organize all contacts related to your business in one place.
---
6. GrooVeIP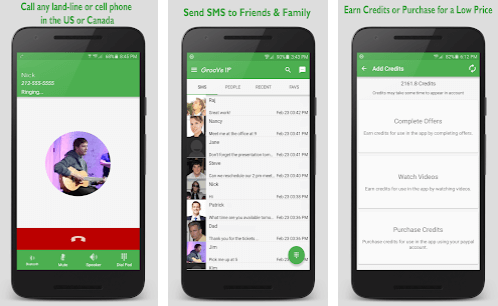 GrooVeIP is another deserving free phone number app for Android. Using this application, you can get a real US phone number that you actually give to other people. This service supports both texts and calls. In addition, the app contains in-app purchases. If we talk about the free part, then it is a little bit iffy. You can also earn credits at no cost. But for this, you will have to watch advertisements and complete the required offers. We understand that it is a bit daunting but it works like magic. Additionally, there's also an option to purchase credits. Not for unlimited, but the tool is a perfect choice for limited free calls.
Key Features of GrooVeIP:
Lightweight and easy-to-use tool.
It has a separate dialer that can be accessed to make phone calls.
This Android free phone number app will provide you with free credits every month.
Easily call any landline or mobile phone in Canada or the US.
Send text messages to friends & family.
---
7. ConXhub
Last but not least, ConXhub is another free phone number app for Android users. It is a lightweight and user-friendly application that enables users to generate multiple numbers and profiles. Using this advanced business phone number app, you can even receive phone calls from multiple numbers. Not only for Android, but it is also available for iOS devices.
Key Features of ConXhub: 
Provides good and high-quality calls.
Lets you forward calls to any phone or mobile device around the world.
It can provide you with a local, international or toll-free number from any country of your choice.
Simple and quick navigation.
---
8. Phone.com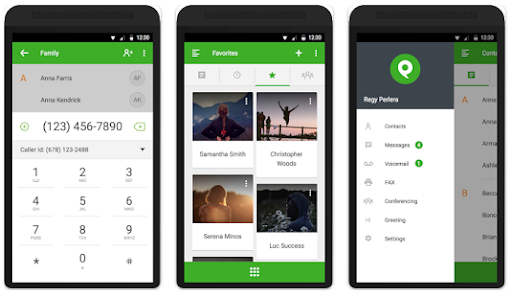 Last but not least, Phone.com is the last free phone number app for Android. This tool is quite more advanced than any other conventional alternative. This tool is used by a lot of businesses to take care of their professional needs like sales, support, and many more.
Key Features of ConXhub:
The interface of the app is quite simple.
You can create multiple numbers as per the number of users with the tool.
You can use the app to send SMS and MMS from your smartphone.
The app also supports conference calls.
Also Read: Best WiFi Hacking Apps For Android
---
That's A Wrap!
So, the above suggested were some of the best free phone number apps available for Android. We hope you liked the information shared in this article helpful.
If we missed out on anything, then let us know in the comments section below. Furthermore, you can also drop your queries or doubts in the comments. Before you go, do subscribe to our Newsletter for receiving daily technology updates.
Lastly, you can also follow us on our Social Media – Facebook, Twitter, Instagram, and Pinterest.
Harshita Sharma is a technical writer with quite a distinct understanding of the tech realm. She is a tech enthusiast who believes that tech knowledge should reach one and all and tries to convert the sketchy knowledge into the simplest possible form for making people understand the tech world better. When not playing with words, she loves to travel and explore new places. And, is a coffee & cricket connoisseur.
Subscribe to Our
Newsletter

and stay informed

Keep yourself updated with the latest technology and trends with TechPout.
Related Posts