11 Best Disk Cloning Software For Windows In 2021

Disk cloning forms an integral part of this digital era, not only for professionals but also for home users. Our hard drive is filled with both essential and not so valuable data which we cannot afford to lose.
Creating a system backup is always advisable to avoid data loss, and this is where disk cloning software comes into the picture.
The hard drive cloning tool, aka disk imaging software helps you transfer data from one system to another and at the same time, ensures data privacy through encryption.
The post ahead will talk about the best free disk cloning software available for Windows 10, 8, 7, and older versions.
What Are The Best Disk Cloning Software For Windows 10, 8, 7 In 2021?
Disk cloning software offers an easy way to transfer your operating system data from a hard drive to an SSD. These tools help in creating system backups and enable smooth data recovery with their advanced features.
The best part is, you need not be an IT professional to use these tools.
1. Paragon Drive Copy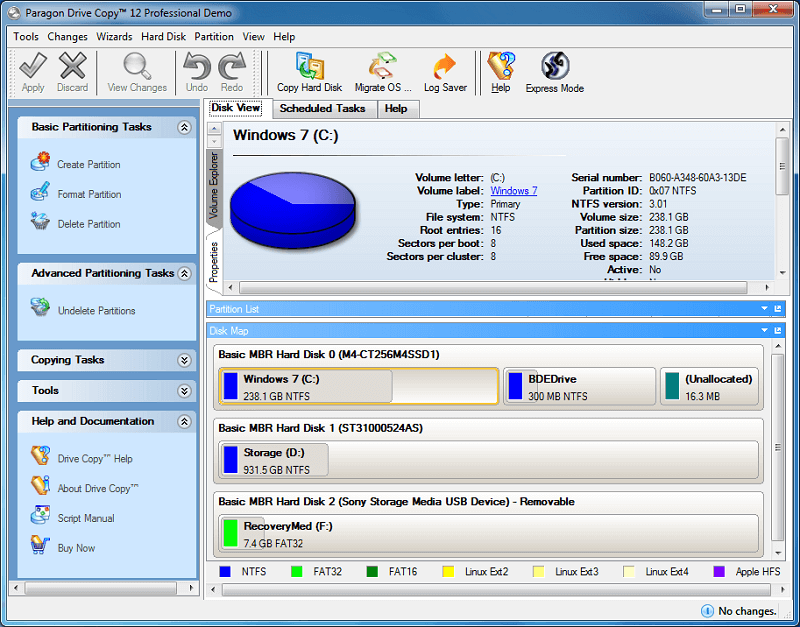 This is one of the best disaster management and data recovery software available for Windows today. It uses a disk imaging system to clone a hard disk or entire PC on a virtual machine. It's an all-in-one tool for people who want to store data, manage partitioning, migrate data, and create system backups.
Prominent Features: 
It can clone your system virtually.
It can restore your data on an HDD effortlessly.
Takes system backup and transfer it to another pc in a systematic manner.
Migrate data irrespective of the location.
---
2. Macrium Reflect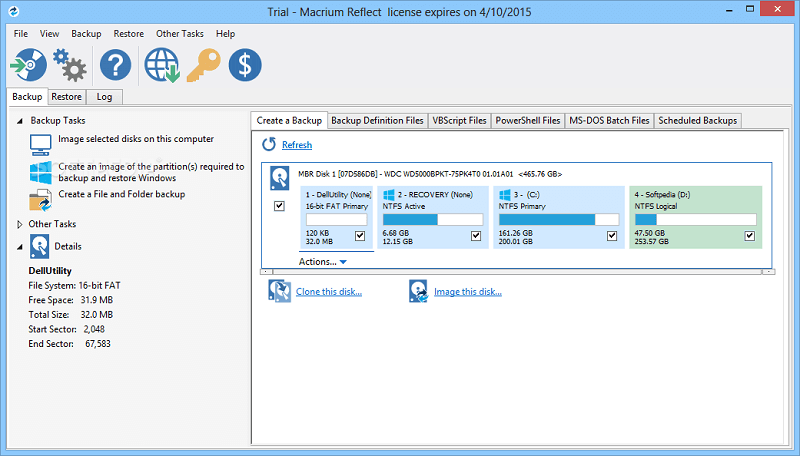 Another most talked-about option for best disk cloning software is Macrium Reflect which is available in two versions.
First is the Home Edition for a single PC, while the other is Home Edition which supports 4 PC licenses.
Although it caters to only home PC, it can create a compact backup of your PC in a single compressed file.
Read Also: Best Disk Management Software For Windows 10/8/7
Prominent Features:
It supports GPT and MBR disk.
It creates an exact image and partitions of your HDD, and lost files can be quickly recovered based on the image.
Just a few clicks and you can recover your entire disk space with Macrium.
Its Rapid Delta Cloning features offer faster and reliable system cloning.
It also ensures data safety against ransomware.
If you're looking for free hard drive cloning software download, all you need to do is just click the given link below.
---
3. R Drive Image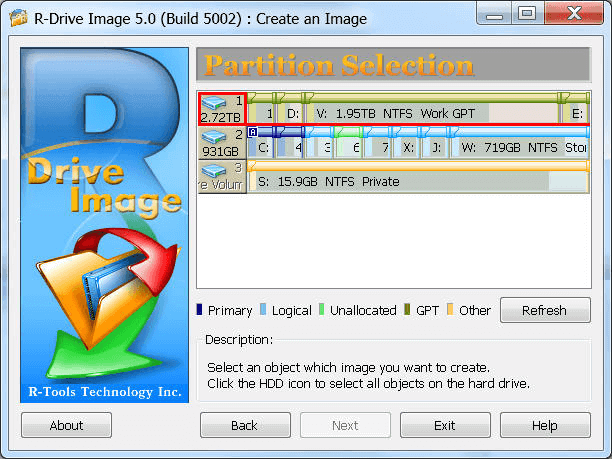 Another robust cloning software for Windows PC is R-Drive, which is well known for its data protection features. This hard disk cloning program works on the byte-to-byte pattern and contains an exact copy of your hard drive or logical disk to prevent losing your crucial data in the event of a fatal system failure.
Prominent Features:
It enables backup creations at various locations, including Jazz disk, CD-R, DVD, etc.
Within seconds it can restore the backup at the desired location.
While restoring data, R-Drive image is converted into a pseudo-graphic mode.
No matter, if your system has suffered virus attacks, hardware failure, OS crash, it can restore your data within seconds.
This user-friendly software can easily copy, create a backup, and restore partitions of your entire system and transfer it to another PC.
---
4. NovaBackup PC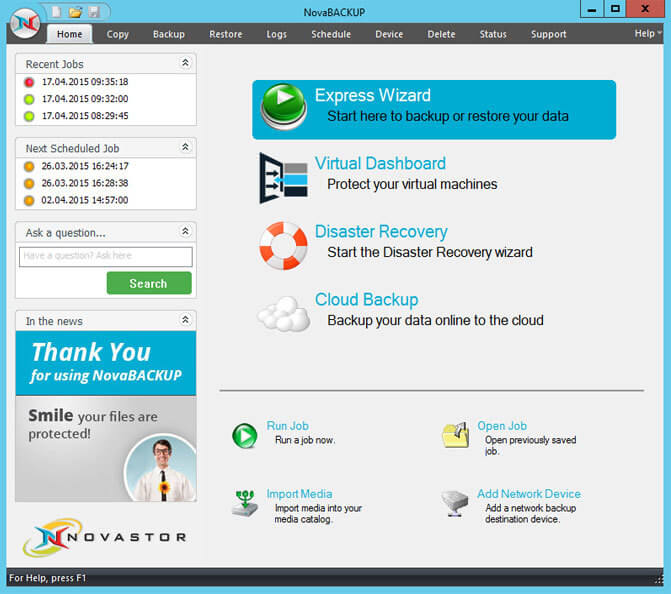 This power-packed best free disk cloning software comes with a user-friendly interface and has remarkable backup protection features to offer. NovaBackup PC takes your system backup by sending emails to your account, which helps in effective disaster management.
Read Also: How to Disable Telemetry Date in Windows 10
Prominent Features:
With its extensive backup features, you can create both image-based and file-level backups. Specific files and folders can be copied with an image-based technique while you can take a complete hard drive backup with the file level option.
It provides military-grade data protection with 256-bit AES encryption.
It helps easily manage cloud and local drive backups, making it the best hard drive duplicator available in the industry.
---
5. Hard Disk Manager 16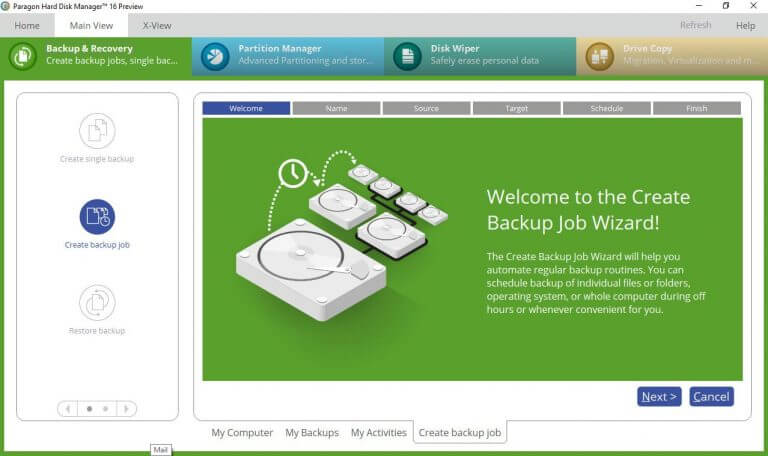 Hard Disk Manager from Paragon Software Group (PSG) is another popular hard disk cloning software available for Windows 10, 8, and 7. This disk-imaging tool for Windows offers an array of data backup, disaster recovery, and hard drive cloning services which can be used by both home and business users.
Prominent Features:
You can use both virtual and physical devices for system backup.
This free cloning software works on a protected mode, which means you can preview the changes and confirm their application. It also has a one-step undo option.
Keeps your system organized with basic partitioning.
Even if your system is affected by malware, you can quickly restore your data with all applications working.
---
6. CloneZilla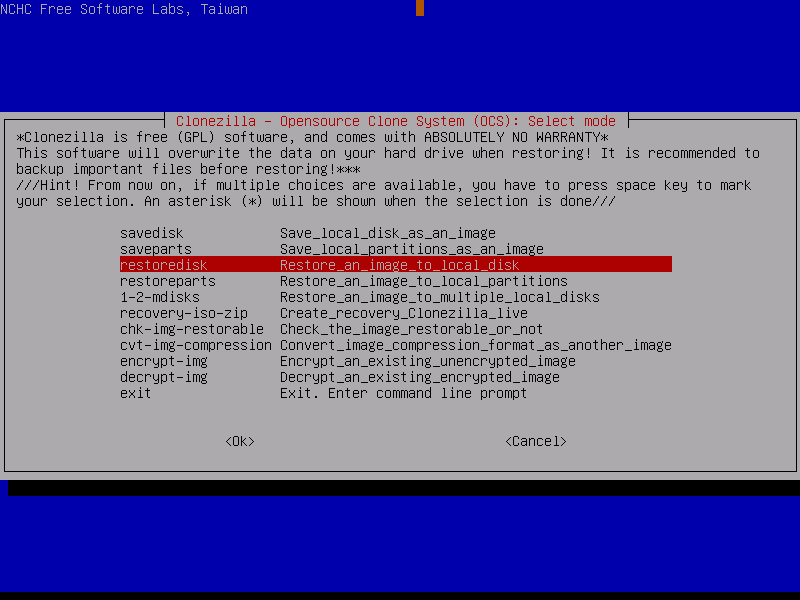 Another power-packed disk cloning software for Windows is CloneZilla. It takes care of cloning, backup creation, data recovery, and system deployment.
It comes in two versions; 'CloneZilla Live' which supports a single PC and 'CloneZilla SE' which is a service edition and supports 40 PCs.
Prominent Features:
It provides image file on various platforms including ssh server, NFS server, local disk, samba server, and many more.
It supports various partition versions including GPT and MBR and can be booted on UEFI and BIOS and machines.
It can restore PC backup at various locations and uses a data encryption algorithm for data protection.
---
7. MiniTool Partition Wizard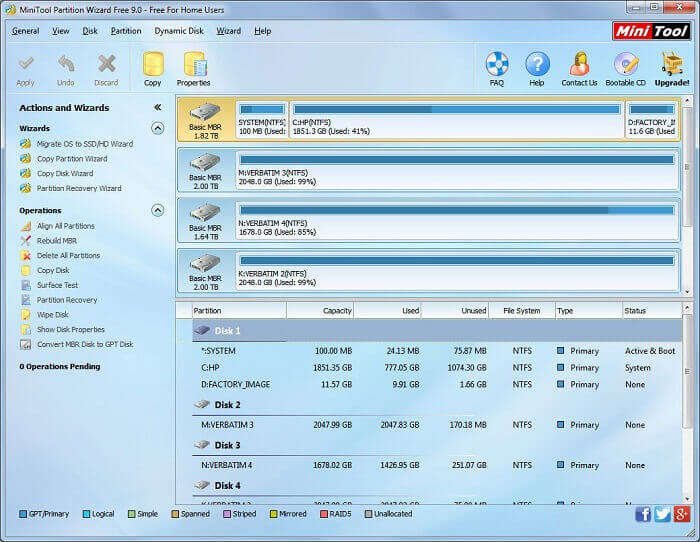 MiniTool Partition Wizard is currently rated as one of the best free cloning software for Windows PC. Being an excellent and reliable disk imaging software, it helps optimize hard drive space and protects your data.
Read Also: MiniTool Power Data Recovery Review
Prominent Features:
This free partition manager offers various partition options, including Move/ Resize/ Extend partition to solve low disk space issues and ensures optimal optimization.
It can merge adjoining partitions for space creation.
Takes OS backup and easily migrates it to a new SSD/HDD.
---
8. Active@Disk Image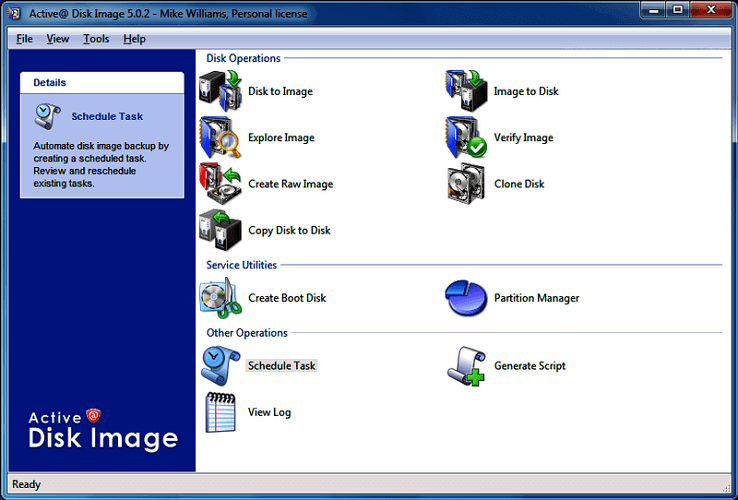 It is one of the most widely-used hard drive cloning software for both personal and business purposes.
Copy data and make a replica copy of all types of disks with Active@Disk Image.
Prominent Features:
Active@Disk Image lets you clone your hard disk by creating a disk image.
It creates disk backup of USB, CD, DVD, HDD, and SSD drives and saves it in a folder.
It uses the backup image to restore important files and data in cases of a PC crash.
Keep your data secure with advanced encryption algorithms, including AES- 128, AES-256 and AES- 192.
It's available in various versions including free, Pro and a Standard version.
---
9. EaseUS Todo Backup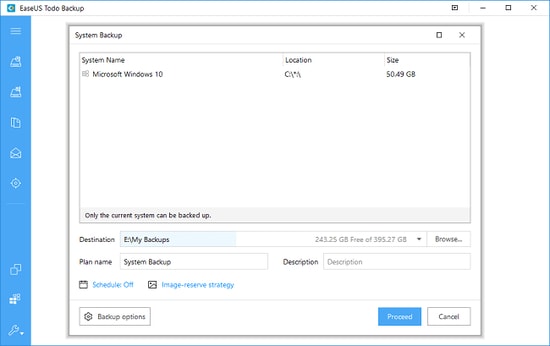 EaseUS Todo Backup is another best disk cloning software that offers the best-in-class data backup and recovery solutions for Windows PC users. It focuses on making the hard drive cloning process fast and effortless. Let's have a quick glance at some of its praiseworthy features.
Prominent Features: 
It brings together the most powerful backup and recovery tools to help you clone hard disk, small partition, or entire system.
This hard disk cloning software comes with an array of backup options, including full, differential, scheduled, and incremental.
It offers effective disaster recovery tools to help you restore your whole business system and data.
You also have the option to clone hard drive to SSD or copy system drive (migrate OS) to HDD/SSD.
---
10. Acronis True Image 2021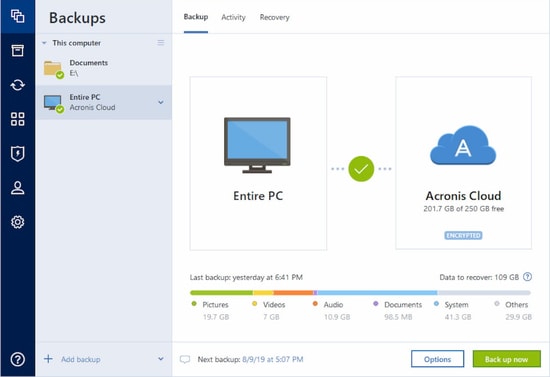 The next hard drive cloning software on our list is called Acronis True Image. It is an all-in-one cyber protection and hard drive duplicator for Windows, allowing users to access cybersecurity, data backup, hard disk cloning, and power management solutions from a single user-friendly dashboard.
Read Also: Must-Have Programs for Windows 10
Prominent Features: 
It works as a disk imaging software by securely backing up your hard drives in the Acronis Cloud.
It allows you to remotely access any file from your cloud backup, no matter where you are in the world.
Acronis True Image 2021 uses artificial intelligence (AI) to protect your data from ransomware and crypto-jacking attacks.
---
11. AOMEI Backupper Standard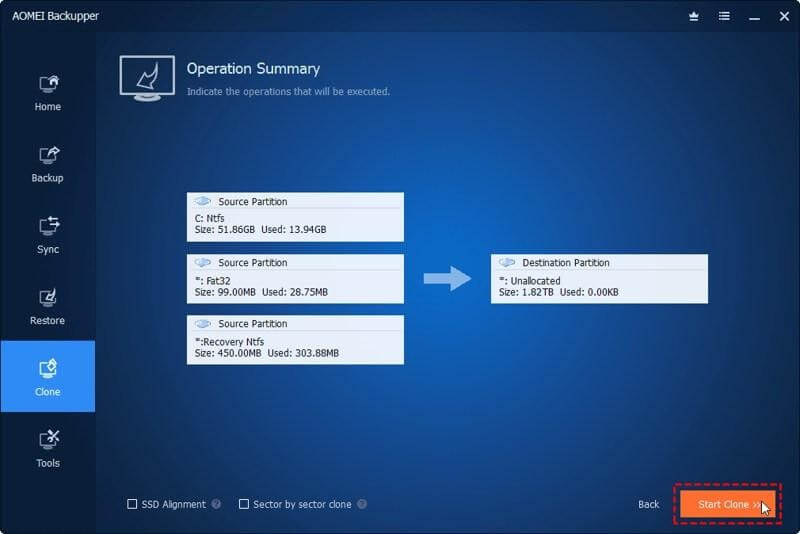 Another powerful open-source disk cloning utility to try is AOMEI Backupper. The program is extremely effective when it comes to cloning a large disk to a smaller SSD drive. The company behind this freeware also has a professional paid version of AOMEI Backupper, which is available for $39.95 for a single PC license.  
Prominent Features:
Allows users to create an exact duplication of partition and deploy the copy to a hard drive or another partition.

Full system, disk, and partition backup & restore options.

Automatic sync option to synchronize files or entire folders to the cloud, external drive, or NAS. 

Ability to clone HDD to SSD for optimum performance.

Supports all Windows operating systems.
---
Frequently Asked Questions (FAQs) About Hard Disk Cloning Software
Q1. Is a free hard drive cloning program safe to use?
Yes, hard drive cloning tools are one of the safest options when it comes to creating data backup, disk image, secure data wiping or migrating the entire operating system to SSDs and virtual disks.
Q2. Which is the best free cloning software for Windows 10?
When it comes to the best free disk cloning software for Windows 10, 'Drive Copy Professional' from Paragon Software is a pretty solid option for both home and commercial purposes. Another great disk cloning program to try is 'EaseUS Todo Backup', a powerful Windows backup tool with support for disk imaging and disaster recovery.
Q3. How can I clone a hard disk for free?
You can simply clone or copy your hard disk drive using any of the free cloning tools mentioned in the above list.
Q4. Is disk imaging and disk cloning different?
Both disk cloning and imaging are used to perform the same task, i.e., replicate the hard drive's contents. However, the approach they follow to copy the records makes them distinct from one another. Disk Cloning creates an exact replica of a hard drive, whereas disk imaging creates a large compressed file which can later be used to create a hard drive's copy.
Q5. What is better between disk cloning and imaging?
The shortest answer to this question is 'Disk Cloning'. A cloning process enables you to copy the entire contents of one hard drive to another along with the master boot record.
---
Final Words: List of Best Disk Cloning Tools to Create Hard Drive Backups (2021)
These are some of the best disk cloning software available in the market today. You can use any of this aforementioned software to clone a hard drive to SSD, take a complete system backup, and restore data as per your convenience.
These disk cloning tools also offer excellent disaster recovery solutions to help you create disk images and boot media to access backup data securely.
So, what are you waiting for? Choose your favorite drive cloning program today to prevent data loss and enjoy hassle-free working.
Prachi Dani is a technical content writer who specializes in areas of science and technology. She is highly up to date with technological transitions and transformations. Writing is not her passion but the only thing that carries satisfaction in life. If not writing, you may find her engrossed playing action games on her treasured smartphone.
Subscribe to Our
Newsletter

and stay informed

Keep yourself updated with the latest technology and trends with TechPout.
Related Posts