6 Best Free Network Monitoring Software in 2023 (Open Source)
This article shares the best free tools for network monitoring so that you can identify and fix network issues before they become serious trouble.
Network monitoring is one of the toughest challenges for network or IT administrators. It is a crucial IT process where the administrators continuously monitor various networking components, such as firewalls, servers, routers, VMs, and switches, for faults to ensure their optimal performance and availability. This task of monitoring helps enterprises of all domains and sizes improve their online presence. And the best free network monitoring software goes a long way in helping you perform this function more efficiently and effectively.
With the help of the best network monitoring tools, you can proactively identify and solve network problems. It helps you prevent downtime and failures in the future.
However, the top network monitoring tools in the marketplace often cost a bomb. Therefore, we dived deep into the world of network monitors and found some cost-effective yet feature-rich free and open-source programs to monitor the network.
Before going through this monitoring tool's list, let us look at some essential features you should consider when selecting a tool. Knowing what to look for in network monitoring software helps you choose the best one for your requirements.
Essential Features of the Best Free Network Monitoring Software
Below are some core features that the top free open-source network monitoring tools should possess.
Ability to perform network monitoring automatically
Device discovery routine to automatically create an asset inventory
Alerts when any problem occurs
Displays the live status of every device with a network mapping service
Communicates with the network devices via SNMP
Let us now have a rundown of the best and free network monitoring tools having all or most of the above features.
Well-Researched List of the Best Free Network Monitoring Software
The following are our top picks when it comes to selecting the best free software for network monitoring.
1. SolarWinds ipMonitor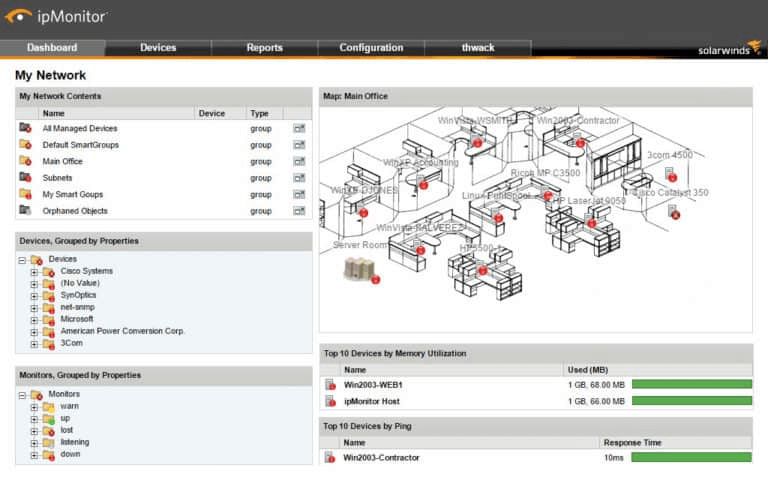 Let us kickstart our list of the best free network monitoring software with SolarWinds ipMonitor. It is a highly attractive choice if you wish to monitor not more than 50 interfaces.
Ideal for small businesses, SolarWinds ipMonitor boasts top-notch visualizations to give you a high-quality user experience. Moreover, the following features contribute to making it one of the best network monitoring tools.
Key Features of SolarWinds ipMonitor
Lightweight, fast, and easy-to-use
Network devices and server monitoring from a centralized location
System problem alerts
Network device status tracking
Discovery of devices connected to your network
Automatically creates a network topology map according to collected devices
Also Read: Best Application Performance Monitoring Tools
---
2. Network Bandwidth Analyzer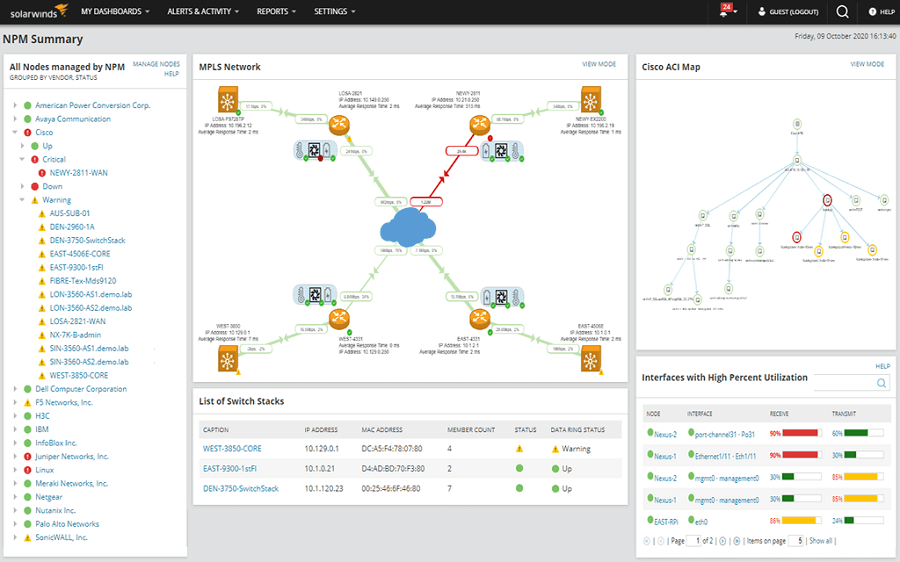 Next on our list is the Network Bandwidth Analyzer, one of the top network monitoring tools. It helps you reduce network outages by quickly detecting, diagnosing, and resolving problems with network performance.
Additionally, features like easy viewing of IPv6 and IPv4 flow records are also a reason for including this software on our list. Furthermore, the following are some other noteworthy features of this software.
Key Features of Network Bandwidth Analyzer
Easy monitoring of Juniper J-Flow, IPFIX flow data, Huawei NetStream, and Cisco NetFlow to identify the bandwidth-hungry apps and protocols
Alerts you about application traffic activity changes
Sends an alert if the network monitoring software is not sharing the network performance data
Collects and converts the traffic data into a useable format
Supports VMware vSphere switch
Boasts support for Cisco NBAR2
Easy creation of a schedule, in-depth delivery of bandwidth reports, and network traffic analysis
Support for monitoring and management of wireless networks
CBQoS policy optimization to measure how effective the pre and post-policy traffic levels are
---
3. Paessler PRTG Network Monitor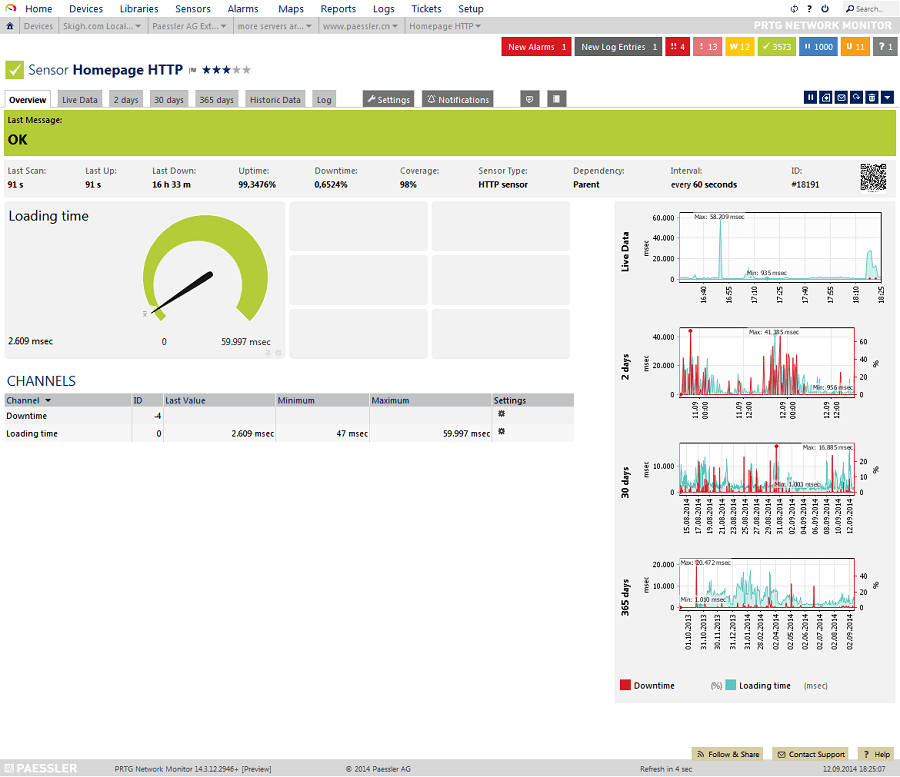 We have Paessler PRTG Network Monitor in the third position on our list of the best free network monitoring software. It is a user-friendly, feature-rich, and fast software you can use to scan connected devices by IP range (it saves you time from manually configuring everything).
Talking about the features, below is what makes Paessler PRTG Network Monitor one of the best network monitoring tools.
Key Features of Paessler PRTG Network Monitor
Network autodiscovery
Status error alerts
Capable of monitoring wireless networks
Network, application, traffic, and cloud monitoring
Color-coded and user-friendly interface
Monitoring of internet connections between locations and remote sites
Drag and drop editor to effortlessly create custom reports and views
Integration with third-party applications like Slack
Also Read: Best Server Monitoring Software
---
4. Zabbix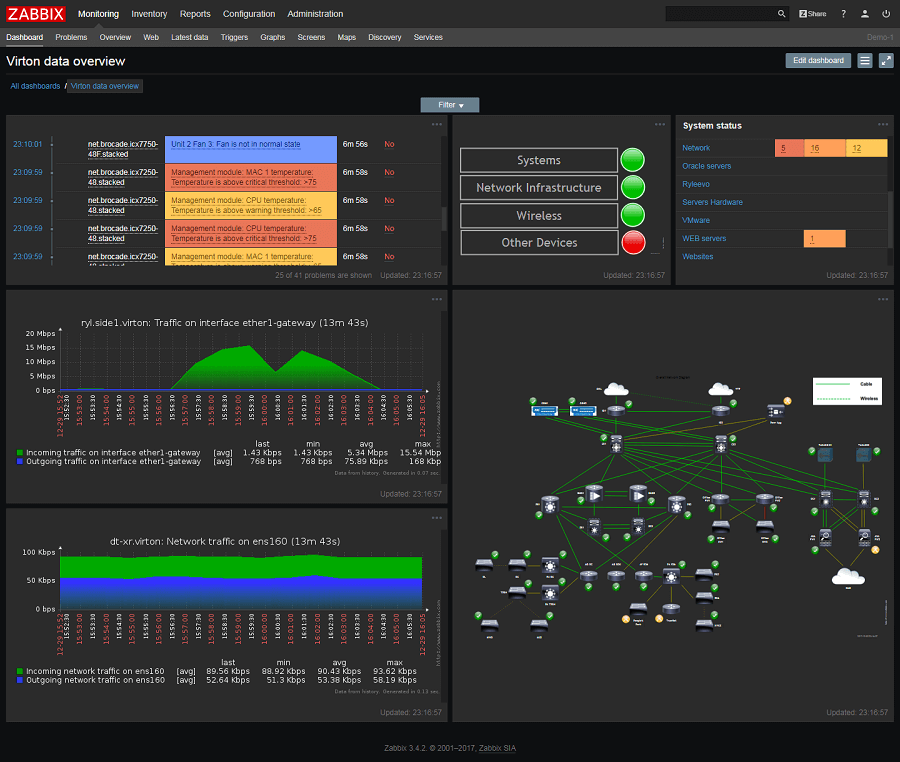 We cannot skip Zabbix when discussing the best free open-source network monitoring software. It uses historical data to predict future behavior. Moreover, this software provides crucial information, such as network utilization, disk space consumption, and CPU load.
Furthermore, automatic detection of device configuration changes and the below features make Zabbix one of the top free network monitoring tools.
Key Features of Zabbix
Expandable and flexible Windows data collection
Multiple metric gathering protocols and methods
Easy monitoring of network bandwidth usage
Automatic discovery of networks coming under the purview of Zabbix agents
Support for both SNMP protocol and protocol agents
Availability of a mobile application and many templates
Automatic detection of device configuration changes
Predicts bandwidth usage trends, network downtimes, and more
Active detection of network connection anomalies
Generation of custom report remediation scripts
Event correlation feature to reduce the notification noise
Customized escalation scenarios
---
5. Nagios Core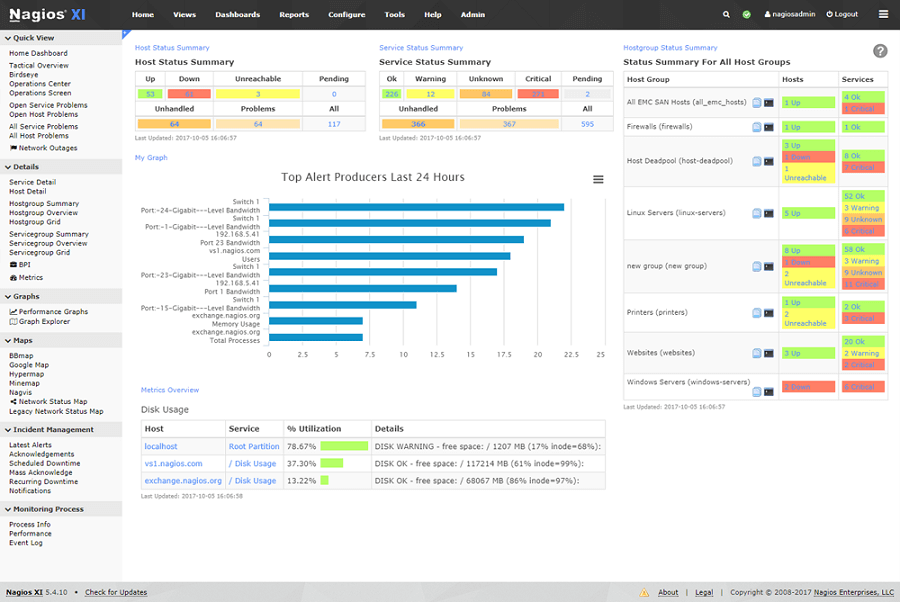 Next, we would like to name Nagios Core as one of the best free network monitoring software with open-source availability. The most attractive thing about this software is its user interface. It sticks to a basic design and web-based GUI to help you analyze the condition of your key services and network infrastructure effortlessly.
Moreover, you should go through the following features of this software before making up your mind about downloading it.
Key Features of Nagios Core
Power-packed Nagios Core 4 monitoring engine to ensure top-notch monitoring server performance
Powerful dashboards to monitor third-party data and information
Its GUI enables layout, design, and preference customization
Multi-tenant abilities
Lets you easily view and resolve network issues
The dashboard provides a customizable overview of network devices, hosts, and services
Automated and integrated capacity planning graphs
Many infrastructure management tools, such as mass acknowledgment, auto decommissioning, etc.
Configuration snapshots feature to save, archive, and revert your configuration
---
6. ManageEngine OpManager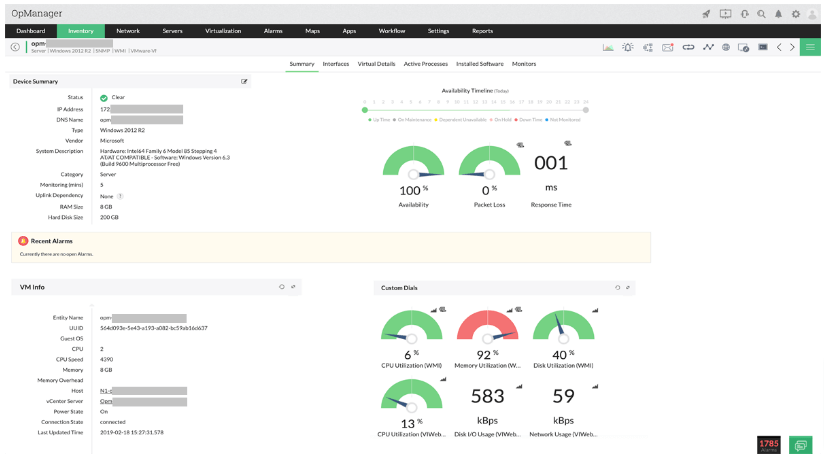 Let us now take a look at ManageEngine OpManager. It is among the best network monitoring tools for its real-time monitoring of multi-vendor network device performance.
Moreover, it boasts many outstanding features, such as active management of physical servers, such as storage arrays, RAID, VMs, etc. Furthermore, the following highlights of this software justify its position on our list.
Key Features of ManageEngine OpManager
Over 9500 templates for monitoring network devices
Sends advanced notifications and alerts through SMS and emails
Custom dashboard through more than 100 performance widgets
Easy network management through a mobile application
Contextual integrations for complete monitoring of network infrastructure
Effective monitoring of latency, packet loss, and WAN/VoIP
Availability of automatic troubleshooting
Multi-user collaboration and SSL offload
Also Read: Best Data Monitoring Apps For Android
---
Summing Up the Best Free Network Monitoring Software
In this article, we did a rundown of the best network monitoring tools. You can go through the above software and compare their features with your requirements to select the best one.
If you think our list of the best free network monitoring tools misses out on any deserving software, you can mention its name in the comments section. Also, share your views about this article through comments.
Niharika is a passionate soul who finds immense satisfaction in putting all her thoughts in writing. Being a technology enthusiast, she loves learning new things about tech and making everyone technologically literate through her articles. When not composing tech articles, you can find her bringing characters to life in her fictional stories, reading something intriguing, or spending time with her near and dear ones.
Subscribe to Our
Newsletter

and stay informed

Keep yourself updated with the latest technology and trends with TechPout.
Related Posts