9 Best Free Macro Tracking Apps in 2023

Best free macro tracking apps help you with calculating macronutrients in your diet easily so that you can make healthier food choices to stay fit. Hence, you may go through this write-up to know about them.
Weight management is perhaps the most challenging task. No amount of gyming or other forms of exercise can help you manage your weight well unless you pay an equal emphasis on your diet. You must keep your macros balanced to make the most of your fitness regime. Since monitoring the macronutrients (grams of fat, carbs, or protein) in your diet is confusing if done manually, you may take the help of the best macro tracking apps to do it effortlessly.
Now, before looking at the best macro apps, you should clearly understand what macros are, why counting them is essential, and what to look out for in an application to count them. Well, let us answer all these questions in the coming sections.
What Are Macros
Macro means macronutrients. There are three macros, namely carbohydrates, proteins, and fats. A healthy balance of all these nutrients in your diet gives the required energy to your body so that it may function well. Whereas, unhealthy food choices with an imbalance between various nutrients adversely affect your weight and overall health.
Coming to why you should count macronutrients in your diet, we share the top ones in the following section.
---
Why Is it Essential to Count Macros
There are plenty of reasons you should count macros using the best macro tracking apps. Below we share the most significant ones.
Get rid of stubborn fat
Ensure you have lean muscle mass
Keep your body energized
Now that you have enough knowledge about macros or macronutrients, let us look at what makes a good free macro tracking app.
---
What Is the Best Free Macro Tracking App
The following are the top qualities that make an application to count macros the best app for macro tracking.
The app has a database of nutritional information to make scanning quick and easy
Availability of a one-on-one coach to help you with creating customized healthy eating plans and macronutrients tracking
The application comes with exercises and workouts to help you achieve your fitness goals
Needless to say, the application should also have a significant number of success stories, i.e., positive user reviews.
The applications we share below have all or a majority of the above features. Hence, let us proceed to them without any further ado.
Also Read: Best Workout Apps For Android To Get A Fit Body
---
Best Macro Tracking Apps to Track Macros for Free
The following is a carefully curated list of the best macro tracking apps in 2023.
1. MyFitnessPal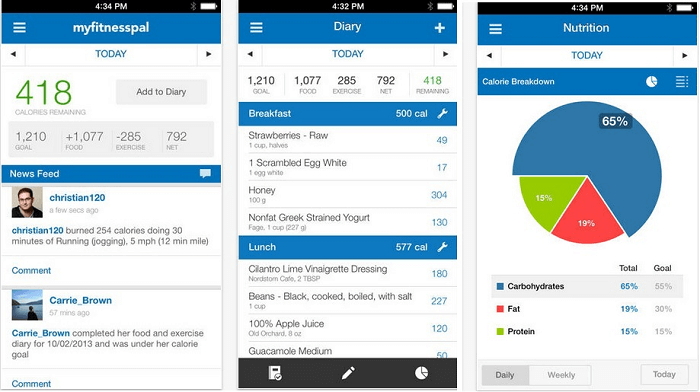 We feel it would be appropriate to begin listing the best macro tracking apps with MyFitnessPal. If you wish to tone up, reduce weight, have a lower BMI, or improve your overall health, MyFitnessPal helps you like a true buddy with many useful tools.
Moreover, the availability of a database of over 14 million foods is what makes MyFitnessPal one of the top free macro tracking apps. Furthermore, the following features also contribute to making it a popular choice among fitness enthusiasts across the globe.
Key features of MyFitnessPal
Barcode scanning
Meal saving
Storing recipes
24*7 available live community
Easy to use food diary
---
2. Macro Tracker- Keto Dieting App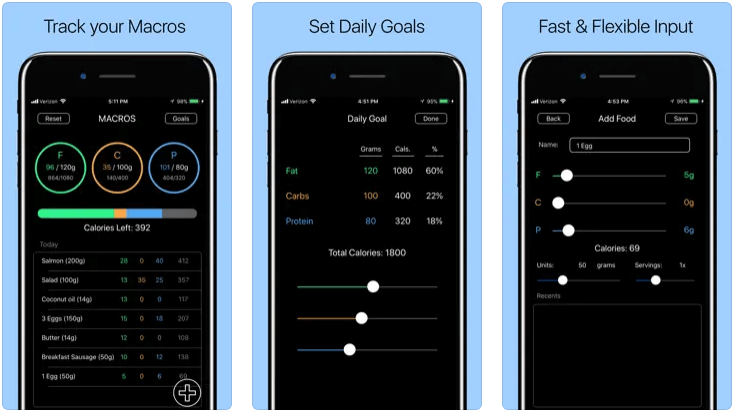 Next comes Macro Tracker- Keto Dieting App. It is yet another free app to track macros you may use to keep macronutrients in check. Made by an enthusiastic person following a keto diet, the app provides an easy way to get the nutritional details of your keto foods.
Talking about features of Macro Tracker- Keto Dieting App, below is what makes it one of the best macro counting apps.
Key features of Macro Tracker- Keto Dieting App
Easy custom food inputting
Option to change weight when entering a saved food
Automatic tracker update according to the selected weight
---
3. Food & Macro Tracker By Fittur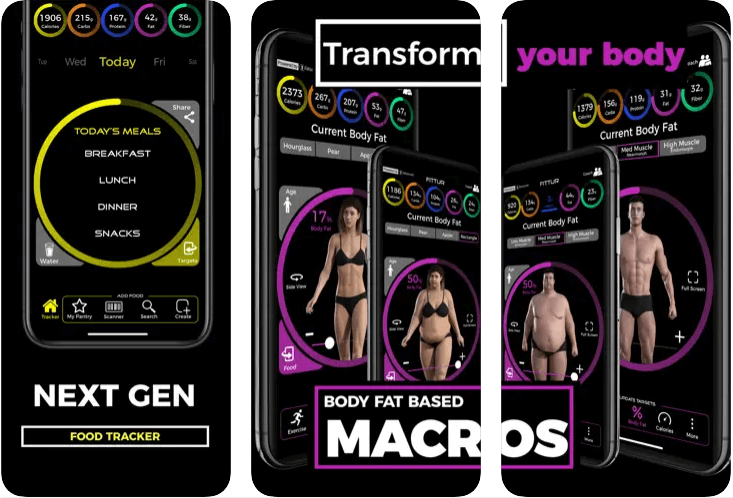 If you are interested in real-time tracking of macronutrients, Food & Macro Tracker By Fittur is among the best macro tracking apps you may use for free.
Many features like adjustments for serving size make Food & Macro Tracker By Fittur one of the top names on this list of the best free macro tracking apps. Below we share some highlights of this application.
Key features of Food & Macro Tracker By Fittur
Easy-to-understand displays
Automated calculations
Day's meal planning
Finger-swipe controls
Custom tracking for special health conditions
Macro calculator for recipes
Water tracking
Timer for intermittent fasting
Macro statistics tracking and customization
Weight charts
---
4. Lifesum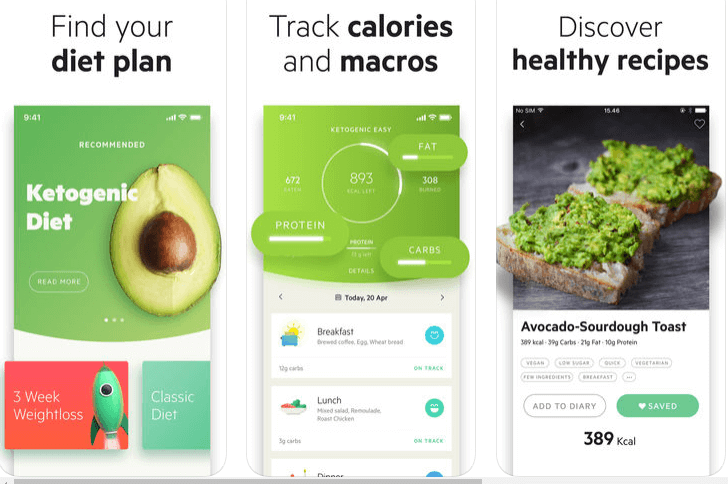 Lifesum is a savior if you often find yourself struggling to get tasty yet macro-balanced recipes. This one of the best macro calculator apps offers an extensive meal plan library along with recipes that fit all types of diets.
Moreover, it has a plethora of other great features such as a useful barcode scanner. Let us look at all of these wonderful features of Lifesum that make it one of the best macro tracking apps.
Key features of Lifesum
Clean and friendly interface
Calorie targets according to your goal weight, current weight, and height
Advanced features like macros percentages in the paid version
Also Read: Top 10 Apps To Stay Healthy and Fit
---
5. Lose It
Lose It is yet another best macro tracking app if you wish to shed those extra kgs from your body. With this application, you can track macros, calories, and water intake.
In addition to it, the Lose It app boasts many other features that aid in weight loss. We share them in the following heading.
Key features of Lose It
Gigantic database with restaurant food items
Option to input custom recipes and food
Bonus when you hit particular exercise targets
Seamless integration with many other fitness applications
You can email your food logs from the application
Community support and user-friendly interface
History-based food suggestions
Barcode scanner
Extra features in the paid version like carb tracking, pattern analysis, etc.
---
6. Carb Manager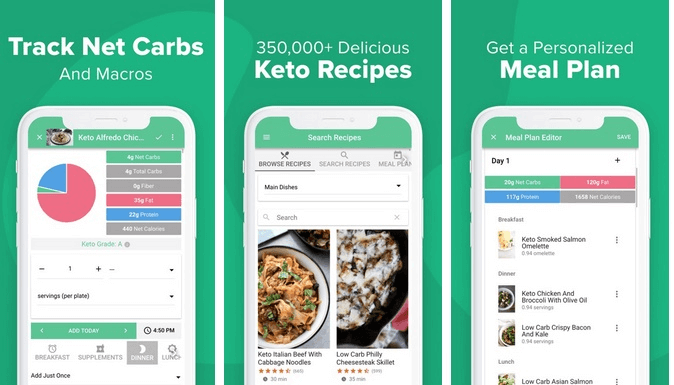 Next, we have Carb Manager on our list of the best macro tracking apps in 2023. It is a perfect choice for beginners who are new to food logging. We chose Carb Manager for its highly user-friendly macros calculator and plan customization options.
Talking about the features of Carb Manager, below is all that is exciting about it.
Key features of Carb Manager
Extensive food library
Options to change selected food's serving size, repeat the same food item over many days, and rate the item's keto-friendliness
Availability of meal plans and recipe ideas
Option to connect with your peers who also use this application
Tracking of more complicated health information like glucose, ketones readings, etc.
Additional features in the premium version such as image recognition for automatic meal tracking.
---
7. Nutritionix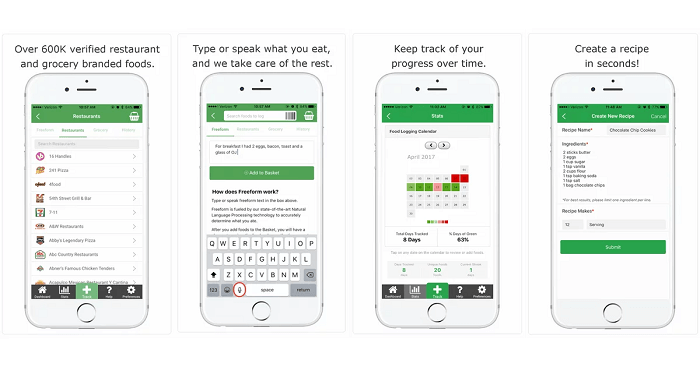 Here comes the best free macro tracker app for everyone who loves to eat outside at restaurants. Nutritionix boasts a gigantic library of foods from over 800 restaurants in the US.
Moreover, the following features contribute to bringing Nutritionix to this list of the best macro tracking apps.
Key features of Nutritionix
Availability of a barcode scanner
Option to input your recipes
Frequent database updates to reflect the restaurant's menu
Option to alter the portion size
Also Read: Best Free Zumba Apps to Get a Toned Body
---
8. Cronometer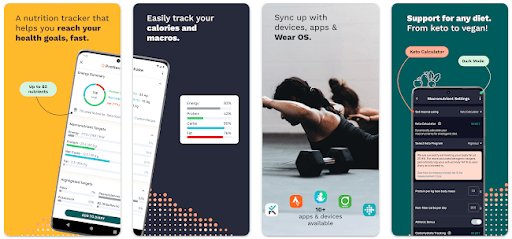 Cronometer is yet another best app to track macros. In addition to macro tracking, this application also helps with monitoring your health goals. You can use this application to monitor over 82 micronutrients, like minerals, sodium, potassium, vitamins, etc. Moreover, the following are some other attractive features of this app.
Key features of Cronometer
Database of over 1.2 million verified foods
Integration with popular fitness-tracking applications and devices
Logs water intake, exercise, vitamins, and supplements
Tracks body weight and other biometric information, such as body measurements, blood/urine lab results, heart and blood pressure data
Lets you set goals for maintaining, gaining or losing your current weight
Graphs to help you monitor your progress better
---
9. FatSecret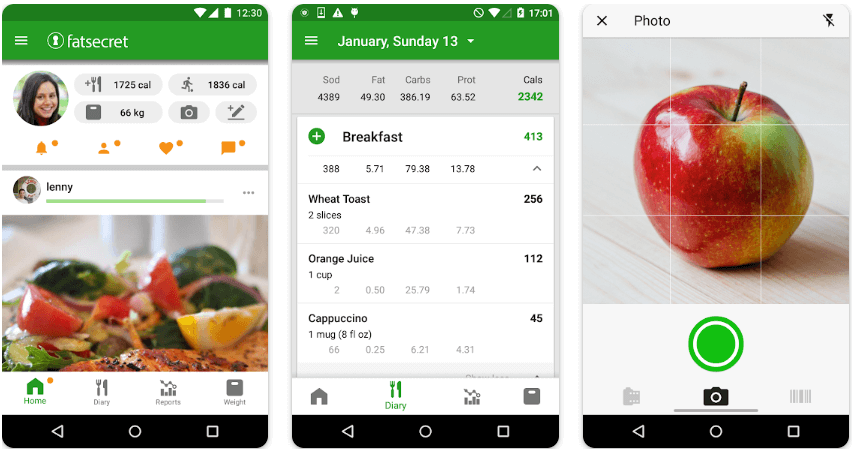 Talking about FatSecret, it is among the easiest-to-use applications to lose weight healthily. Along with ease of use, the app boasts some extremely useful features, such as a food diary to track what you are eating, nutritional information for all foods, brands, and restaurants, and the following, making it one of the best free macro tracking apps.
Key features of FatSecret
Healthy recipes and meal plans designed by experts (a premium feature)
An exercise diary to keep track of the calories you burn
A weight loss chart and journal to record your progress
You can follow friends and participate in community conversations
---
Concluding the Best Macro Tracking Apps
This article listed the best free macro tracking apps. You may choose any application from the above list to track macros in your diet and make healthier choices.
You may drop us a comment if you think we have missed out on any best free app to track macros, if you have any questions, or want to suggest something else. We will see you soon with another article. Until then, you may continue TechPouting to stay connected with the tech world.
Niharika is a passionate soul who finds immense satisfaction in putting all her thoughts in writing. Being a technology enthusiast, she loves learning new things about tech and making everyone technologically literate through her articles. When not composing tech articles, you can find her bringing characters to life in her fictional stories, reading something intriguing, or spending time with her near and dear ones.
Subscribe to Our
Newsletter

and stay informed

Keep yourself updated with the latest technology and trends with TechPout.
Related Posts