7 Best Free Intro Makers for 2023 (Online and Offline)
Published Date :
Mar 31, 2023

The market will only get more and more saturated as more than a billion hours of YouTube videos are watched daily by people across the globe.
A well-designed video intro can make all the difference for YouTube artists who need every possible chance to stand out. To help you get started, we've reviewed 7 of the best free intro makers in 2023.
What is Video Intro or YouTube Intro?
A video intro is an introductory segment that appears at the beginning of a video and provides a quick overview of a brand's nature. Animated images, the brand logo, and a catchy soundtrack are typically included.
Even though they might only last a few seconds, that is all it takes to capture the interest of your audience and imprint your brand in their memories.
Since video intros gain popularity among YouTubers, if you want to succeed there, it is worthwhile to develop a polished intro that enables viewers to connect your content with your brand. Here are some best free intro makers that you can consider in 2023.
7 Best Intro Makers in 2023
Here,  we have mentioned the top 7 free Intro Makers that you can use to engage your audience. Without further ado, let's get started:
1. Canva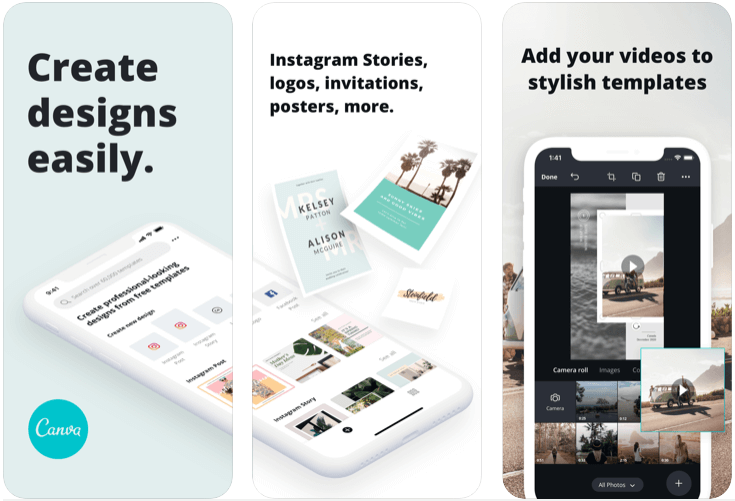 More than just the best free picture editor, Canva is a fantastic tool for producing quality content. It is quite effective for YouTube and enables the quick creation of intros. You do not need to download the templates, you can edit or customize the available templates online without spending a penny.
You may easily learn how to use this free service to make stunning introductions and capture the interest of your audience. The tool is compatible with Android and iOS and also lets you work remotely without any hassles.
In addition to learning how to create a YouTube intro for free, you will discover a gallery of animated images and several types of audio. Your video will become more interesting to your audience if you add audio to it.
Key Features of Canva:
Provides different types of font styles for free.
Comes with a built-in library with numerous animated motion pictures/graphics.
Lets you create attractive content for social media.
A variety of free templates are available.
Also Read: Best YouTube to Mp3 Chrome Extensions of All Time
---
2. Biteable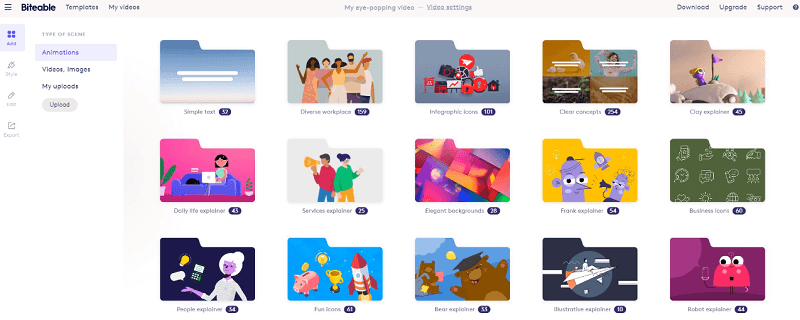 Using the free YouTube intro maker Biteable, you can create high-quality videos. Even first-time users can easily use its features because of its user-friendly interface. You may easily build movies and upload them on your channel with the aid of a wide variety of intro and outro templates. All you have to do is choose the template you want and modify it according to your requirements.
You can access both the Biteable application and its online version. You are allowed to produce up to 10 watermarked videos using Biteable's free edition. You must purchase the premium plan if you want to remove the watermark.
Key Features of Biteable:
Simple and quick navigation to tools.
Drag and drop timeline is available.
A large and rich library of different kinds of audio.
User-friendly interface.
---
3. Light MV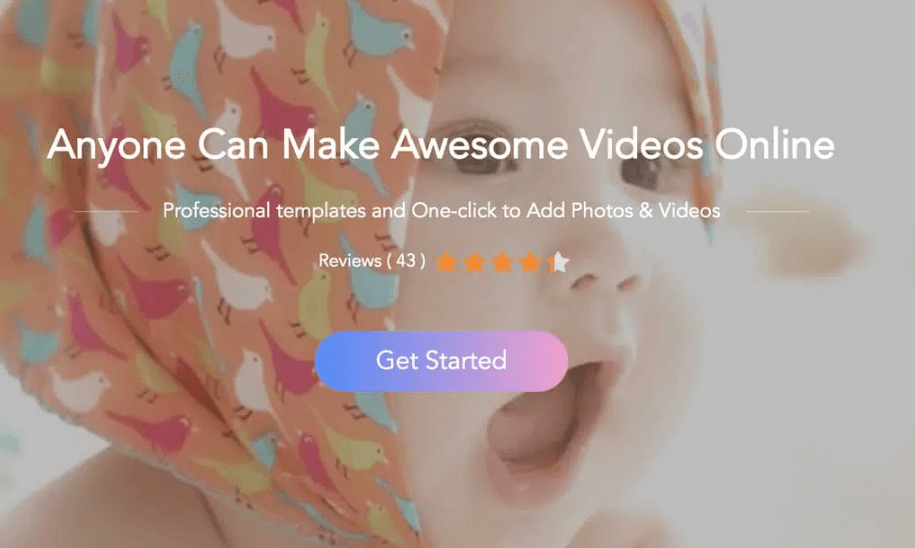 If you are searching for an intro maker online with no watermark, then LightMV is a perfect fit. You can easily make videos and intros using one of the provided templates in LightMV. This software is available for laptops, Mac, and Windows PCs, as well as Android and iOS mobile devices.
This is one of the best free video intro makers that offers an easy-to-use interface and lets you make videos in a matter of a few minutes. LightMV is excellent for beginners. Its free video intro templates let you create attractive content.
Key Features of LightMV:
Frequently adds new and amazingly designed templates
Quick and easy access.
Allows you to watch and save videos online.
No watermarks.
The platform renders an HD video that can be easily accessed and shared.
---
4. InVideo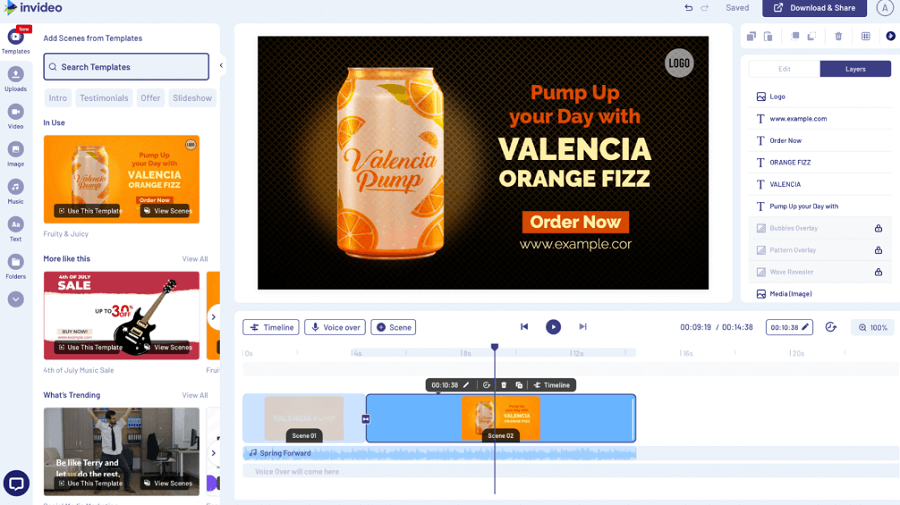 Are you looking for a free online tool to create a YouTube intro for social media? Then, InVideo is all you need. You can make a variety of videos with it to build your business. You can create videos on the official website using either ready-made or blank templates.
Marketing professionals frequently use InVideo because it helps in creating attractive and professional videos quickly. Moreover, you can make slideshows and presentations.
Using InVideo is quite simple. Using the service's extensive capability, even people without video editing expertise can complete any assignment with ease. This free intro maker can be used for both works and making eye-catching videos.
Key Features of InVideo:
Its AI-based Text-to-Video editor helps in converting scripts, blogs, or articles into videos in no time.
Provides templates for any use case, you can simply search by content type or platform industry.
Drag and drop action to quickly customize a template.
Automated text-to-speech function.
---
5. Lumen5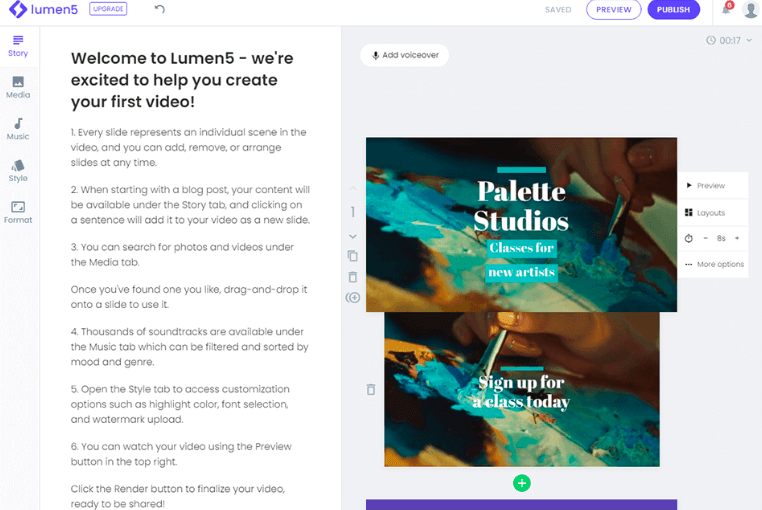 Lumen5 is an artificial intelligence-powered free video intro maker service without watermarks. It is one of the quickest video creators available in the market. Lumen is the best application for video editing, which will enable you to improve your brand/product image by creating interesting video content.
You can make excellent videos with Lumen5 for social media, commercials, and tales/stories. You don't need any exceptional abilities; even newcomers can quickly make an engaging intro. You can completely concentrate on the narrative and event since artificial intelligence technology is being used.
You can create a quality YouTube intro for free and even without a watermark using Lumen5.
Key Features of Lumen5:
Drag and drop interface to help users create professional video content in a few minutes.
Quickly converts text to video.
The software comes with several video editing tools.
Enables marketers to personalize videos with fonts, brand colors, and custom themes.
---
6. Placeit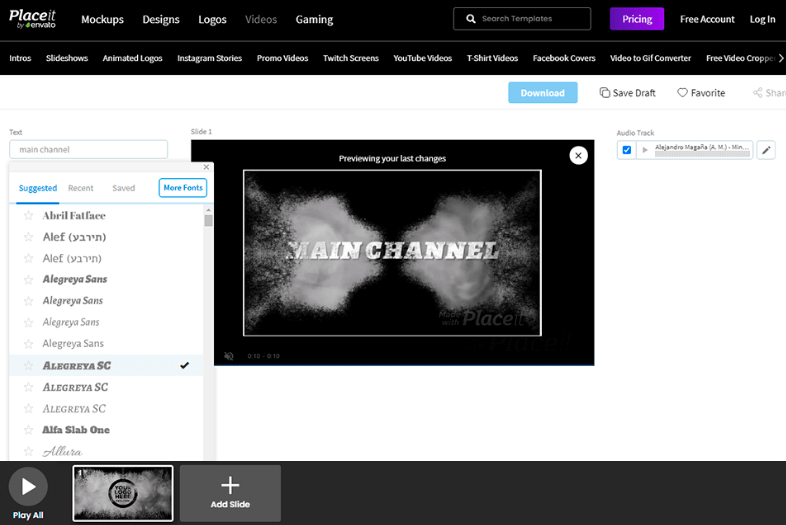 Placeit is a watermark-free, free intro and outro creator that enables you to brand your films by using pre-made themes.
You may post your fantastic video footage on your social media channels or YouTube channel in a matter of minutes. You can pick a template from the extensive Placeit intro library.
With such a wide selection of templates, you have endless possibilities for experimentation and creativity. The service has many features for strengthening your brand.
Key Features of Placeit:
This free intro maker has over 51100 templates.
Comes with a simple drag-and-drop functionality.
Fully customizable and quick video creation with unlimited downloads.
---
7. FixPress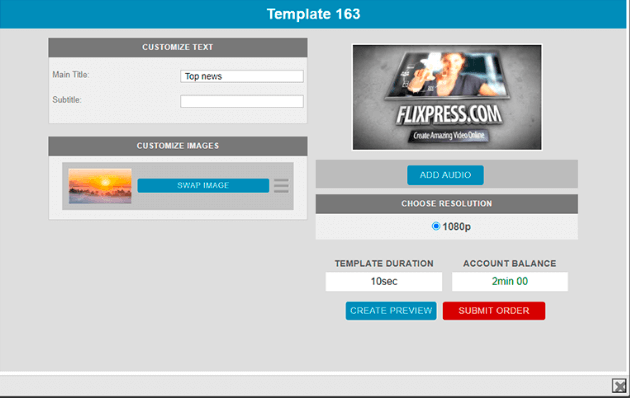 With no watermark and numerous features, Flixpress is another best free intro maker that you can try. Also, it enables you to create animated videos for YouTube Pro. Using ready-made templates, you can easily and quickly make videos. These templates can be customized by changing the color scheme and adding a soundtrack.
Because the platform doesn't demand any specialized knowledge, you don't need to be concerned that you won't be able to use it. It won't take long to learn how to use Flixpress and master it. You only need to add images and text in order to make a video.
Key Features of FixPress:
Automatically creates backups of all your work.
Can be used for business and personal purposes.
Simple and quick restoration process.
Lightweight and easy-to-use interface.
Also Read: Best Free YouTube Thumbnail Maker to Increase CTR
---
Final Words on Best Intro Makers in 2023
Your brand can be promoted greatly by making a promotional film and an introduction video for your YouTube channel. Our research reveals that 87% of marketers currently use YouTube to advertise their company, so making a professional-looking video is crucial if you want to succeed. If done correctly, your introduction video can aid in creating critical brand awareness and familiarity.
Make sure the intro builder software you pick enables you to create an intro that reflects the character of your business and echoes your brand values. With all these resources at your disposal, you might quickly advance your YouTube videos!
Harshita Sharma is a technical writer with quite a distinct understanding of the tech realm. She is a tech enthusiast who believes that tech knowledge should reach one and all and tries to convert the sketchy knowledge into the simplest possible form for making people understand the tech world better. When not playing with words, she loves to travel and explore new places. And, is a coffee & cricket connoisseur.
Subscribe to Our
Newsletter

and stay informed

Keep yourself updated with the latest technology and trends with TechPout.
Related Posts