Best Free Icon Packs For Android To Customize Your Phones In 2022

On your smartphone, Android OS provides the most personalized experiences. Because of its open-source licensing, which permits extensive changes, smartphone manufacturers are able to incorporate their own set of apps, custom icon packs, and whole interface. With some of the best icon packs available, Android OS will let you customize everything, including widgets to launchers to cool phone icons.
One of the frequent features you may alter on an Android phone is the app icons, which greatly improve how the home screen of your mobile device looks. You may alter the look and feel of your mobile screen and modify the interface with the aid of some of the best icon packs for Android.
Every mobile device maker typically has their own icon style (color, size, and form) to fit their theme. But if you don't like how your Android device's icons look, we've compiled a list of some best icon packs for Android 2022, so you can personalize them.
List of 10 Best Free Icon Packs For Android in 2022
Custom icons significantly alter how your mobile home screen appears. There are many best icon packs on the Play Store suitable for different styles. However, it can be challenging to identify the best android icon packs. So, in order to help you personalize your device, here are some cost-free, beautiful, icon packs for Android that are elegant and colorful.
1. Juno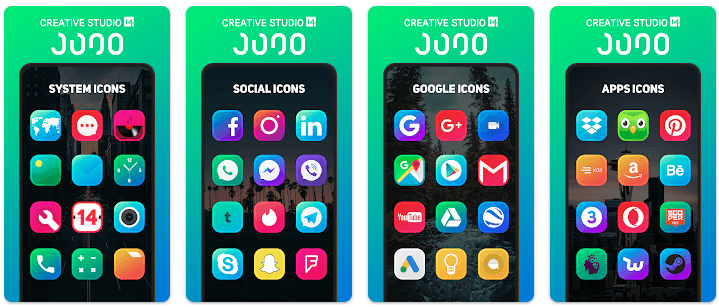 Undoubtedly, the most well-liked way to customize is using custom icon packs. The Juno icon pack is fantastic if you enjoy icons with gradient effects and resemble iOS. Over 2500 high-quality, vividly colored icons make up this bizarre and original icon pack. In addition, it gives users access to premium KWGT widget settings.
Additionally, one of the best icons packs with nice minimalist backgrounds, improving its beauty. This minimal icon pack is compatible with all current launchers in terms of compatibility. Free icons not currently included in the icons segment can also be requested. To accomplish this, pick the apps, then mail the application information to yourself using Gmail.
Also Read: Best Free Phone Number Apps for Android
---
2. Moonshine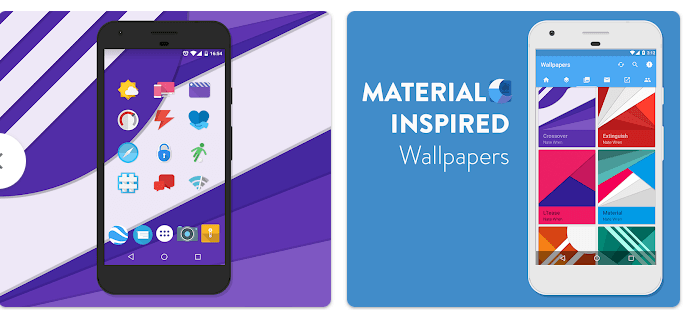 The Moonshine custom icon pack for Android has a selection of thoughtful icons. More than a million people have downloaded it, which speaks for itself about its appeal. One of the best icon packs for Android that is also compatible with various third-party app launchers.
It is unquestionably a wonderful icon pack that competes with most of its paid rivals. In addition, moonshine provides wallpapers with manually made patterns, unlike other minimal icon packs for Android that offer Unsplash wallpapers. The Moonshine icon packs are nice progress over other icon packs that complement the aesthetics and are associated with the stock Android.
---
3. Elta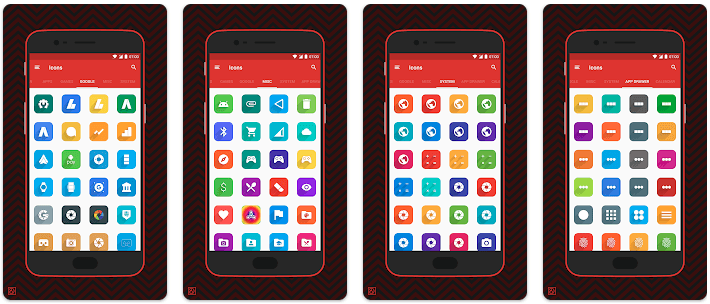 Elta has approximately 5000 great icons that provide a variety of designs for categories like calendars, apps, miscellaneous, systems, and more. In addition, it supports 20 lovely, cost-free wallpapers that are cloud-based.
To create a visually cohesive appearance on your mobile screen, Elta makes use of icon masking to match icons not present in the custom icon pack. But all it does is place those icons on a background of red, which can give rise to odd color combinations. In addition, Elta is the best Android icon pack if you have a lot of applications installed on your mobile phone.
---
4. Voxel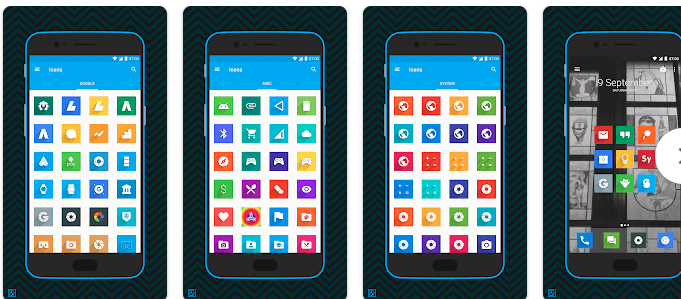 If you like your Android app icons' drop-shadows more noticeable, Voxel is the best icon pack for Android you want to check out. Each app icon in the set comprises a colorful square shape with a white icon casting a beautiful long shadow.
Its design enhances the overall home screen wallpaper and provides a pleasing appearance. In addition, it offers vibrant icons that are eye-catching and prominent icons, especially with a light background. The Voxel minimalist icon pack has the biggest collection, with over 5200 icons and 20 beautiful wallpapers.
In addition, it includes substituting cool phone icons for several popular apps and 25 different icon categories such as Samsung, Vivo, Xiaomi, OnePlus, and more. If you're tired of icon packs' traditional shape and design, change your app icons with this square-shaped flat icon set.
Also Read: Best Photo To Cartoon Picture Apps For Android & iOS
---
5. Aura

With more than 2500 icons, Aura has an iOS-inspired design. A gradient-coded design makes it appear amazing on dark wallpaper. Squircle-shaped app icons with a 192*192 pixels resolution can be found in Aura. To maintain a consistent appearance with all app icons having the same design and form, it employs masking to put them onto a fresh background if your apps don't have alternate icons.
Additionally, Aura provides 5 KWGT settings for widgets and 10 wallpapers that are compatible with many popular launchers, including Lawnchair and Nova Launcher. This is still a useful supplement, even if it's below some of the other best icon packs for Android.
---
6. Meeyo

Look no further if you want something more vibrant and high-toned. One of the best icon packs, Meeyo has a variety of beautiful icons that work with every home screen and launcher. Additionally, it provides more than 2100 icon sets and a variety of cloud backgrounds. The minimalist, flat-styled icon pack collection will help update the appearance of your phone. This Android icon pack is perfect if you're looking for original icons.
This set of app icons includes calendar icons with red and blue themes. The icon's date will change every day once you install this best icon pack. It also functions for numerous system shortcuts, such as a flashlight, scanner, recorder, or weather widget. Despite only allowing five requests to be made for free, Meeyo lets you submit icon pack requests, just as other best icon pack apps.
---
7. Resicon Pack

With over 1,600 higher-quality icons found in Resicon, have icons of folders for calendars, tools, games, music, videos, and many other things. It includes most of the apps on your phone and provides a wide variety of icon options. Therefore, you can select a different model if you become tired of the original design and request as many app icons as you want using Resicon.
Additionally, it comes with 50 top-notch wallpapers and more than 10 KWGT great widgets. Contrary to other best free icon packs for Android, this one keeps the stock Android hue while introducing small, straightforward style changes to keep you from being perplexed while browsing your installed apps, even if you're sick of the default apps.
Also Read: Best Offline Racing Games For Android Smartphones
---
8. Minma

One of the best Android icon packs, Minma has straightforward round icons with black backgrounds and stroked flat icons with neon-like colors in the middle. Minma will therefore be appealing to you if you enjoy simple, clean icons.
Minma has around 1150 icons in its icon inventory, occasionally adding new ones. Additionally, it offers app masking to control unthemed app icons on your Android device and stop them from detracting from the aesthetics of the home screen.
If you don't like the default icons for many popular apps, Minima also includes about 180 different ones that you may choose from. Additionally, managing app icons through the dashboard is simple, and you have the option to submit icon requests using a built-in tool.
---
9. Charcoal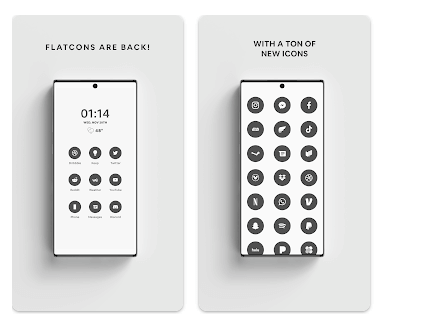 Charcoal icon packs, as its name implies, are based totally on flat designs, which were once popular but are currently experiencing a resurgence thanks to their distinctive aesthetic appeal.
A subset you acquire with other best icon packs for Android, Charcoal gives you 1900 beautiful app icons. Unfortunately, the support for launchers is also somewhat limited. However, these tradeoffs are worthwhile if you need a flat design with a minimal icon pack for your home screen.
In addition, you can look into other flatcon icon packs like Leaf, Blackout, Clear Sky, etc., if you love the appearance of these icons but want them in different colors to correspond with a specific theme of a home screen.
---
10. Icon Pack Studio (IPS)

Icon Pack Studio (IPS) is a more advanced icon pack for Android. An icon pack creator allows you to create your own unique icons. It's the ideal solution for individuals who desire a particular icon style for their Android device but cannot locate it in any of the best icon packs.
There are two alternatives available in IPS: building an icon pack for Android from scratch or downloading one that has already been created. You can therefore follow in accordance with your comfort level. The editor allows you to modify icons in terms of their shapes, filters, sizes, and special effects application.
You can import and modify other best icon packs that are already loaded on your device with Icon Pack Studio. So you may now change an icon pack with IPS if you generally like its appearance but object to a certain feature. IPS is compatible with almost all widely used launchers. But you must utilize it with Smart Launcher for the best results.
Also Read: Best Funny Faces Apps for iPhone and Android
---
Conclusion
One of Android's biggest advantages is the ability to modify the appearance and feel of various system components, and it all begins with customizing your device's home screen. As a result, the best icon pack apps listed can make it simple to rearrange the order of the app icons on your smartphone's home screen and give them a new and updated appearance.
While a number of best icon packs are available for download from the Play Store, we believe the finest Android icon packs on this list function rather well and satisfy a variety of tastes.
Samuel is an ardent tech geek who is obsessed with technology. He loves using his technical expertise to write informative and useful content to help people. Besides the techy stuff, he enjoys listening to music, reading books, and playing football.
Subscribe to Our
Newsletter

and stay informed

Keep yourself updated with the latest technology and trends with TechPout.
Related Posts