Looking for the best free GIF maker for Mac in 2023? Then, you have come to the right place. Here are the 7 most prominent GIF makers apps that you can try. Continue reading for more information!
GIFs are rapidly gaining popularity across social media platforms, with Facebook being one of the most notable examples since it provides users with access to hundreds of free GIFs. You don't even have to say a single word in order to convey your meaning with the help of a GIF in a remark. On the other hand, there are occasions when you may wish to create your own one-of-a-kind GIFs and publish them on your website, blogs, or social media channels. In this scenario, a professional animated GIF maker for Mac is just what you need. Keep reading to learn about some of the best choices!
7 Best Free GIF Makers Apps for Mac in 2023
Have a look at the list provided below to learn about the seven best free GIF makers for Mac. Without further ado, let's get started!
1. Giphy Capture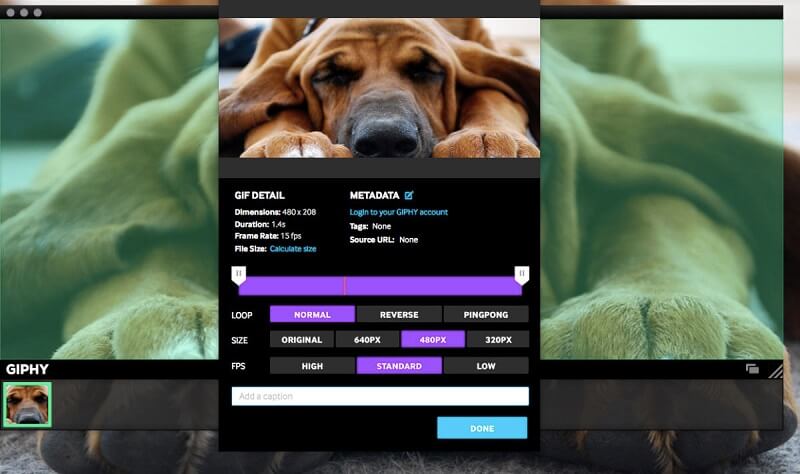 Giphy Capture is one of the best GIF makers for Macs available in the market. Designing your GIFs will still work best using screen recordings, according to this method. Simply click once to begin recording, & then click once more to end the session. After that, you should make your way to the section where you may alter your work.
You have the ability to modify the frame rate from standard to low, high, or HD; alter the size of the video to a maximum of 640 pixels, re-set the type of loop to usual, ping-pong or reverse & control the size of the video. After that, you should add a humorous caption to your animated GIF, alter the style, color, or size of the text, and choose an animation style such as scale or fade.
You may post your GIF to Giphy by signing in with your Giphy account, which is required. Or, if you'd like, you can save it to your PC. Giphy Capture is a handy program that captures the contents of your screen, provides you with some fundamental editing choices, and makes it easy to create GIFs.
Also Read: Best Free Photoshop Alternatives for Mac
---
2. Gifski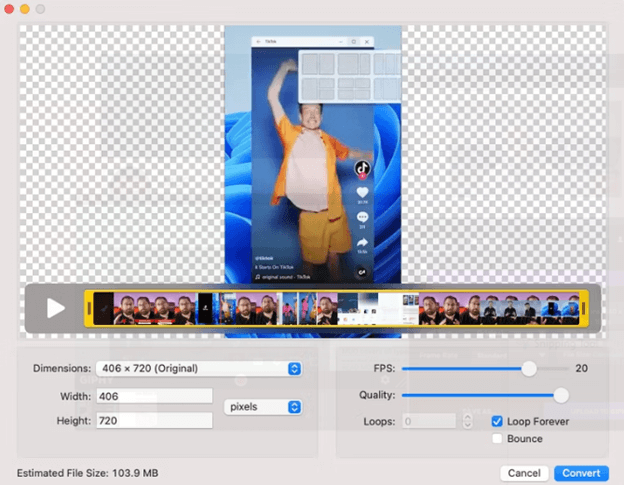 Gifski is another worthy contender for the title of best GIF maker for Mac. You may produce GIFs of superior quality with Gifski by starting from video files or still photos. The application takes up a very little amount of space on the hard drive of the Mac, but it has one of the quickest conversion speeds available. It also generates GIFs with small file sizes while preserving a high level of picture quality.
Gifski's ability to convert movies into GIFs with user-customizable frame rates is one of its most notable and useful functions. In addition to this, it provides a wide variety of customization possibilities, such as adjusting the width, height, quality, and many other parameters. On the other hand, if there had been a choice to type over the GIFs, it would have been a much more useful feature.
---
3. Gifox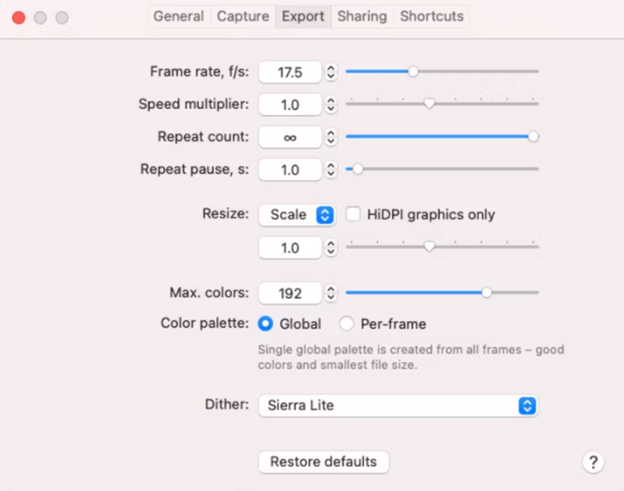 Gifox is yet another well-known free GIF maker for Mac that gives users the ability to generate high-quality animated GIFs from video files or still photos. Although the application has a contemporary user interface, finding the ability to make GIFs on a Mac requires some digging around. You may make GIFs not just from movies and still photos, but also from screenshots and other recordings of your screen.
You are able to make changes to the video by using tools such as cropping and resizing the GIF, modifying the color balance, and a lot of other options. It would have been helpful for me if there was an ability to add text or overlays on the image. During our testing, we were unable to identify any option that addressed it. However, in sum, Gifox is the best free GIF maker for Mac that you can consider.
---
4. LICEcap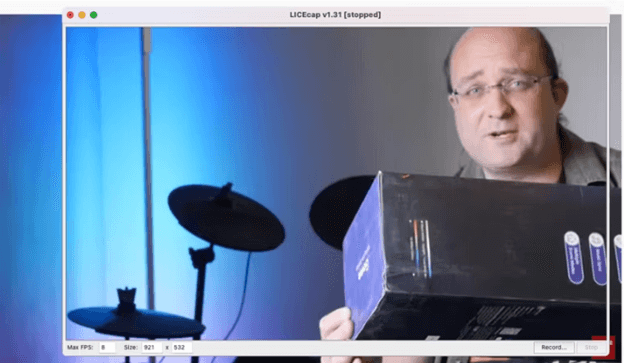 LICEcap is yet another screen-capturing and GIF-maker application that is readily available for direct download. This one does the same functions as Giphy Capture & is just as simple to use. Launch it and make any necessary adjustments to the FPS (Frames Per Second) and the recording window's dimensions. After that, you need to press the button labeled Record.
A popup box will open just before the recording begins, allowing you to give the file a name, add tags, adjust the time that title frame displays to indicate how much time has already passed, and the play mouse button pushes. In addition, you have the option of including a title, repetition counts, and programming the recording to end on its own after a specific period of time.
When you click the Save button, your recording will start. At the end, press the Stop button. In contrast to producing animated GIFs for use on social media, this free GIF maker for Mac shines when it comes to capturing your computer screen for use in professional settings.
Also Read: Best Image Viewer for Mac
---
5. GIFlash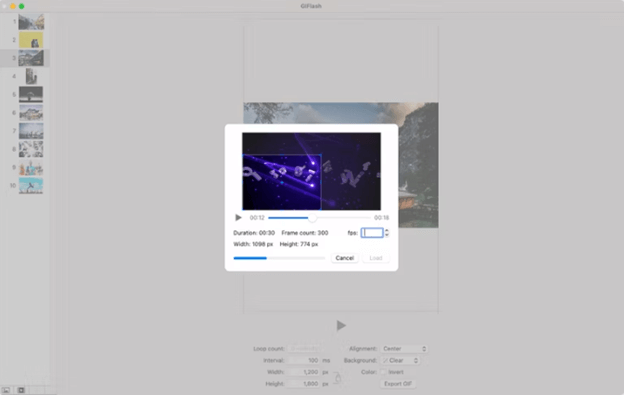 GiFlash is yet another best GIF maker for Mac available on this list. Unlike Gifski, it does not have any restrictions or in-app purchases. This Mac GIF maker is able to deal with video as well as still images. You can take a movie and convert it into an animated GIF, or you can take a sequence of still photographs and create the same effect.
It's also possible to combine photographs and films, which is an interesting option. You may even change individual frames around or erase them entirely. In addition, while converting videos you have the option of selecting which part of the screen you wish to record.
You are unable to determine how much of a video, in terms of time, you want to load into GIFlash before you begin working on it. This is something that seems to be impossible for you to achieve. You have to start by loading everything in, and then you have to reduce it down after that.
However, you have the ability to alter the frame rate, size, and alignment of the video. In your animation, you may also choose to invert the colors or add a backdrop color. In addition, you have control over the loop count as well as the intervals.
---
6. Smart GIF Maker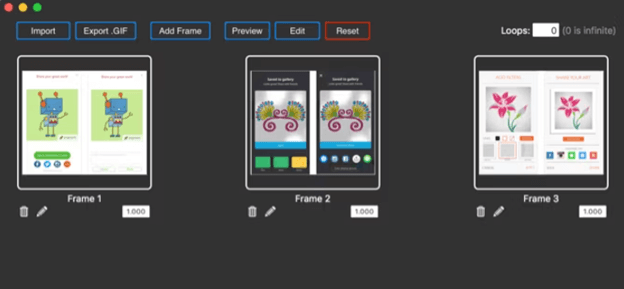 The Smart GIF Maker application is an excellent method for creating GIFs on a Mac. When you import your video, the application separates it into individual frames that you may then manipulate, delete, or alter. You can also utilize photographs with the app and import them with the same editing tools that are available for videos.
You have the option, inside each individual frame, to alter the size of the drawing, make use of an eraser tool, modify the color of the backdrop, and match colors using an eyedropper.
After you have finished editing your frames, you will see a page that allows you to adjust the time delay for each as well as the number of loops. After you have finished producing your GIF, click the Preview button at the top of the screen, and if you are satisfied with it, you can then save it to your computer.
This animated GIF maker for Mac offers a user interface that is uncluttered and simple, it is simple to use, and it is free to download with the option to remove the app's watermarks with an in-app payment.
---
7. PhotoScape X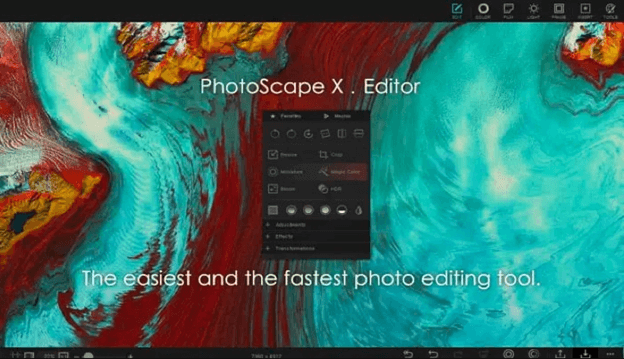 Last but not least, PhotoScape X is a popular best free GIF maker for Mac that makes it simple for users to generate animated GIFs from movies and still photographs. They may even utilize grabs taken from live video. You are able to make adjustments to GIFS in addition to creating new ones.
One of the most important aspects of PhotoScape X is its user-friendly interface, which makes it simple for users of varying levels of expertise to generate GIFs that are of professional quality. Because it is packed with so many different editing options, this program is also fantastic for modifying standard photographs.
Even while I can see why the creators need to sell a paid edition of the software in order to make a living, it would have been nice if the free version had a few more of the same kinds of features.
In general, the PhotoScape X program for creating GIFs is a very effective tool that is also simple to use, making it suitable for both novice and experienced users. Because of the comprehensive set of tools it offers and the user-friendly nature of its interface, it is an ideal option for anybody wishing to produce GIFs of high quality on their Mac.
Also Read: Best Duplicate Photo Finder and Remover Apps for Mac
---
Wrapping Up!
On a Mac, creating GIFs using the proper application might be a challenge since you have to go through quite a procedure to discover the software that is most suited to your needs. We have compiled this list highlighting the seven best free GIF makers for Mac, ensuring that it contains the application that best meets your requirements.
Hopefully, you found the article helpful. Please feel free to drop your questions or further suggestions in the comments section.
Harshita Sharma is a technical writer with quite a distinct understanding of the tech realm. She is a tech enthusiast who believes that tech knowledge should reach one and all and tries to convert the sketchy knowledge into the simplest possible form for making people understand the tech world better. When not playing with words, she loves to travel and explore new places. And, is a coffee & cricket connoisseur.
Subscribe to Our
Newsletter

and stay informed

Keep yourself updated with the latest technology and trends with TechPout.
Related Posts