If you are searching for the best free Alarm clocks apps for Mac in 2023, then you have come to the right place. Here, you will find the 7 most deserving alarm apps for Mac. 
You need a reliable alarm app on your Mac in order to get up on time, regardless of whether you nod off while working or after spending the night gaming. Alarm apps for Mac may do more than just wake you up from sleep; they can also remind you to take a break from your activities or remind you of those deadlines.
Your search for the best MacBook alarm clock app may come to an end with the help of this list. So, without further ado, here are our recommendations, each with a unique focus and set of features.
7 Best Free Alarm Clock Apps For Mac in 2023
Listed below are a few best alarm apps for Mac that you can consider to manage your time. Without further ado, let's get started!
1. Sleep Alarm Clock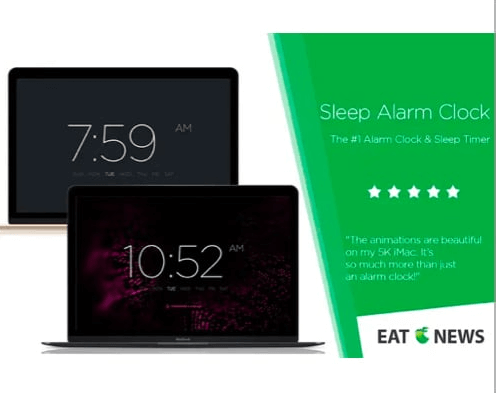 Because of its five-star rating on the Mac App Store, the Sleep Alarm Clock has earned a spot in our recommended products list. This Mac alarm clock app may be useful for those who seek just the proper amount of sleep and not more than that, as one would have guessed from the description. The makers claim that the software was developed in collaboration with sleep analyzers after a great deal of research and studies were conducted.
You have a selection of live soundtracks available to you that range from calming and peaceful to ambient. This program, in contrast to conventional alarms, will greet you with a soothing "Good Morning" tone. In addition, customers have the ability to modify the alarm level, there is a snooze button that is simple to use, and there is a sleep timer for background white noise.
In addition to that, there is a charming animated film that plays in the background, which warms up both your workspace and the whole area. Unfortunately, suppose you possess a Mac that is running Apple Silicon. In that case, you will run across a number of UI issues, which will ultimately ruin the experience of using the program entirely.
Also Read: Best Task Management Apps for Mac
---
2. Wake Up Time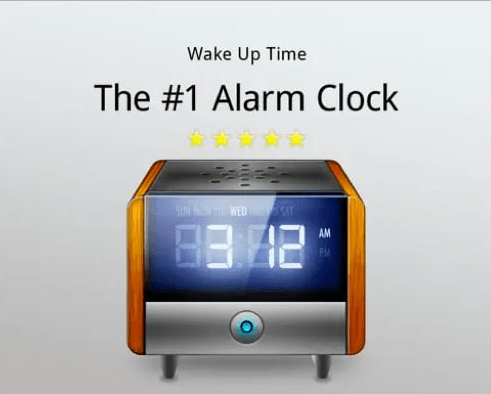 When it comes to this program, the proverb "Old is God" is absolutely accurate. Why? Even though it hasn't seen an update in years, this app is still a contender for the best alarm clock app for MacBook. You will first see a clock in a vintage style, and if you have a soft spot for vintage aesthetics, you will instantly like this one as soon as you see it.
You have access to an extensive library of pre-installed alarm tones, and if that isn't enough, you can even add your own custom tones. Are you still having trouble deciding which sound to go with? What about giving the app control and having it choose the sounds in a random order? Because the user interface is so straightforward, turning off the alarm when it is no longer required is a breeze.
---
3. Timer RH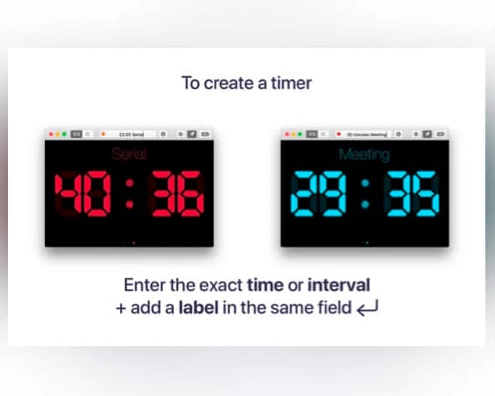 Our compilation of alarm clock applications for the MacBook now includes yet another innovative timer app. After you get beyond the first learning curve, you will quickly find that you like using this Mac alarm clock app. It is possible to add numerous timers at different times. After you have set a timer, you will see a digital countdown in the manner of the 1980s.
To set a timer, users may either utilize the bar at the very top of the app, or they can drag down the slider next to the app's icon on the status bar. And just so you know, the user interface is quite smooth! There are various methods to personalize the application's tone as well as its visual and auditory presentation, and there is even an option to set a timer.
Also Read: Best Free Mac Menu Bar Apps
---
4. Clock App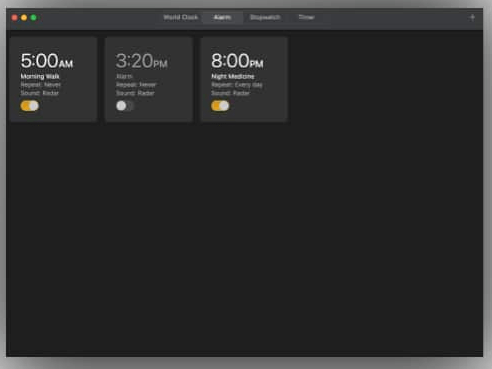 Apple has spent a lot of time and effort over the years perfecting the Clock app, making it one of the finest alarm apps for MacBook Pro, Air, or any other Macs that are currently on the market. Putting the alarm on is a breeze thanks to the logical processes involved. In addition to the alarm, you have access to the World Clock as well as the Stopwatch and the Timer.
The user interface is simple, and as a result, it does not cause confusion. Finding any of the necessary alternatives is not difficult. However, not everyone is going to be a fan of a basic user interface since it lacks many functions that the other products in the market supply.
---
5. Timeless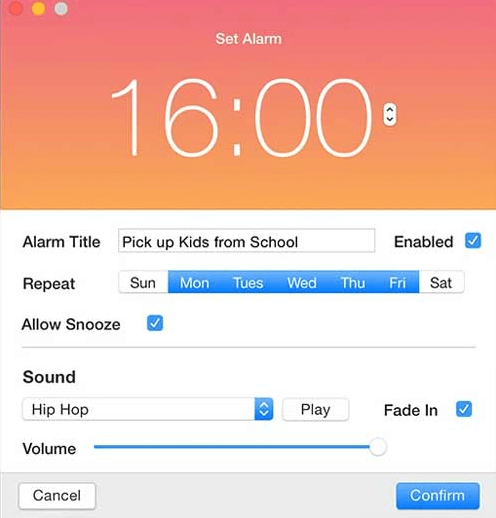 Timeless is yet another thoughtfully crafted alarm clock for Mac that provides a wealth of user-friendly functions. To begin, you have access to all of the basic features, including an infinite number of timers, personalized names and alarm sounds, programmable snooze, and volume controls, and an automatic fade-in feature.
However, we like using the app since it offers a variety of color options. The color of the interface adjusts itself according to the time of day, which helps to keep the app's UI seeming new. For instance, alarms set for the wee hours of the morning would have a blue backdrop, while alarms set for the wee hours of the night would have a purple background. You also have the option to configure the program to operate in the nightstand mode, which displays just a simple clock on the screen of your Mac. You can get the Timeless alarm app for Mac from the App Store for $4.99.
Also Read: Best Calendar Apps for Mac
---
6. Clock Mini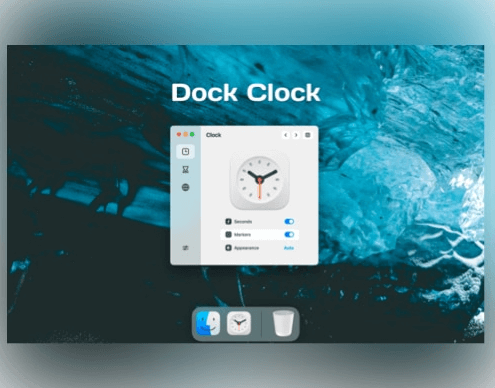 Clock Mini is another one of the best alarm apps for Mac that you can use. In addition to this, the application is also accessible through Apple TV. We really like how the app has a nice and straightforward user interface. It has the capability to flip between light and dark modes, in addition to having several clock faces to choose from.
You will receive a large number of customization choices, even in the free edition, so that you may make it fit your requirements exactly. On the app itself, there is even a specific menu option for personalizing the timer!
It is strange that the software does not provide an option to set an alarm, considering that it has a clock in its name. You may use the built-in timer as an option, however. It is odd given that the creators have supplied a large number of choices for customizing the software.
A further feature that we like about the application is that the clock icon located in the dock may be used as a real-time clock. In spite of the fact that the ability to set the duration using a slider is a welcome feature, we would have preferred it if there was also the possibility to manually set the timer limit by keying in the numbers.
---
7. Awaken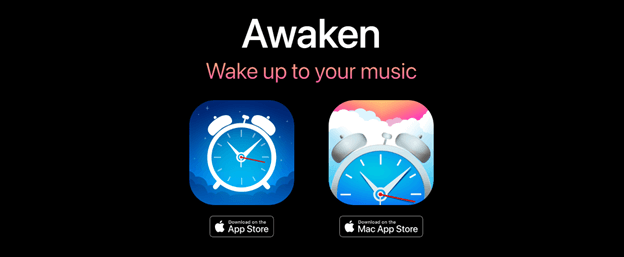 Awaken is a full-featured and best alarm app for Mac that comes with all of the capabilities that we discussed before. You have the ability to alter the snooze time, create an infinite number of repeating alarms, fade in music, and adjust the brightness, among many other things. However, the most appealing feature of Awaken is that it can launch any productivity app that you choose whenever the alarm goes off. This is the app that gives Awaken its name. It is not even necessary for it to be an application; instead, you may just launch a file. When you have work to accomplish on your Mac, you may find this useful.
The well-liked alarm software for Mac computers also has the option to silence the alarm on its own if the user does not engage with the program for a certain amount of time. It costs $6.99 to get the app from the App Store.
Also Read: Best Download Managers for Mac
---
Wrapping Up!
That's all! Use one of these alarm clock applications for your Mac to get up on time. With these alarm apps for Mac, we have made it a point to include all of the programs that are capable of assisting you in being more productive. Nevertheless, if you have any questions or better suggestions, feel free to leave them in the comments section below.
For more tech-related information, you can subscribe to our Newsletter and follow us on Social Media – Facebook, Instagram, Twitter, or Pinterest.
Harshita Sharma is a technical writer with quite a distinct understanding of the tech realm. She is a tech enthusiast who believes that tech knowledge should reach one and all and tries to convert the sketchy knowledge into the simplest possible form for making people understand the tech world better. When not playing with words, she loves to travel and explore new places. And, is a coffee & cricket connoisseur.
Subscribe to Our
Newsletter

and stay informed

Keep yourself updated with the latest technology and trends with TechPout.
Related Posts