Best Free AI Music Generator to Create Songs With AI in 2023

Here is a curated list of the best free AI music generator tools in 2023 that you can use and create the perfect music that meets your requirements. 
Music is one of the best sources of entertainment. Whether we are feeling sad, happy, excited, angry, or any other emotion; music has the capability to retain or change your mood for the good. Music is a great source of escape, not only for listeners but also for creators.
With so many technological advancements, it has become very easy for creators to play with music and create some amazing tunes. And with so many improvements in AI (artificial intelligence), the same has picked up pace. The internet contains loads of tools that can help you create the music of your choice. An AI music creator is one such tool.
With the help of such tools, you can provide any viable input and get accurate results in the form of music. Such tools take the help of artificial intelligence to generate accurate results. So, without any further ado, let's have a look at the list of the best AI song generator right below.
Best AI Music Generator for Free in 2023: Create Music with AI
Below, we have listed and described 7 different AI tools for your reference. You can use any free AI music generator that suits your requirements and generate desired results. We suggest that you have a look at all the tools first for reference and then use any AI song creator as required.
1. Beatoven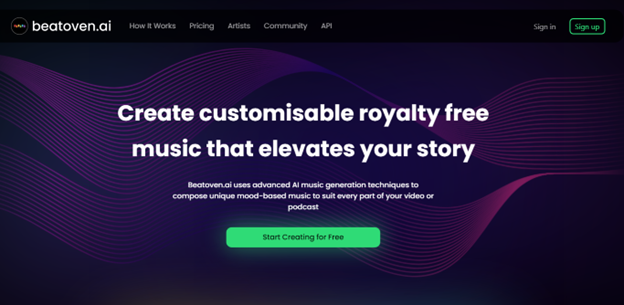 Beatoven is a one-of-a-kind AI music generator for free that simplifies the process of creating music. It is intended to make the creation of original soundtracks for your films or podcasts as easy as is humanly feasible. You don't need to be an expert in music theory or a seasoned producer to make original, mood-based music with Beatoven.
All you need is an internet connection to use this AI music creator. No matter what your level of musical expertise is, the goal is to make the production of music easy and pleasurable for you. Beatoven will produce a variety of different versions of your tunes on your behalf. Everything is up for grabs, from the kind of music to the instruments to the speed.
Simply upload your video or podcast to have it automatically produce soundtracks for you, making the audio editing process even simpler. Yes, it's that easy to use this AI song generator.
Features of Beatoven:
Supports drag and drop
Multiple genres and styles
Mood selection
Easy composition
Also Read: Best Free AI Image Generator
---
2. Soundraw AI

Soundraw AI is yet another excellent choice for a free AI music generator. With this tool, you can, amongst a great deal of other things, personalize a song by adding AI-created words. The application depends on a mix of artificial intelligence and its assemblage of manual tools, both of which make it simple for you to create new music and personalize it to your liking.
You are able to improvise on and fine-tune a single piece of music thanks to a feature of the platform that allows for personalization.
Although free users have access to the AI music creator and may use it to produce music, subscribers have access to limitless downloads.
Features of Soundraw:
Free-to-use music AI generator
Smart UI
Easy for beginners
---
3. Beatbot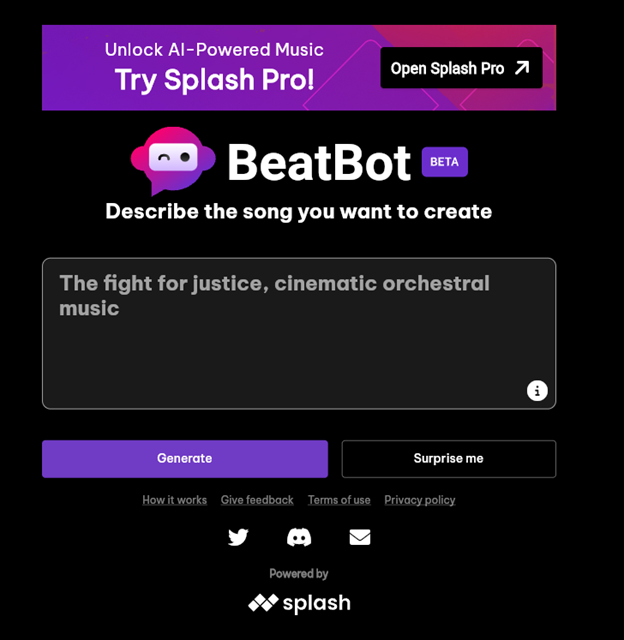 Beatbot is an innovative free AI music generator driven by artificial intelligence that composes brief songs depending on the language prompts you provide. It creates the music and vocals using Splash sound loops and utilizes ChatGPT to construct the lyrics.
At the moment, Beatbot is in the beta stage of its development and users do not have to pay to use this AI song generator for free. Nonetheless, there is a possibility that price may be implemented in the near future. It is not only about making music; rather, the focus is on providing users with the tools necessary to participate in the process of making music.
With this AI music maker, users are able to add lyrics after they have responded to a prompt that has generated a straightforward musical track or loop. The lyrics mostly correspond to hip-hop and rap vocal styles. When working on lyrics, it is essential to focus on one line at a time for the greatest results.
If there are either too few or too many words, the music will have an unusually computer-generated quality.
Features of Beatbot:
Free for all
Smart AI base
Competitive performance
---
4. Ecrett Music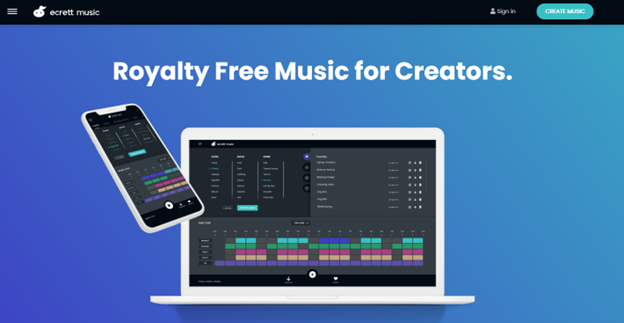 Anyone may learn to create their own music with Ecrett Music, an AI music generator, by listening to and learning from hundreds of hours of pre-existing tracks. Because of its user-friendly interface and comprehensive library of scene types, emotional states, and genres, this application is an excellent option for both novices and seasoned audio editors.
You are able to generate music for any film or game by using the music generator AI, and it comes with a royalty-free tool so that you do not have to worry about any licensing difficulties. Before clicking on the "Create Music" button, you must first pick at least one choice from the Scene, Mood, and Genre drop-down menus in order to utilize the tool.
After then, this AI song maker will generate music depending on your selections; yet, even when you keep all of the parameters the same, you will always end up with unique music.
Features of Ecrett Music:
Completely royalty free
Active customization
Multiple genres
Also Read: Best Free AI Content Generator & AI Writers
---
5. Aiva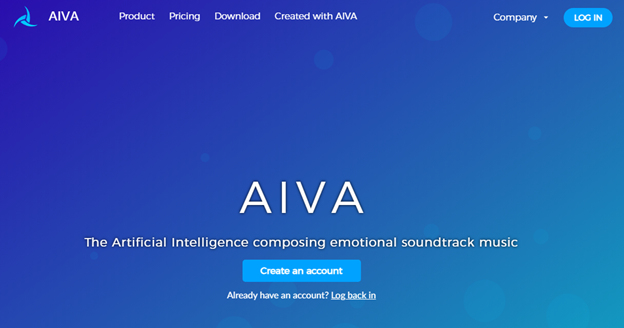 Since its birth in 2016, the artificial intelligence known as Aiva has been making music via the use of a free AI music generator. It is intended for use in the composition of soundtracks for a variety of media, such as commercials, video games, and movies. Users are able to choose a key signature, the duration of the music, and the number of AI-generated compositions after the selection of a template (a prepared prompt).
Through the usage of this AI music creator tool's technology, users are able to compose music or develop versions of already existing songs without the trouble of going through the music licensing procedure.
In addition to providing a selection of presets and a number of different music formats, this AI song generator gives users the option to alter soundtracks. Because of its adaptability and pleasant interface, Aiva is a favorite option not only among experienced audio engineers but also among novices.
Features of Aiva:
Smart assistant
Multiple compositions
Beginner friendly
Also Read: Best Free Music Download Sites to Stream Your Favorite Music Online
---
6. Soundful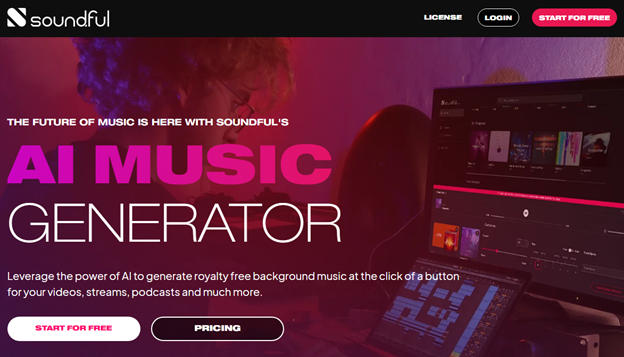 Using the immaculate power of artificial intelligence, Soundful, an AI music generator,  allows you to make royalty-free music for anything and everything. From videos to streaming, from podcasts to many other types of media, the tool can do everything with the click of a button. The whole workflow is intended to be user-friendly; all you need to do is choose some genre, tailor the inputs to your preferences, and start making songs.
Keep trying different tracks until you discover the one that suits you best with this AI song creator. It's as simple as that. The most important aspect of the music is that it is original.
Soundful's AI song maker will never replicate a song that already exists or even one from its own platform.
Features of Soundful:
Free and paid versions
Huge gallery of music
Unique tracks
---
7. Mubert

The artificial intelligence/AI music generator known as Mubert is making ripples in the business. This platform combines technology and creativity in a way that is both novel and effective.
Mubert is a creative approach to the creation of one-of-a-kind soundscapes, and it was created specifically for music producers who want to push the limits of conventional music production techniques. Mubert, an AI song generator, has a number of additional benefits as well. Users are able to build individualized music and soundtrack experiences inside their own applications, games, and other platforms by using its application programming interface (API).
You may also sell AI-generated songs via Mubert Studio, which is a platform for your greatest artificial intelligence work. Mubert is also able to organize music that has previously been made into playlists that are customized to your preferences. Making it one of the best AI music creator tools ever.
Features of Mubert:
Limitless creation
Multiple genres
Smart UI
Also Read: Best Free Music Notation Software for Windows
---
Which is the Best AI Music Generator in 2023?
So, this was all we had to share related to the AI music creator. We hope that by now you must have figured out which is the best tool that you can use to generate music. The best way to approach this conclusion is to check out all tools yourself and then use the one that fits your requirements and expectations perfectly.
For any kind of help from our end, you can use the comments section to get to us. Write your queries associated with AI music creator. Our team of experts will offer reliable solutions to you for ease. Moreover, allow us to keep up the good work by supporting us and following our social media pages on Facebook, Instagram, Twitter, or Pinterest. You can also subscribe to our newsletter for more updates.
Do let us know how did we help you find out the best AI music generator using comments as well.
Devesh, being a technical writer, likes to research and write technology articles and solutions to help others. Having great knowledge about the tech world and its working, he likes to pour the same into his write-ups. Before starting any write-up, he likes to pen down his thoughts and flaunt a creative edge in the same. Apart from being a writer, his primary interests include reading books and poems, cooking, and playing video games.
Subscribe to Our
Newsletter

and stay informed

Keep yourself updated with the latest technology and trends with TechPout.
Related Posts