Best Free AI Content Generator & AI Writers For 2023
Published Date :
Mar 14, 2023

If you want to save yourself the hassle, here are some of the most viable alternatives as the best free AI content generator tool that you can try for content creation with ease in 2023. 
AI or artificial intelligence is advancing by the hour. This is the technology of the future that promotes automation along with machine learning and other growth-stimulating strategies that reduce the workload of humans. Different AI tools are gaining popularity rapidly because of the ease of access they offer, paired with reliability.
A lot of users take the help of AI to generate content for blogs, articles, posts, and various other purposes. These content generators help in saving the time and effort of the user and get things done when facing a deadline or otherwise. We have curated this list of tools that will help you with content creation. Use any best free AI content generator you want but first, we suggest you go through the entire list of tools for better decision making
Best Free AI Content Generator: What Is It?
A relatively new type of software called an AI content generator may assist you in producing high-quality, SEO-friendly articles, blog posts, and more. The top artificial intelligence (AI) content generators provide wholly unique material that ranks highly, has high interaction, and boosts your traffic.
The best free AI content generator can produce hundreds of pieces of material each day in only a few minutes, and they also have a human touch. But, before it is published, users also have the option to alter each piece of material. This implies that in addition to receiving a big quantity of high-quality articles, you will also receive content that is pertinent to your audience and will thus perform higher in search engines like Google.
Based on supplied keywords or subjects, the best free AI content generator generates original, fresh, and high-quality material. In place of doing manual keyword research, it may be utilized to locate pertinent subjects for your website. Nevertheless, rather than detailed analytical assessments, these tools work better for general themes.
Indeed, there are situations when artificial intelligence content is of poor quality. You shouldn't let the AI content writer produce all of your material, as a result. Artificial intelligence-generated material is only a workaround for writer's block. It goes without saying that the majority of information produced with AI should be fact-checked and modified.
Which is the Best Free AI Content Generator in 2023?
The coming sections of this article will list and describe the features and advantages of the top best free AI content generator. Try any of these tools as required and get things done perfectly.
1. Copy.AI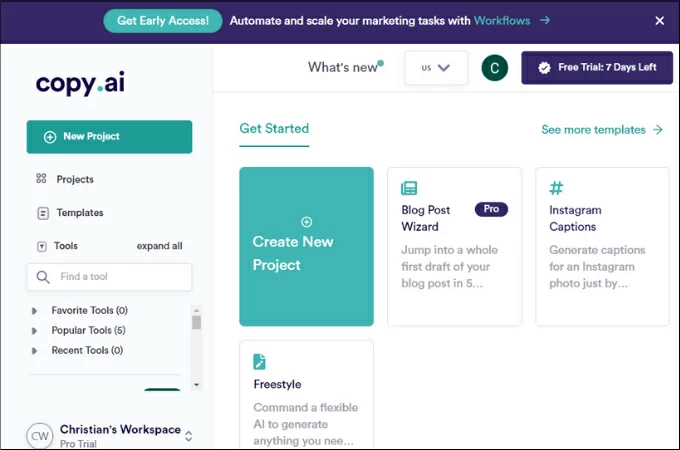 The finest free AI tool for content development is Copy AI, which lets you quickly and easily create a variety of forms of articles and posts. Copy AI was established in 2020 with the goal of assisting content producers using AI-powered writing tools that encompass over 90 different content kinds.
Copy AI is one of the most renowned and esteemed AI writing tools, with four million+ subscribers, including marketers, marketing agencies, copywriters, freelancers, and many other enterprises. The top Google results are scraped by this technology to produce accurate content. Chat Copy.ai provides factual responses and displays the sources it used.
This is the best free AI content generator tool that may be used to produce excellent material for a variety of platforms, including your websites, social network accounts, digital ads, blogs, e-Commerce, and sales. The most advanced AI language tool is used by Copy AI to boost your skills and aid in the creation of amazing content.
Top Features of CopyAI
Blogs- Copy.AI generates a whole blog with just the title of your topic, including the primary keyword. The first draft will then be generated by Copy AI, and all you have to do is review the content outline and other essential talking points.
Rewriter Tool – This option can rewrite a piece of text for you once you've written it and have decided on the tone.
Over 90 Different Web Content Types – Produce over 90 different types of content.
Use ChatGPT's strength while adding factual content.
Generator for Blog Article Ideas You can access a wealth of alternatives by simply typing in a title or a brief description for this blog.
Passive-Active – This is the best free AI content generator and a smart tool that transforms any sentence from the passive voice to the active voice.
Use the tool to create email subject content that promotes your company's name, goods, and services.
There are more than 25 languages available for you to select from.
Also Read: AI Tool Can Now Automatically Update Outdated Wikipedia Content
---
2. Simplified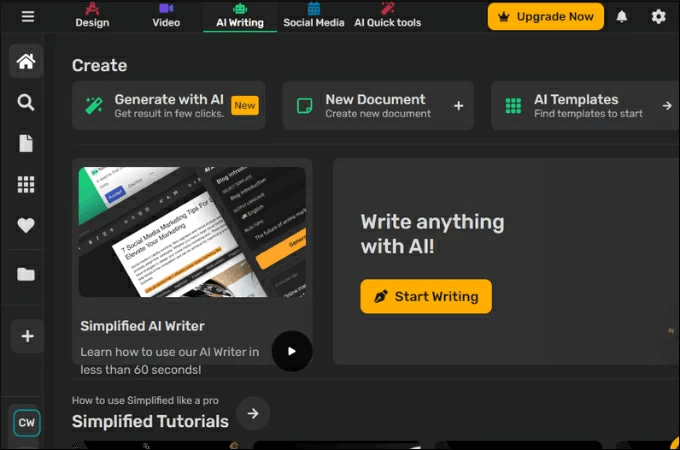 Your in-depth articles' quality can be greatly improved by a Simplified AI writer. Using this free artificial intelligence writer, you may create powerful books, blogs, articles, and whatnot. Also, you can generate text using more than 50 cases.
This is the best free AI content generator that has a content rewriter, along with its other helpful AI functions, which can swiftly replace your current material with a new, more captivating copy. There are more than 10 various ways you can communicate, including formal, conversational, and hilarious.
There are additional benefits to Simple beyond its role as an AI helper. Use it to make photos, edit and animate films, or post content to social media – it's free! Simplified distinguishes itself from this competition by resizing information and images quickly. You can modify your templates by adding pictures and using filters, as well as by altering the hue, brightness, and saturation.
If you lack any previous experience, that's okay. Because of the best free AI content generator's extensive library of attractive, editable templates, visual properties, pictures, and videos, you won't need to start from zero while creating your project.
Top Features of Simplified
Using free options like a background remover, an AI picture generator, and others, you may create and alter graphics.
Video editing – Using Simplified tens of thousands of video templates, make videos for any social media network with this best free AI content generator.
Compose up to 3,000 words.
Social media posts: Post to all of your social accounts and schedule it.
Text-to-speech – Add automated voice-overs to your films to elevate them to a new level.
Multiple AI templates can generate captivating copy for multiple marketing channels, landing pages, smart websites, advertising, emails, and many more.
This is an amazing time-saving alternative for creating articles, essays, blogs, and other types of writing.
Grammarly Integration – By quickly checking your work for errors in spelling, grammar, and punctuation, anyone can relax knowing it is error-free.
Over 30 languages – Develop multilingual content.
Create captivating Instagram reels by using video templates for Instagram.
---
3. Writesonic
Several content marketing strategists utilize Writesonic, amongst the top businesses in the writing sector. Also, the best AI art producer that they offer is Photosonic. You may generate free AI content for certain words per month using this best free AI content generator. Writesonic's words are categorized into 4 categories named Economy, Good, Average, and Premium. You will receive 2500 words each month if you select Premium.
You may use different templates, landing pages creator, AI blog writer options, as well as many extensions, with Writesonic's free plan.
The AI content generator from Writesonic may be used to produce material for blogs, social media, effective ads, and other platforms.
Several useful copywriting tools & features are principally responsible for its enormous popularity. Moreover, Writesonic uses the GPT-3 language learning model with AI technology for the production of content, enabling you to create fresh material with only a single click.
Top Features of WriteSonic
A conclusion, intro, and other blog parts may all be created using the AI Article Writer's blog generator of this best free AI content generator.
Writesonic offers multiple writing tools, including many for copywriting. These programs may generate high-quality material for advertisements, social media postings, descriptions, and other uses.
Content optimization – Writesonic offers a grammar checker, summarizer, expander, rephraser, and readability checker in addition to the normal text production tools.
GPT-3 – Writesonic makes use of GPT-3 from OpenAI. Using the same, you can produce convincing content that sounds more human.
Supports over 25 Languages – You can write copy in a variety of languages.
---
4. Rytr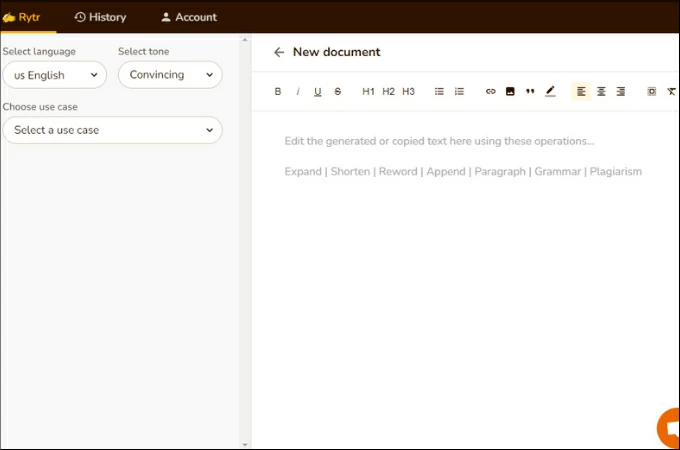 Millions of marketers, copywriters, and company owners of well-known businesses in the world utilize and adore Rytr to assist them to develop content. It is regarded by many contractors as the best free AI writer with user-friendly UI and competitively priced.
This best free AI content generator platform creates unique and pertinent content for several sectors using a sophisticated AI language. Over 30 languages are offered for users to receive material in.
In addition to other options, Rytr leverages the scientific copywriting formulae AIDA and PAS to create high-quality results that require little to zero editing. You can ensure that your writing is unique thanks to its built-in plagiarism detection.
Top Features of Rytr
Blog Posts – Rytr's simple long-format content generator lets you create comprehensive blog posts and articles.
Blog Ideas Generator – Use our free AI article writer to generate content ideas or outlines for your posts.
40+ Templates – Increases writing productivity.
Make your work stand out with the help of formatting options so that people will like it.
The AI helps you convey the perfect message to the reader with 20+ Tones of Speech.
Scientific Copywriting – Your material will be polished, which will lessen the requirement to update it.
Write outstanding SEO content descriptions and choose the best keywords with the help of the SEO analyzer. All this is free with the best free AI content generator.
Text Editing – Your text's sentences or paragraphs are automatically written by the AI text completer.
Free of plagiarism content Use Rytr's plagiarism detection tool to ensure that your writing is always unique.
Integrations – Access your chosen programs, including Shopify & WordPress, via the Rytr API.
You'll finish your emails, blogs, and social updates more quickly with this Chrome extension.
Also Read: Best Social Media Apps For Your Business Marketing
---
5. QuillBot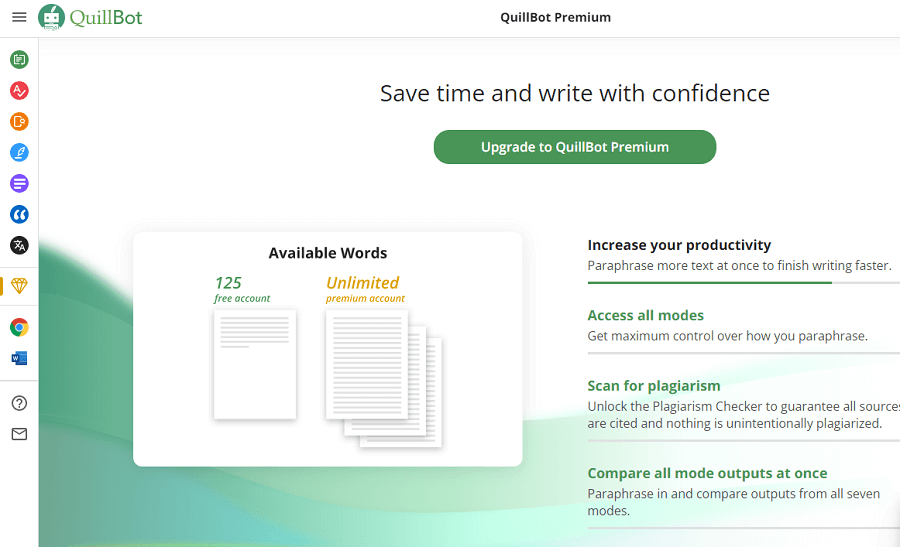 Quillbot, a content rewriting tool, has helped millions of people rewrite the existing text in a variety of ways while ensuring the right phrasing, tone, plus style in every situation. When you use this best free AI content generator, you type your words in input boxes, and its sophisticated artificial intelligence analyzes them to provide the finest possible paraphrase. You can use the tool again if you're unhappy with the outcome.
A high-level text summary and essential points are highlighted in Quillbot's AI summary option, which searches through emails, papers, and news items in addition to the paraphraser.
Top Features of QuillBot
Enhancing Your Vocabulary – By adding new terms and synonyms to the vocabulary, you'll be able to write more creatively and coherently.
Summarizing Tool – Offers one text summary option that you may use right away to gain a brief overview of the key ideas in your topic.
Thesaurus with AI – Your text should have appropriate synonyms for every word, which you may use by simply clicking on the term in question and selecting the perfect one from this list quite easily.
Grammar Checker: When you've completed writing an article, this best free AI content generator swiftly evaluates it for mistakes in word choice, grammar, punctuation, spelling, and other aspects so that may improve them.
The following is a collection of some of the most common questions we get asked about our services. It's easy to create citations in APA, MLA, and Chicago styles.
Tool for Counting Words and Characters – Provides information related to words & characters in the output.
Integrations and Extensions – Quillbot is compatible with Chrome Extensions, Google Docs, & Microsoft Word. Use the free Quillbot addon instead of having to switch tabs every time paraphrasing is required.
---
6. WriteCream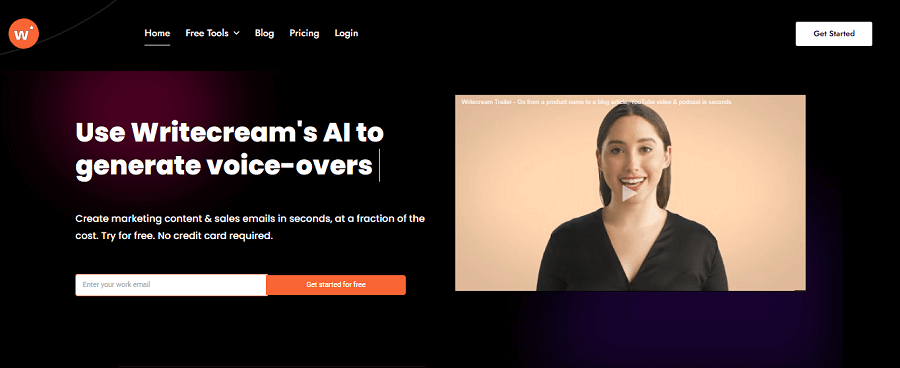 Writecream is an AI content authoring tool that offers a flawless long-form editor with various formatting possibilities. You have the ability to create whole articles as though you were using Google Docs or any expert text editor. In addition, this best free AI content generator aid offers other capabilities like "expand," "rewrite," and "paraphrase" when highlighting any word inside the editor. The AI writer from Writecream makes it simple and straightforward to write and modify your stuff.
Writecream is a tool for creating blog articles as well as for copywriters that want short-form material for things like LinkedIn, Google, and Facebook advertisements, email, blog ideas, and much more. Also, a 4-step AI article writer is included; all you need to do is enter the topic; the AI will take care of the rest.
Top Features of WriteCream
Create all kinds of original material for free using the free content generator (up to 10,000 words per month).
Short-form Content – Provide material for several use cases, including Quora responses, Quora product descriptions, SEO, and advertising.
When you've highlighted your content, use the Rewrite Tool of this best free AI content generator to effectively rewrite it.
Text-to-audio: Convert any blog post to an audio file by selecting from more than 40 voices (multi-lingual). You may produce podcasts and videos for YouTube to reach a larger audience.
Use Writecream on the move with their mobile app, which is accessible on both Android and iOS.
Also Read: Content Creators Can Now Trim Copyrighted Videos on YouTube
---
Best Free AI Content Generator: Summing Up
The ability of AI copywriting generators to produce material at scale is no longer a mystery. With AI, these technologies enable you to produce high-quality content more quickly. While there may be numerous benefits to this, such as overcoming writer's block, it may also start to result in an increase in the amount of low-quality content on the Internet.
Remind yourself that these AI technologies are only aides. The judgment and discernment of the individual using the AI writer tool are crucial if you want to produce writing of the highest caliber. In light of this, trying out and experimenting with these top free AI content-generation tools is always enjoyable. We only included the best free AI content generator alternatives that provide a free plan for a lifetime, despite the fact that there are other alternative content production tools like Jasper AI.
Devesh, being a technical writer, likes to research and write technology articles and solutions to help others. Having great knowledge about the tech world and its working, he likes to pour the same into his write-ups. Before starting any write-up, he likes to pen down his thoughts and flaunt a creative edge in the same. Apart from being a writer, his primary interests include reading books and poems, cooking, and playing video games.
Subscribe to Our
Newsletter

and stay informed

Keep yourself updated with the latest technology and trends with TechPout.
Related Posts