Best Free AI Image Generator to Use in 2023

If you are struggling to find a suitable AI picture generator the following guide mentions the best free AI image generators that you can use in 2023. 
Artificial Intelligence has changed the entire mechanism of organizations. One creative industry that has evolved with AI is the image industry. With recent developments, you can use AI picture generators to create pictures of your imagination. This can be done by simple text input. These tools allow the creation of art, portraits, landscape images,  etc. But since the number of options available online is way too many many users queried which one is the best.
If you are also curious about the best AI image generator? Your answer lies in the guide below. This article mentions the 7 best free AI image generators available in 2023.
But before we proceed to the best free AI Image it is important to understand what actually an AI image generator can do.
What is an AI image generator?
A tool that can be used to create realistic visuals from text is the AI image generator. It has an algorithm trained on a sizable collection of photographs and descriptions.
AI picture generators are used for a lot of things, including coming up with ideas for creative endeavors, visualizing your thoughts, investigating various concepts or scenarios, or just having fun with the AI.
AI picture generators can generate images of scenery, creatures, objects, people, 3D models, and anything that you can imagine easily and quickly. Also, these images can be tweaked by using multiple customization choices or editing details.
List of Best Free AI Image Generators
Below we have listed the best free AI image generator from the text. Go through the features and working of each to identify the one that fits in well with your needs and requirements.
1. NightCafe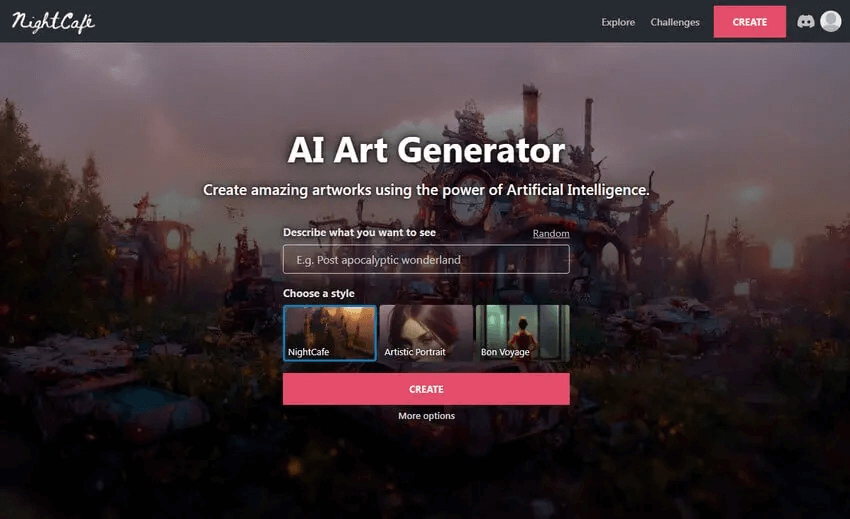 The first one on our list of best free AI image generators is NightCafe. It is one of the most widely used AI text-to-image generators. Comparatively, it has more options and algorithms than other AI photo generators available online. Text to Image and Style Transfer are the two conversion models that are included.
The first one is Text to Image. All you have to do is type a description, and NightCafe will create an image of the relevant scene for you based on what you write.
The second one is Style Transfer. In this, you can submit a photo to NightCafe, and the website will transform it into an image in the manner of a well-known painting.
The NightCafe system is built on credits. You can generate more photos with the more credits you have. By taking part in community activities or making purchases, you can earn credits.
Key Features of NightCafe
Beginner friendly
The process of Image generation is quick
Select your preferable art form from the available options.
Generate 5 images for free every day
High-resolution image printing
Also Read: Best Image Converter Software For Windows
---
2. Midjourney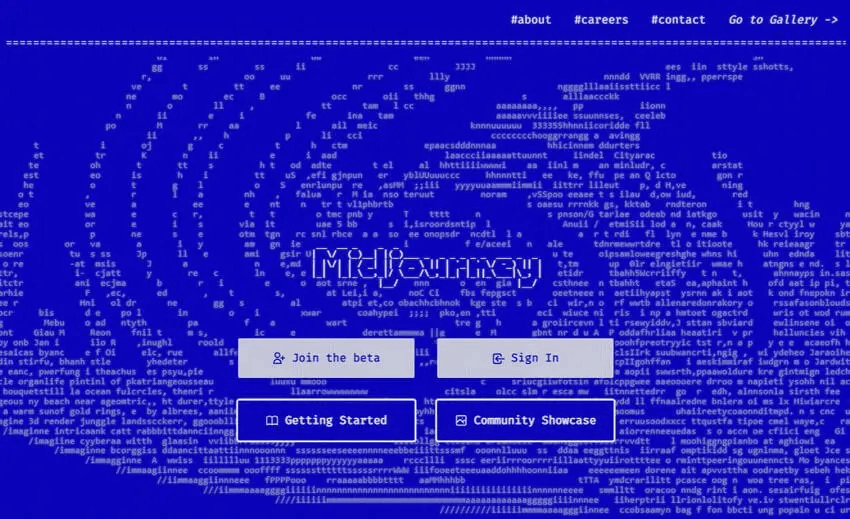 With comprehensive features and extremely fast image synthesis, Midjourney is another one in our list of best free AI image generators. All you need to do is send in any text prompt as input to Midjourney, and it will handle the rest. Several artists use this tool to create images needed as inspiration for work.
There was a competition held for fine art at the Colorado State Fair where the AI artwork "Théâtre d'Opéra Spatial" created with Midjourney won the first prize.
Midjourney is currently housed on the Discord server. To use the tool you can join MidJourney's Discord server. Now enter commands in the bot to create pictures. But the good thing is it is simple; just begin right away.
Key Features of Midjourney
Simple to use
4 output images every time
Fast AI image generation
Great image quality
---
3. AI Image Generator by Fotor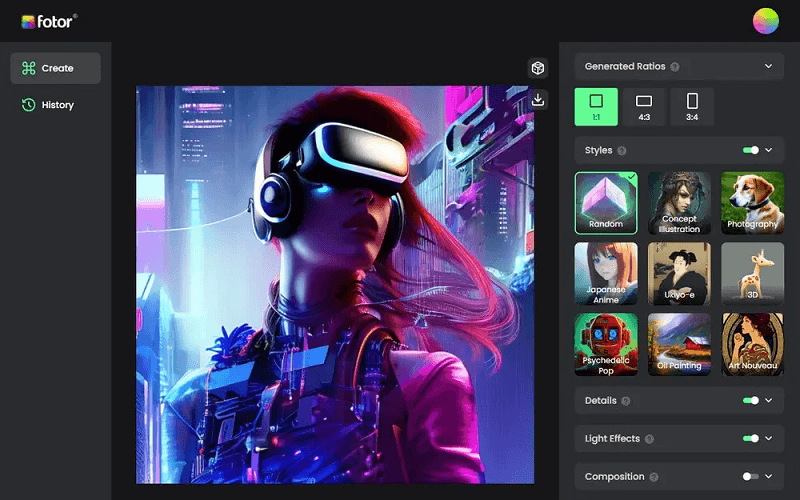 A recent version from the popular online photo editor Fotor includes an AI image creator. It's highly user-friendly and hence is one of the best AI image generators. Simply enter your word prompts into Fotor's AI text-to-image generator, and watch as it comes to life in no time. It may be used to produce any kind of digital art, including paintings, 3D and anime figures, and realistic facial photos.
The fact that you may export these generated pictures in high resolution and utilize Fotor's AI image generator for free is its best feature. It's a fantastic choice for both novice and even professional users.
Key Features of Fotor
Over 10 image generation each day
Quick generation for images
Select the required form, from the available 9 conversion styles
Different image conversion models i.e Image to image & Text to image
Create wonderful images just via text inputs
---
4. Dream Studio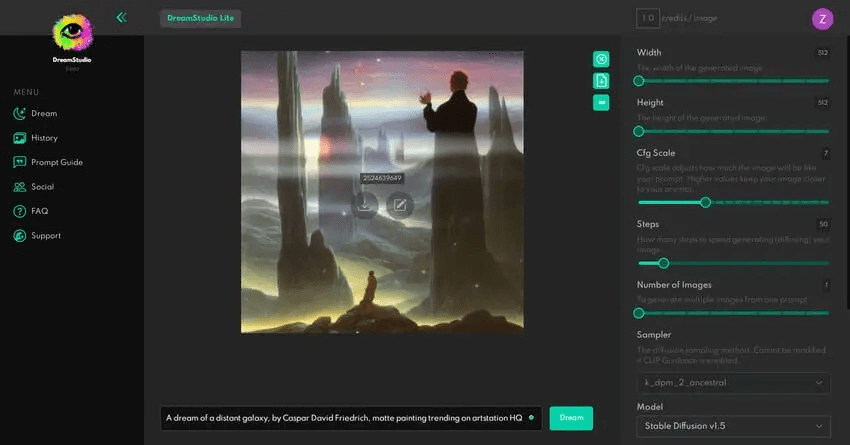 In recent years one of the most liked text-to-image AI generators by users across the Globe is Dream Studio. This AI image generator is also referred to as Stable Diffusion. It has an open-source model to transform text inputs to graphics in no time. It can combine the uploaded picture and description to create artwork that is photorealistic.
Dream Studio may be used to produce every kind of picture you can think of, that includes photographs, logos, 3D models, and illustrations.
Key Features of Dream Studio
Access to API
Generate multiple images simultaneously
Quick and Easy image generation
Customize images as required
Also Read: Best Free Image Recognition Software
---
5. Dream by WOMBO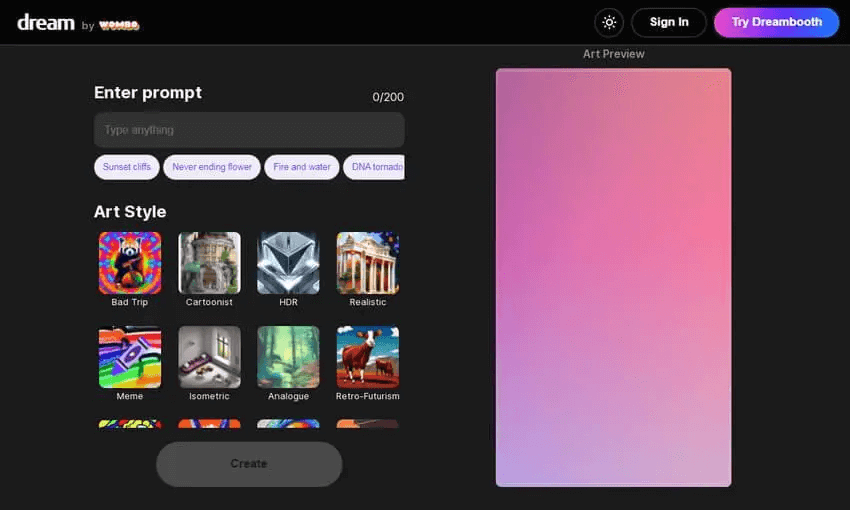 The next on our list of best free AI image generators is WOMBO's Dream. It was produced by a Canadian artificial intelligence business WOMBO. Several people believe it to be the greatest text-based AI image generator. The use of Dream by WOMBO can be compared to that of NightCafe.It may create an image for you once you write a sentence and select an art form.
The ability to submit an image as a reference in Dream by WOMBO is one of its best features since it enables you to produce visuals that are more accurate to your vision.
Key Features of Dream by WOMBO
Multiple art styles available to create images
Get NFTs by selling your images
Very simple to use
Generate unlimited images without paying a penny
---
6. Craiyon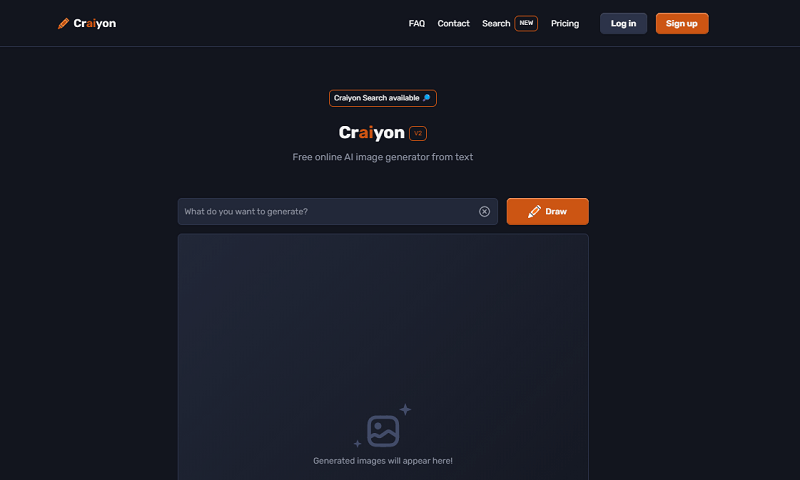 Another best free AI image generator is Craiyon. Formerly, it was known as DALL-E mini. Hugging Face and Google researchers worked together to create it. All you need to do is, simply enter a brief description, and nine distinct images will be created from your text.
Craiyon is a fantastic, free AI image generator that doesn't require registration. Whatever terms you choose can be typed in to see your AI-generated image in a short amount of time!
Key Features of Craiyon
Extremely simple to use
No limits on the number for free image generation
Creates 9 creative images at once
Does Not require any signup, registration, or credentials to create images
---
7. Jasper Art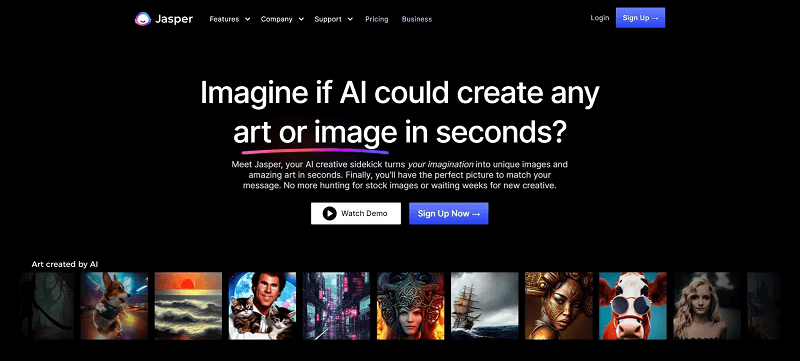 Jasper Art is another best text-to-image AI generator. It employs the latest breakthroughs in AI painting to make unique digital art based on your imagination and that too for free.
This best free AI image generator makes it easier for users to experiment with multiple creative forms and select the option that matches their requirements the best. Remember that because this is an AI image generator, the output generated is usually unpredictable, and hence you need to structure input suggestions must carefully.
Key Features of Jasper Art
Generates original images from text inputs
Multi-lingual support for text input
Copywriting templates available
Customer support chat is available to address queries if any
Also Read: Best Photo/Image Viewers for Windows
---
Frequently Asked Questions
Q.1 Can we use AI Image Generator for personal purposes? 
Yes, enjoy creating fun artwork by using the above-mentioned AI photo generators. Most of these Image generators require no extraordinary skills and are beginner friendly.
Q.2 Which is the best AI Image generator? 
In the above list, we have mentioned the best AI image generators. Depending on your skills and requirements you can choose the suitable option. However, in our opinion, you can use Fotor, NightCafe, or Jasper Art.
Q.3 Why are AI image generators used? 
The most important feature of an AI image generator is that it cuts the time of implementation of your idea. You can simply bring your idea to life in minutes through the AI photo generator.
---
Closing Lines
We hope that our guide was helpful for you in finding the best free AI image generator for your device. All the aforementioned AI picture generators are feasible for both professionals and casual users. Since there are a lot of options available, go through the list thoroughly and choose the alternative that fits your needs. If you are still looking for recommendations, you can choose Fotor or Jasper Art.
Have any suggestions or feedback for us? Do write them in the comments section below. Also if you found the guide relevant make sure you subscribe to our blog for more informative tech write-ups. Follow us on Facebook, Twitter, Instagram, and Pinterest to get the latest tech news and updates.
Akshara is an Engineer turned Technical Writer. She is a tech reader who aims to deliver the best of her knowledge to the readers without complicating it. If not writing you can find her in the kitchen, because no place serves the good tea.
Subscribe to Our
Newsletter

and stay informed

Keep yourself updated with the latest technology and trends with TechPout.
Related Posts