6 Best Email Apps for Android to Use in 2021

Email is that elderly mode of online communication that services most of users everyday. You may be acquainted with a plethora of email services and apps that effortlessly continue the classic form of communication. There are multiple individual email apps including Google, Yahoo and Outlook that offer incredible services but when it comes to a proper aggregation of all emails into one place and implementing organization, then this article is for you. We have gathered the 6 best email apps for Android that you can give a try in 2021. Check it out.
Best Email Apps for Android Smartphones
You can easily find a number of best email for Android devices that help you access your emails on different accounts on one platform and ease things with super-smooth management options. We have made sure to list down the best free email apps for Android that offer different features. If you haven't put your hands down on one yet, then here's the list for you.
1. Gmail

Cost: Free
Read Also: Best Email Marketing Software To Grow Your Business
Gmail is one of the go-to email apps for Android users that comes pre-installed in almost every Android smartphone. Gmail app brings tons of functions that you probably already know. You can use multiple inbox settings and can also use multiple accounts in this app. Gmail lets you enjoy other email services like Microsoft Outlook, Yahoo etc. With a unified inbox and super easy design, this app makes one of the best email apps for Android phones.
Download App: Android
---
2. Blue Mail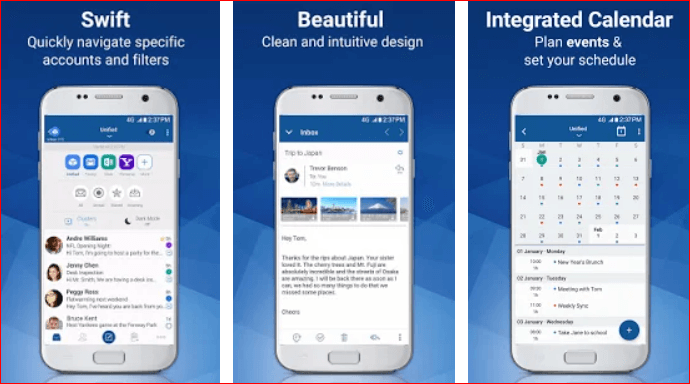 Cost: Free
Blue Mail is one of the best free email apps for Android devices that enables a number of email services like Gmail, Outlook and Yahoo to function and it also lets you have fun with different notifications options for each and every email account you have. Apart from that, you can also use features like Android Wear support, ability to configure menus and set up a dark theme if you want. With powerful and incredibly useful functionality for free, this email app can be given a shot.
Download App: Android
---
3. Cleanfox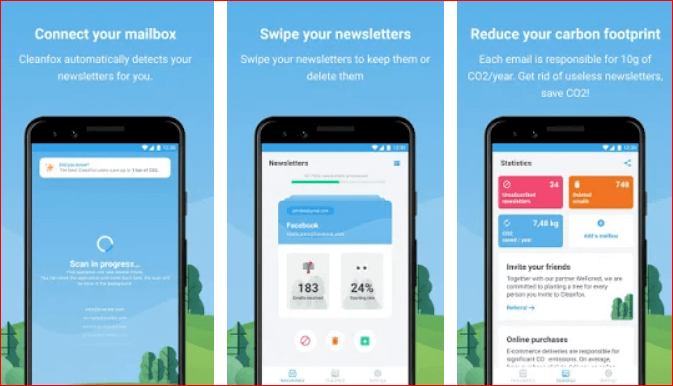 Cost: Free
Read More: Best Email Clients For Windows 10 PC
Cleanfox is yet another useful Android email app for users that can primarily be used in order to unsubscribe from the group of emails that you don't even remember subscribing or gave into them mistakenly. Well, what you have to do is simply connect all your email accounts to Cleanfox and then, this app scans and spots the subscriptions. Once you find the subscriptions, you can use this app to unsubscribe if you are no longer interested in them and you can easily trash the emails ever received from them as well. There are multiple other features to help manage your emails in this app. So, if you are looking for multiple options to organize your inbox then Cleanfox is one the best free email apps for you.
Download App: Android
---
4. K-9 Mail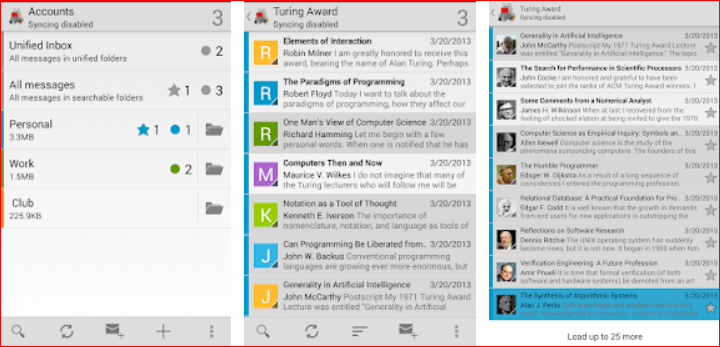 Cost: Free
K-9 Mail is one of the most popular email apps that has been in the count for a long run now. This app offers ease in functionality, thanks for an interface with minimal approach. This app brings support for POP3, IMAP and Exchange 2003/2007 accounts along with unified inbox. Well, everything's pretty simple out there with this app. It is one of the most reliable email apps with no added bling which makes it preferable to many users. Overall, K-9 Email is free to use and is an open-source with lightweight functionality.
Download App: Android 
---
 

5. ProtonMail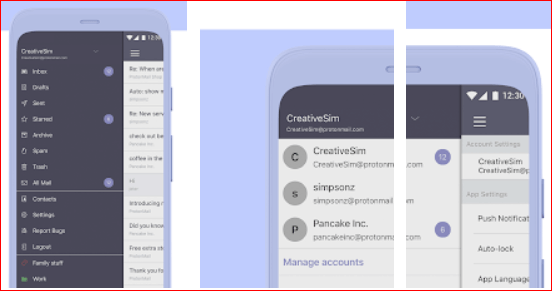 Cost: Free
If you are looking for a security-studded email app then ProtonMail is must-try. This one stands among the best email apps for Android for all the right reasons. First things first, this app provides end-to-end email encryption. In this app, only the sender and the receiver can read your emails. Apart from that, this app claims to have OpenPGP support and self-destructing emails along with other features. The emails on this app are stored on a server that are totally encrypted and cannot be seen or read by anyone. To make more features in this app, you may need a ProtonMail account. Anyway, for those who do want to compromise on privacy, it may be safe to say the ProtonMail is one of the best email apps for privacy. 
Download App: Android
---
6. Spark Email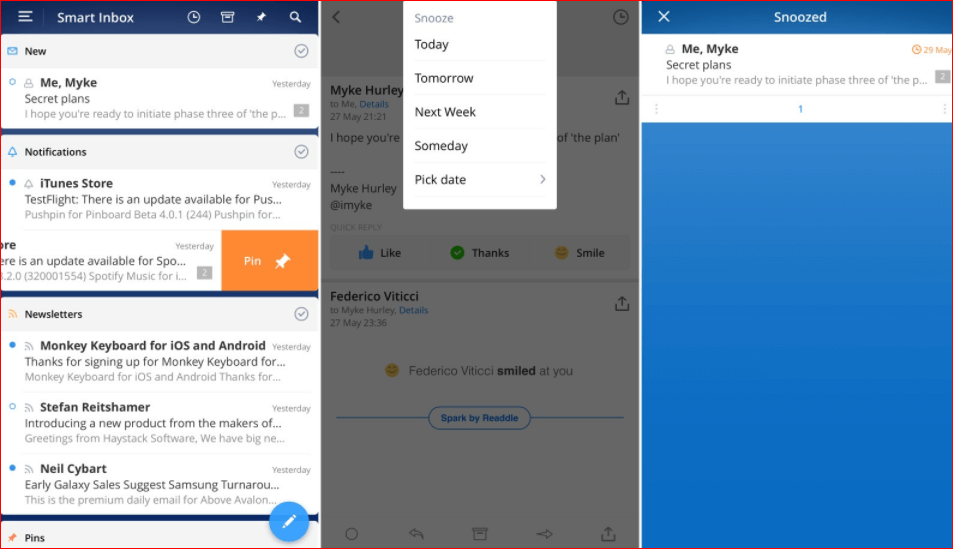 Cost: Free
Read More: How To Backup Gmail Emails With Attachments
If you haven't found your best pick for an email app then here's another opinion for you. Spark Email is one of the best email apps that you probably have never heard of much due to its newness in the market. This email app came out in 2019 and is now bagging some really sound-good comebacks from the users. This app offers tons of important features like the ability to snooze emails, send emails later as well as undo them, pinning emails along with reminders. This app offers a simple and neat user interface that is a bonus point. You can easily go through your email accounts either separately or together in its basic inbox. On the top, this amazing email app offers a Smart inbox feature that can be used to filter out the junk emails in order to save space only for the ones that are important. Spark Email is certainly one of the best email apps for Android with support to almost all email addresses and quite a clean interface.
Download App: Android
---
Frequently Asked Questions
Q1. Which email app is best for personal use?
If you are looking for the best email app for personal purposes then you may want to use Gmail. Besides, you can also check out Blue Mail as well.
Q2. Which email app is best for privacy?
When it comes to secured communication via emailing, ProtonMail boasts end-to-end encryption function in which only the one who sends the emails and the receiver can view the email.
---
Find the Best Email App for Your Android Smartphone
Email apps have made management of piles of emails a lot easier. Whether you want to delete tons of emails or use basic features like reminders, snoozing etc. for different email accounts, there were the best email apps for personal as well as official purposes. What's your take on this? Which one do you think is the best email app for Android platform? Share with us in the comment section.
Jyotsana is a technical writer with a non-technical background. An eye of detail and a knack for writing helps her to write technology related content.Apart from writing, she is a coffee connoisseur and an aesthete who rejoices in poetry and music during leisure.
Subscribe to Our
Newsletter

and stay informed

Keep yourself updated with the latest technology and trends with TechPout.
Related Posts