How To Backup Gmail Emails With Attachments
Published Date :
Sep 22, 2020

As much as you know that you are not erasing emails from your gmail account and they are going to disappear tonight in a mysterious tweak, it is essential to back up them and enjoy sound sleep. Ask how and you will come across this article where we have the best ways to create gmail backup and prevent the important/unimportant emails along with the attachments.
Why Is It Important to Create a Gmail Backup?
The answer is simple. Creating gmail backup is as useful and relaxing as setting up a strong password/recovery questions while creating an account because of the unarguable possibility of data breaching which is everywhere, in every corner of the world. There will be no reason of surprise if your gmail emails ever get moved under the possession of some unauthorised identity. That is the most important reason to back up gmail emails.
Besides, there is always a slight chance of mistakenly deleting the emails or a chance of inaccessibility due to any reason which makes gmail backups a boon to be thankful for.
Read Also: Best Email Clients For Windows 10
---
Methods To Create BackUp of Gmail Emails With Attachments
Since securing the sensitive data has become mandatory there are a few methods to get it done as effectively as possible. We have two of the best methods to help you in creating the backup of gmail messages. So let us scroll through them and figure out the best way to backup gmail emails with attachments.
Method 1: Backup Gmail Messages With Google Takeout Tool
Creating backup of Gmail emails with Google Takeout can be the most effective way to avoid any mishap related to data loss. Google Takeout helps in backing up the data from Google platforms including Gmail. However, this process can take time if the size of your data is large.
Here is step-by-step guide to use Google Takeout to create Gmail messages backup:
Open the official Google Takeout page in your browser. To start with this, firstly you have to be signed into your Google account. You will see Google Takeout on the screen if you are already signed in.
Scroll down the list of data that you can back up. Here you will see several sources of data via Google account.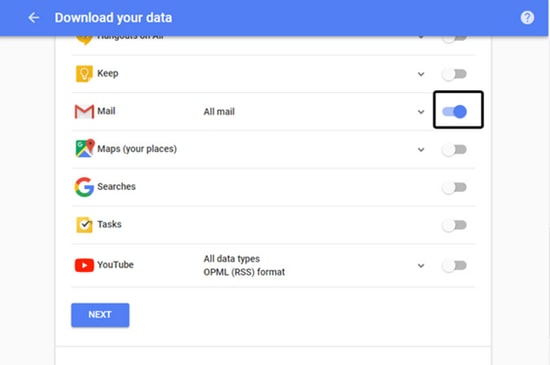 Stop on Gmail slider and select the parts of Gmail data that you wish to back up.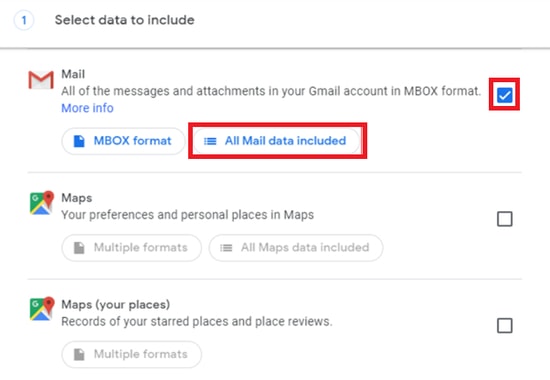 In next step, you will be given the choice to select:
File Type
Size of Archive
Platform where you want to receive the data
You will see the archive format on screen and select your archive options.
Once you have selected the options, click on Create Archive. You will now see the notice on screen for your Archive is being prepared. Be patient as it takes time to create an Archive.
You will receive the update through email once your Archive is ready. The instructions for further process depends on the option chosen by you.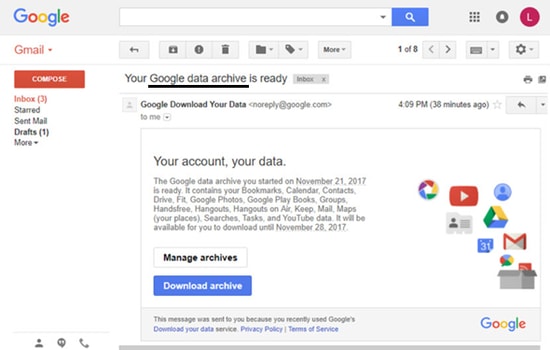 Follow the instructions and you will have access to Gmail Archive.
Read Also: How to Delete Gmail Messages in Bulk
---
Method 2: Backup Gmail Messages With Third Party Tools
Comparatively, this method of creating gmail backup is not as straightforward as the former one but there are a few third-party Gmail backup utilities that cause no harm in being tried once.
GMVault Backup

You can use GMVault to create backup of your Gmail emails. It is an open source software and it allows you to back up your Gmail emails by scheduling automatic backups that run without bothering you repeatedly. However, you have to be ready to learn the commands since it runs on command. You can also move the gmail emails to another account with this software which is compatible with Windows, MacOS X and Linux.
Visit Here: http://gmvault.org/
---
Gmail Backup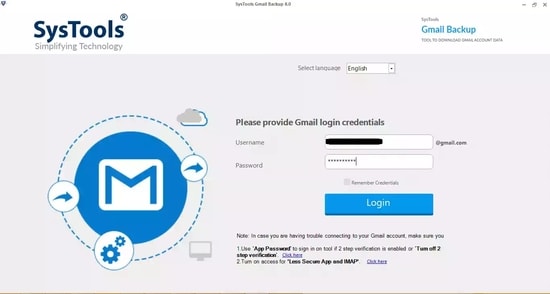 Here is another utility to backup gmail emails – Gmail Backup. It is a software by SysTools which provides strong utilities including data recovery and backup services for Google products. This one is compatible with Windows and Mac operating systems and the formats for downloading emails vary in both. It allows you to select the messages that you wish to save.
Visit Here: https://www.systoolsgroup.com/gmail-backup.html
Read Also: How Do I Recover Permanently Deleted Files From Google Drive
---
Summary
Since ensuring the security of crucial emails and data, be it an office document or any personal information, is important there is no harm in putting in a few extra minutes of day or searching the best ways to back up everything. This was it in this article where you came across two simple methods to take care of your data by creating Gmail backup. If you know more about such tricks or hacks to do it in a quicker way, feel free to drop the ideas in the comment section and we will make sure to come back with another such guide to make life easier.
Jyotsana is a technical writer with a non-technical background. An eye of detail and a knack for writing helps her to write technology related content.Apart from writing, she is a coffee connoisseur and an aesthete who rejoices in poetry and music during leisure.
Subscribe to Our
Newsletter

and stay informed

Keep yourself updated with the latest technology and trends with TechPout.
Related Posts